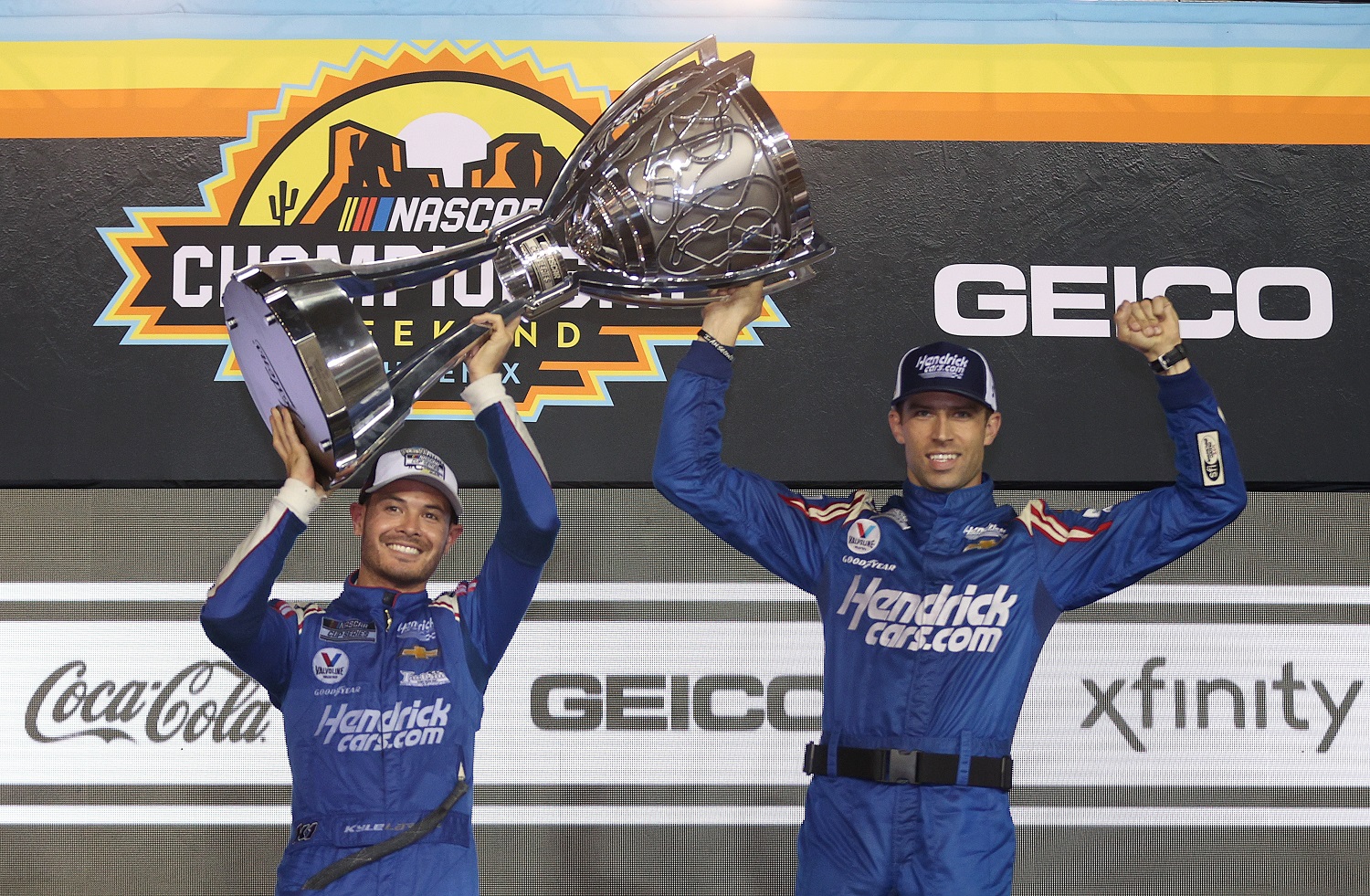 NASCAR Champ Kyle Larson Is Why Crew Chief Cliff Daniels Can't Sleep the Night Before Races
Kyle Larson and Cliff Daniels culminated their first season together at Hendrick Motorsports with the NASCAR Cup Series championship.
Article Highlights:
Crew chief Cliff Daniels and driver Kyle Larson are first-time NASCAR Cup Series champions
Daniels admits he hasn't been able to sleep the night before races
Says Daniels: "With Kyle Larson as your driver, you're the weak link, not him"
Cliff Daniels has 13 weeks to catch up on all the sleep he missed out on over the past nine months while steering Kyle Larson toward a NASCAR Cup Series championship as crew chief for Hendrick Motorsports No. 5 Chevy.
The betting line says he won't take advantage of the time between now and The Clash at the Los Angeles Coliseum. As calm as Daniels appears for three hours on Sunday afternoons during the season, he's wound tighter than a baseball leading up to races during the season.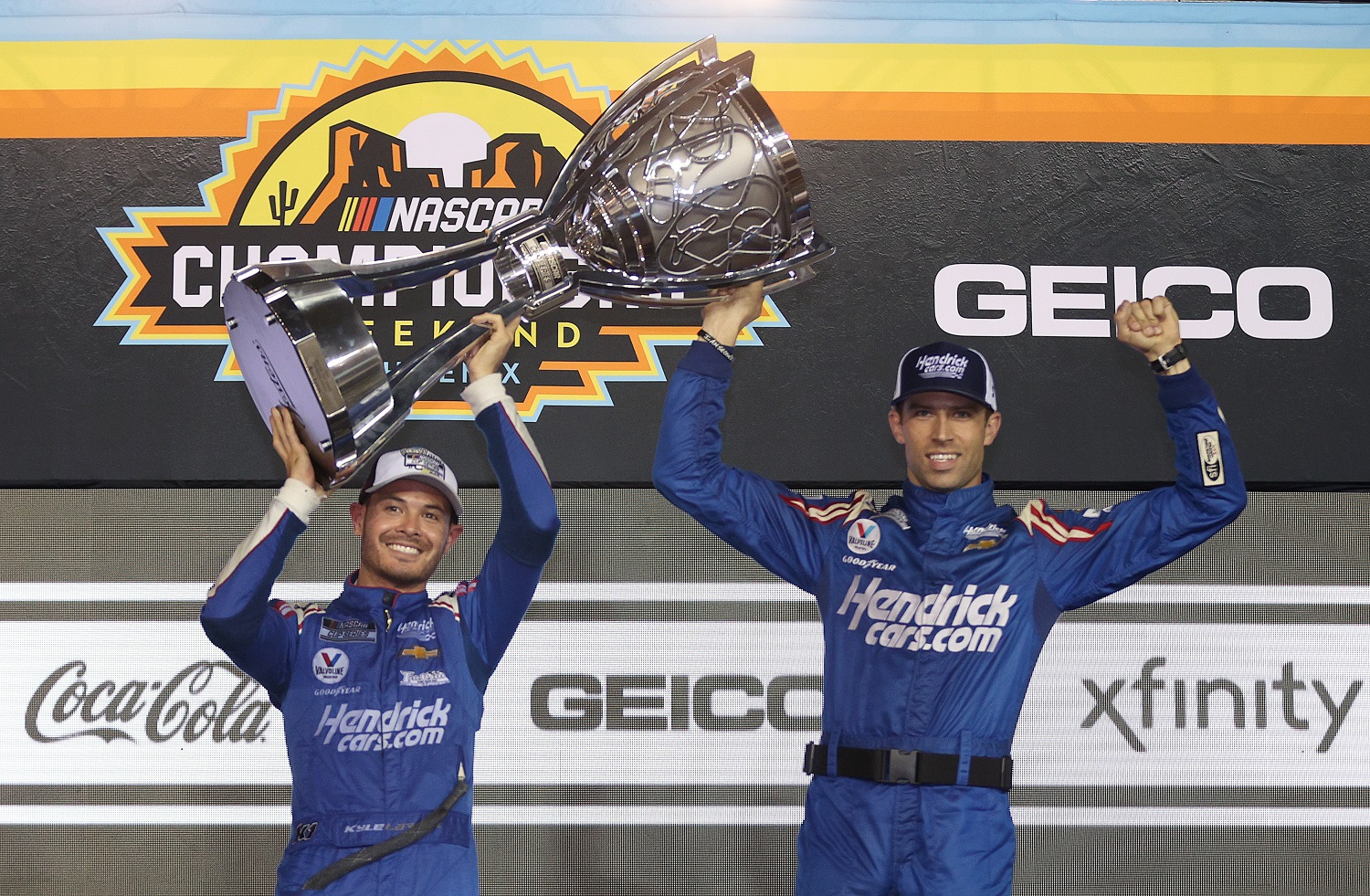 The night before a race, Daniels and sleep might as well be motor oil and water. A man who is that driven will find something else to keep him up nights between now and the start of a new season. The Next Gen car, which is still in the shakeout phase, is a good candidate.
Daniels just captured his first championship as a crew chief. He won't earn a second without mastering the new car, and he won't believe he's mastered the new car until Larson wins another championship. That's a 36-race process, which means Daniels is already penciling in 36 sleepless nights.
"I have not slept before any Cup race all season long, just so you know," Daniels said while meeting with the media after Sunday's victory. "Larson asked me today, 'Did you sleep last night?' I'm like, 'No, I didn't sleep last night.' I haven't slept before a race all season long. Pick a random race in the middle of the year; I did not sleep."
With team owner Rick Hendrick at his side in the media room, Daniels explained that he holds himself to the high standard that he learned from watching Chad Knaus win seven championships as Jimmie Johnson's crew chief. That means thinking, and at times overthinking, about ways to squeeze more performance out of Larson's car. And when he's not doing that, he's training up the crew to perform the perfect pit stop.
This weekend was typical. Daniels said he tried going to bed at 9 p.m. on Saturday but watched the minutes turn into the hours as time ticked away.
"Somewhere around 2 a.m. I got up, drank some water, kind of walked around," Daniels said. "We stay right over where the stadiums are, so I could see all the folks leaving after the hockey game, and they went to the bars and stuff. And I'm going to be honest, there are some Bible devotionals that I read and watch and listen to and did that in the middle of the night.
"I knew that my anxiety that I've had all year long probably wasn't warranted, but it's still a real thing. So, when Larson was like, 'Man, you didn't sleep last night?' I was like, 'Dude, I haven't slept all year. So, I'm right where I should be. It's OK.'"
Consider it practice for the rest of his career working with Larson, who was superb in his first season with Hendrick Motorsports, winning 10 points races, the All-Star Race, and the regular season and playoff championships. He matched Tony Stewart's record of five playoff victories.
"So yeah, I never sleep the night before a Cup race. Probably never will as long as he's my driver. With Kyle Larson as your driver, you're the weak link, not him. That's the way I see it."

Cliff Daniels
Responded Larson: "I guess that he thought he was a weak link just because he holds everybody to a high standard, but apparently himself, too. I think you need that, though. You need to have that drive in each and every one of you to want to be better each and every day.
"He's an amazing crew chief, amazing leader, and I am extremely fortunate to be with this race team."
The team's feeling is undoubtedly mutual.
Like Sportscasting on Facebook. Follow us on Twitter @sportscasting19.