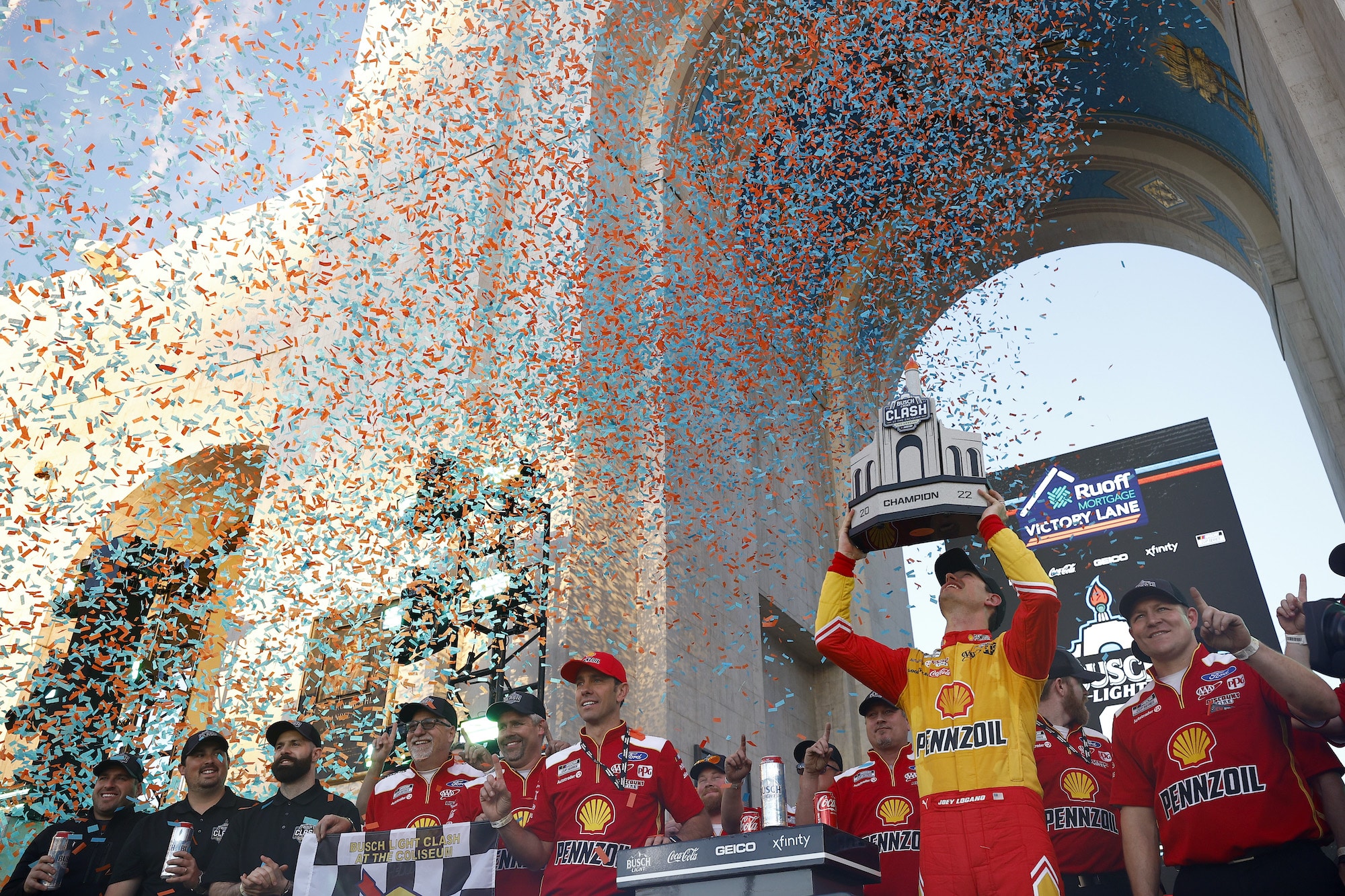 NASCAR Creates New Controversy With Last-Minute Decision to Add Something Different to the Cup Series Race in LA Coliseum, and Fans Are Divided 
NASCAR is already creating controversy before the 2023 Cup Series season with a last-minute change in the Clash at the Coliseum that is dividing fans.
2023. The start of the new year and a new season. NASCAR fans and drivers count down the days to the Daytona 500. The Great American Race. The Super Bowl of NASCAR. The official start of the Cup Series campaign. 
But before we get there, NASCAR gives its fans an appetizer with the second edition of the Clash at the Coliseum in LA. That exhibition race has been the center of controversy stirred up this week when the sanctioning body announced that, in the spirit of the Olympics, which have been hosted multiple times in the stadium's storied history, the top three drivers from the race would stand on a podium and receive medals (gold, silver, and bronze). 
Unsurprisingly, the new award format divided fans.  
NASCAR bringing Clash at Coliseum for a second year 
Last year, going into the first-ever Clash at the Coliseum, no one really knew what to expect. Racing on the quarter-mile track in the new Next Gen cars sounded good in theory, but was unproven in practice. Fortunately, it delivered. 
More than 50,000 fans attended that inaugural race, many of which NASCAR later reported were first-timers. What they witnessed was an entertaining race, which included a halftime show featuring entertainment by Ice Cube, and concluded with Joey Logano holding off Kyle Busch for the win.
That race kickstarted what turned out to be a memorable 2022 season. Officials are hoping to replicate the success of that first year and carry the momentum from that exhibition into Daytona.  
NASCAR adding podium ceremony and medals at Clash
NASCAR drivers and fans have that same positive vibe that comes around every January with the season rapidly approaching. A fresh new start. Excitement and anticipation fill the air. There is no controversy. Yet. 
Surprisingly, that changed this week when NASCAR announced following the Clash, instead of the traditional trophy and its presentation, the top three finishers will participate in a podium ceremony and receive medals, similar to what is done in the Olympics or other racing series like F1. 
Unsurprisingly, that latter comparison crossed the minds of many fans, who apparently didn't like the idea and made it known on social media.
"Lame! One thing i don't ever want to see is podium style. There is a winner and there is the rest of them," wrote one fan. "Not motocross or other series. We are nascar if ain't first you are last."
"Ok for the Clash but nothing else. If you don't win you don't deserve a medal or trophy. You LOST!!!. Take the money and go home!" said another.
Not everyone was opposed to it. Other fans defended the move, the reason for it being implemented in the Clash, and wanted to take it one step further by making it permanent across all Cup races.
"I'm actually for this. I've thought nascar should have a podium for a while. I never thought we gave 2nd and 3rd place enough credit as we should," one fan wrote.
"NASCAR already does podiums with trophies and all for the Euro Series and the Pinty's Series. Might as well do it in the top three national US series, too," another replied.
Happens in other series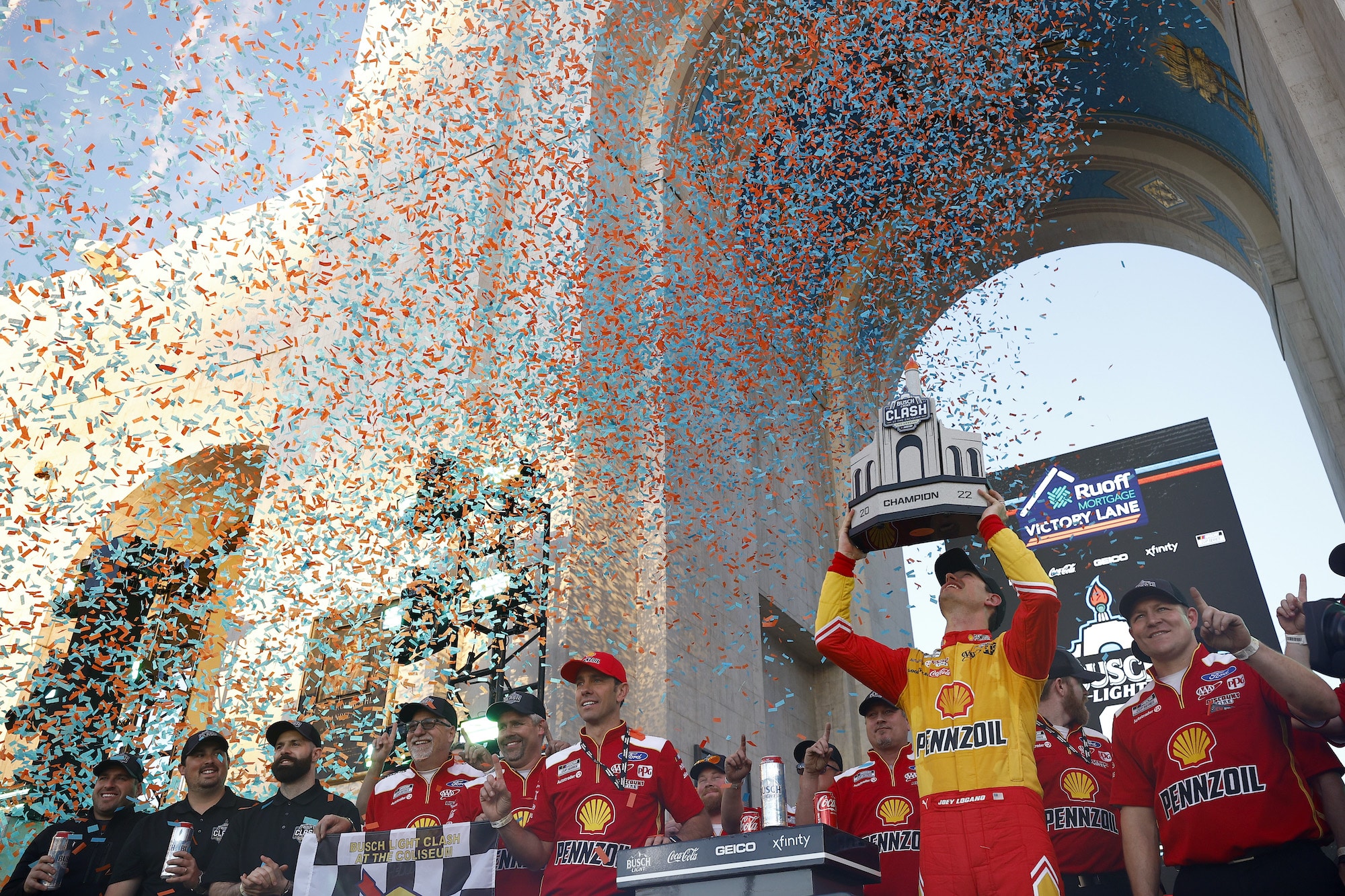 As the fan mentioned, NASCAR already holds podium ceremonies in other series. This fact, in addition to what happens in F1 and most racing series, a podium finish is the standard. 
Those NASCAR fans who don't like the idea of a podium because it's too much like F1 or it's better to be different than everyone else, should consider this — imagine if Kyle Busch gets moved by Joey Logano on the final lap at (name your track) and finishes second. Those two uncomfortably standing next to each other on the podium for minutes before receiving their awards. 
Entertainment gold.