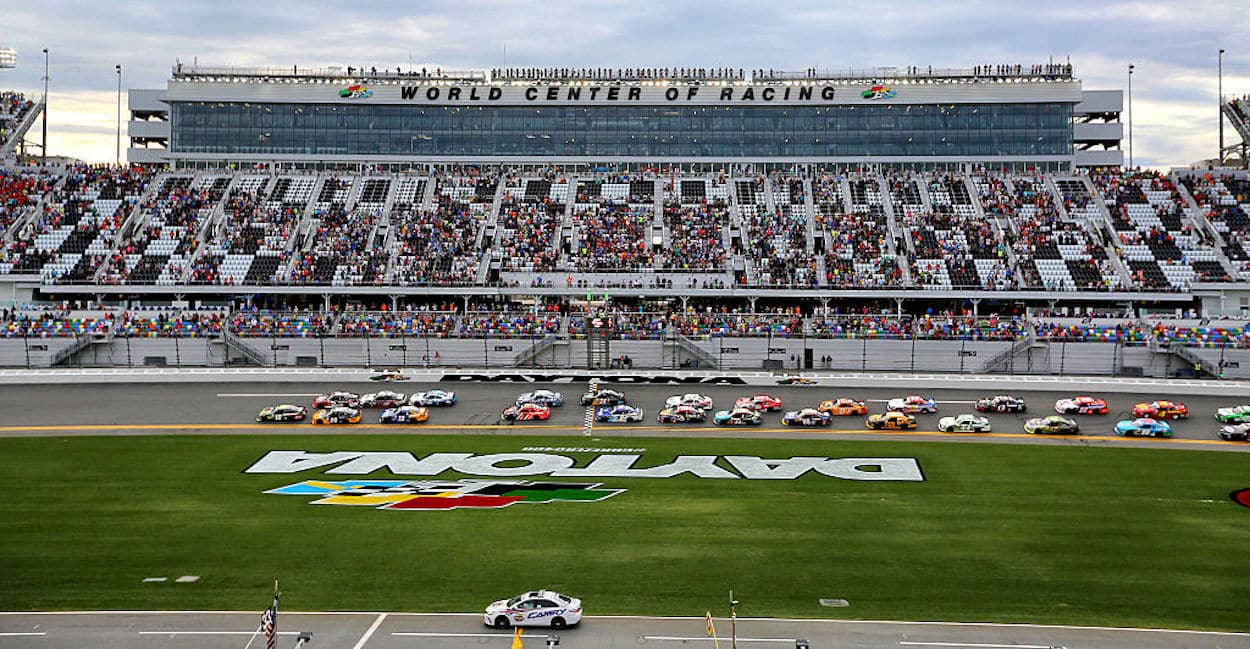 NASCAR's Failure to Respect July 4 Tradition at Daytona Highlights a Troubling Trend
Traditions, like heading down to Daytona for the Fourth of July, are part of what make sports special. Apparently NASCAR missed that memo.
Raise your hand if you enjoyed that snoozefest of a NASCAR Cup Series race that took place Sunday at Road America, the 4.048-mile road course in Elkhart Lake, Wisconsin.
Now think back to Richard Petty edging Cale Yarborough at the finish line to earn his landmark 200th Cup career victory on July 4, 1984 at Daytona International Speedway – with U.S. President Ronald Reagan in attendance and offering heartfelt postrace congratulations, no less. 
Next, consider Dale Earnhardt Jr.'s emotional victory at Daytona on July 7, 2001 – less than six months after his famous father perished in a wreck while driving nearly 200 mph on that same 2.5-mile hardtop. If you're like a lot of people, you not only remember the final laps of that race in vivid detail, but you remember where you were when "Little E" gave not just Junior Nation but the entire NASCAR universe something to celebrate.
Finally, think of any other wild, nail-biting July 4 week finishes you might remember at The World Center of Racing. For many years, the Cup Series' annual summertime showdown on Daytona's high banks was formally known as the "Firecracker 400," and almost without exception, it lived up to its name.
Road America lacks in on-track fireworks and history
OK, let's fast-forward back to Sunday's sleepy affair at Road America – where on-track passes among the frontrunners were sparse and nary a single caution flag waved outside of the mandatory stage breaks. 
Even worse than the humdrum on-track product, however, is the cruel reality that it came at the expense of a precious tradition. When NASCAR decided in 2020 to move its July 4 week race away from Daytona after 60 years of summertime showdowns at the fabled race track built in 1959 by the late NASCAR founder William H.G. "Big Bill" France, a piece of history died.
Now, instead of spending the holiday week at NASCAR's most iconic track — a place where names like Earnhardt, Petty, Yarborough, Gordon, and Allison helped cement their status as legends of the sport — drivers and teams are out in Nowhere, Wisconsin making laps on a road course that prior to Sunday had hosted only one Cup event in NASCAR's modern era.
Sadly, though, the removal of a July 4 week race from Daytona is hardly the only schedule change in recent times that makes purist race fans cringe, and even some drivers wonder why NASCAR's decision-makers are seemingly so eager to disrespect the sport's history.
Abandoning the Brickyard oval for a road course is unpopular
Before adding Road America to the Cup Series schedule in 2021, NASCAR's premier division took a July 4 week detour to Indianapolis Motor Speedway for just one year. As unsettling as it was to see Indy move from late July or early August to Daytona's usual spot on the summer schedule, far worse news came last year when NASCAR's top brass decided it would be a wise idea for the Cup Series' lone annual race at the fabled Indy facility to be contested on Indy's 14-turn, 2.439-mile road course instead of the hallowed 2.5-mile oval that opened for business in 1909.
"I don't love the move," Denny Hamlin said during his media availability prior to last year's first Cup race on the Indy road course (h/t Autoweek). "Indy, because of the oval track, that's what makes Indy so special." Hamlin's Joe Gibbs Racing teammate Kyle Busch was equally blunt in his assessment of the switch to the road course. "I don't view this track as Indianapolis," the two-time Brickyard 400 winner said. "Indianapolis is the oval. That's where the allure of Indianapolis comes from and being around since 1900. It's been there forever and there's a lot of history there." While the track actually opened in 1909, the larger point still rings true.
Such harsh critiques mattered not, however, to NASCAR when the time came to draw up the 2022 schedule. In a few short weeks, the Cup Series is set for a second consecutive visit to the Indy road course rather than a return to the oval where the likes of Jeff Gordon, Dale Earnhardt, Jimmie Johnson, and Dale Jarrett earned some of their most cherished wins. 
Again, another tradition in the schedule abandoned for no reason.
Drivers weren't pleased with changes to the Bristol spring race
Of the myriad modifications to the Cup Series schedule in recent times, arguably the most farfetched and outlandish was covering Bristol Motor Speedway's familiar white concrete surface with red clay for the spring 2021 and spring 2022 races. Transforming Bristol – a venue steeped in history – into a dirt track for a second consecutive year drew more than one stern rebuke.
One came from Kyle Busch, who – claiming to quote Richard Petty – bluntly said prior to the race weekend that "the dirt takes our sport backwards."
The other rebuke came from 2014 Cup Series champion Kevin Harvick, who, after an early exit from April's Bristol dirt race, made no attempt to camouflage his feelings. "If I had my choice, we wouldn't be doing this anyway," Harvick said via Fox Sports. "What's the point, really?"
Meanwhile, Joey Logano – winner of the inaugural Bristol dirt race in 2021 – disapproved of NASCAR moving the event to Easter Sunday in 2022, foregoing a longstanding tradition of not competing on a day that many consider to be a sacred holiday.
"I'm not a big fan of racing on Easter – I'll just say it," Logano said, as seen in the Twitter video embedded above. "I feel like that's a very special day, a day that's equally as big as Christmas, if not bigger."
NASCAR should restore tradition to Cup schedule next season
So what's next for the Cup Series schedule? Will NASCAR finally heed the advice of some of its top drivers and pursue a more traditional path forward in 2023, or will the schedule that fans once loved continue to erode?
Just remember: The lackluster show we witnessed Sunday at Road America was entirely avoidable.
If NASCAR hadn't inexplicably decided two years ago to ditch its 60-year tradition of going to Daytona every July 4 week, we would've all been highly entertained and on the edge of our seats for three hours instead of spending the better part of that time thinking about how good those Independence Day cookout burgers were going to taste.
Hey, can someone pass the ketchup?