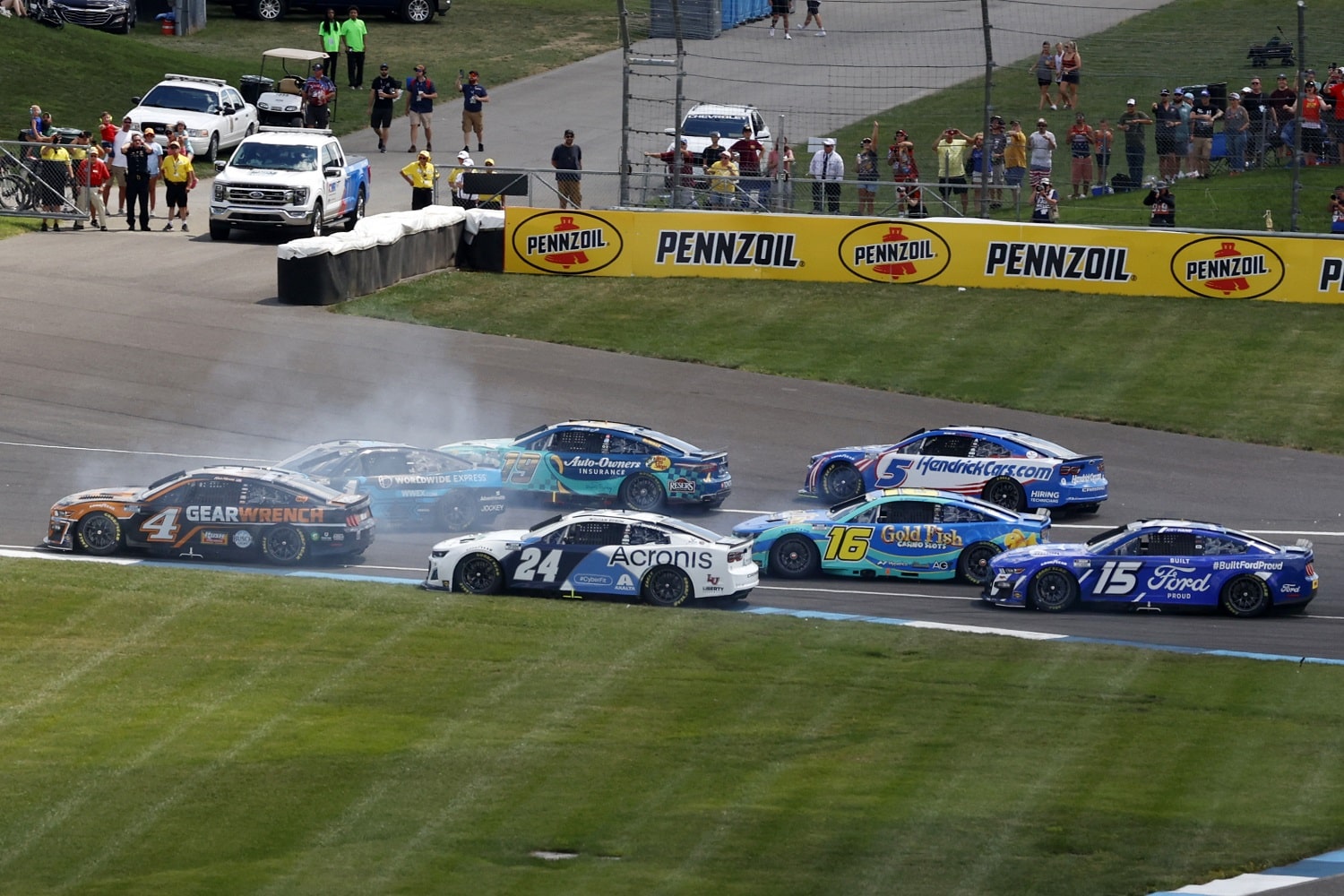 NASCAR Mailbag: Let's Not Go Down That Road Again in Indianapolis
NASCAR can't go back to the Indianapolis Motor Speedway road course without a better way of conducting restarts.
Tyler Reddick had a good weekend in Indianapolis, but the NASCAR Cup Series as a whole didn't. The Verizon 200 featured nine lead changes, but none in the final 25 laps. Everyone left town before we got a good explanation (and we still don't have one) about what caused Kyle Larson to obliterate Ty Dillon's Chevy.
Naturally, Indy leads off this week's mailbag.
I gave up my Brickyard 400 tickets long ago but almost went back to IMS over the weekend. I'm glad I didn't. What's the appeal in sitting through three hours of so-so viewing only to have the race come down to the trainwreck at the end? (From A.N. via AOL.com)
You couldn't pay me to watch another of those farces. (Editor's note: Uh, John, we need to talk about your familiarity with your job description.) After watching the restarts after the stage breaks, I pleaded with the racing gods to make sure there would be no need for a restart in the last 10 laps.
Alas, it wasn't to be. We got the complete mess in Turn 1 to start overtime.
So, how do we fix it?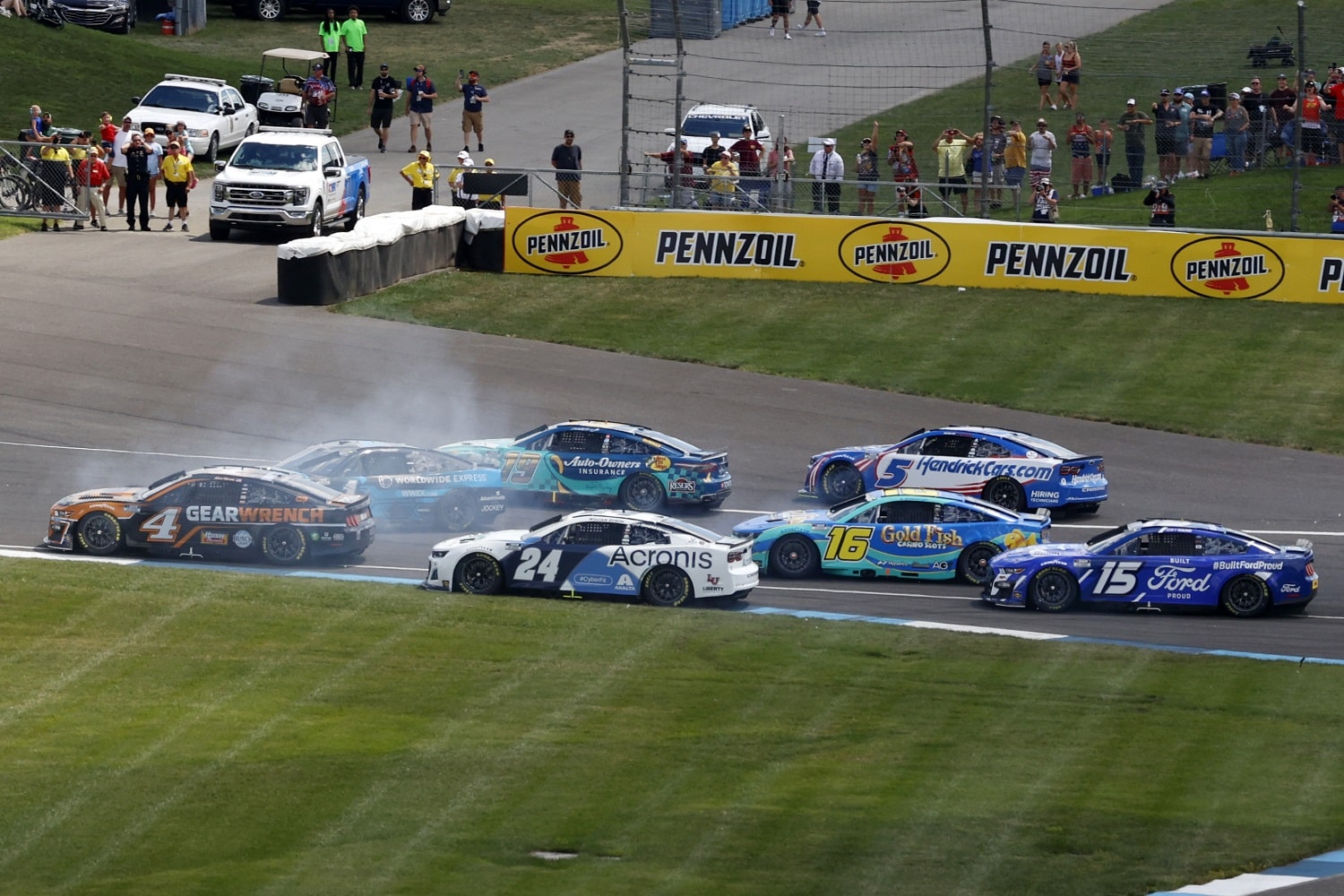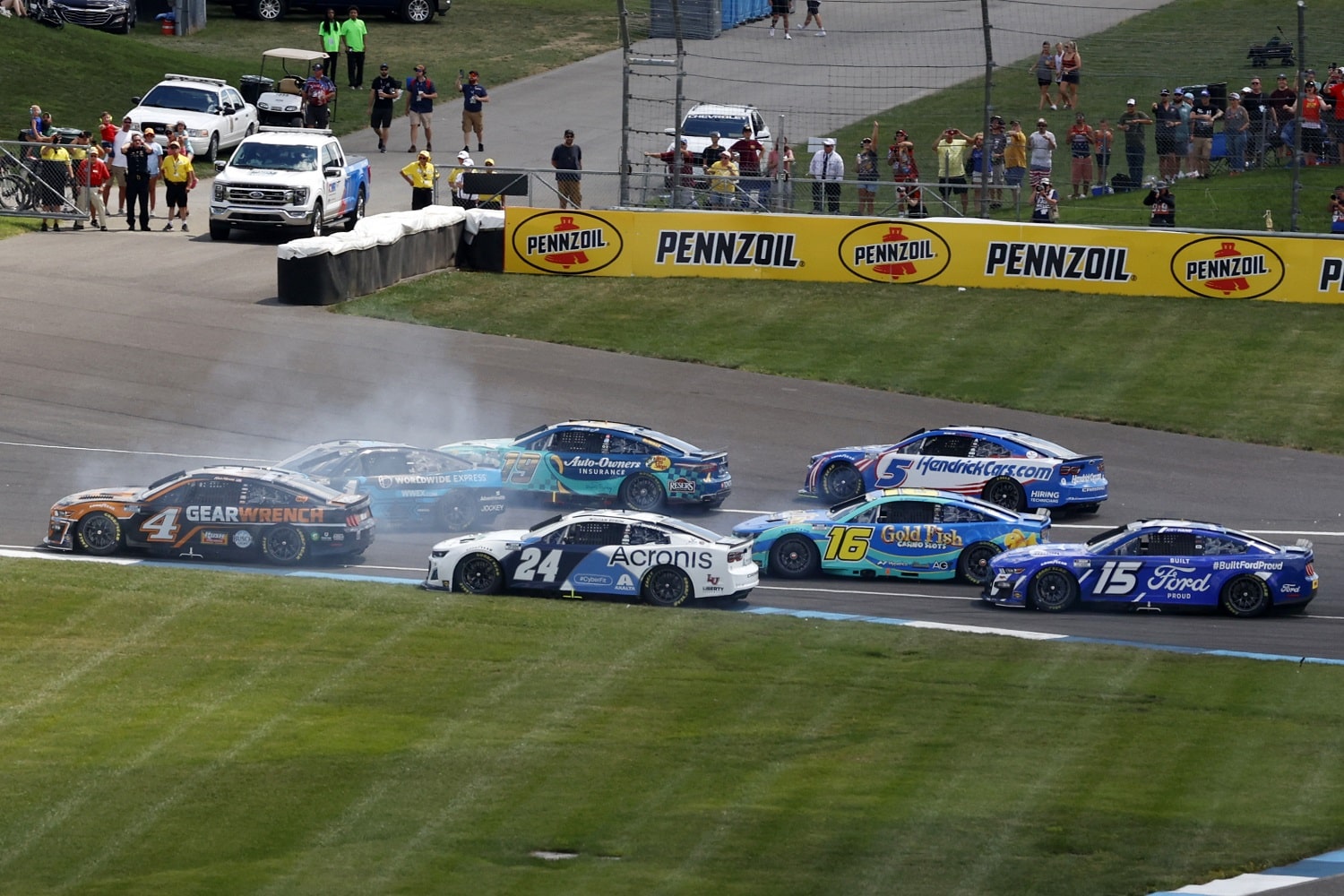 Good: Line the cars up three-wide for restarts instead of two long lines. While it sounds counterintuitive because it bunches the field up, it also keeps 12 cars from swinging wide to create a cavalry charge unless guys next to them make a move. But more guys in the inner and outer columns would be inclined to hold the line and have a shot at taking the first turn no worse than three-wide.
Too radical? Yeah, probably. So go to a single-line restart and pretty much guarantee that the winner will come from one of the first three cars.
Better: Move the start line back to give cars a longer run on the main straight to (hopefully) give the drivers more time to create separation. Maybe the five-wide traffic heading into the sharp right turn thins out to be no worse than three-wide. That's still going to force people onto the grass, but maybe not affect the outcome nearly like we saw Sunday.
Best: Forget about waiting until 2024 to go back to the oval. Ditch the road course now.
I'm happy that it sounds like Aric Almirola will put off his retirement and return next season, even if it's only part-time. What do you make the odds to be? (F.S. via Gmail)
Let me start with the easy part: If Almirola is coming back, Stewart-Haas Racing can't just put him in the car part-time and take one of its cars out of the running for a spot in the NASCAR playoffs. Sponsors want the car with their name out to be seen as a potential champion. Kaulig Racing has the luxury of ride-sharing this year with AJ Allmendinger, Noah Gragson, and Daniel Hemric in the No. 16 Chevy because that car wasn't going to contend in the team's Cup Series debut.
Insiders point to the continuation of the Smithfield Foods sponsorship being dependent upon Almirola's return. That's practically a full year of coverage for the No. 10 Ford. If Joe Gibbs Racing and Kyle Busch reportedly have been getting $25 million a year for the M&M's branding on 75% of races, then SHR must be paying in the same neighborhood with Smithfield.
It sounds as though SHR has to make it worth Almirola's while to run the full schedule in order to cash in to the max. As it is, Tony Stewart and Gene Haas already have their hands full with a decision on Cole Custer. Sure, reserve driver Ryan Preece can step in for one of the two, but not both.
I make it 90% that Almirola sticks around and runs another full NASCAR season. Of course, that merely serves to push the Smithfield sponsorship dilemma back a year.
Like Sportscasting on Facebook. Follow us on Twitter @sportscasting19 and subscribe to our YouTube channel.
Got a question or observation about racing? Sportscasting's John Moriello does a mailbag column each Friday. Write to him at [email protected]