NBA: The 2019-20 Season is Already Off to a Bad Start for Wizards Guard Isaiah Thomas
Washington Wizards guard Isaiah Thomas has had a run of bad luck over the last couple of seasons. After being selected with the last pick in the 2011 NBA Draft, Thomas grew into one of the game's top scorers during his time in Boston.

His latest stint will be with the Washington Wizards, who need point guard help with John Wall recovering from Achilles surgery. However, the season won't get off to a good start for Thomas. Let's look at Thomas' career so far, and how the latest setback can hurt a quick start to the 2019-20 NBA season.

Isaiah Thomas' MVP-caliber season in Boston
After bouncing around from Sacramento to Phoenix, Thomas was traded to the Boston Celtics. In his first full season with the team, he made it to the All-Star game, and he averaged 22 points and six assists per game.

The following season he was even better than advertised and garnered MVP votes all season long. He averaged 28.9 points per game while also dishing out six assists per contest.

The Celtics were able to go all the way to the Eastern Conference finals, but a hip injury would keep Thomas out of the series. One storyline for a majority of the season was Boston's front office not offering Thomas a maximum contract extension.

Instead of paying Thomas the Celtics shipped him to Cleveland during the offseason, wary about the long-term health of his injured hip.

Trade from Boston to Cleveland and beyond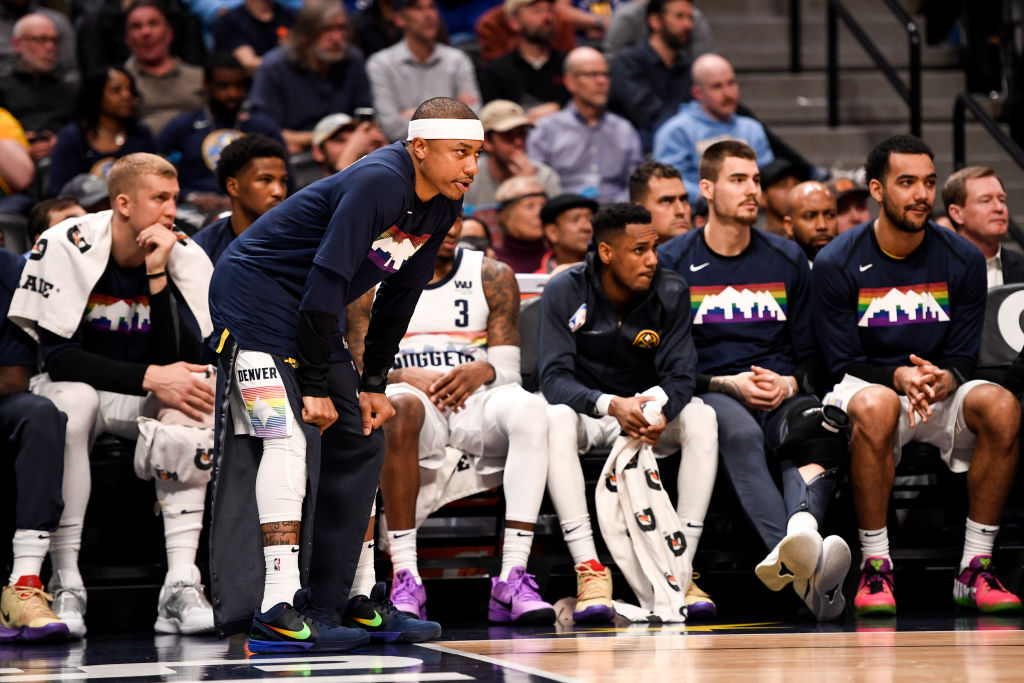 The trade to the Cavs didn't help Thomas at all, and it essentially torpedoed his career. He wasn't available at the start of the season and played in just 15 games before being traded to the Los Angeles Lakers. He saw limited action with the purple and gold, but he put up decent numbers with 15 points per game.

After leaving the Lakers in free agency, Thomas played sparingly for the No. 2 seed Denver Nuggets and now finds his way to Washington.

Isaiah Thomas' injury history
Thomas' hip is worrisome for the Wizards. After having surgery before the Eastern Conference Finals in 2017, he had another hip surgery last season in Denver. They have to wonder how long his hip can hold up before it gets re-injured.

The next major injury for Isaiah Thomas is thumb surgery. It will sideline him for at least six weeks, and a return could be closer to two months. That is a blow the Wizards cannot afford, as it was assumed Thomas would be the starting point guard at the start of the season with John Wall out.

Role with the Wizards
Once he comes back into the rotation, Thomas has a good opportunity to return to his former All-Star level. Teaming him up with Bradley Beal could do wonders for both players. Beal was named to the All-Star team last season, and he isn't a player focused solely on stats or being the face of the franchise.

At times his interactions with John Wall on and off the court showed that there was friction between the franchise's best two players. That won't be an issue with Thomas, who has been known as a hard worker and an unselfish teammate throughout his career. There's no reason why we can't see Thomas averaging over 15 points and a handful of assists per game next season in D.C.

How do you think Thomas will do next year?
Are you expecting Isaiah Thomas and the Washington Wizards to have a good season together? We believe Thomas will play well once he is healthy, but fans might not notice since the Wizards likely will still struggle to make the playoffs in the East.