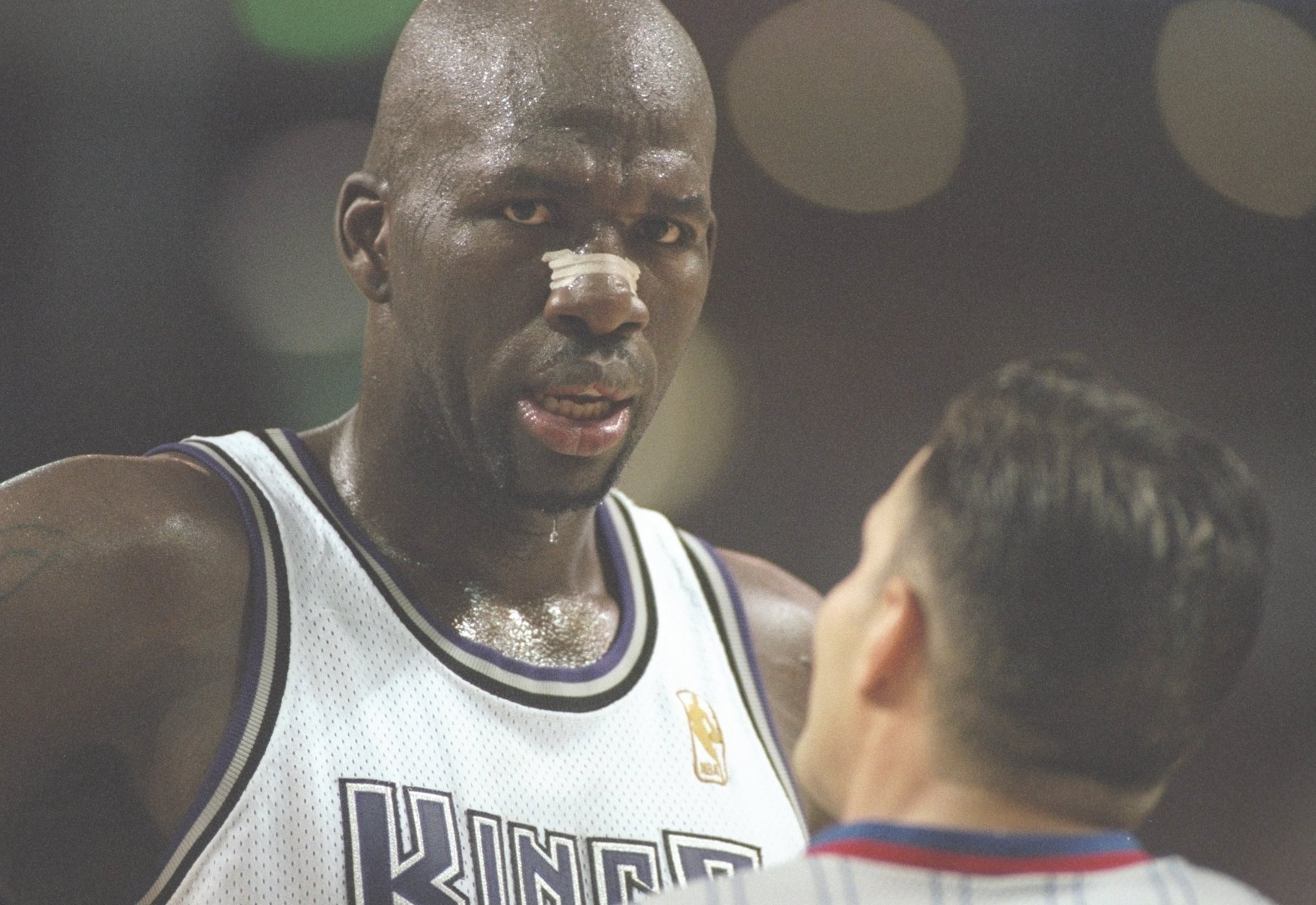 NBA Veteran Olden Polynice Reveals That He Had a Scary Case of COVID-19 and Didn't Know if He Was 'Going To Make It'
During his time in the NBA, Olden Polynice proved to be a pretty tough guy. Now he wants everyone to know that COVID-19 is nothing to take lightly.
If you're a basketball fan of a certain era, then you'll remember the name Olden Polynice. While the big Haitian never quite developed into a star player, he still spent 15 seasons in the NBA banging bodies in the paint and pulling down rebounds. If nothing else, he to be a pretty tough customer. COVID-19, however, proved to be a different type of challenge.
On February 1, Olden Polynice took to Twitter to share some details about his experience with the coronavirus. Despite previously thinking that COVID-19 was only a minor problem, he quickly learned that wasn't the case.
Olden Polynice had a solid career as an NBA role player
When you think of the NBA in the 1990s, you probably remember stars like Michael Jordan and Karl Malone doing battle on the hardwood. While someone like Olden Polynice didn't usually grab the headlines, he still made an impact on the court.
Polynice hailed from Haiti and immigrated to the United States as a child; before long, he proved to be a basketball talent, hit the hardwood in high school, and headed to the University of Virginia. He spent three seasons with the Cavaliers, averaging 16.1 points and eight rebounds per game as a junior, but left the team after being caught shoplifting. He then spent a year playing in Italy before entering the 1987 NBA draft.
The Chicago Bulls selected the big man with the eighth-overall pick, but he never made it to the Windy City; instead, he was shipped to Seattle in exchange for Scottie Pippen.
That early trade wouldn't be Polynice's only move; during his 15 seasons in the NBA, he suited up for five different franchises, offering his services to whoever needed some muscle in the paint. He proved to be pretty capable, too, averaging 7.8 points and 6.5 rebounds per outing during his career.
A scary encounter with COVID-19
Like other former athletes, Olden Polynice has a Twitter account where he shares his takes with the world. On Monday, February 1, though, he had something more important than an observation about modern basketball.
"Hello everyone," the NBA veteran wrote on Twitter. "This post is to let you all know that I recently had Covid, and, fortunately, I am on the tail end of recovery."
While that might sound like good news, Polynice's message didn't end there. He wanted everyone to know just how bad his experience with COVID-19 was.
"First and foremost, this virus is nothing to play with. It's for real. The pain that I felt and the horror of not knowing if I was going to make it is the worst experience I've ever had. I was one of the people early on who thought it was minor, and I'm here to tell you there isn't anything minor about this virus. I regret having that mindset, and I apologize to all that have been affected by this virus and after going thru this. I pray we get rid of this virus ASAP. . Please continue being safe and protect yourself.. God bless"
Olden Polynice isn't the only NBA player to be affected by COVID-19
Given their fame, fortune, and freakish athleticism, it's easy to think of NBA players as real-life superheroes. COVID-19, however, is a real threat to them, too. Just ask Minnesota Timberwolves big man Karl-Anthony Towns.
While just about everyone has faced challenges during the past year, things have been especially nightmarish for Towns. First, his mother caught COVID-19, had to be placed in a coma, and then suffered a stroke; Towns eventually had to take her off life-support and inform the family of her fate.
After that, the big man's family suffered several more COVID-19-related deaths; then, in early 2021, Karl-Anthony himself tested positive for the virus. While he's getting close to returning to the court, it still underscores the dangers of COVID-19.
With sports back in (relatively) full swing, it's easy to think that we're inching back toward normalcy; that final destination, though, is yet to arrive. As Olden Polynice shared, though, COVID-19 is a scary—and real—thing
Stats courtesy of Basketball-Reference and Sports-Reference