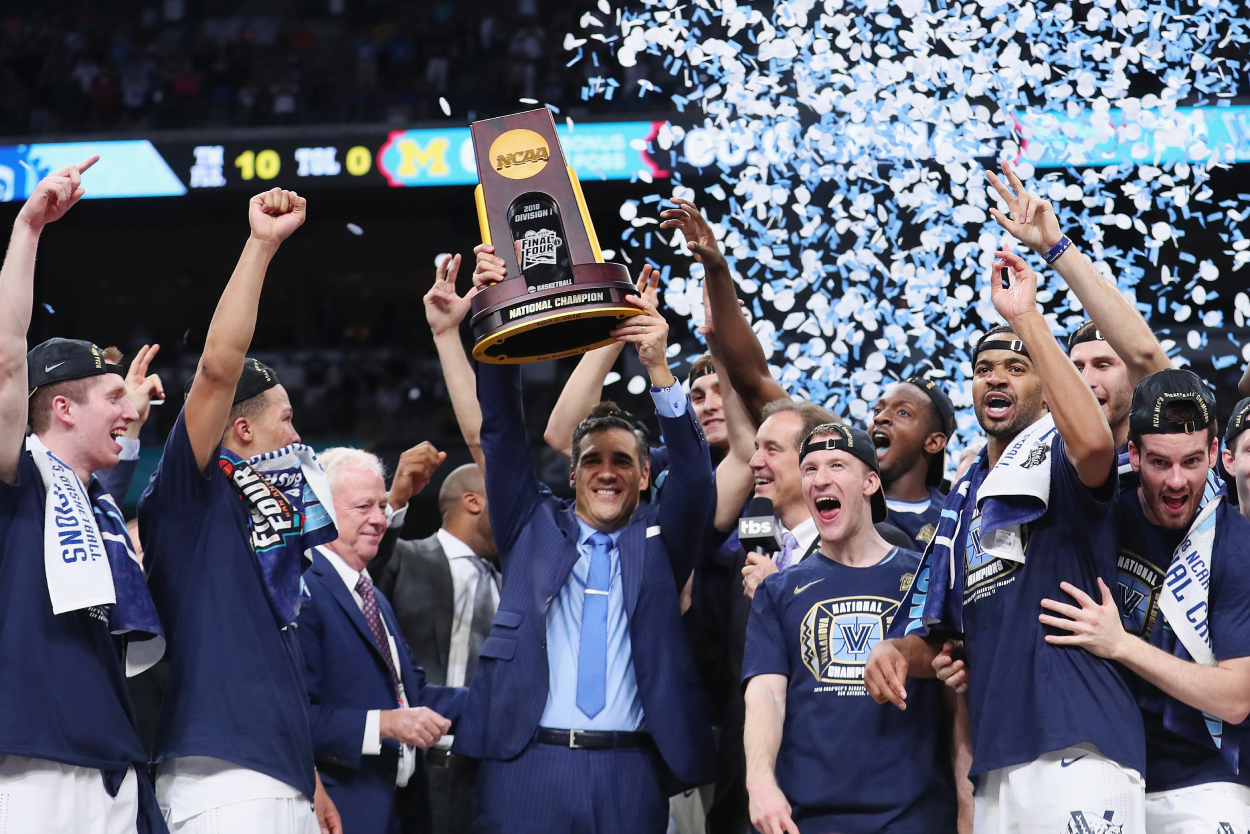 NCAA Tournament: How Many National Championships Have the Villanova Wildcats Won?
The Villanova Wildcats are a college basketball powerhouse and are trending into blue blood territory. So, how many national championships have they won throughout program history?
Are the Villanova Wildcats a blue-blood college basketball program? The answer to that question is debatable, but one thing is certain: Villanova has consistently become one of the country's marquee teams.
Under head coach Jay Wright, the Wildcats have solidified their powerhouse status, reaching four Final Fours and making the Men's NCAA Tournament almost every season. They have also won a couple of titles under the legendary coach.
But how many national championships has Villanova won in total? Here's everything you should know about the program.
Villanova had significant success before the Jay Wright era
Sure, Jay Wright has elevated Villanova and secured the program a spot among college basketball's elite. But the Wildcats had plenty of success before the beginning of his tenure in 2001.
The school reached the NCAA's first-ever final four in 1939 but lost to Ohio State. It then played in the 1971 national title game and lost to UCLA. In 1985, though, it finally reached the mountaintop, earning an upset win over Georgetown to claim its first national championship.
Rollie Massimino was Villanova's head coach at that time. He launched the program's run of dominance, taking it to five Elite Eights during his nearly two decades as head coach. Ed Pinckney was the Wildcats' top player during that 1985 campaign. He averaged 15.6 points and 8.9 rebounds, while Dwayne McClain added 14.8 points per game.
Following the national title win, Villanova had mild success, reaching eight more NCAA Tournaments between 1986 and 2001 and another Elite Eight in 1988. But the school failed to win another NCAA championship until Jay Wright took over.
The Villanova Wildcats have won three national championships in total
Steve Lappas became Villanova's head coach in 1992, and the school struggled during his nine seasons in charge. It recorded just four NCAA Tournament appearances and didn't make it past the second round once.
However, former Hofstra head coach Jay Wright became the leading man in 2001, and he has since catapulted the program to new heights.
It has reached the NCAA Tournament 16 times under his leadership and has played in five Elite Eights. In 2009, the Wildcats played in their first Final Four under Wright but lost to the North Carolina Tar Heels.
That was just the beginning, though.
In 2016, Villanova went on a run to the national championship game and won their first natty in over 30 years, defeating the Tar Heels on a last-second shot by Kris Jenkins. The school then followed that up by winning another national title two seasons later with a blowout win over the Michigan Wolverines in the championship game.
The victory over Michigan helped the Wildcats improve their total national championship number to three, which is where it stands today. Villanova is tied with Kansas for the seventh-most titles all-time. UCLA, Kentucky, North Carolina, Duke, Indiana, and Connecticut are the only schools with more.
Jay Wright has his program in a position to win more titles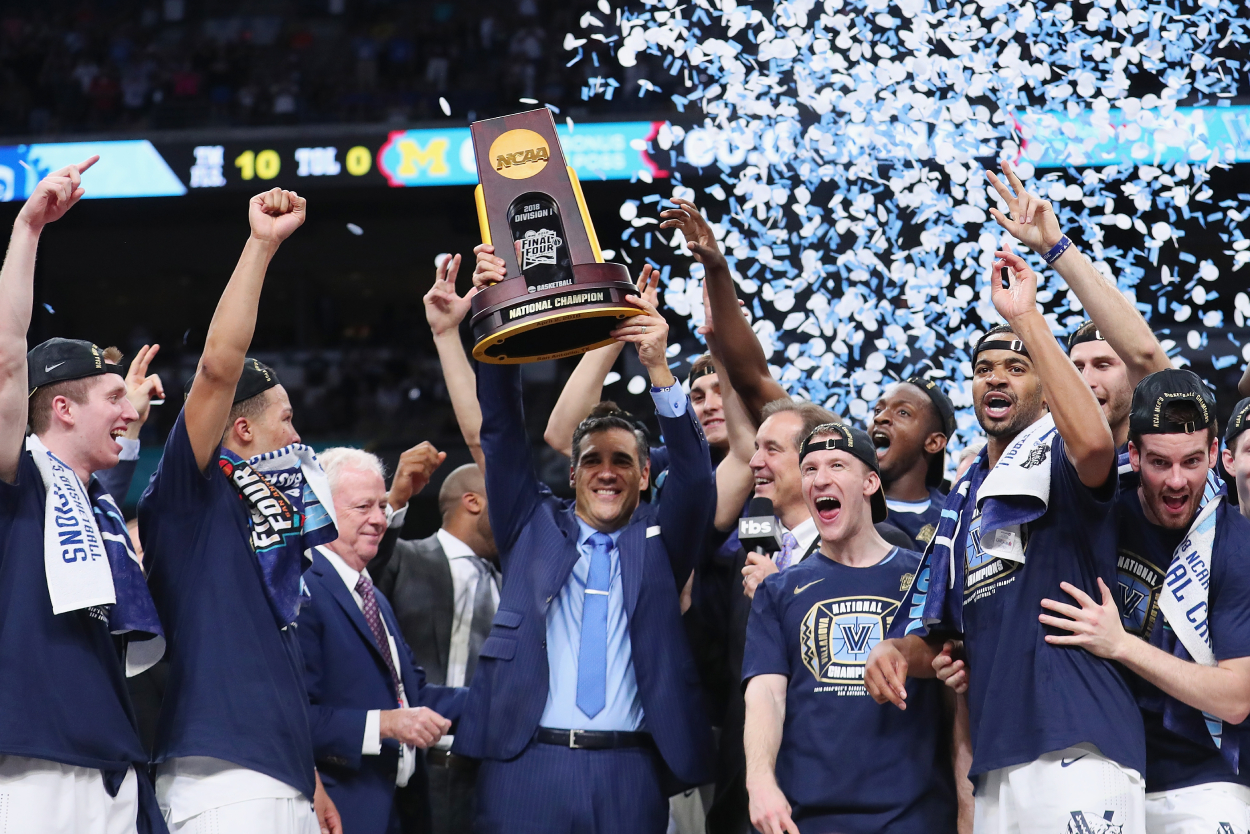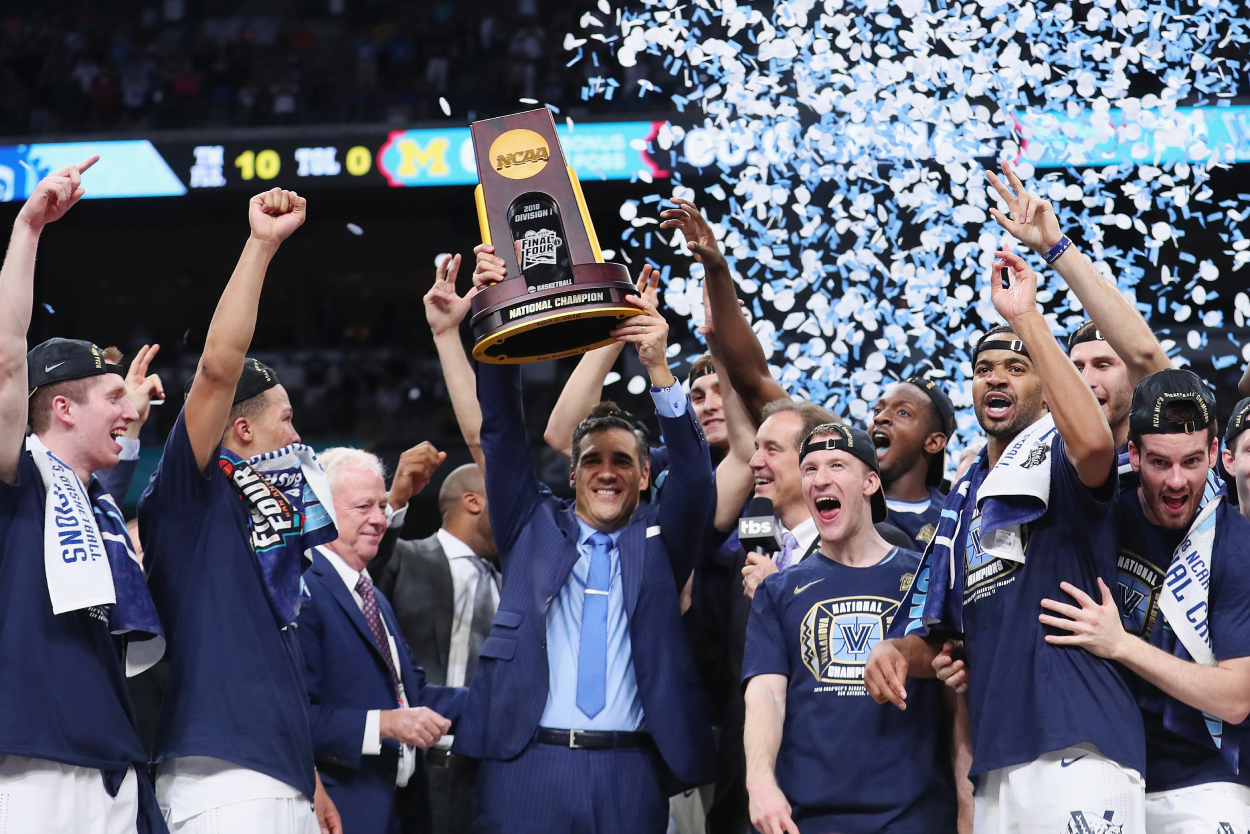 Villanova has gone on yet another run in the 2022 NCAA Tournament. Jay Wright's squad has reached the Final Four again behind the play of Collin Gillespie, Justin Moore, and Jermaine Samuels. 
Opponents have yet to truly test the Wildcats so far, as they have won all their tourney games by at least six points. However, their path to winning their fourth national championship will likely be difficult.
Moore, the team's second-leading scorer, suffered a torn Achilles during Villanova's win in the Elite Eight over Houston. He averaged 14.8 points and 4.8 rebounds this season, and he dropped 21 in the team's Round of 64 win over Delaware.
Whether the Wildcats can win the 2022 title or not, though, Wright has put the program in a position to win more championships for years to come. It has easily had the most success of any school within the past seven years, winning two national championships and reaching three Finals Fours, and it doesn't appear to be slowing down anytime soon.
No, Villanova might not be a blue blood compared to Duke, North Carolina, Kentucky, and UCLA. But it has been just as successful as any of those schools within the past decade. It's time to recognize it as one of college basketball's premier programs.
Stats courtesy of Sports Reference and NCAA.com