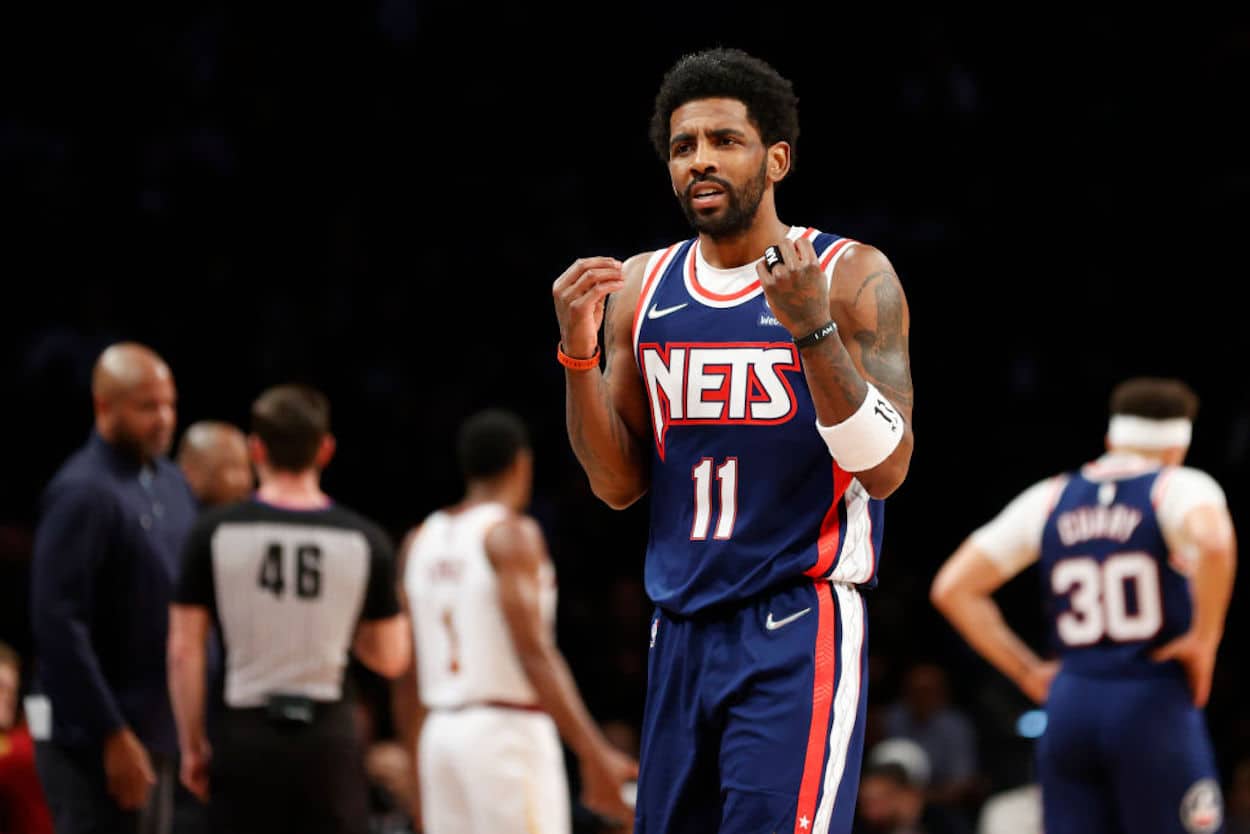 Nets News: Kyrie Irving Refuses to Answer a Question About His Future in Brooklyn
When faced with a public relations lay-up on the red carpet, Kyrie Irving didn't just miss. He threw up a complete airball.
After a tumultuous 2021-22 season, the Brooklyn Nets were probably hoping for a calm summer. Kyrie Irving, it seems, has other plans. While the guard has a player option on the table, longer-term negotiations with the Nets' brass seem to have fallen apart. At this point, his days in Kings County look numbered.
With social media drama and trade rumors swirling, Irving didn't do himself any favors. When faced with a question about remaining in Brooklyn on the BET Awards' red carpet, Kyrie passed the buck.
Kyrie Irving wouldn't say if he wanted to remain with the Brooklyn Nets
If you're a long-time sports fan, you're probably familiar with athletes giving generic answers that don't really say anything. During a recent public appearance, though, Kyrie Irving couldn't even do that.
While walking down the red carpet at the BET Awards, Complex News' Pierce Simpson asked the guard a simple question: "Do you want to be a Brooklyn Net still?" While it would have been easy to trot out a cliche about being happy in New York and saying that he didn't want to discuss private matters, the guard threw up an airball.
"Pass it, pass it to my left," Irving joked while pointing at his stepmother and agent, Shetellia Riley Irving. While the clip's audio didn't make it 100% clear what she said, her exact words don't really matter. Nets fans have, in all likelihood, seen enough.
While it's one thing for a player to leave town, Irving's (lack of) words will bring up some unpleasant memories. The guard, of course, forced his way out of Cleveland before joining the Celtics. There, he pledged his future to the team before leaving town. In New York, he sidelined himself by refusing to be vaccinated against COVID-19 and, now that he and Kevin Durant are finally able to take the court together, seems ready to look for another team.
At this point, it remains to be seen what the rest of the summer will hold. Irving has reportedly received permission to seek a sign-and-trade, but it's unclear if something that meets the Nets' standards will materialize. Regardless of the finer details, though, Kyrie's days in Brooklyn certainly seem to be limited.
According to the Centers for Disease Control and Prevention (CDC), "More than 520 million doses of COVID-19 vaccine had been given in the United States from December 14, 2020, through January 10, 2022. … COVID-19 vaccines are safe and effective."