New NFL Helmet Color Rule Will Make for Some Sweet Throwbacks in 2022
The NFL has a reputation for making rules and regulations that take some of the enjoyment out of the game. They'll fine players for celebrations or for wearing the wrong cleats. An NFL quarterback was even fined for wearing a headband. The league does things like this so often that people say NFL stands for No Fun League.
Commissioner Roger Goodell and the league offices are surely aware of this reputation. The NFL often plays into it or, at the very least, makes rules that show they don't at all care about this reputation. However, a recent rule change will finally give fans something we've wanted for a long time: sweet throwback uniforms.
The NFL will allow helmets of different colors in 2022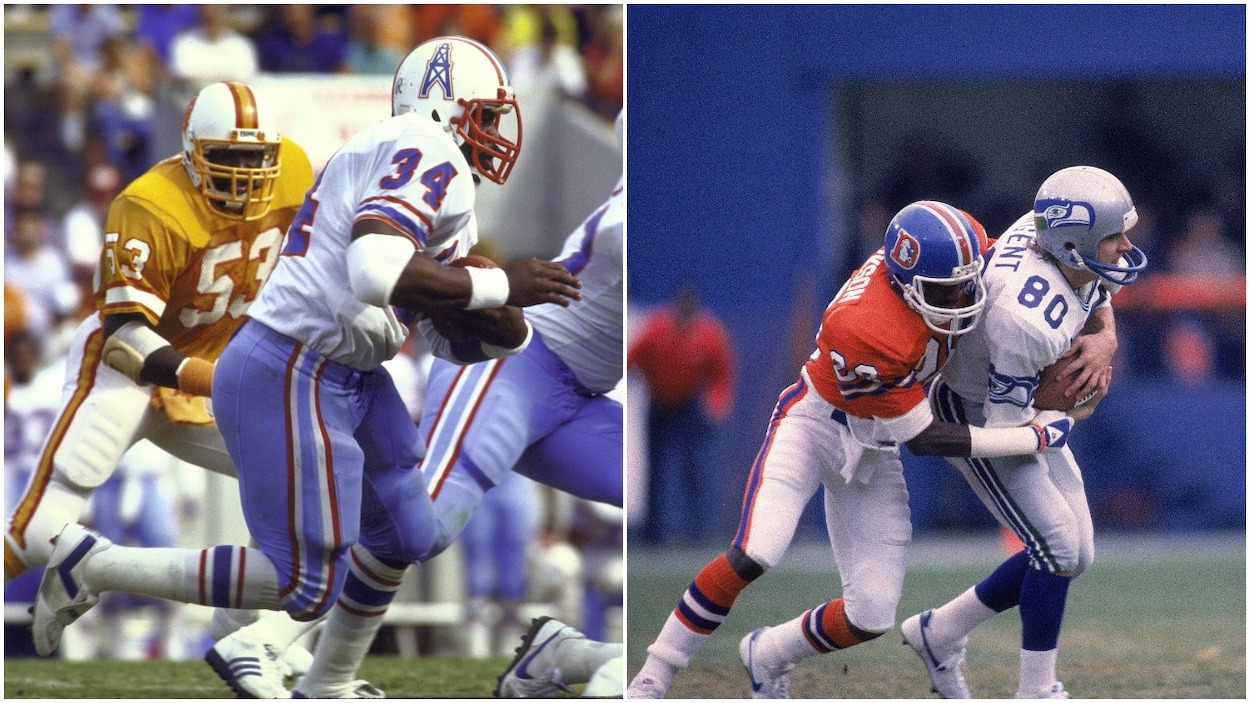 The NFL made a rule in 2013 that most fans probably aren't even aware of. In the name of player safety, the league dictated that all teams could only have one helmet color, per The Athletic. The idea being, players practicing and playing in the same helmet would make players safer from concussions.
Starting in 2022, teams will now be able to have one alternate helmet color. This helmet has to be the same brand, style, and size as their primary helmet for each player. Players must also have the helmet to begin training camp and be able to wear the secondary helmet in practice leading up to the game they will wear them in.
This rule change opens up a world of uniform possibilities that should thrill NFL fans.
The new alternate NFL helmet colors will lead to some great throwbacks and some not-so-great ones
Many NFL teams have made helmet color changes over the years. This meant that there are some classic throwback uniforms that NFL fans haven't seen in almost a decade.
The throwbacks that fans are demanding include the Seattle Seahawks blue and dark green uniforms with silver helmets from the Steve Largent era, the Houston Oilers-turned-Texans white helmets with the baby blue oil derrick, and the classic white Patriots helmet featuring Pat the Patriot from the pre-Brady and Belichick years.
The white Dallas Cowboy helmets from the 1960s, the pre-1990s red Atlanta Falcons helmets, the lighter blue Denver Broncos helmets from Orange Crush days, and the Jim Kelly K-Gun red Buffalo Bills helmets are all fan favorites as well.
Not all alternate helmets will be a treat, though. There are plenty of alternate helmet colors that teams should keep buried in their past.
These unappealing helmet colors include brown Broncos helmets, light blue and yellow Philadelphia Eagles helmets, and yellow Pittsburgh Steelers helmets, which are all headgear we don't need to see again.
With this new rule, we will absolutely see the most polarizing uniform in NFL history, the Tampa Bay Buccaneers "creamsicle" getup. The bright orange and white with the pirate face on the side is loved by some fans and reviled by others. It will surely be brought back, though, in 2022.
Teams may try cool concept helmets
Not all teams have throwbacks with different color helmets. That's ok, though. The new NFL helmet color rule states that teams can wear alternate helmets with throwbacks or a team's alternate or Color Rush jerseys.
This could lead some teams to try some exciting helmet color and logo designs that could redefine their brand. Like any other time an NFL team tries something new, there will surely be hits as well as misses.
Some interesting helmet colors teams that don't have a great throwback option could try include all-black helmets from the Las Vegas Raiders and New Orleans Saints, aqua helmets from the Miami Dolphins, or red headgear for the San Francisco 49ers. Also, mockups of white Cincinnati Bengals helmets with black stripes are already circulation on social media.
The new NFL helmet color rule may not end the No Fun League reputation, but it is undoubtedly a step in the right direction. And while the new/old uniforms will put a smile on many fans' faces, the NFL will also sell a lot of throwback jerseys because of it. So, this isn't a completely fan-focused move by any means.
Like Sportscasting on Facebook. Follow us on Twitter @sportscasting19.