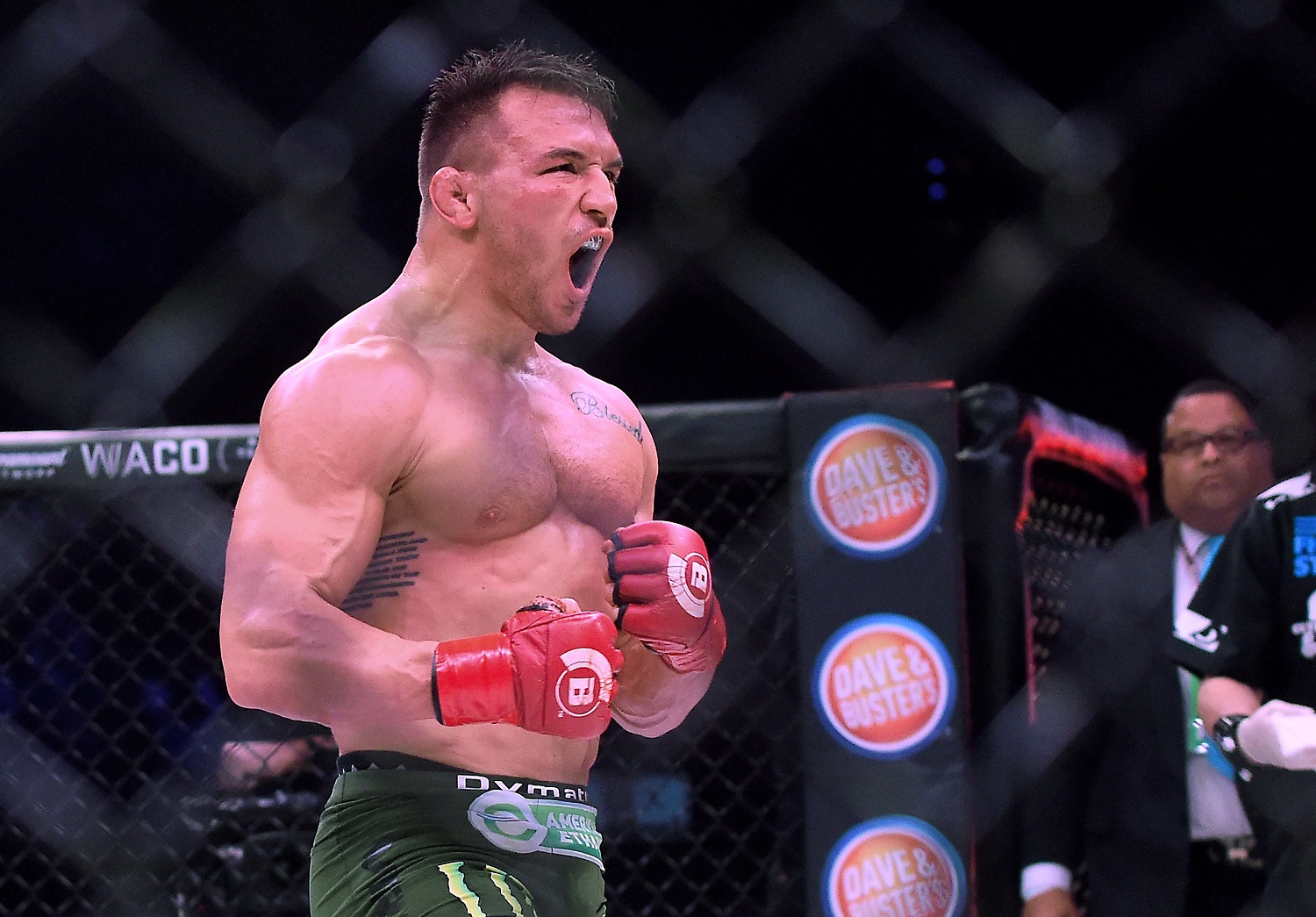 New UFC Contender Michael Chandler's Life Changed Forever in 6 Minutes
Lightweight fighter Michael Chandler, who makes his debut at UFC 257, went through a lightning-fast process to adopt a baby.
Six of Michael Chandler's last 11 mixed martial arts fights have ended in three minutes or less. The four of them that were victories may still have felt like an eternity given how demanding the sport is.
Ask the UFC 257 competitor how long six minutes is, however, and he might suggest it's nothing – not when six minutes complete what must have felt like an eternal wait for one of the most important moments in his life.
A whole new audience will discover Michael Chandler at UFC 257
UFC 257 from Abu Dhabi is highlighted by Conor McGregor taking on Dustin Poirier in a rematch of their 2014 lightweight bout. Their first fight helped springboard McGregor to the first of his multiple UFC titles, but a revenge victory likely gives Poirier his second crack at unbeaten Khabib Nurmagomedov.
Poirier is coming off a unanimous five-round decision against Dan Hooker last June that made the match against McGregor possible. And now Hooker, the UFC's sixth-ranked lightweight contender, faces another opponent with bigger things on his mind.
Hooker is fighting Michael Chandler, who is making his UFC debut after running up an 18-5 record with Bellator, where he was a three-time lightweight champion, and a 21-5 mark overall.  Chandler was on standby at UFC 254 in October in case Nurmagomedov or Justin Gaethje dropped off the card and now gets to make his debut.
Beating Hooker would send Chandler roaring into the rankings.
Michael Chandler had a conventional start in MMA
As is often the case with mixed martial arts competitors, Michael Chandler built his combat sport foundation on high school and college wrestling. Raised a short distance southwest of St. Louis, he was second in the Missouri state wrestling tournament as a senior and then walked on at the University of Missouri, where he was a four-time NCAA Division I qualifier.
After concluding his college career, Chandler began training in mixed martial arts and made his professional debut in 2009. Three victories in nine months landed him a spot on the Bellator roster. Two quick wins there got Chandler into the Bellator Season Four Lightweight Tournament quarterfinals, and he sailed to the title in May 2011, winning $100,000 and the right to take on Eddie Alvarez for the lightweight championship.
Chandler submitted the champion in the fourth round. He would lose the belt later in a rematch with Alvarez, who went on to become a UFC champion, but his career was established. Chandler would win the title twice more before moving on to the UFC in 2020.
Along the way, Chandler opened a fitness and MMA center in Nashville. He also met Brie Willett in 2013 and they married the following year, setting them up for a huge development in 2018.
Losing his Bellator championship for a second time, this time to Brent Primus in June 2017, was a professional setback for Chandler. However, he had other stuff happening in his life. Chandler and his wife were going through the application process for adopting a child.
Six minutes changed his life for the better
The process just to be approved for adoption is long and time-consuming. Applicants go through criminal background checks, and there and financial and medical background checks as well.
"Once we finally got all that done, we got an email that said, 'Congratulations, you're now active,'" UFL 257 competitor Michael Chandler told mmafighting.com.
That meant that the Chandlers were approved to adopt. Even then, though, there was no guarantee that the participating agencies could find a suitable match. Some applicants can wait a year or more to hear of a potential match. That wasn't the case with the Chandlers. Six minutes after receiving the email, the phone rang.
"She goes, 'Hi, my name is Courtney, I'll be your consultant moving forward — and by the way, there's a child down in Dallas who we think matches your preferences perfectly, and you match the mother's preferences perfectly,'" Chandler recalled.
"We didn't even get over the reaction of settling into the idea of, 'Holy cow, we're now active, we're now allowed to adopt.' … It was, all of a sudden, six minutes go by and we get that phone call."
Hap Chandler was a little older than the couple wanted. But the Chandlers hit it off immediately with the birth mother. A couple of weeks of paperwork completed the process.
"It's just funny how you have your preferences, and you have your plans and then, all of a sudden, God just says, 'Nope.'" Chandler said. "He was nine months old. They sent us his picture, and as soon as I saw it, I got this feeling inside of me, and I started tearing up. I was just like, 'That's my son.'"