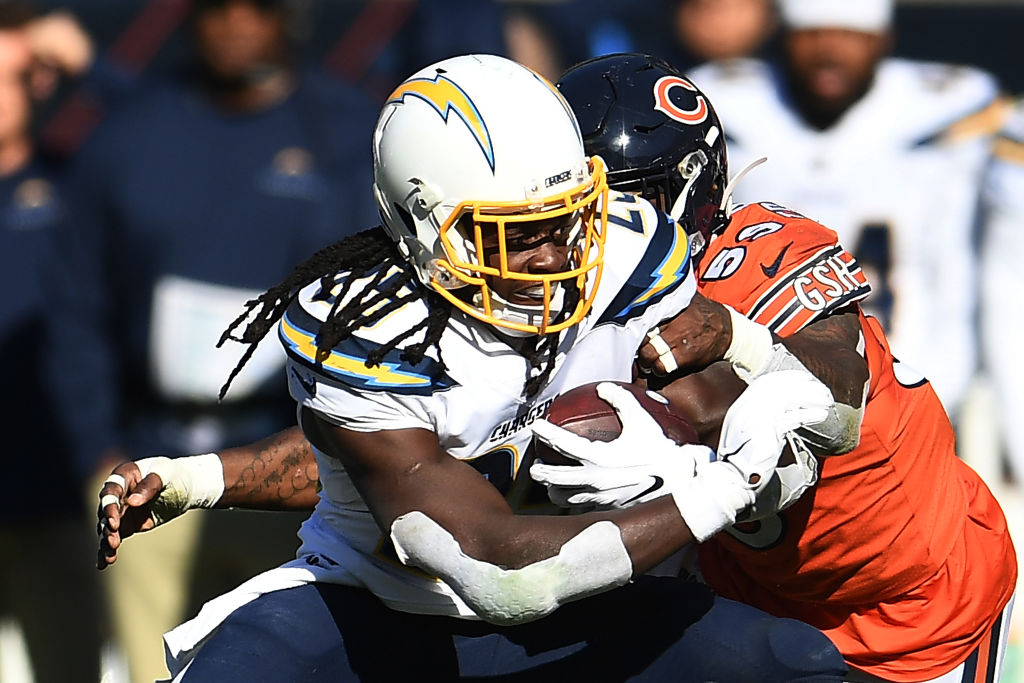 NFL: 1 Major Reason Why Chargers Running Back Melvin Gordon Will Break Out Today
Los Angeles Chargers running back Melvin Gordon has struggled since ending his holdout. He could post a big outing on Sunday, however.
Any time a player holds out, it's a gamble. Los Angeles Chargers running back Melvin Gordon learned that the hard way this season. Not only did he fail to get the extension he wanted, but his production has suffered after missing the start of the year. It was the worst of both worlds.
Despite that rocky start to the year, however, this could be the weekend that everything changes. Look for Melvin Gordon to post a big outing today against the Green Bay Packers.
Melvin Gordon's season so far
Coming into this season, Melvin Gordon was on the last year of his contract with the Los Angeles Chargers. The running back, however, felt he was undervalued, and decided to hold out for a more lucrative deal.
While Gordon probably had a point, the Chargers didn't budge. Training camp came and went, then the regular season started; there was still no sign of their starting running back. After Week 3, however, there was a breakthrough, and Gordon rejoined the team.
Gordon didn't suit up for Week 4 but returned to action the following week against Denver. Things didn't go according to plan, though, as he only rushed for 31 yards on 12 carries. In L.A.'s next three games, things didn't improve; Gordon is currently averaging 11 carries and 28 rushing yards per game.
The Chargers make a change
This weekend, things will be different for the Chargers. On Monday, the team fired offensive coordinator Ken Whisenhunt, who was unable to help his unit click this season.
Chargers quarterbacks coach Shane Steichen is taking over play-calling duties, but he'll probably be following head coach Anthony Lynn's game plan. That means keeping things simple and establishing a running game, both of which bode well for Melvin Gordon.
"Cut back, simplify and let these young men play fast and physical, and know what the hell they're doing," Lynn explained during the week. "We definitely want to simplify and allow our players to play faster. It's our job as coaches to figure out ways to slow this game down. That's what we're trying to do."
Melvin Gordon vs. the Green Bay Packers defense
While Melvin Gordon will probably see an increased workload on Sunday, that's not the only factor working in his favor. He'll also be playing against a Green Bay Packers' defense that has struggled stopping the run.
Despite their strong record, the Packers don't rely on their run defense to win games. Green Bay allows an average of 123.8 yards on the ground each week, placing them in the bottom third of NFL run defenses. They've also allowed an opposition running back to either break the century mark or score a touchdown seven of their eight games this season.
Gordon's production, especially on the back of his holdout, has been incredibly disappointing. While Sunday's match-up against the Green Bay Packers doesn't seem like the game to get him going, it could actually be the perfect scenario to spark the Chargers offense. Look for the running back to post a big game; once he gets going, Melvin Gordon is hard to stop.