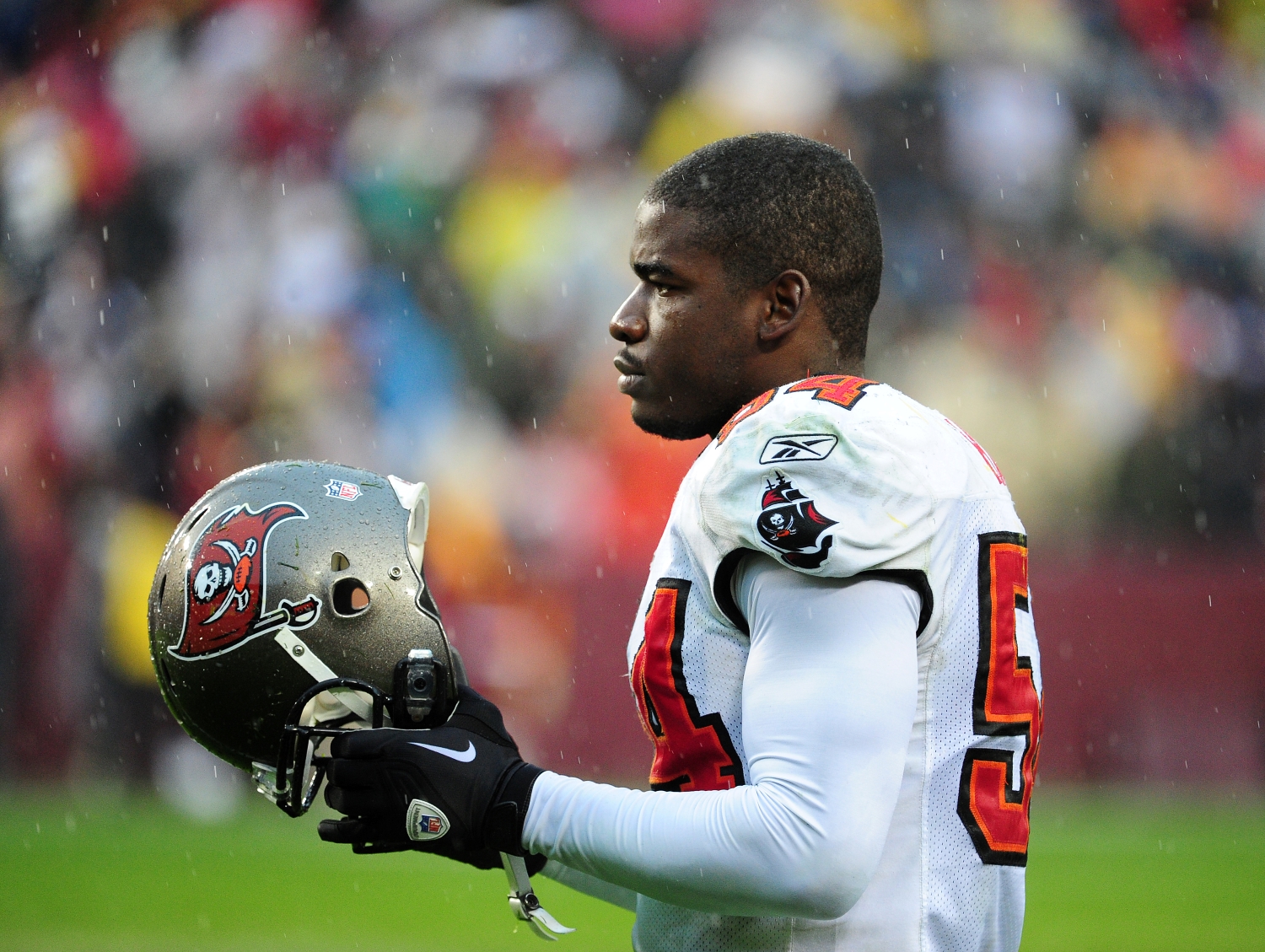 NFL Community Suffers Heartbreaking Loss With Death of Former Buccaneers LB Geno Hayes
The NFL community experienced a heartbreaking loss Tuesday. After battling liver disease for two years, Geno Hayes died at the age of 33.
For seven years, Geno Hayes made a living as an NFL player. A speedy linebacker who began his career with the Tampa Bay Buccaneers, he suited up for two other franchises before he hung up his helmet and shoulder pads for good. Unfortunately for the former Florida State standout, his foray into retirement did not go as expected.
Just a few years after playing his final NFL game, Hayes' life took an unexpected turn. And on Tuesday, his battle against liver disease came to a tragic end.
Geno Hayes went from playing in the NFL to fighting for his life
A highly productive linebacker for the Seminoles, Hayes made the leap from FSU to the NFL in 2008. Selected in the sixth round by the Buccaneers, he quickly earned a starting role in Tampa. Despite his late-round draft status, the 6-foot-2, 220-pounder finished second on the team with 98 tackles in just his second year in the league. Hayes ended up playing 56 games (42 starts) across four seasons with the Buccaneers.
Following a one-year stint with the Chicago Bears, he spent two seasons with the Jacksonville Jaguars. Hayes recorded 25 starts for the AFC South franchise. He ultimately played in 101 regular-season games (70 starts) for three teams during his time in the NFL.
But just five years after playing his final snap of professional football, Hayes got diagnosed with alcoholic cirrhosis. He told ESPN he suspected the use of nonprescription pain medications (combined with a family history of liver disease) caused his condition. Hayes said he used over-the-counter pain medications like Tylenol, Advil, and Aleve because he believed they were safer than shots of Toradol.
He also told ESPN he had recently been placed on a waiting list for a liver transplant after he had been hospitalized more than 20 times in the past year.
The former Buccaneers linebacker passed away Tuesday
With his health rapidly deteriorating, Hayes moved to hospice care at his parents' home in Georgia last week. On Tuesday, the former Buccaneers linebacker died after battling liver disease for two years. He would have turned 34 in August.
Although he didn't disclose his diagnosis to many people outside of his family and close friends, Hayes eventually went to therapy to cope with his condition. He began to open up recently in hopes it could help others.
"I think maybe just to inspire a person going through something similar [who] needs that extra motivation," Hayes told ESPN. "It may inspire someone to never give up."
That type of spirit serves as an excellent example of how to take on adversity. And his story could certainly inspire others to continue fighting. But even though that story took a heartbreaking turn Tuesday, Hayes clearly made a big impact on people's lives before his passing.
Members of the NFL community share their condolences following Hayes' death
Once news of Hayes' death broke, various members of the NFL community expressed their condolences on social media.
New York Jets coach Robert Saleh got a chance to work with Hayes in Jacksonville. And it's clear the father of two left a lasting impression on the former Jaguars assistant.
"My prayers and thoughts are with Geno Hayes' family and loved ones after his untimely passing," Saleh said in a statement. "Having the opportunity to spend time with him, I saw Geno's passion and love for not only football but for life itself. He was an amazing person who left a mark on everyone who had the pleasure of connecting with him."
The Buccaneers also paid tribute to Hayes, who played a key role on and off the field during his time in Tampa.
"Geno was a beloved teammate and often the first player to volunteer his time to our efforts in the community," the team said in a statement. "He frequently visited schools and had a remarkable ability to connect with children. Losing him at such a young age is heartbreaking."
All statistics courtesy of Pro Football Reference.