NFL Draft: Green Bay Packers Will Be Draft-Day Geniuses If Pete Prisco's Bold Predictions Come True
CBS Sports' Pete Prisco's unprecedented prediction for the Green Bay Packers in the 2022 NFL draft would be a brilliant move.
The Davante Adams trade left the Green Bay Packers with an All-Pro-sized hole at wide receiver. Marquez Valdes-Scantling bolting for the Kansas City Chiefs made the situation even worse. However, the franchise can solve its entire WR problem on the first day of the 2022 NFL Draft. And if they do it in the way CBS Sports draft guru Pete Prisco suggests, it could upgrade the position group from last season, despite losing Adams.
The only problem is, drafting two wideouts in the first round would go against decades of Packers history and precedent.
The Davante Adams trade could be addition by subtraction
News of the Davante Adams trade broke while many football fans were several Guinness pints in on St. Patrick's Day. It was a shock to most, and it also felt like a major blunder from the Green Bay Packers.
However, when the corned beef and cabbage wore off, and there was more time to process the blockbuster trade, a silver lining began to appear.
Adams is one of the best wideouts in the NFL. He's been to five consecutive Pro Bowls, and, coming off his first All-Pro season last year, he improved most of his numbers this season. His final 2021 stat line was 123 catches for 1,553 yards, and 11 touchdowns.
As impressive as those numbers are, they have an underlying problem.
One of the reasons they are so gaudy is because Adams is the only WR that Aaron Rodgers trusted in 2021.
Consider these stats: 83 catches on 109 targets for 1,040 yards and three TDs.
Those are near-Pro Bowl numbers for a wide receiver in 2021. What are those numbers, though? They are the difference between Adams' stats last season and the Packers' No. 2 WR, Allen Lazard.  
This didn't hamper the Packers all that much in the regular season. However, in the team's shocking playoff loss to the San Francisco 49ers, it showed up in a major way and cost Green Bay big time.
During that 13-10 loss in the Divisional Round, Rodgers targeted Adams 11 times. The QB dumped the ball off to running back Aaron Jones 10 times and threw to backup tight end Dominique Dafney twice. Outside of that, no Packers had more than one target.
The 49ers locked on to Rodgers' reliance on Adams and held the WR to 90 yards on nine catches. As good as Adams was last year, his role as Rodgers' safety blanket (through no fault of his own) hurt the Packers when it mattered most.  
Drafting two WRs in the first round of the NFL draft would be a brilliant move by the Green Bay Packers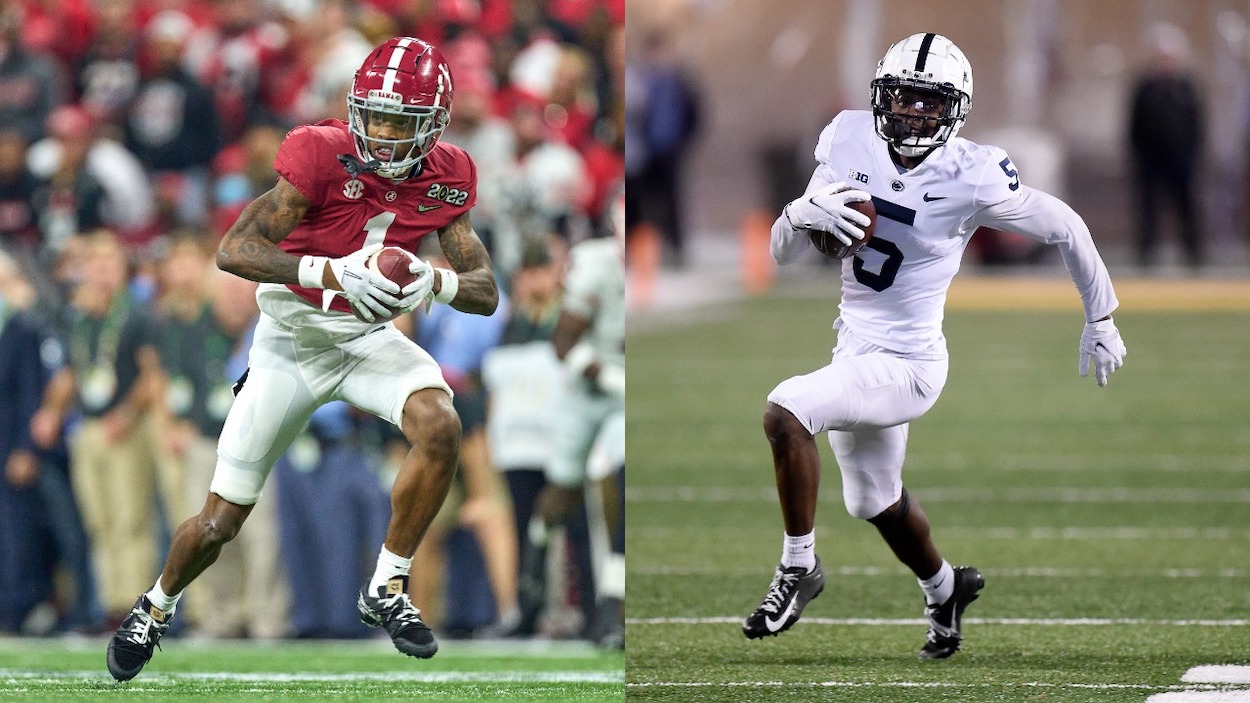 The Green Bay Packers can't replace what Davante Adams did with one player. The reason being, no one player in the NFL can do what he does outside of Cooper Kupp.
What they can do, is replace Adams' production in the aggregate by drafting two star wide receivers in the first round of the NFL draft. That's why it would be a major coup if CBS Sports' Pete Prisco's mock draft predictions come true.
Prisco had Green Bay taking WRs at both No. 22 (the pick they got from the Las Vegas Raiders for Adams) and at their own pick at No. 28. He predicts Penn State's Jahan Dotson first, followed by Alabama's Jameson Williams.
This would not only be a smart move by general manager Brian Gutekunst and head coach Matt LaFleur, but it would also be a shocking one. The Packers franchise is a model of continuity, and the team has only had four GMs (Ron Wolf, Mike Sherman, Ted Thompson, and Gutekunst) in the last 30 years.
Guess how many WRs those four GMs have drafted in the first round in the last three decades?
Just once, with Florida State's Javon Walker No. 20 overall in the 2004 NFL Draft.  
In fact, the Packers have only picked wideouts as high as the second round in that same 30-year span seven times. Some of those picks worked out pretty well, though, netting Green Bay Adams (2014), Randall Cobb (2011), Jordy Nelson (2008), and Greg Jennings (2006).
With Aaron Rodgers likely in his final three years in the NFL, now is the time to invest heavily in the wide receiver position. And, if the Packers can get Williams and Dotson, that would be a home run.
Jameson Williams and Jahan Dotson might not be realistic, but they would be great
Wide receiver is one of the deepest and most talented position groups in the 2022 NFL Draft, especially at the top.
USC's Drake London and Ohio State's Chris Olave and Garrett Wilson should come off the board in the first half of the first round. Pete Prisco, who seems lower on this group than other draft experts, have them going at Nos. 11, 16, and 18, respectively.
Penn State's 5-foot-11, 178-pound, uber-athlete Jahan Dotson is realistic for the Green Bay Packers at No. 22. He's a dynamic player and offers elite punt returning as a bonus, but his size isn't ideal for an outside pass-catcher, which is what he is.
No. 22 seems about right for Dotson, and he could fall to No. 28, but if the Packers want him, writing would be a gamble as teams like the Arizona Cardinals, Buffalo Bills, or Tennessee Titans could steal him between Green Bay's first and second spot.
Jameson Williams at No. 28 is the Prisco pick that isn't realistic. The Alabama wideout tore his ACL in the College Football Playoff national championship game. If not for the injury, Williams would challenge London as the first receiver off the board. The Ohio State transfer is telling people, like NFL.com's Nick Shook, that he's "ahead of schedule" in his recovery, so he should be ready for the 2022 season.
There is no way, barring a rehab setback, that Williams falls to No. 28. There's a slight possibility No. 22 is realistic, but that could be optimistic too, as the buzz around Williams grows.
That means that if Green Bay wants to draft two WRs in the first round —which they should — the options with their second pick will likely include Arkansas' Treylon Burks, Georgia's George Pickens, or possibly Western Michigan sleeper Skyy Moore.
All stats courtesy of Pro Football Reference