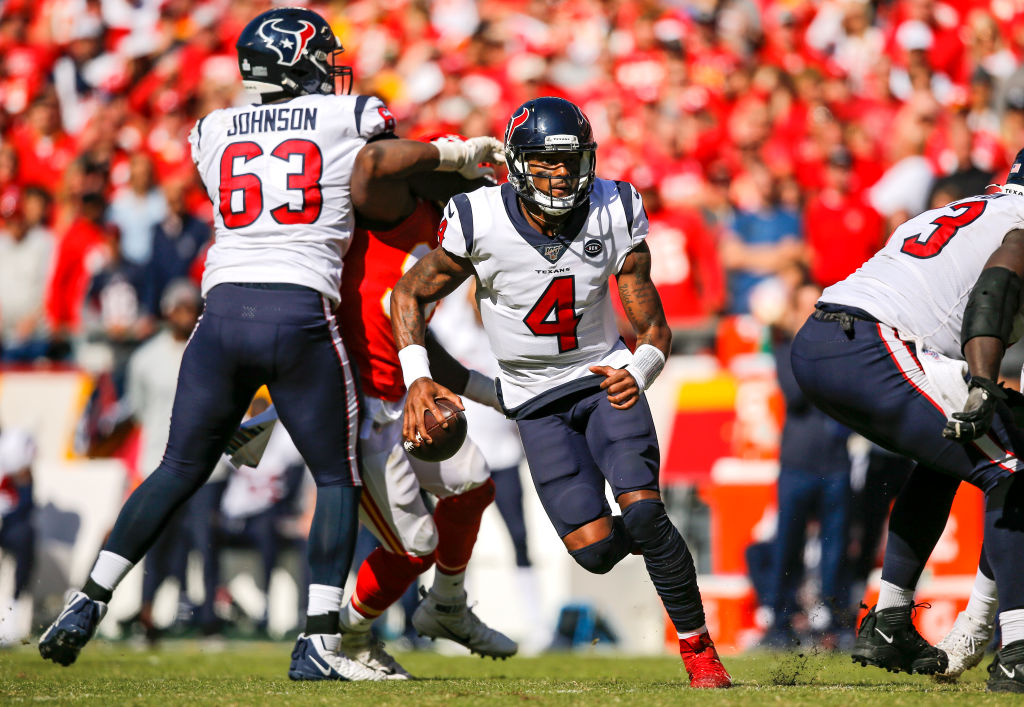 NFL: Deshaun Watson's Houston Texans Knock Off the Slumping Kansas City Chiefs
Houston Texans' quarterback Deshaun Watson out dueled Patrick Mahomes and the Kansas City Chiefs on Sunday.
Led by Deshaun Watson's 280 passing yards, Houston Texans upset Kansas City Chiefs 31-24 in Arrowhead Stadium in Kansas City.
The Texans found a great deal of success on the ground, rushing for 192 yards and three rushing touchdowns against a struggling Chiefs defense. Watson completed 30 of 42 passes, throwing for one touchdown an two interceptions, earning a passer rating of 77.50.
The disparity in the two teams' rushing attacks showed up in the time of possession and on the stat sheet. The Texans finished the afternoon with a rushing usage index of 192.0, compared to the Chiefs' 13.25. Houston's total OVER (Offensive Value and Efficiency Rating) of of the game was 24.6, came in lower than K.C.'s 36.5, but their ground game and defense proved decisive in the win.
That Texans unit put up a massive DVS (Defensive Value Score) index of 4.5, compared to 0.22 for Kansas City Chiefs. They forced one crucial fumble in the fourth quarter and sacked Patrick Mahomes once on the afternoon.
The Texans will visit the Indianapolis Colts on Sunday, while the slumping Chiefs will look to rebound Thursday night against the Denver Broncos.