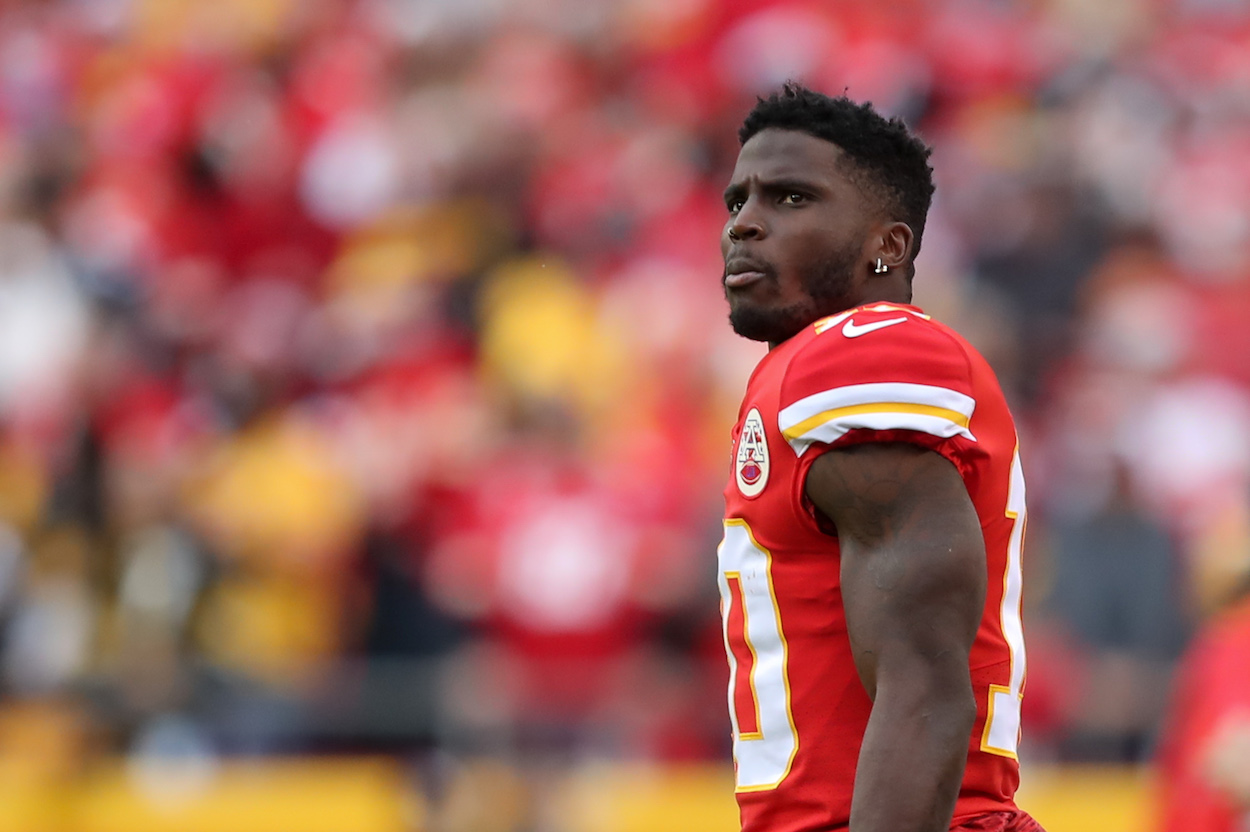 NFL Insider Reveals Tyreek Hill Will Get a 'Normal' Contract Extension Because He Hasn't Been Arrested Lately
Kansas City Chiefs WR Tyreek Hill is in line for a massive extension despite his history of domestic violence and child abuse allegations.
Kansas City Chiefs wide receiver Tyreek Hill has six Pro Bowl appearances in six seasons playing at Arrowhead. The player also has three All-Pro nods and a Super Bowl championship. Despite all that, he's playing on an incentive-laden, "prove-it" deal from the team.
Hill's unsettling past led the Chiefs to give him an extension they could easily get out of in 2019, in case he ran afoul of the law yet again. After three years of good behavior, though, NFL insider Ian Rapoport is reporting the franchise is now willing to give Hill a deal that reflects his work on the field, not his transgressions off it.
Tyreek Hill has a history of domestic violence and child abuse allegations
In 2016, the Kansas City Chiefs took West Alabama WR Tyreek Hill in the fifth round (No. 165 overall) of the draft. How did a talent like Hill end up at such a small school and drop that far in the draft?
Before all that, Hill was a highly-touted WR/RB at Oklahoma State in the Big 12. He wasn't flying under anyone's radar and would never have fallen that far down draft boards. However, Oklahoma State dismissed Hill after a horrific domestic violence incident.
In 2014, Stillwater, Oklahoma police arrested Hill after he punched his eight-weeks pregnant girlfriend, Crystal Espinal, in the stomach and face and choked her. In addition to the arrest and losing his scholarship, Hill faced domestic assault and battery by strangulation charges. However, he got off with three years of probation. And, in 2018, the case was expunged from the record by an Oklahoma court.
Five years later, Hill again faced accusations from Espinal, now his fiancée, for breaking their 3-year-old son's arm, per USA Today.
Despite a damning recorded conversation between Hill and Espinal, the victim's young age hampered the investigation. USA Today reported that Johnson County district attorney Stephen M. Howe ultimately said in a statement "that prosecutors believe that a crime has occurred, but the evidence in this case does not conclusively establish who committed the crime against this child."
After a brief suspension by the Chiefs when the allegations first arose, Hill faced no further legal ramifications or discipline from the NFL.
The Kansas City Chiefs are now ready to give Tyreek Hill a massive contract extension
In 2019, just months after Tyreek Hill escaped charges in the child abuse investigation, he signed a three-year, $54 million contract extension. His deal with the Kansas City Chiefs included low yearly base salaries ($720K-$1M) and signing bonus ($5.8M). However, it did include massive roster bonuses of $11.8M-$16.5M per season if he stayed on the squad. The average annual value (AAV) of this contract ($20.6M) put him in the top five at his position. But the massive roster bonuses made it easy to get out of if Hill committed a crime.
Now, with three full seasons of no arrests or accusations under his belt, the Chiefs apparently believe the gifted wideout is ready for a "normal" WR1 contract.
NFL Insider Ian Rapoport reported on NFL Network that the Chiefs and Hill's agent, Drew Rosenhaus, are currently working on a contract extension, cringingly calling Hill "one of [the Chiefs'] great success stories." The reporter also noted:
The last time these two guys — these two sides — did a long-term deal, it was uniquely designed to make Tyreek Hill, considering all the off-field issues he had, to make him earn every bit of it. My understanding is this deal is much more normal, conventional, considering what he has done the last three years. He has earned the opportunity to get a real and regular contract. One that will likely make him among the highest-paid receivers in the NFL.

Ian Rapoport on Tyreek Hill
With a long-term extension now seeming inevitable, Chiefs fans will have to hope that Hill has truly changed his ways.
Will all the Chiefs' off-field distractions cost them a chance to win another Super Bowl?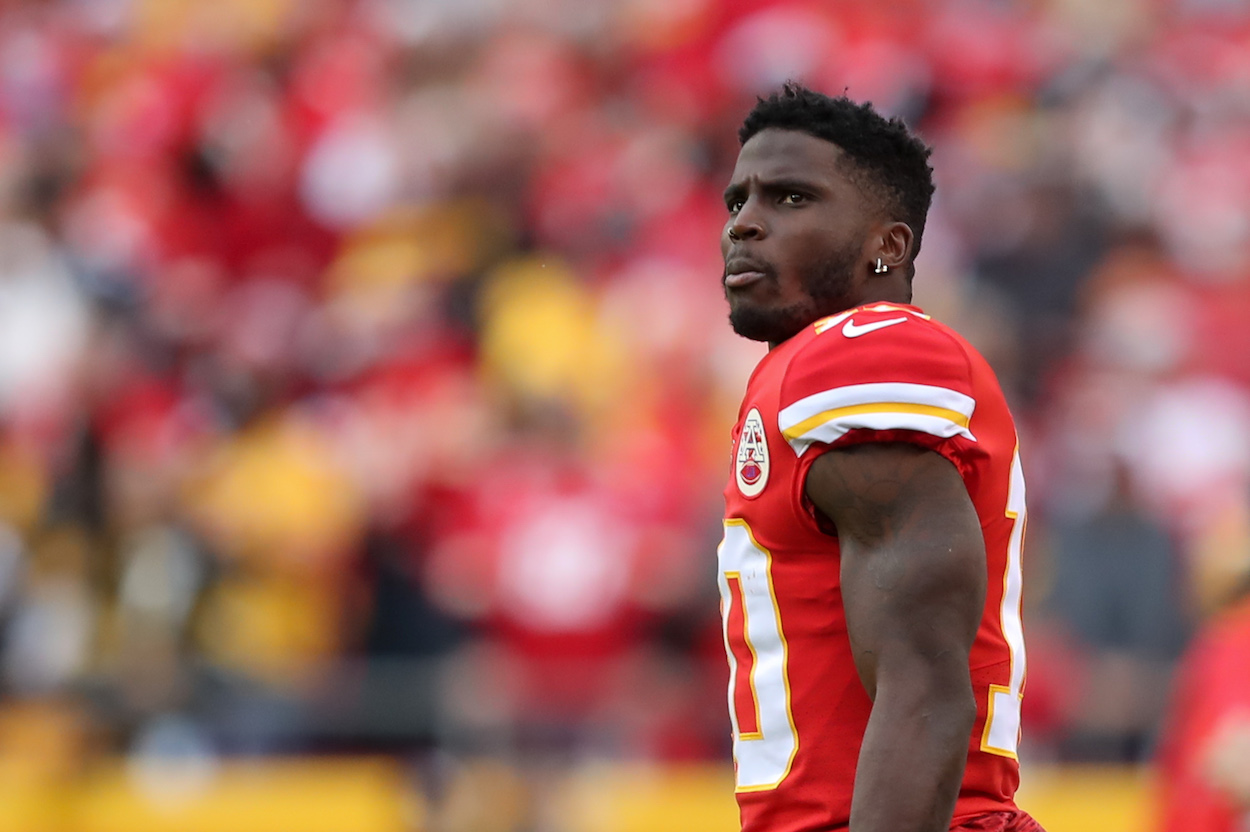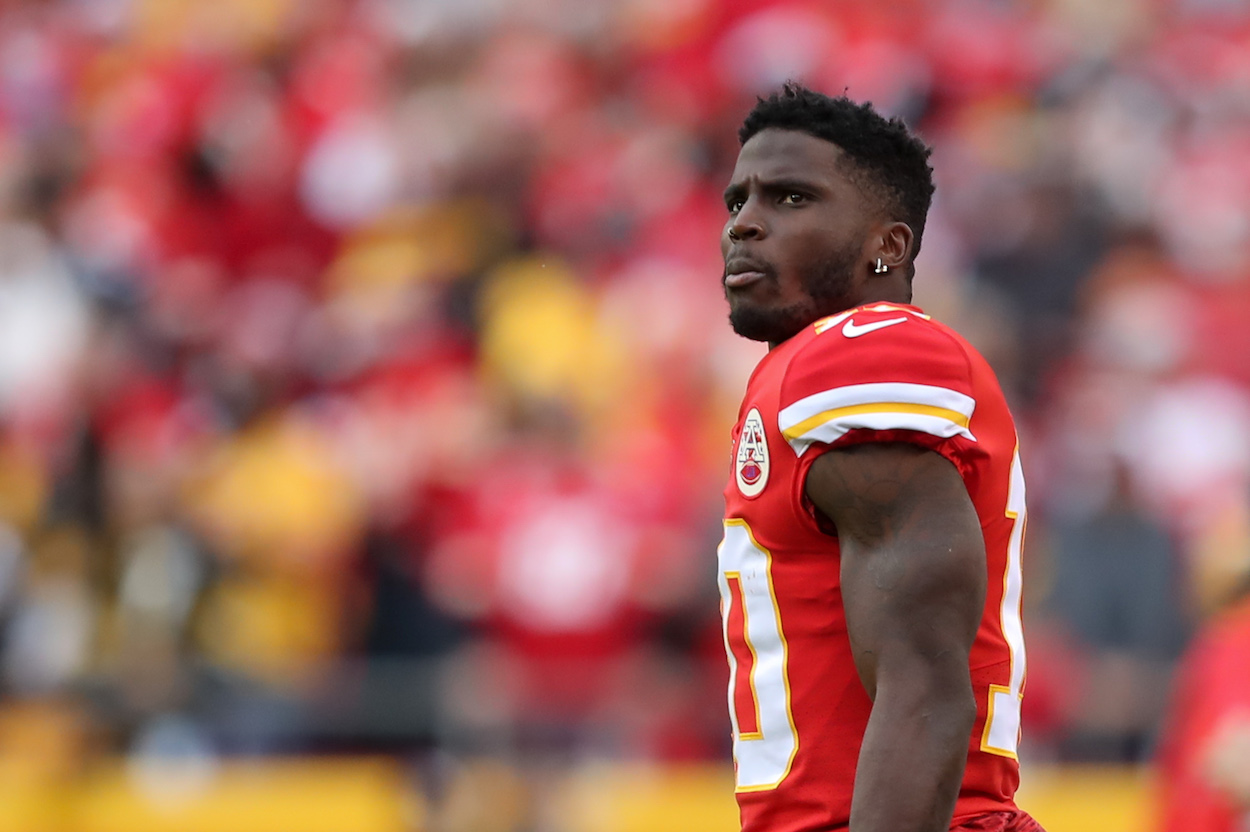 There is no question the Kansas City Chiefs have one of (if not the) most talented roster in the NFL. However, over the last few seasons, off-field issues are mounting for the organization.
These issues range in seriousness from the truly tragic to the disturbing to the simply annoying, but they all distract from the team's mission on the field.
There was the car accident involving head coach Andy Reid's son Britt (then a Chiefs assistant) that ended in DWI charges and a critically injured little girl, per KSHB Kansas City. And DE Frank Clark's arrest for having an Uzi machine gun on the front seat of his car last offseason.
Additionally, this season, there was the far less serious but definitely distracting antics of Patrick Mahomes' fiancée and brother, Brittany Matthews and Jackson Mahomes.
There's no doubting KC's talent. But if the organization can't clean things up off the field, it's easy to see the possibility that a potential dynasty could be derailed by things that have nothing to do with football.
How to get help: In the U.S., call the National Domestic Violence Hotline at 1-800-799-7233 or text START to 88788.
All contract figures courtesy of Spotrac