Tyreek Hill Brutally Beat and Choked His Pregnant Girlfriend In College but Never Saw Any Jail Time
Tyreek Hill is on his way to a second straight Super Bowl appearance with the Kansas City Chiefs after being named to the Pro Bowl for the fifth season in a row. He's become one of the most entertaining players to watch in the NFL and was recently rewarded with a $54 million contract.
But many believe Hill shouldn't even be allowed to play and earn a living in football because of his checkered past. More specifically, the scary domestic violence incident that occurred between Hill and his pregnant girlfriend in college.
Oklahoma State dismissed Tyreek Hill in 2014 after domestic violence incident
Back in 2014, Tyreek Hill was a 20-year-old running back and wide receiver at Oklahoma State University with dreams of making it to the NFL one day. Hill recorded 534 rushing yards, 281 receiving yards, and five total touchdowns for the Cowboys as a junior, but his career in Stillwater turned out to be short-lived.
On Dec. 12, 2014, Hill got into an argument with his girlfriend, Crystal Espinal, who was eight weeks pregnant with the couple's son at the time. The verbal argument turned violent when Hill punched Espinal in the stomach and face and choked her. Espinal reported the incident to the police as she feared for her and her child's life.
Hill was arrested just after 11 p.m. and spent the night in jail. He was later charged with domestic assault and battery by strangulation, and Oklahoma State dismissed Hill immediately afterward.
The Chiefs still drafted Hill in 2016
Hill went on to finish his college career at the University of West Alabama, and he entered the 2016 NFL draft as one of the most polarizing prospects in the class. Hill's troubled past made him drop to the fifth round when the Chiefs finally took a chance on the electrifying weapon.
The pick was met with backlash from Chiefs fans and fans around the league, but Kansas City still defended drafting Hill.
"Before you're given a second chance, you better be doing the right things," Chief head coach Andy Reid said after the draft. "So he's been in counseling, he'll continue to be in counseling, we've got a great support system here for that with quality people. We feel good that he's trying to right a wrong, a big wrong. But he's trying to do better, and be a better person for it. And that part, we feel very confident in."
"Those guys, those fans, they have every right to be mad at me because I did something wrong and I just let my emotions get the best of me and I shouldn't have done it," Hill later said in comments distributed by the team. "They have every right to be mad. But guess what, I'm going to come back and be a better man, be a better citizen and everything will just take care of itself and let God do the rest."
Tyreek Hill never saw any jail time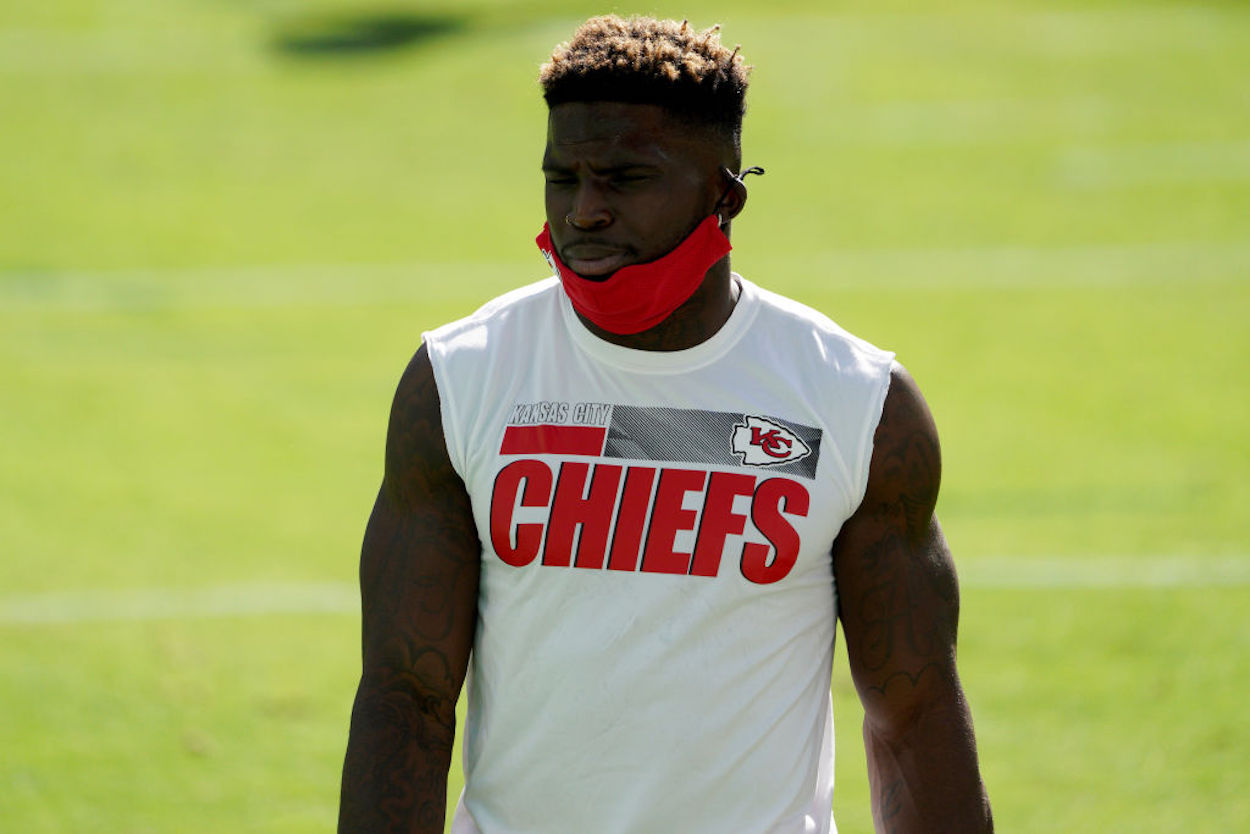 Once Tyreek Hill started to take over the NFL with his game-breaking speed for the Chiefs, his dark past started to fade away into the abyss. Hill was never disciplined by the NFL, and he never served any jail time for beating his pregnant girlfriend.
He did receive three years probation after the incident, but that's hardly a slap on the wrist for the damage he caused Espinal that day. In 2018, Hill's domestic violence case was dismissed and expunged by an Oklahoma court. In legal terms, the incident never even happened.