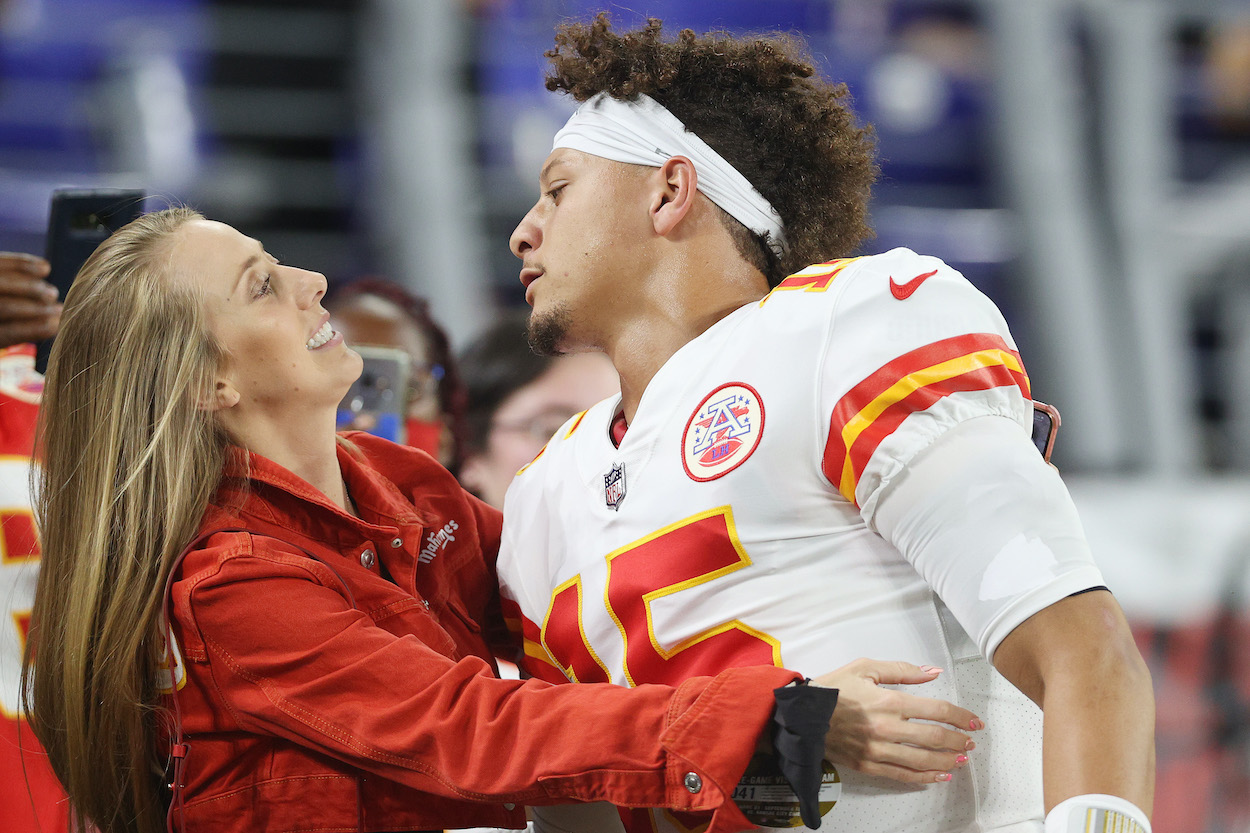 Patrick Mahomes Lashes out at Rumors He Benched His Brother and Fiancée
Patrick Mahomes had to respond to a false report he banned his fiancée Brittany Matthews and brother Jackson Mahomes from Chiefs games.
The 2021 season ended in disappointment for Patrick Mahomes and the Kansas City Chiefs, losing to the Cincinnati Bengals in the AFC Championship Game. It was a strange year for the back-to-back AFC Super Bowl representatives. The team started 3-4 before righting the ship, winning its next eight games in a row to finish 12-5.
There were a lot of theories as to why the Chiefs, and especially Mahomes, struggled early in the season. These ranged from a mysterious injury to not being able to figure out a 2-deep defense. The most outlandish theory, though, was that the off-field antics of his fiancée Brittany Matthews and his TikTok star brother, Jackson Mahomes, distracted the quarterback.
Patrick Mahomes' brother Jackson and his fiancée Brittany Matthews are a distraction
The theory that Jackson Mahomes and Brittany Matthews caused the Kansas City Chiefs early-season struggles is highly unlikely. However, the fact that the duo was a distraction off the field this season is undeniable.
Matthews started rubbing NFL fans the wrong way in 2020 with posts on social media. Patrick's fiancée has argued with fans, called out announcers, trash-talked NFL players, and crushed officials after several Chiefs losses.
Jackson Mahomes, Patrick's younger brother, popped up on NFL fans' radars in 2021. This season, the TikTok star — who boasts 1 million followers on the platform — became a more conspicuous presence at Chiefs games. Jackson often did his TikTok dances on the sidelines and in luxury suites, infuriating many fans.
He also got into it with a group of fans when the Chiefs took on the Baltimore Ravens. He doused the group with water from his luxury box seats. Matthews also starred in a polarizing video of her screaming and spraying champagne on Chiefs fans from her suite after the team beat the Buffalo Bills in the Divisional Round.
The Jackson and Brittany dynamic duo's worst moment came ahead of the Chiefs' Week 6 visit to Washington.
Jackson and Brittany made their way inside a clearly roped-off area on the sidelines. They proceeded to hang out, pose for pictures, and film TikTok dances in the area. The reason for the ropes, though, was that the area contained a memorial for the late Sean Taylor. The safety played four seasons in Washington before his tragic murder in 2007.
Desecrating the Taylor memorial was the straw that broke most NFL fans' proverbial backs when it came to Jackson Mahomes and Brittany Matthews. Both did publically apologize and claimed the incident was a misunderstanding.
The Kansas City QB shot back at the reports 
The rumors that Patrick Mahomes had enough of brother Jackson and fiancée Brittany's antics came from former NFL player and current sports talk radio host Rich Ohrnberger.
After reporting a salacious rumor that Tom Brady's retirement was, at least in part, due to "the relationship was souring" between Brady and Tampa Bay Buccaneers head coach Bruce Arians, he turned his "reporting" eye to Patrick Mahomes.
In a now-deleted tweet, Ohrnberger wrote:
Another interesting note… I've been been told, Patrick Mahomes had a sit down following the season with his brother and fiancé. Ultimately it concluded with him asking them to not attend any games this upcoming season.

Rich Ohrnberger tweet on Patrick Mahomes, Jackson Mahomes, and Brittany Matthews
The former lineman also reported that Patrick believed that Jackson and Brittany's antics were becoming bad for his brand.
Within minutes of the tweet going viral, several outlets, including TMZ, shot down these reports as bogus. Within a few hours, Patrick himself sent a tweet seemingly addressing the erroneous reports, writing, "Ya'll just be making stuff up these days" followed by three laughing emojis. 
Ohrnberger explained how he got the Mahomes story so wrong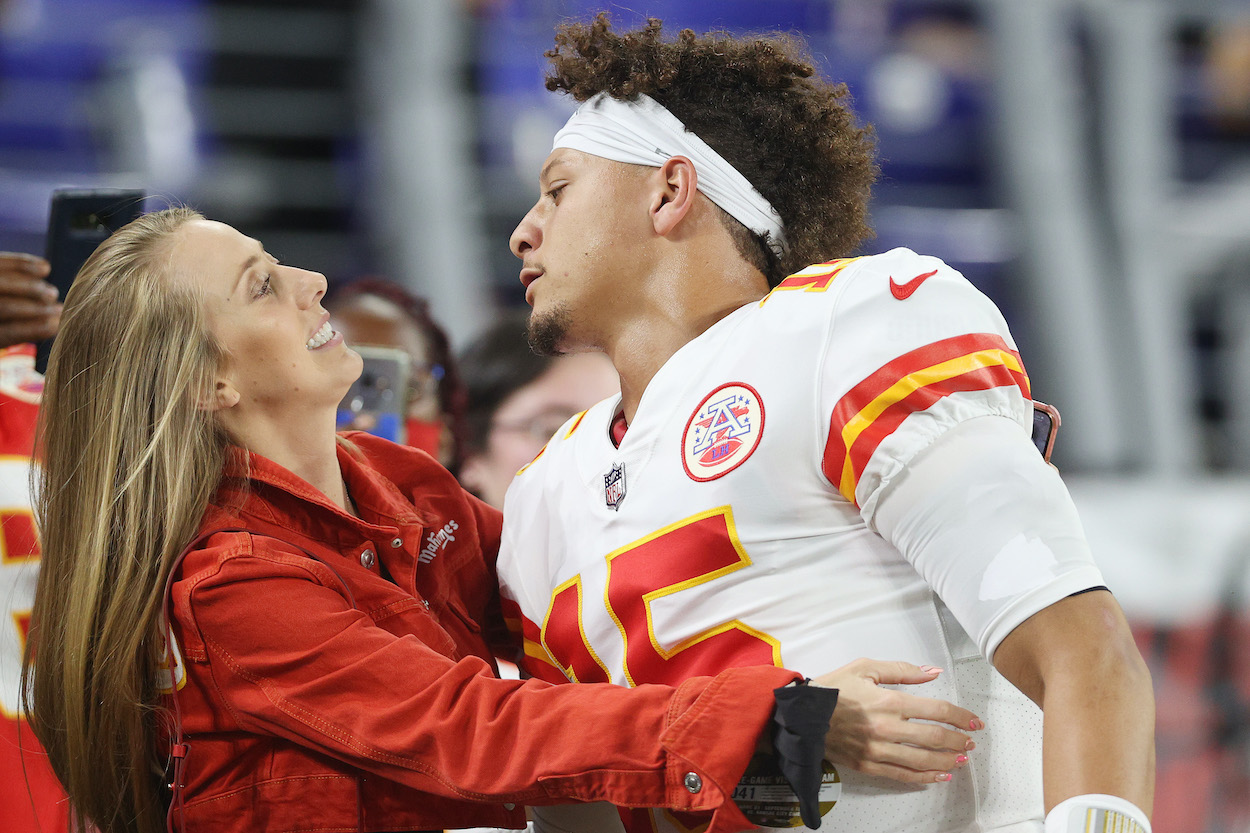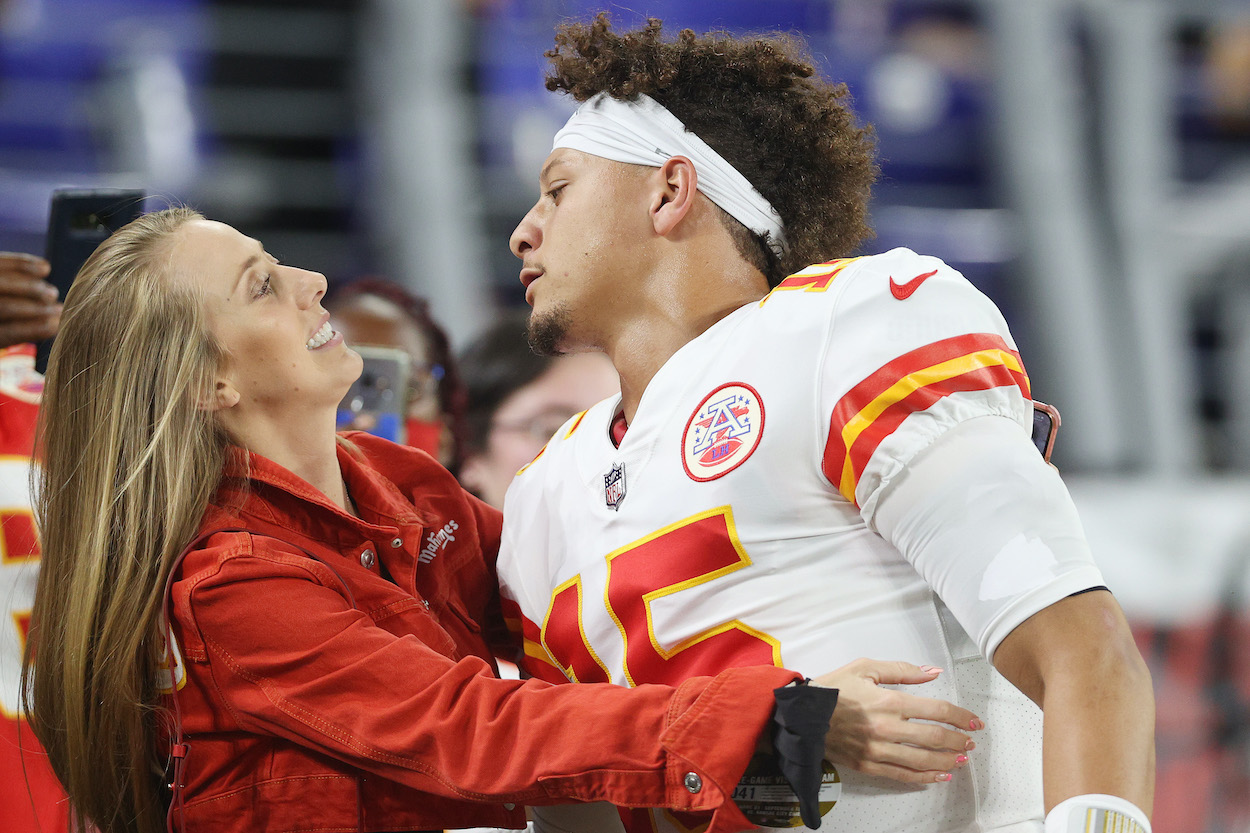 A few hours after Patrick Mahomes and others quashed the story of the QB banning Jackson and Brittany Matthews from games next season, Rich Ohrnberger joined The Jason Smith Show with Mike Harmon on FOX Sports Radio to explain his debunked report.
It's interesting when you're handed a piece of information that you believe with all your hear is true, sounds true, is from a credible source. And beyond that, it's from a source that is expressing the fact that the story's been vetted. And that it's good for air. … I'm not trying to play a victim here because I actually feel contrition for the fact that I spreaded [sic] a story out there that went viral that wasn't 100% accurate or well-vetted. That is my responsibility as a broadcaster. That not only the message is clear and accurate, but based in some further investigation and due diligence on my part that I failed to accomplish. 

Rich Ohrnberger explaining why he spread false information about Patrick Mahomes
Ohrnberger suggests it was his "credible source" who was duped. He insinuates he is simply guilty of not further vetting the information. However, other NFL insiders paint a different picture. Fansided NFL reporter Matthew Verderame tweeted that he was in a similar situation yesterday and found both the information and the source itself were fraudulent after looking into the source further.
Verderame wrote, "There was a bizarre incident yesterday morning in which myself and another high-ranking insider were texted this exact information from a person erroneously claiming to be an NFL source."
The whole situation was a bad look from Ohrnberger and severely damaged his credibility as an NFL pundit. It's also unfortunate for Patrick Mahomes and his family.
Jackson Mahomes and Brittany Matthews court enough negative attention and cause enough distraction for Patrick. They don't need lies made up about them.
Like Sportscasting on Facebook. Follow us on Twitter @sportscasting19