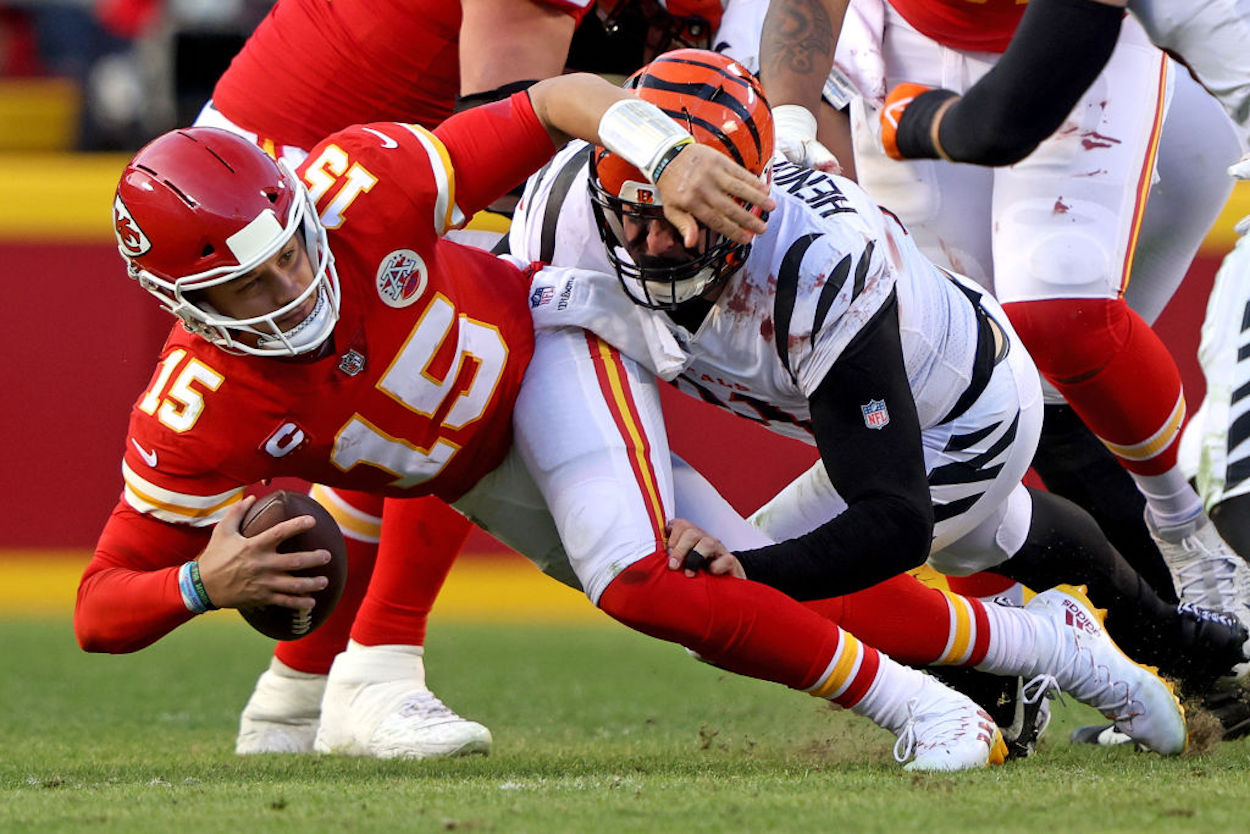 Patrick Mahomes' Biggest Problem Is Perfectly Explained by a Single Chart
While Patrick Mahomes is an elite quarterback, he does have one potentially fatal flaw in his game, as shown in a new data visualization.
Given the years spent with the likes of Todd Blackledge, Tyler Thigpen, and Brodie Croyle under center, it seems almost nonsensical for any Kansas City Chiefs fan to criticize Patrick Mahomes. Even if you set aside his Super Bowl victory, the quarterback has changed just about everything in Arrowhead. Opposing fans are the ones who have to fear the worst, not those wearing red, white, and gold.
That doesn't mean the young gunslinger is perfect, though. Take, for example, his iffy performance in the AFC Championship. During the second half of that fateful game, Mahomes' biggest issue was laid bare for the (football) world to see.
If you want to go beyond the eye test, though, the numbers seem to back up that fatal flaw. Just take a look at a recent graph from Brad Congelio.
Patrick Mahomes can improvise on just about any play, for better or worse
While it might not sit right with NFL purists, Mahomes has no problem flaunting the fundamentals and doing whatever it takes to make a play. That can produce highlight-reel touchdowns, but it can also lead to disaster.
Although the quarterback has cut down on his tendency to force risky throws, he still can run himself into trouble. The KC signal-caller has spoken about trying to remain in the pocket rather than simply scrambling at the first sign of trouble. That's a valuable sentiment, but he sometimes seems caught in two minds.
Again, let's return to the AFC Championship. With the Chiefs driving for a potential winning score, Mahomes suffered two brutal sacks and almost coughed up a game-losing fumble. On both plays, he dived, ducked, dipped, dived, dodged, and did just about everything other than throwing the ball downfield. While that ability to improvise is impressive, discretion is the better part of valor.
In those two plays, the worst of Patrick Mahomes was plain to see.
The Chiefs QB creates problems for himself at a troubling rate
If you watch the film of those two plays (h/t Touchdown Wire), it's plain to see how Mahomes runs himself out of, and then back into, trouble. That tendency isn't just an anecdotal observation, though.
Brad Congelio recently shared a graph on Twitter that plotted how frequently NFL quarterbacks created their own pressure during the 2021 campaign. Mahomes, seen in the top right quadrant, stands out for the wrong reasons. He not only had the most pressured dropbacks but also the highest percentage of self-created pressures.
While Congelio himself noted that the top left quadrant was the most concerning — those QBs aren't pressured frequently but create most of the issues for themselves — it still illuminates arguably the biggest flaw in Mahomes' game. The Chiefs star can improvise his way to a title, but, on occasion, he can also run himself out of a game.
Where does this leave Patrick Mahomes and the Kansas City Chiefs?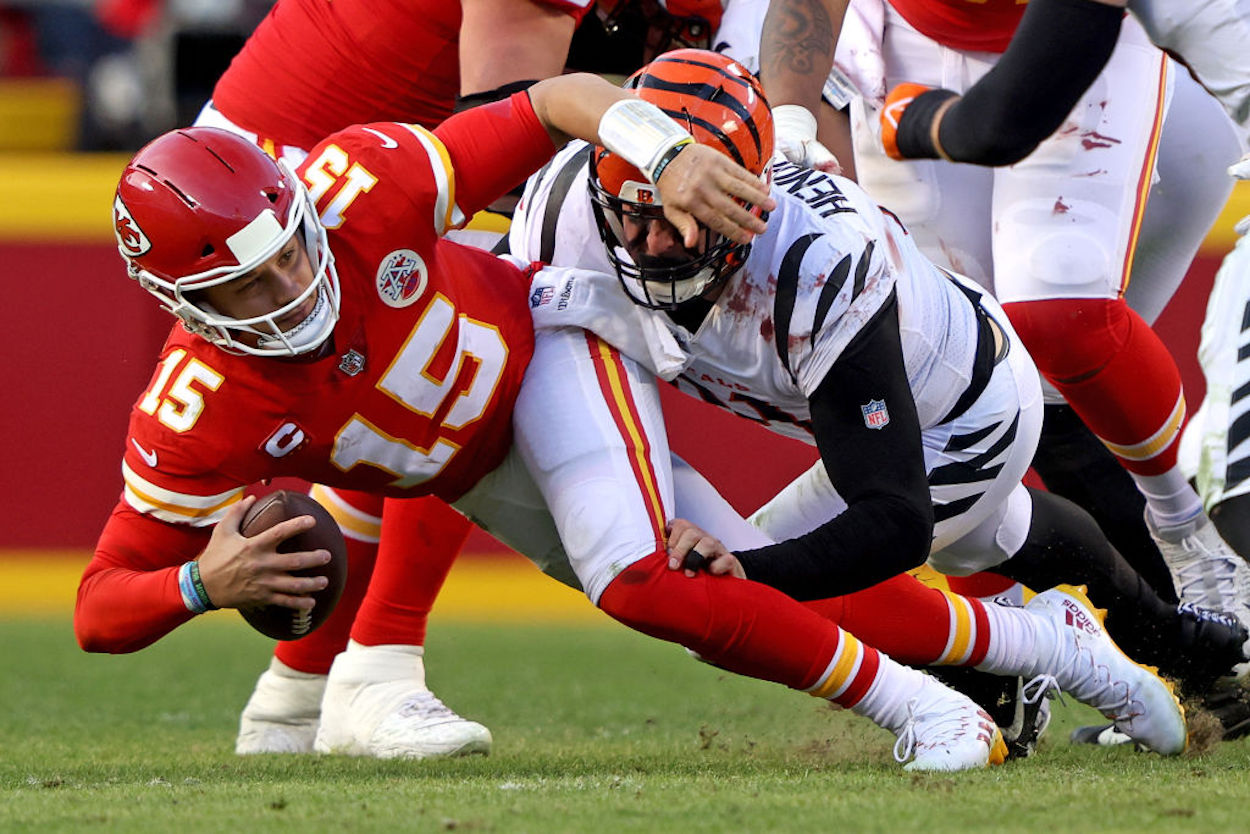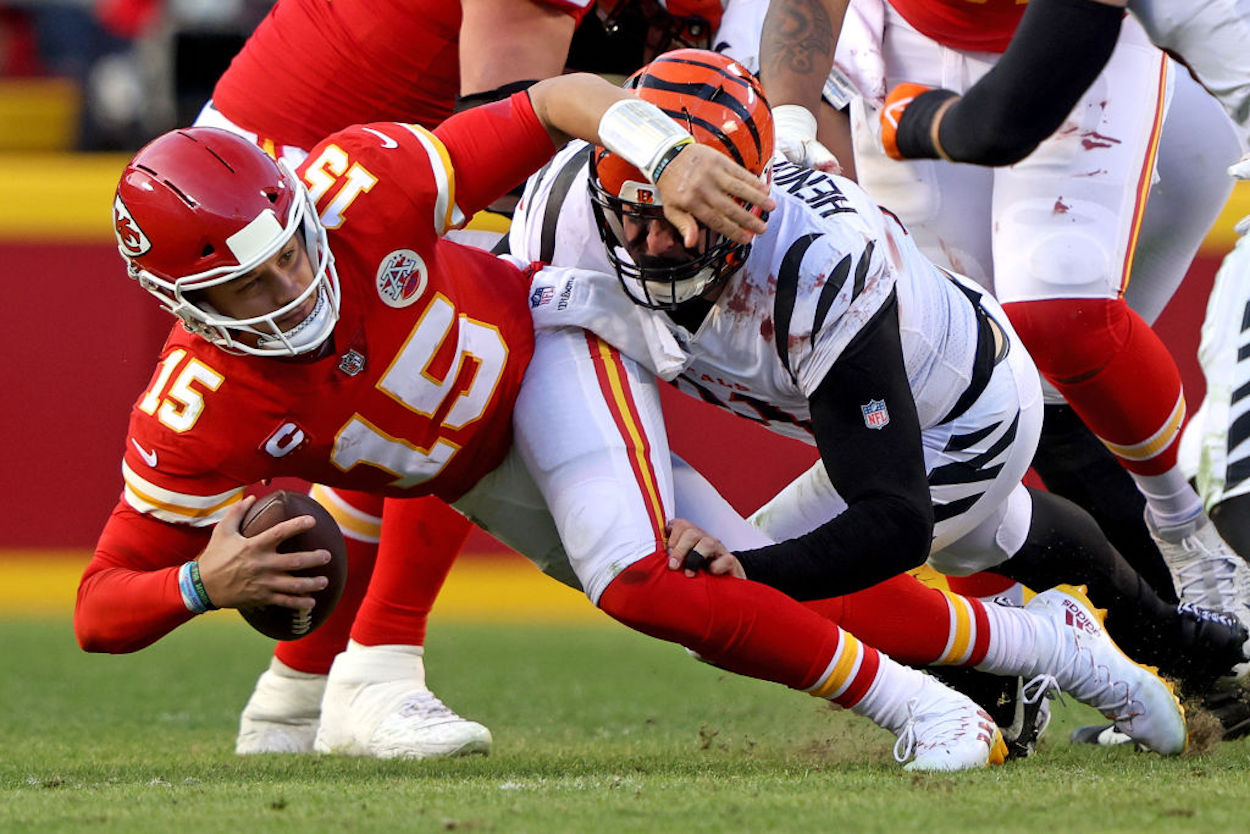 Whether you're going by the AFC Championship or the graph, it's clear that Mahomes' tendency to run himself into trouble can be problematic. Solving that issue, however, is a bit tougher than identifying it.
It goes without saying that forcing Mahomes to conform isn't the answer. Great players need latitude to do their thing, and while it's not fun in the moment, it's usually a worthwhile trade to accept some mistakes along with their brilliance. That reality, however, doesn't mean that the franchise can sit idly by and let its star player run into trouble.
While it's easy to forget given his incredible resume, Mahomes is still a relatively young man. He was also playing behind a newly rebuilt offensive line, which probably led to some happy feet. Combine that with his supreme confidence and a must-win home game, and it's easy to see how the signal-caller got those happy feet on that fateful Sunday.
So what's the solution? At this point, probably more comfort and maturity. Similar to how the quarterback adjusted to facing constant double-high safety coverage, Mahomes will need to be more conscious about running himself into a bad spot. If he tucks and runs, things need to be more north-south and less east-west.
There's probably also something to be said for adding a slight wrinkle to the playbook. Given Travis Kelce's incredible talent, the tight end usually functions more like a secondary receiver than a safety valve. KC's running backs, who could also serve as check-down receivers, also have license to get down the field.
While that's all well and good on paper, it could be worth reconsidering. Everyone loves seeing Mahomes uncork a 75-yard bomb, but there's something to be said for keeping someone in the flat.
Sports, like just about everything else, come down to decision-making. At the end of the day, that's understandably where Patrick Mahomes has the most ground to make up. He's got an incredible arm, and he can improvise with the best of them. At the same time, though, he needs to know when it's time to cut his losses. That, as cliche as it may sound, will come down to a combination of time, personal growth, and coaching.