NFL Players 'F'-ing Hate the Commanders, Cardinals, Chargers Franchises
Following the 2022 season, the NFL Players Association (NFLPA) surveyed 1,300 members about the franchises they played for and put together NFL Player Team Report Cards for all 32 NFL teams. The Minnesota Vikings and Miami Dolphins scored sky-high marks, while teams like Washington Commanders and Arizona Cardinals came up short in nearly all of the eight categories. Here are the full results of the NFL players survey.
Best and worst NFL franchises, according to NFL players
The NFLPA conducted a survey at the conclusion of the 2022 season where it asked 1,300 of its players to give a letter grade to the teams they played for in eight categories: Treatment of families, nutrition, weight room, strength staff, training room, training staff, locker room, and travel.
The idea behind the survey is for NFL players to "provided information to share with one another about their current club, to not only help them make important career decisions, but also help raise standards across the league."
It's no surprise that the feedback from NFL players about the teams at the very bottom of the list – the Washington Commanders, Arizona Cardinals, and Los Angeles Chargers — was that their owners — Daniel Snyder, Michael Bidwill, and Dean Spanos — weren't willing to invest in any area of the franchise.
What is a surprise is that the defending Super Bowl champion Kansas City Chiefs finished fourth-worst in the league. The issues here are the outdated facilities and the fact that "several players had negative opinions about head trainer Rick Burkholder, feeling that he does not treat players fairly and consistently, or with personal care."
The bottom five teams on the NFLPA's NFL Player Team Report Cards are:
32. Washington Commanders
31. Arizona Cardinals
30. Los Angeles Chargers
29. Kansas City Chiefs
28. Jacksonville Jaguars
On the positive side, teams that scored well provided their players with first-class facilities, staff, travel, and amenities. Again, there were some surprises here. While "good" owners Zygi Wilf of the Vikings and Jerry Jones of the Cowboys are on the best-of list, so are much-maligned owners Stephen Ross (Dolphins), Mark Davis (Raiders), and Cal McNair (Texans) have also created franchises that players love playing for.
The top five teams on the NFLPA's NFL Player Team Report Cards are:
1. Minnesota Vikings
2. Miami Dolphins
3. Las Vegas Raiders
4. Houston Texans
5. Dallas Cowboys
Below are the complete grades for all 32 NFL teams.
Full 2022-23 NFL Player Team Report Cards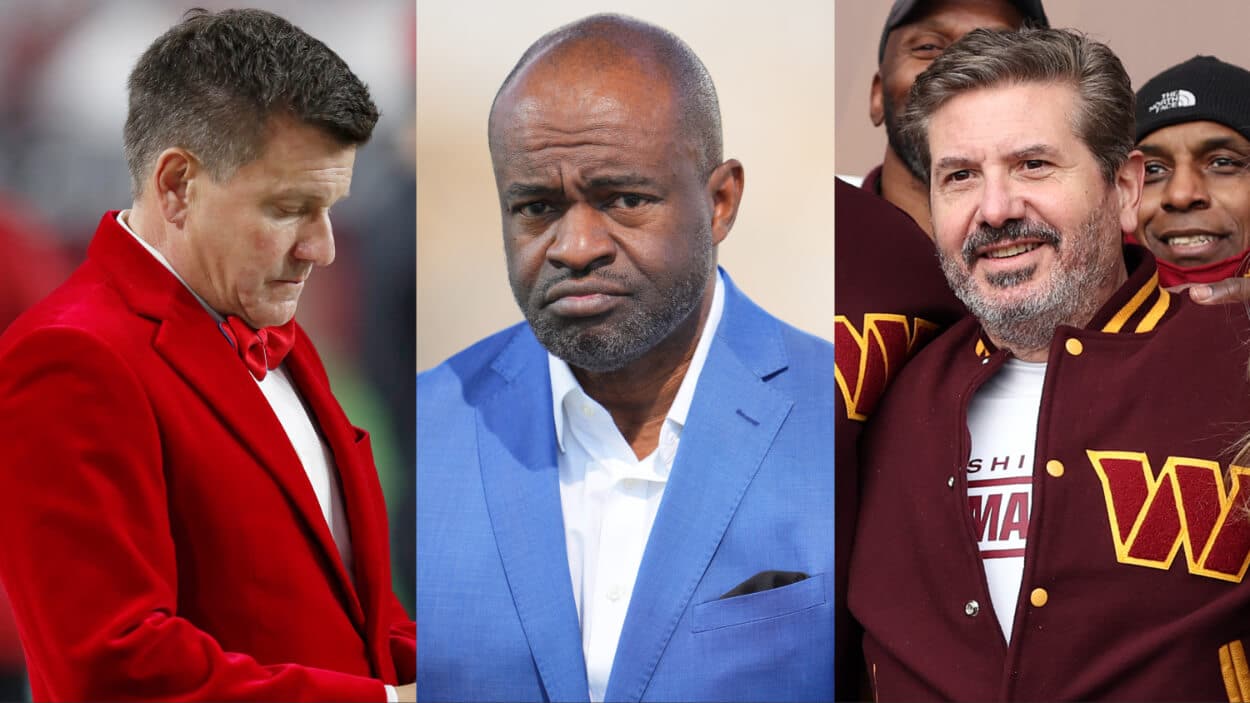 You can see the full, interactive report card here. On the official report card from the NFLPA, you can read the full reports on every team. But below are the grades for all 32 NFL teams in the 2022-23 NFL Player Team Report Cards.
| | | | | | | | | |
| --- | --- | --- | --- | --- | --- | --- | --- | --- |
| Team | Treatment of families | Nutrition | Weight room | Strength staff | Training room | Training staff | Locker room | Travel |
| Arizona Cardinals | F | F- | F- | A- | F- | B+ | F | B+ |
| Atlanta Falcons | B | C- | C- | D- | B- | A | D | A- |
| Baltimore Ravens | C+ | B- | C+ | F- | C | B+ | A | A |
| Buffalo Bills | A- | C | A+ | A+ | B+ | A | A- | D+ |
| Carolina Panthers | A | D | B | A | B- | A+ | B+ | B+ |
| Chicago Bears | C- | D+ | A | A- | A+ | A- | A | C- |
| Cincinnati Bengals | F | F- | B+ | A | D- | A | D | C+ |
| Cleveland Browns | C | D+ | D+ | A+ | B+ | A | D+ | C |
| Dallas Cowboys | A+ | A | A+ | A+ | B | A- | A+ | C- |
| Denver Broncos | D+ | D | B+ | A- | C+ | B | D+ | B+ |
| Detroit Lions | B | D- | A+ | B- | D+ | B+ | B | A |
| Green Bay Packers | B+ | A | A | A | B- | A- | B | A |
| Houston Texans | B+ | B+ | A | A | B | A+ | B+ | A+ |
| Indianapolis Colts | B+ | D | B | A- | B | A+ | B+ | F |
| Jacksonville Jaguars | F | D | D+ | A- | D- | A | D- | B |
| Kansas City Chiefs | B | D+ | C+ | A- | D+ | D- | D- | F |
| Las Vegas Raiders | B | A- | A+ | A+ | A | B+ | A+ | A+ |
| Los Angeles Chargers | D- | F | C- | A- | F- | C- | D- | B |
| Los Angeles Rams | D+ | D | C | A+ | D+ | A+ | D | B- |
| Miami Dolphins | C+ | A | A+ | A+ | A+ | A+ | A+ | A |
| Minnesota Vikings | A | A- | A | A+ | A+ | A+ | A+ | A |
| New England Patriots | C- | B | D | B+ | C- | A | C+ | D+ |
| New Orleans Saints | B+ | F- | A- | A | B | A- | A | A+ |
| New York Giants | B+ | B+ | B+ | B+ | B+ | A+ | B | A- |
| New York Jets | C+ | C- | B- | B | C+ | B | B- | B- |
| Philadelphia Eagles | B- | A | A- | A+ | C- | A+ | C+ | D |
| Pittsburgh Steelers | D- | B+ | C | A- | D- | B+ | D+ | B |
| San Francisco 49ers | B+ | A- | A- | A | C+ | A- | B+ | A- |
| Seattle Seahawks | B+ | B+ | A- | A- | B- | B+ | A- | C |
| Tampa Bay Buccaneers | D+ | D | B+ | A | C+ | A- | C- | F |
| Tennessee Titans | B- | B- | B | A- | B- | A- | C | F |
| Washington Commanders | F | D+ | C+ | A+ | F- | D | F- | F- |