Nick Sirianni's Tenure With the Philadelphia Eagles Sounds Like It Might Be Brief
One look at the roster suggests that Philadelphia Eagles head coach Nick Sirianni will be in for a long first season. And one look at the people above him in the organization structure suggests Sirianni will soon regret thinking he could fix the worst team in the worst division in the NFL.
The Philadelphia Eagles fired Doug Pederson and hired Nick Sirianni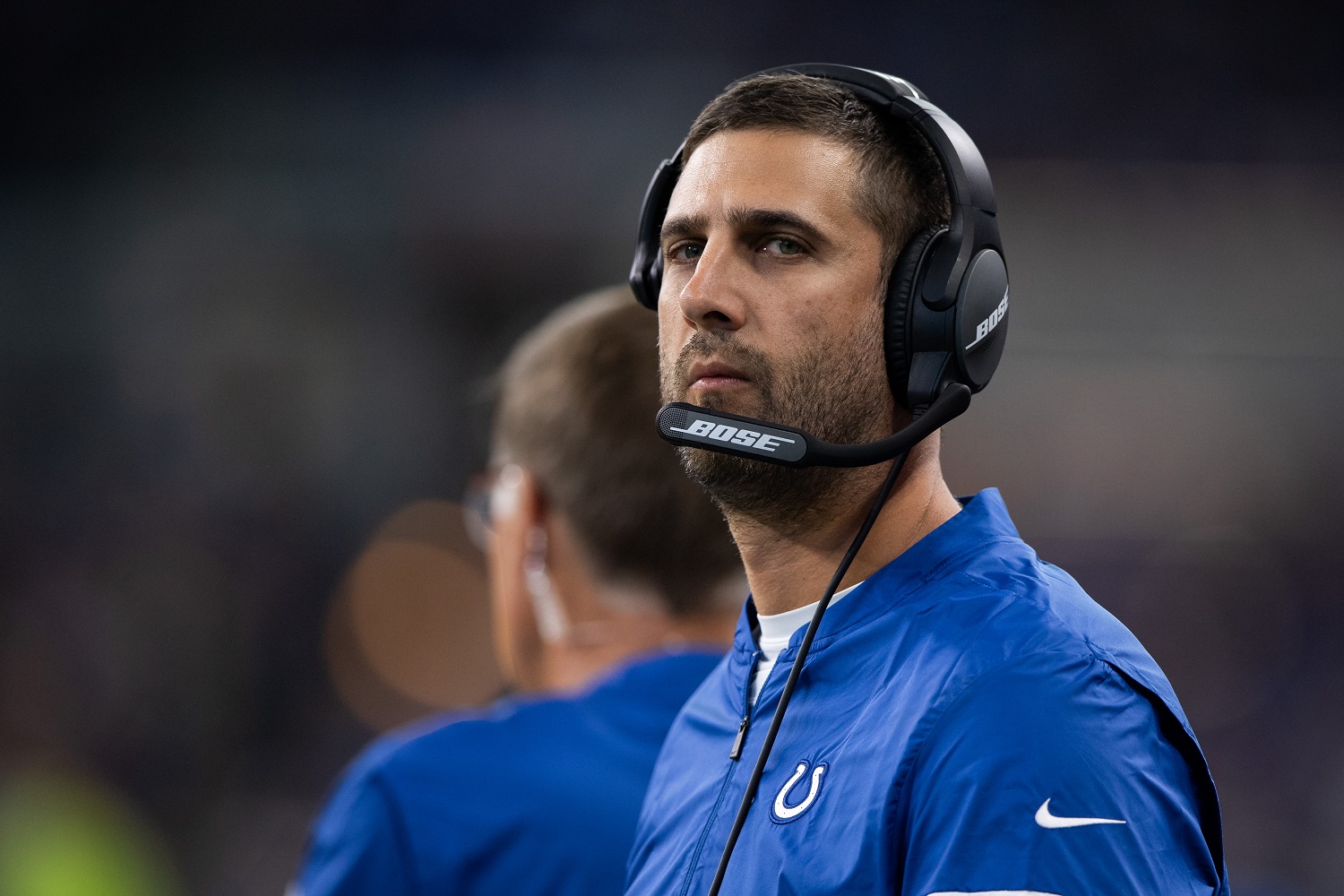 There were questions about Nick Sirianni's readiness as a head coach the day the Philadelphia Eagles hired him to replace Doug Pederson. At 39 years old and with just three years as a coordinator, Sirianni does not have Pederson's background.
Pederson was a clipboard quarterback, throwing 227 NFL passes in 14 years. However, he was in the quarterback room every day and on the sidelines on Sundays. absorbing the knowledge that allowed him to rise up through Andy Reid's staff. Pederson was also a coordinator for just three years, but he had the fuller background when the Eagles came calling in 2016.
That experience was about more than building game plans that won games on Sunday, including Super Bowl 52. It gave him exposure to dealing with all types of personalities. Unfortunately for Pederson, who finished with a 42-37-1 record in five seasons, nothing could prepare him for having to deal with owner Jeffrey Lurie and general manager Howie Roseman.
Now, Sirianni gets to experience what Pederson had to endure.
The new coach inherits a lot of question marks
The Philadelphia Eagles' 4-11-1 record last fall in the NFC East, the worst division in the NFL, does not begin to illustrate just how awful the organization is. A report this week by The Athletic details how meddling from above made it difficult for Doug Pederson, which is why Nick Sirianni was hired as head coach on Jan. 24, 2021.
Before assigning all blame to owner Jeffrey Lurie and general manager Howie Roseman, it has to be acknowledged that Pederson suffered self-inflicted damage, too. If there's one player relationship that a head coach cannot afford to have go sour, it's the one with his quarterback. Yet, that's what happened as Carson Wentz slipped from the franchise QB – or at least being paid like one – to being the guy the team couldn't wait to dump.
The Eagles let Wentz go to the Indianapolis Colts, and now Sirianni inherits either Jalen Hurts or Joe Flacco as his QB1. The rest of the roster is riddled with questions, too, partly the fallout from having a combined 10 draft picks in 2018-19. In a 2020 NFL draft dripping with receiver talent, Jalen Reagor finished his rookie season with just 31 catches, the Eagles used their second-round pick on Hurts at a time when Wentz was still regarded as viable, and the rest of their rookie class combined for 12 starts.
Nick Sirianni's tenure with the Philadelphia Eagles sounds like it might be brief
If the stories about Doug Pederson's treatment are accurate, then Nick Sirianni doesn't figure to last long with the Philadelphia Eagles. His goal should be to win enough to show he knows how to coach and then find a soft place to land at the college level before resurfacing in the NFL.
Why do we suggest that? Well, there are a few nuggets The Athletic reported:
Pederson endured weekly meetings with owner Jeffrey Lurie and GM Howie Roseman, often having to justify play calls from Sunday's game even after victories. That's an incredible distraction and time-waster for a coach trying to prepare for the next game.
Pederson had to fight to retain Frank Reich, now head coach of the Indianapolis Colts, for the 2017 season and was forced to part with offensive coordinator Mike Groh and receivers coach Carson Walch after the 2019 season.
Shortly before the 2017 season, which ended with a Super Bowl win, Lurie held a long meeting with defensive coordinator Jim Schwartz that was widely interpreted within the organization as preparation for firing Pederson if the Eagles got off to a slow start.
The story cited other significant issues that include infighting in which the analytics department battles coaches and scouts over player evaluations, resulting in questionable draft-day decisions. The Athletic reported that Lurie sometimes "puts his thumb on the scale" to overrule draft decisions.
Also, Roseman has sifted phone records to track down the source of leaks, but the story indicates that Roseman is not above leaking information to the media.
If that's an atmosphere in which Nick Sirianni feels he can succeed, then more power to him.
Like Sportscasting on Facebook. Follow us on Twitter @sportscasting19.