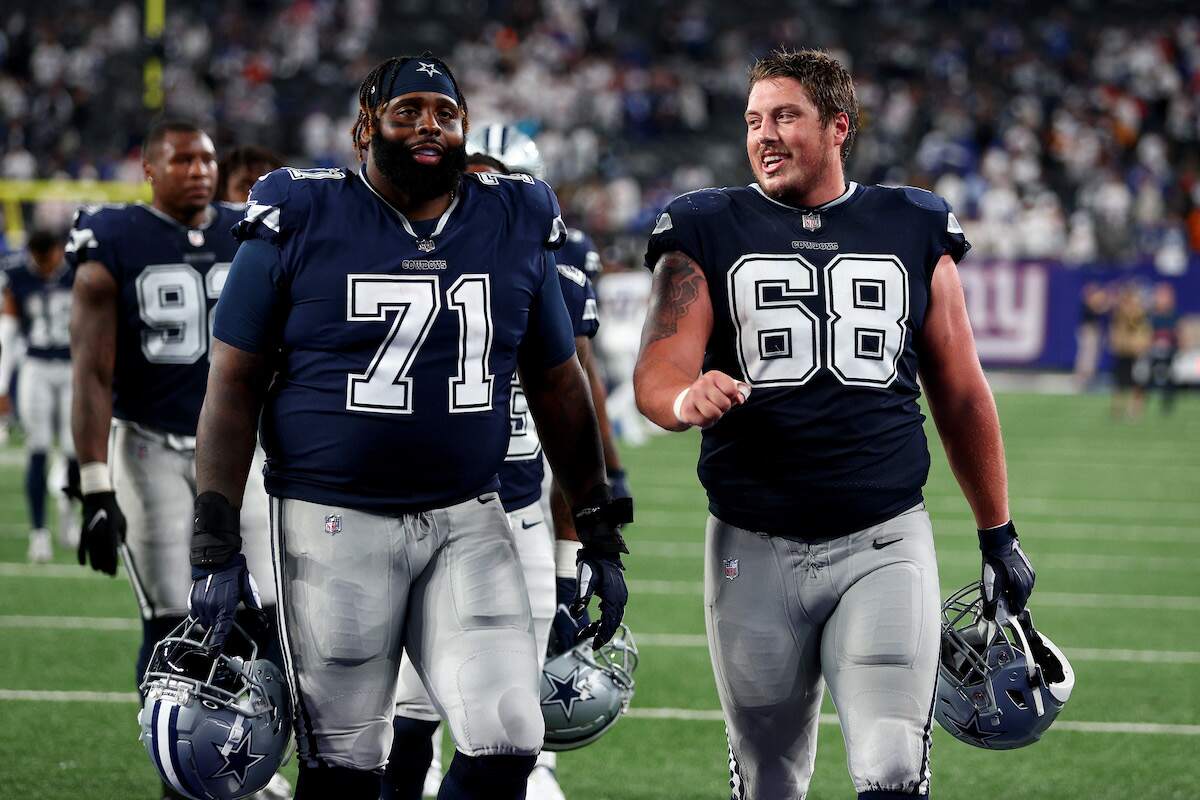 Oldest NFL Player: Who's Beating Father Time in the Post-Tom-Brady Era?
Since Tom Brady's retirement, a few athletes are defeating Father Time and competing for the title of the oldest NFL player.
Due to the brutal physicality of the sport and intense competition for roster spots, life in the NFL tends to grind most players down at a young age. However, a few exceptions manage to stick around as they approach middle age.
Tom Brady famously defied the passage of time (and his now ex-wife) to play quarterback until his mid-40s. In Brady's stead, a few players are competing for the title of the oldest NFL player.
Oldest NFL player in 2023
According to Athlon Sports, the oldest active NFL player is 41-year-old Jason Peters. The fact he has earned this distinction is nothing short of miraculous. In 2004, Peters was an undrafted tight end out of Arkansas who transformed himself into an offensive tackle to latch on in the pros.
The Buffalo Bills initially signed Peters to the practice squad before he became arguably the best left tackle in the league for nearly a decade. Peters made the Pro Bowl for nine years from 2007-16 and was named to the NFL's All-Decade Team for the 2010s. After a 12-year stint with the Philadelphia Eagles, he spent the last two seasons with the Chicago Bears and Dallas Cowboys.
Despite his longevity, Peters has suffered his fair share of serious injuries. He ruptured his Achilles tendon twice in 2012 and simultaneously tore his ACL and MCL in 2017. Peters only played in 10 games this past season, and Dallas decided not to re-sign him. He has yet to retire officially. 
The only other 40-year-olds in the NFL play the least physical positions: punter Andy Lee and kicker Robbie Gould. Like Peters, they are not currently on a roster but have yet to call time on their careers. The oldest players signed to a team are Aaron Rodgers, Mercedes Lewis, and Matt Prater. 
Oldest NFL player ever
Tom Brady was the golden oldie of the NFL for the past few years. His surprise retirement in 2022 barely lasted a month before he reneged and returned to the Tampa Bay Buccaneers. That indecision makes it easier to doubt Brady's re-retirement now. However, after spending half of his life under center and a season where he looked more mortal than he has in years, his exit feels sincere this time around. 
Brady played with the previous oldest active NFL player for many seasons in New England. Kicker Adam Vinatieri spent 24 seasons in the league with the Patriots and the Indianapolis Colts, playing until he was 48 years old. Vinatieri retired after the 2019 season, where he made a career-low 68% of his field goal attempts and suffered from a persistent knee injury that put him on injury reserve after 12 games. 
Both fall short of the record set by George Blanda, the oldest player in NFL history. Blanda retired in 1975 at the age of 48 after 26 seasons as a pro. He was a championship-winning quarterback, but Blanda was also a placekicker and spent the last few years of his career predominantly in that role. 
Oldest quarterback in the NFL
At 39 years old, Aaron Rodgers is now the oldest quarterback in the NFL. Few would have predicted this outcome back in 2008 when the Cal alum spent the first three years of his career backing up Brett Favre. 
Rodgers has established himself as one of the premier QBs of his generation, winning one Super Bowl and four MVP awards in his 18 years as a Green Bay Packer.
Injury luck plays a huge role in any player surviving for so long, and Rodgers was fortunate to only suffer two major injuries after becoming the starting quarterback. He twice broke his collarbone in 2013 and 2017 and broke his foot in 2006 when he was a second-stringer. 
Rodgers isn't the athlete he used to be. But his recent performances suggest that he still has a few years left in the tank as a quality starter.