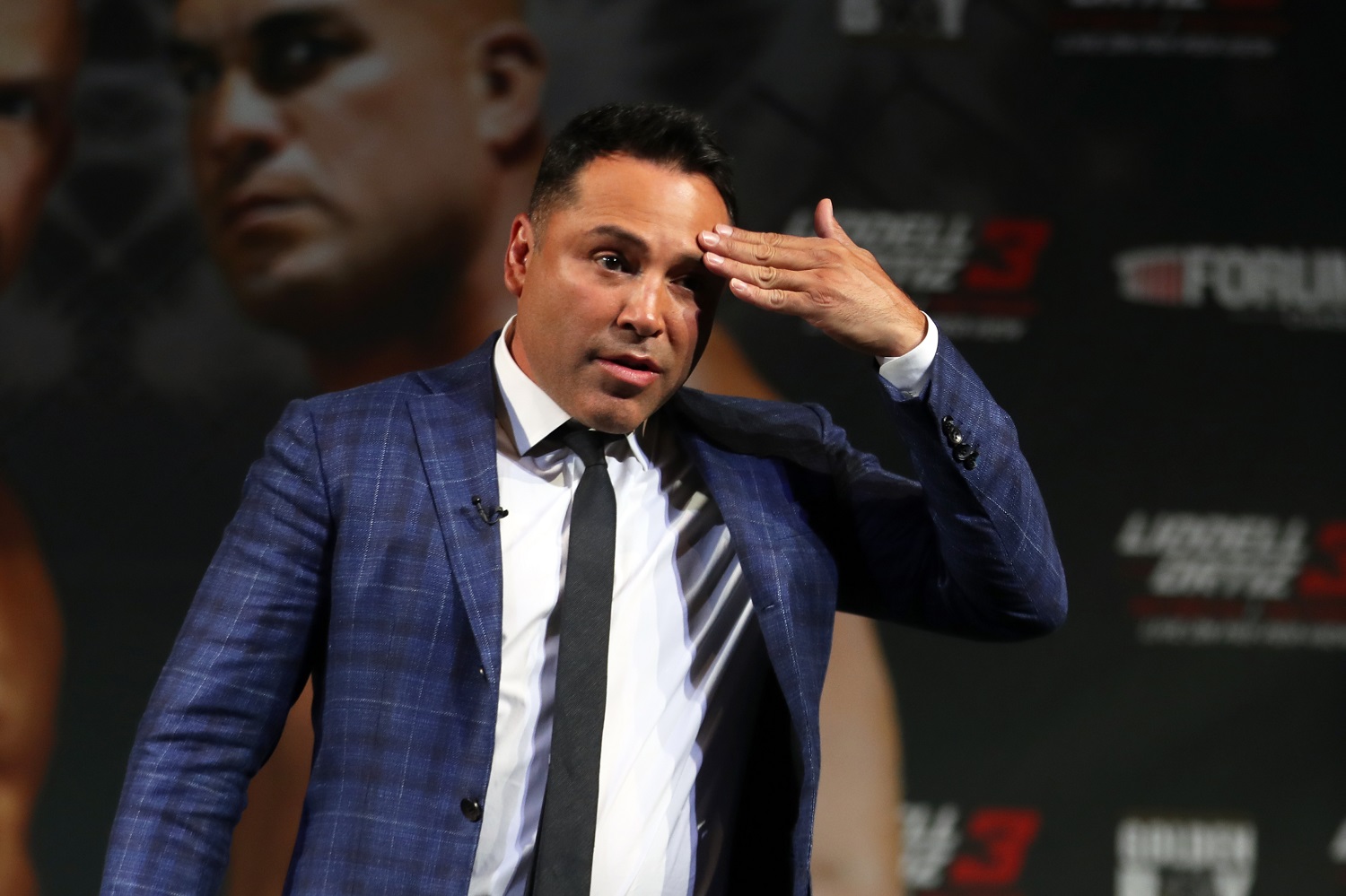 Oscar De La Hoya Is Setting Himself up for a World of Hurt With Who He's Looking To Fight in His Comeback
Former six-class champion Oscar De La Hoya has announced his return to the ring at the age of 47 and is setting himself up for failure.
At one point in time, Oscar De La Hoya was one of the best boxers on the planet. The year 2020 is not that time.
Now 47 years old, De La Hoya announced on Wednesday that he'll soon begin sparring as he prepares for a comeback to the ring, an announcement that comes close to a dozen years after his last fight. The former six-division champion was sure to note during his announcement that he's not looking for an exhibition like the upcoming Mike Tyson vs. Roy Jones Jr. fight that's taking place this November, well, assuming Jones doesn't drop out anyway.
No, De La Hoya is looking for the real thing and is setting himself up for a world of hurt with who he's looking to fight.
Oscar De La Hoya last fought in 2008 and was destroyed by Manny Pacquiao
The last time Oscar De La Hoya stepped into the ring as a competitor was December 6, 2008, in a highly-publicized bout with Manny Pacquiao. Despite the fact that Pacquiao was seen by many at that time as the greatest pound for pound fighter in the world, many thought that since the fight was being contested at welterweight, De La Hoya would have the advantage.
Heading into the fight, Pacquiao had to jump up two weight classes from lightweight while De La Hoya only had to drop down one class from light middleweight. It's obviously easier for a fighter to drop weight than put on weight and some believed that De La Hoya would simply be too big for Pacquiao. That clearly wasn't the case.
For eight rounds, Manny Pacquiao dominated Oscar De La Hoya. The "Golden Boy" simply had no answer for Pacquiao's combinations and quit on his stool ahead of the ninth round, essentially to avoid the inevitable knockout that was likely only a round or two away. De La Hoya still wanted to fight but knew that he physically couldn't keep up with the top fighters in the world anymore. And that's when he was 35.
Why does the "Golden Boy" want to come back now?
So at 35 years old, Oscar De La Hoya knew he couldn't keep up with the top fighters in the world, which he admitted himself following the Pacquiao bout. So why does he want to come back now at the age of 47? Well, as he told ESPN on Wednesday, he simply misses being in the ring and wants to compete. He says his body is in good shape to give this a go and that's what he's going to do.
"I miss being in the ring, I love boxing. Boxing is what gave me everything I have today, and I just miss it.

"Look, it's been a long time, yes. But actually my jab feels faster than ever. I have to make sure that my conditioning is perfect, my health is good. And that's going to take place in the next few weeks."

Oscar De La Hoya
So who exactly will Oscar De La Hoya be fighting during this glorious comeback?
Oscar De La Hoya wants to face the top fighters and that's not a good idea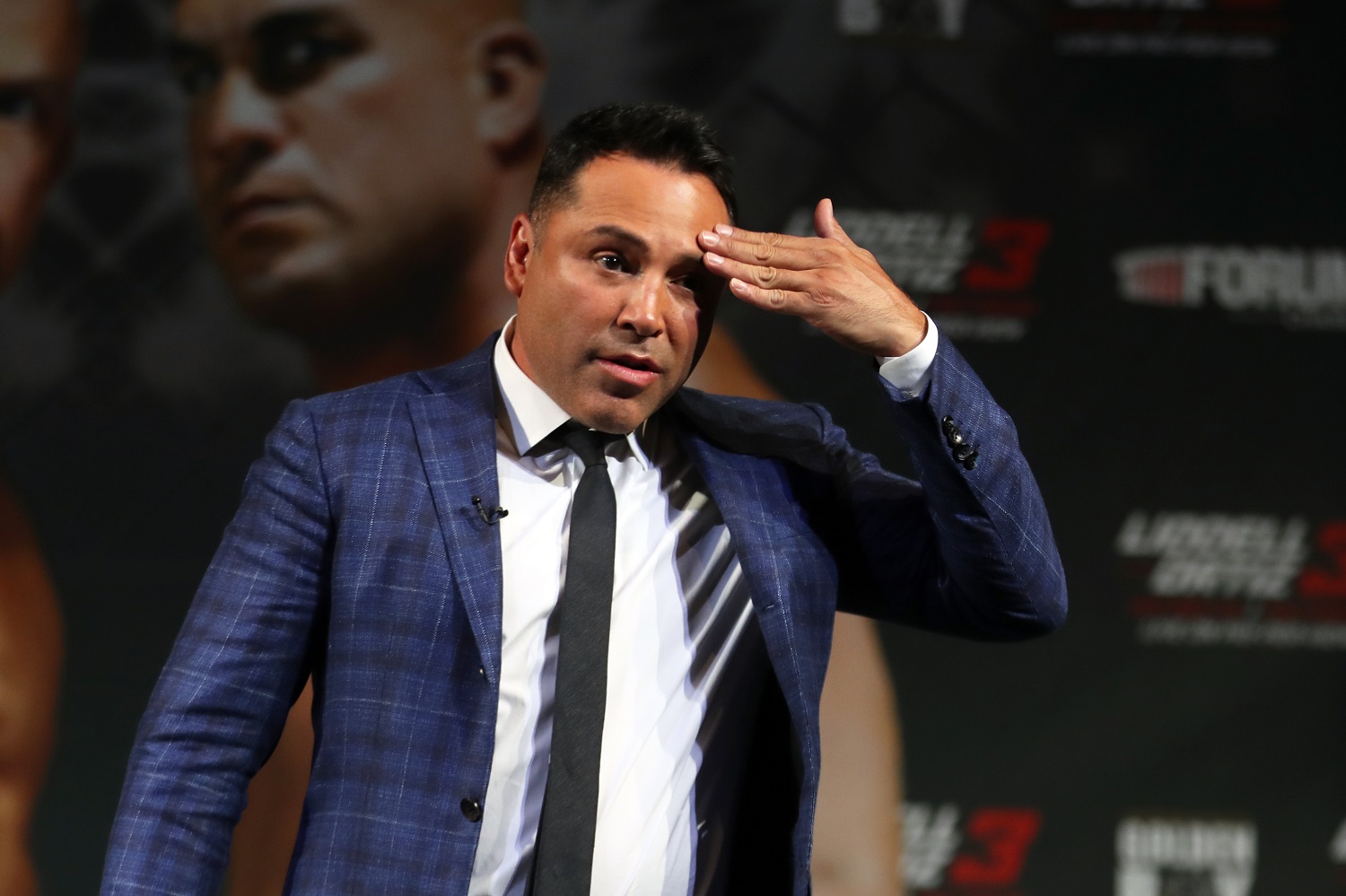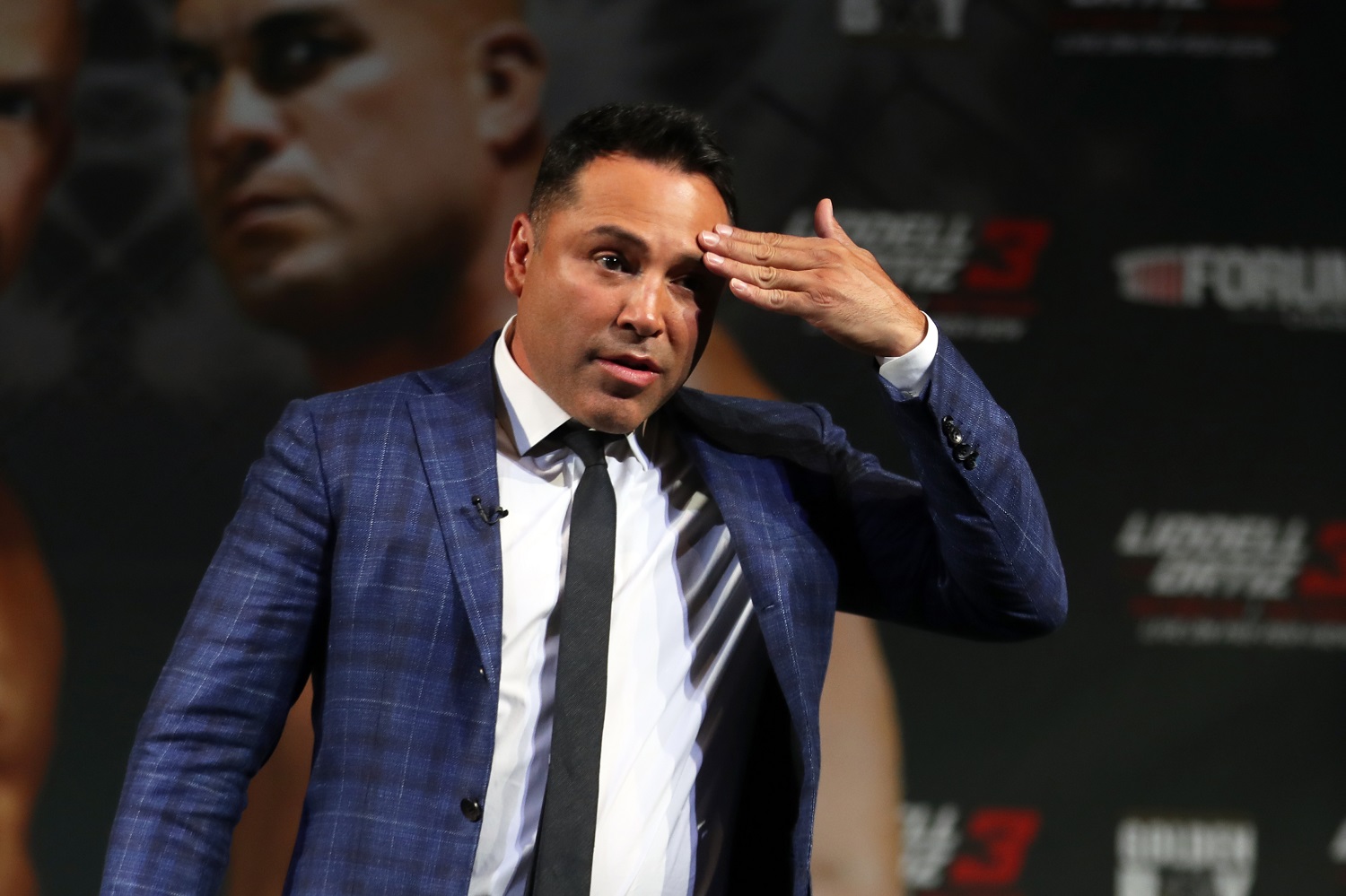 As of now, Oscar De La Hoya says the plan is to compete at middleweight, which ranges from 154 to 160 pounds. When asked who he's looking to fight, the 1992 Olympic gold medalist said this:
"Any top guy, any top guy out there."

Oscar De La Hoya
And therein lies the problem with this comeback.
Listen, if Oscar De La Hoya wants to come back and fight, that's obviously his choice and his business. But saying that he wants to compete against the top guys in the middleweight division is a bad idea and it's going to get him hurt. De La Hoya is taking the stance that today's fighters simply aren't as tough, that they're only in it for the money. The "Golden Boy" says he's in it for the glory and that's what sets him apart. But has he not watched the middleweight division?
Starting at the top, you've got Canelo Alvarez, who just happens to be the top-ranked pound for pound fighter in the world. That's a "top guy," right? Does Oscar De La Hoya really think he'd stand a chance against Canelo? Oh, and right behind Alvarez is Gennady Golovkin, who holds two middleweight titles right now. Does anyone think De La Hoya can match up with Triple G? Or even Demetrius Andrade or Jermall Charlo, both of whom are undefeated with a combined record of 59-0?
Even if he drops to junior middleweight, he'd have to contend with the likes of Jermell Charlo (Jermall's twin brother) and Jeison Rosario, who will actually face one another next month.
Nobody knows exactly who Oscar De La Hoya's first opponent will be. But if he's smart, he won't go after a top contender. Yes, the public would love it, as would any sponsor or anyone who stands to make money off the fight, which would include De La Hoya himself as Golden Boy Promotions would obviously be involved. But it's a mistake. Everybody saw what happened the last time he faced a top fighter and that was 12 years ago.
Yes, boxing comebacks seem to be the thing right now but Oscar De La Hoya is going to get himself hurt.