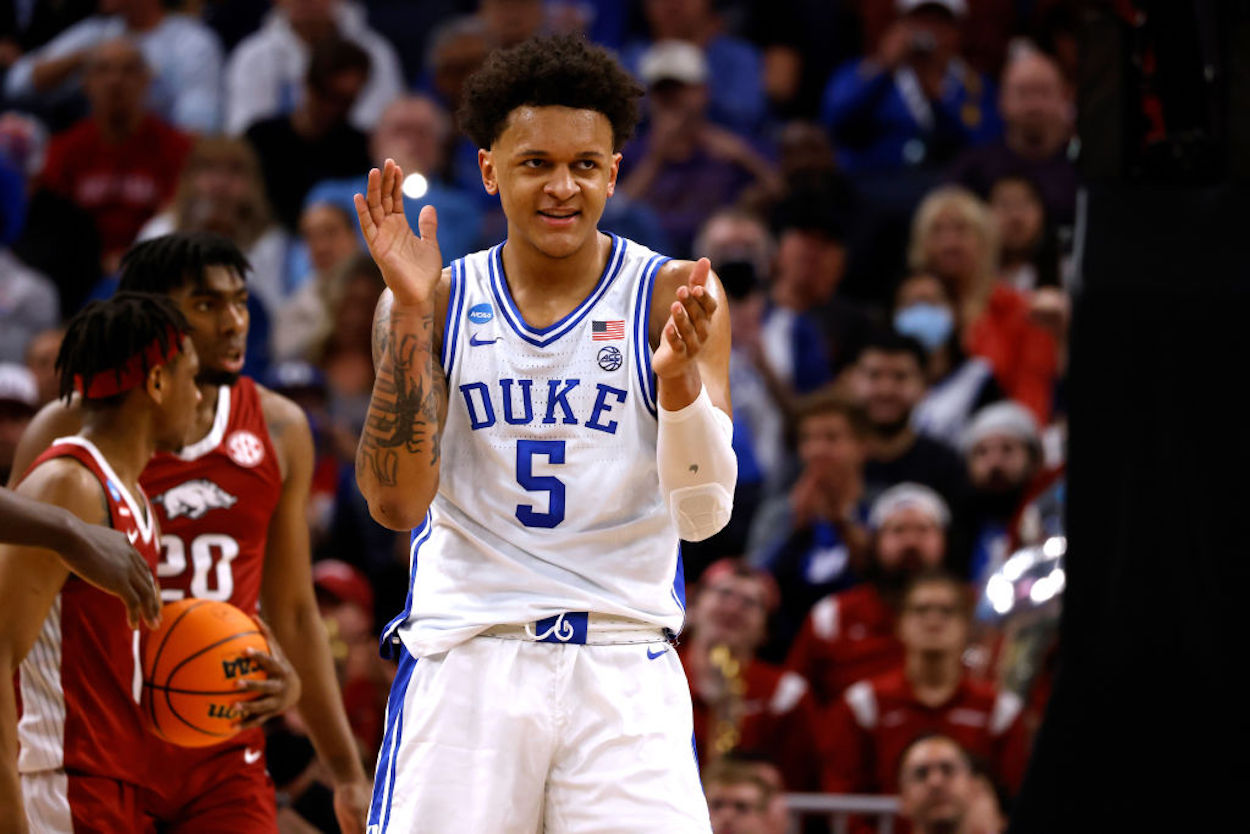 Paolo Banchero's NIL Valuation Has Exploded After Leading Duke to the Final Four
When the NBA draft arrives, Paolo Banchero will ink a big-money contract. His March Madness, however, is already providing plenty of opportunities to cash in.
While every edition of March Madness is full of storylines, the Duke Blue Devils have dominated this year's tournament. Under normal circumstances, a blue-blooded program reaching the Final Four wouldn't raise too many eyebrows. The 2022 NCAA Tournament, however, is different. It's Coach K's final season on the sidelines, and Paolo Banchero, Jeremy Roach, and the rest of his players are trying to give the living legend a storybook send-off.
Even if this campaign falls short of a title, though, Banchero will surely reap the rewards. Beyond proving his NBA potential, the freshman has set himself up for plenty of profit between now and the day when he signs that first big contract. During the month of March, his name, image, and likeness (NIL) valuation has soared.
Paolo Banchero has been one of Duke's star performers during March Madness
Between a disappointing home finale and a meek defeat in the ACC Tournament's championship game, Duke seemed to be entering the Big Dance at the worst possible time. Thanks to some savvy coaching and the raw talent of the roster, though, the Blue Devils are within touching distance of a title.
While it's not ground-breaking to say that Coach K's roster is stacked with top-notch players, that's become incredibly apparent during the last few games. Mark Williams deserves a special mention — the underrated big man has done a fine job patrolling the paint at both ends of the floor — but Banchero and Roach have truly stepped up with the season on the line.
With all due respect to Roach, Banchero performances are more signifcant in a larger basketball context. If you had any questions about his NBA credentials, they've been put to rest during the NCAA Tournament.
The big freshman has seemingly grown up during March Madness and put it all together. He's frequently floating to the perimeter and using his 6-foot-11 frame to create mismatches. From there, he's able to blow past slower defenders or out-muscle smaller opponents and drive to the basket. He's also has a solid shooting touch and has emerged as a smart passer, dropping off quick dimes into the post. That keeps opposing defenses honest, meaning can't afford to collapse on him in an effort to stop penetration. In the modern, positionless NBA, those skills are essential for success.
If you're willing to get a bit more intangible, Banchero has also been showing the ability to be a star and simply make things happen. With the game on the line, the ball has been in his hands, and, thus far, he hasn't disappointed. He's even impressed Coach K, who's seen an elite player or two over the years.
"Paolo, a couple of his moves, where you could see it on his face, "Krzyzewski explained in an emotional on-court interview after Duke defeated Texas Tech. "I'm saying, "Holy mackerel, that's the guy. I coach that guy. Holy mackerel.'"
An impressive NCAA Tournament has boosted the freshman's name, image, and likeness valuation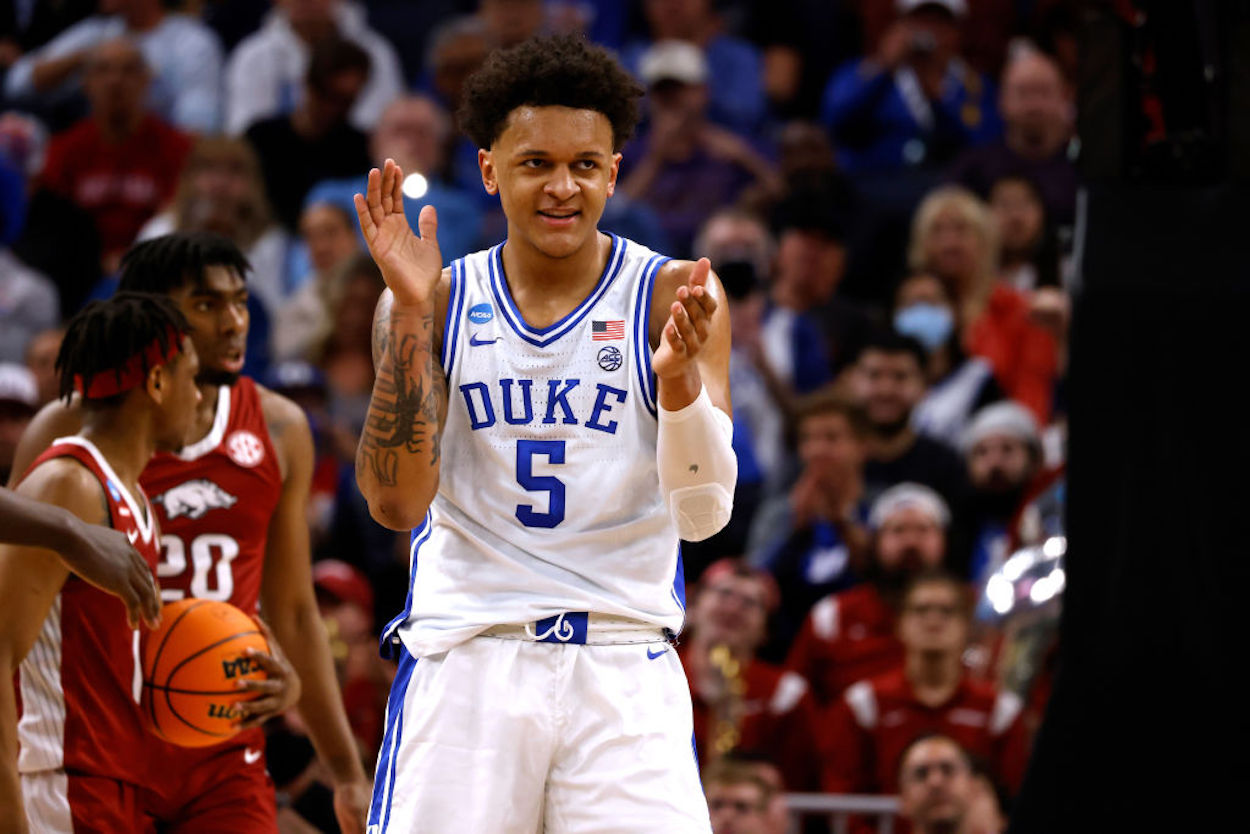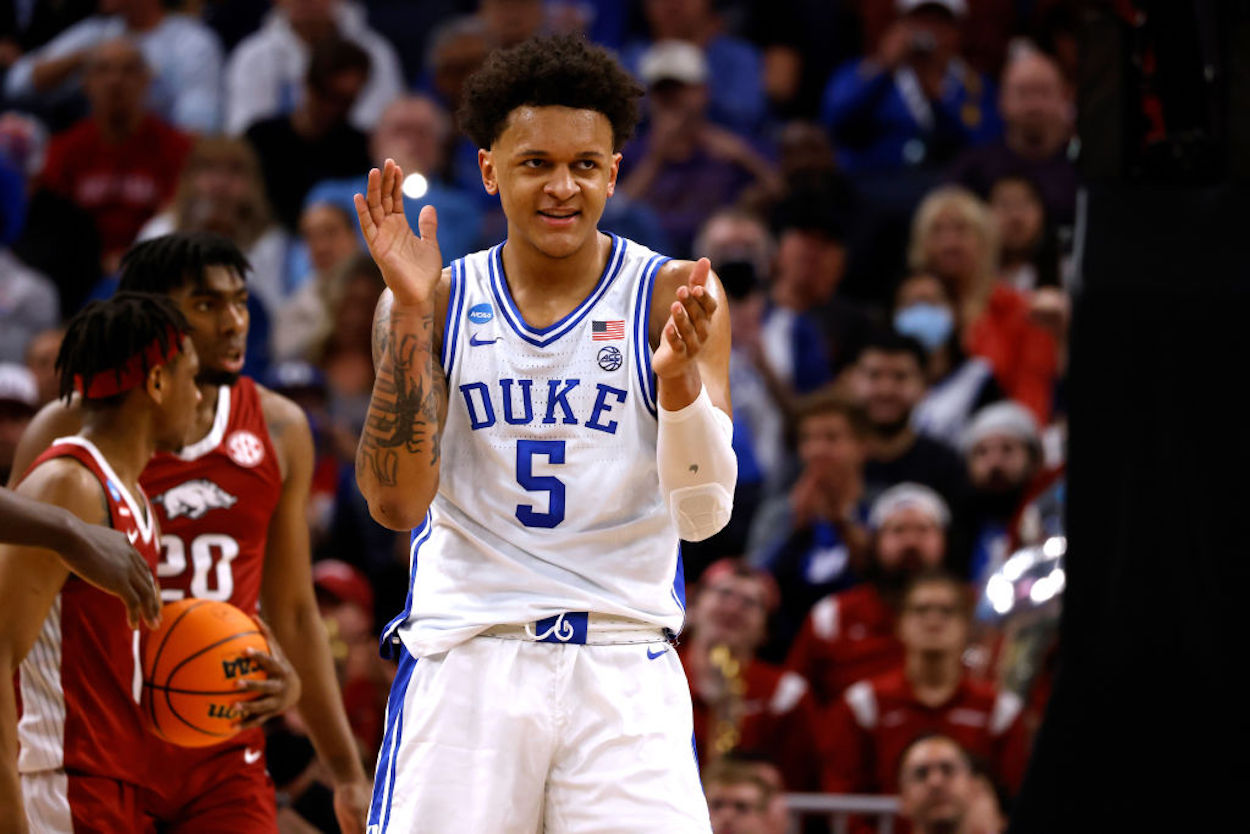 While he entered his freshman year with as one of college basketball's top prospects, Banchero's strong March has only enhanced his draft stock. Unsurprisingly, it's also boosted his more immediate financial future.
Thanks to a 2021 update to the NCAA name, image, and likeness policy, college athletes can now directly profit from their success. For someone like Banchero, who is already a nationally recognized name, that opens up plenty of possibilities.
Due to the open market, the value of each player's endorsement can fluctuate over time. If a star player were to fall out of the lineup, for example, they couldn't command as much money. On the other hand, a successful stretch or a national award can change things for the better. Just take a look at Duke's star freshman.
According to On3 Sports' NIL calculations, Banchero's overall valuation has risen to $199,000, the tenth-largest in college basketball. While that might seem insignificant when compared to NBA money, it's still a sizable sum for a teenager. That number has also increased by an estimated $31,000 from the beginning of March, showing the financial benefits of a strong postseason. More than half of that growth ($17,000) came between March 22 and March 31, directly tying it to Duke's wins over Texas Tech and Arkansas to reach the Final Four.
Since On3 states that their NIL valuations are based on a variety of factors, including college prestige and game day performances, it's easy to connect the dots. The Duke star has been playing marquee games on national TV for the past few weeks. He's suiting up for an iconic program and, with the weight of Coach K's career on his shoulders, has been playing the best basketball of his college career. At this point, virtually every variable is working in Banchero's favor.
Again, $199,000 is small potatoes compared to the professional contract that the forward will sign in a few months. There's something to be said, however, for the immediacy of the NIL money. If Banchero can jump on his cell phone and pocket as much as $2,500 (On3's estimate for the value of one of his Instagram posts), that's a great source of income while waiting for draft day.
Paolo Banchero is going to score a sizable contract once the NBA draft rolls around
Even if Banchero's NIL numbers are an estimate, one thing is certain: He's going to add a great deal of money to his bank account in the coming months.
Barring an incredible turn of events, the Seattle native will enter the NBA draft as soon as Duke's campaign ends. While there's some room to debate where he'll finally end up, it's safe to assume that Banchero, at the absolute worst, will be selected within the first five picks. In light of his strong NCAA Tournament, the forward could even be mounting a late charge toward the top spot.
No matter where he ends up, being a lottery pick carries an obvious financial windfall. If the big man goes fifth overall, he'll earn a shade over $18.6 million during his first three professional seasons, assuming his team picks up his third-year option. In a best case scenario, he'll go first overall and earn nearly $28.4 million across the same time span.
In the professional ranks, there will also be plenty of endorsement deals, at least within the local market. While Banchero probably won't command Zion Willamson-level money, the fact that he's already inked a deal with the NBA 2K franchise bodes well for his future prospects.
At this point, though, the big freshman probably has his sights set on something other than money. Sending Coach K out with a sixth championship will earn Banchero a place in Duke history. That's something no amount of cash can buy.
NBA salary figures courtesy of Real GM