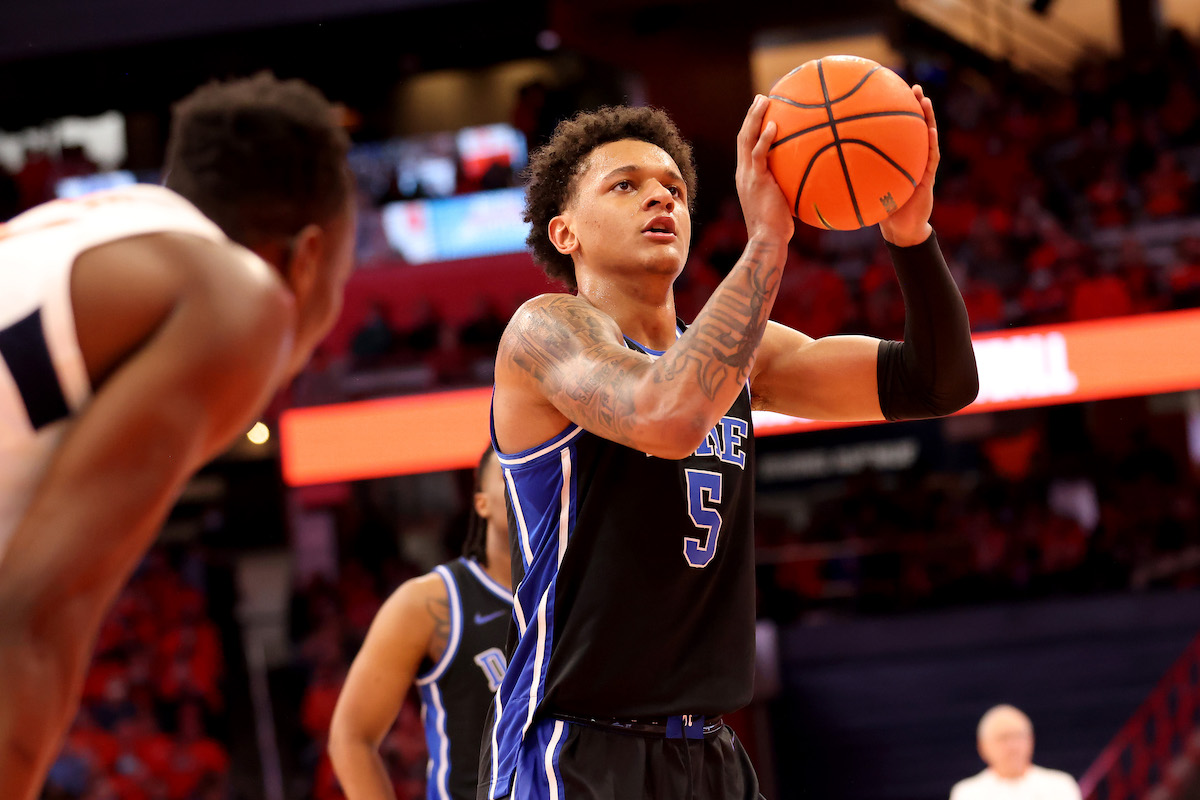 2022 NBA Draft: Duke Basketball Could Make History With 5 1st-Rounders
Paolo Banchero, AJ Griffin, Mark Williams, Wendell Moore Jr., and Trevor Keels could help Duke basketball match a certain feat only Kentucky has achieved throughout NBA draft history.
The perpetually outstanding Duke men's basketball program has made history time and time again under the supervision of legendary head coach Mike Krzyzewski, so why not end his tenure by adding one more line to the record books in the 2022 NBA draft?
Coach K is set to retire at the end of the 2021-22 season, and he'll be hoping to do so in style with his 13th Final Four appearance and sixth national title. But even if he falls short and fails to cut down the nets for the first time since 2015, he'll still have a chance to make a major splash — a full-fledged cannonball, really — when plenty of the players he's overseen in Durham enter the NBA's annual prospect pageant.
Duke won't break the all-time record for most first-round picks in one draft from the same school, but it has a puncher's chance of tying another blue-blood program at the top of the pile.
Kentucky currently owns the record for first-round picks in one draft
A single school has had six players selected in the same NBA draft on three occasions.
Back in 1977, UNLV produced Glen Gondrezick (No. 26), Eddie Owens (No. 31), Larry Moffett (No. 34), Sam Smith (No. 48), Robert Smith (No. 65), and Lewis Brown (No. 69), though none of them came off the board in the first round. (Four of them also combined to play just 76 total games at the NBA level, though that's not too relevant for our purposes here.)
Decades later, Kentucky entered the picture under one-and-done trendsetter John Calipari.
In 2010, the Wildcats set the standard for first-round picks in a single year with John Wall (No. 1), DeMarcus Cousins (No. 5), Patrick Patterson (No. 14), Eric Bledsoe (No. 18), and Daniel Orton (No. 29). They failed to match the record for the full draft, but they'd get their revenge twice in the next five seasons.
Two years later, six Kentucky players heard their names called: Anthony Davis (No. 1), Michael Kidd-Gilchrist (No. 2), Terrence Jones (No. 18), Marquis Teague (No. 29), Doron Lamb (No. 42), and Darius Miller (No. 46). Notably, Davis and Kidd-Gilchrist, who have gone on to enjoy vastly differing levels of NBA success, became the first pair of players from the same school to hold down the top two spots.
In 2015, Karl-Anthony Towns (No. 1), Willie Cauley-Stein (No. 6), Trey Lyles (No. 12), and Devin Booker (No. 13) emerged not just as first-rounders but as lottery picks, and Andrew Harrison (No. 44) and Dakari Johnson (No. 48) joined them in the second round. Aaron Harrison had a shot to help establish a new single-season high-water mark at seven, but he ended up joining the Charlotte Hornets as an undrafted free agent instead.
Plenty of schools have come close, but none have been able to beat six total draft picks or five first-rounders in a single year.
This season's Blue Devils don't have enough NBA-caliber depth to match the half-dozen mark, but their five top prospects could all walk across the stage within the first 30 selections and equal the Wildcats' first-round record.
Duke has a great chance to equal the first-round record
Four is achievable, but five is typically downright impossible. By rule, only one basketball is in play at a time, and that typically makes it tough for a full handful of players wearing the same jersey to stand out frequently enough for NBA organizations to invest first-round draft capital in each of them.
But this year's Duke squad could be an exception.
Paolo Banchero is a lock to go within the first five picks, especially now that he's showing off more point-forward skills and handling the ball in the open floor. AJ Griffin, doing his best Klay Thompson impersonation on a nightly basis, might not have the high-level athleticism and finishing ability to challenge for the top overall spot like Banchero, but his shooting alone gives him a chance to join his bigger teammate in the top five.
Mark Williams and Wendell Moore Jr. might not rise into lottery territory, but they're both solid bets in the first round thanks to their interior defense and all-around skill set, respectively. The former doesn't just block 2.9 shot per game so much as deter countless opponents from even entering his domain, and the latter's standout athleticism, passing acumen, and defensive versatility should buy him looks even if his 40.2 three-point percentage becomes more of an aberration than his norm.
That leaves Trevor Keels as the prospect who could determine Duke's spot in the history books, and the Blue Devils should be feeling optimistic after his performance in recent weeks. (Moore might be lower in a few mock drafts, but he also has the profile of a player who should rise significantly during combine and team workouts.)
The 6-foot-5 freshman could opt to return and boost his stock significantly as the unquestioned offensive leader of Duke's 2022-23 iteration. However, he's already putting his potential on full display with more than just the occasional flash of excellence, and that could be all it takes for a first-round spot in a topsy-turvy non-lottery draft class.
Keels hadn't broken past the 20-point threshold since debuting against Kentucky with a 25-spot, but that changed with another 25-point performance against Clemson on Feb. 10 and then the best scoring output of his young career on the first day of March.
In an easy 86-56 victory over Pittsburgh, he showed more confidence on and off the ball, knocking down 10 of his 15 field-goal attempts and moving intelligently to find seams in the defense for spot-up opportunities en route to a game-high 27 points.
More consistency is required to solidify his draft stock, but he's unquestionably moving in the right direction.
Where do the NBA mock drafts have the Duke prospects?
Keels didn't show up in my Feb. 21 mock draft of the first round, which had Banchero at No. 4, Griffin at No. 5, Williams at No. 16, and Moore at No. 23, but that could change in a later edition now that Keels looks fully recovered from his calf injury and more explosive than ever.
He's also featuring prominently in a few notable mocks from around the interwebs.
Bleacher Report's Jonathan Wasserman had Banchero at No. 3, Griffin at No. 6, Williams at No. 20, Keels at No. 30, and Moore at No. 36 in his March 2 mock. Sam Vecenie of The Athletic hasn't published an update to his mock draft since Feb. 17, but he had Banchero, Griffin, Williams, and Keels as first-rounders with Moore at No. 31.
Tankathon's end-of-February mock had Keels at No. 31 with the other four coming off the board earlier. NBADraft.net's Feb. 28 edition had Moore rising up to No. 18 with Banchero, Griffin, and Williams joining him in the first round. The lack of Keels in either round is an indication that the site is counting on him failing to declare after the conclusion of his freshman season.
The list goes on and on, but the same story holds true across the board.
Right now, Duke is in no way a lock to match Kentucky for the most first-round selections in a single draft, but it certainly has a chance to do so. If Keels sticks to his current trajectory and ends up declaring, he and Moore will be the ones waiting to hear their names called and make history for the Blue Devils.