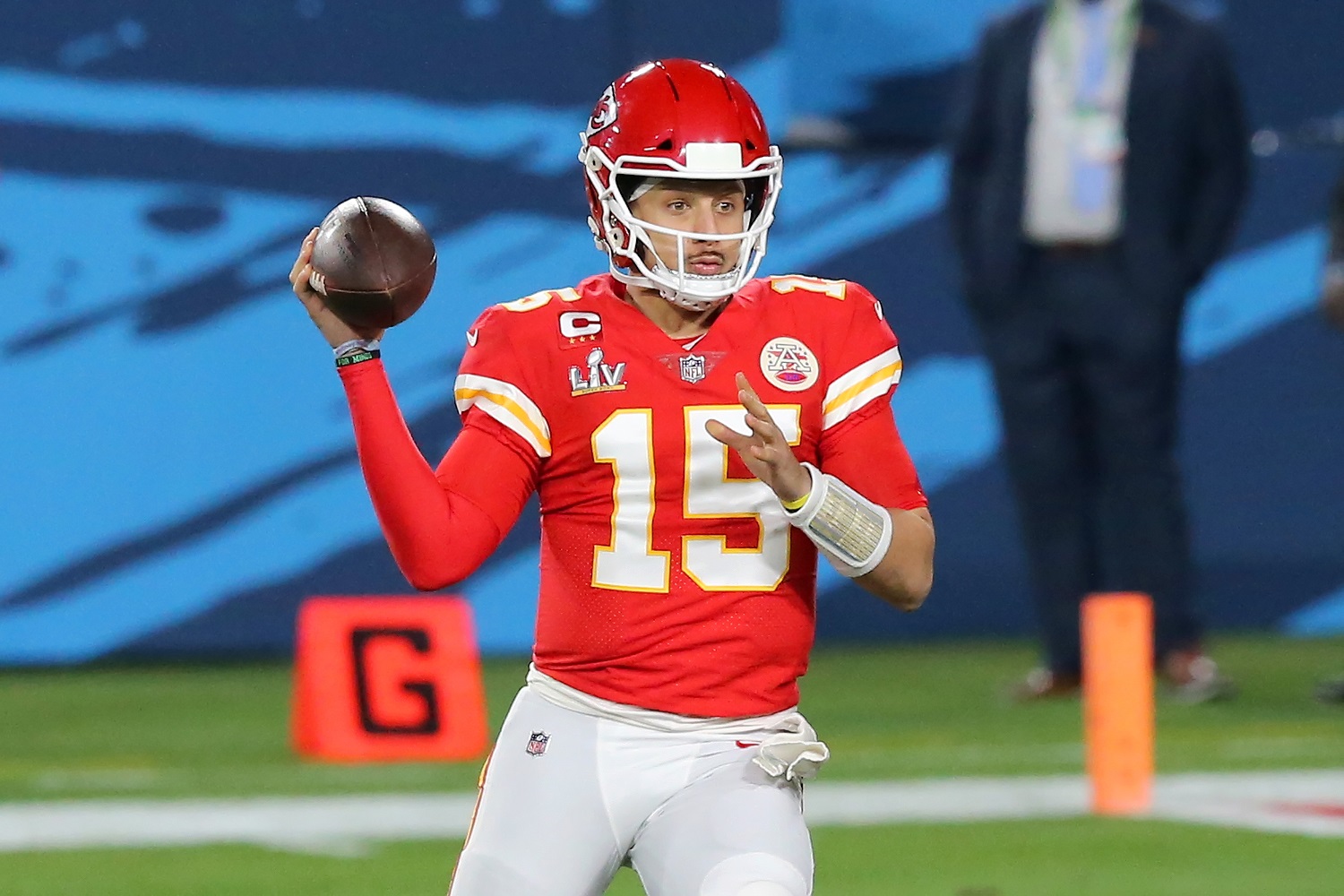 Patrick Mahomes and Tom Brady Turned the San Francisco 49ers' Dreams to Nightmares
Super Bowl 55 quarterbacks Patrick Mahomes and Tom Brady could have been San Francisco 49ers in 2020, a miss that could haunt GM John Lynch long after his induction into the Pro Football Hall of Fame.
John Lynch has a problem worse than nailing down his induction speech. The San Francisco 49ers general manager was just elected to the Pro Football Hall of Fame for his 15 seasons at safety. It looks like Tom Brady and Patrick Mahomes are two reasons why he wasn't going to make it to Canton as an executive.
The two weeks leading up to Super Bowl 55 were misery for the former Denver Broncos and Tampa Bay Buccaneers star. He couldn't escape the daily chatter in the media about how Tom Brady vs. Patrick Mahomes would be the classic quarterback matchup. Lynch had a crack at landing both signal-callers and came away with neither.
Some believed Tom Brady was destined for the San Francisco 49ers
The last holdouts are now out of reasons why Tom Brady isn't the greatest quarterback in NFL history. Having just led the Tampa Bay Buccaneers to victory in Super Bowl 55 over Patrick Mahomes and the Kansas City Chiefs after a stellar run with the New England Patriots, Brady has racked up seven NFL championship rings. Also, his individual numbers are off-the-board great, even for a player in the pass-happy era.
Brady is now 43 years old, and what fans saw this past fall confirms he still has quality time left before retiring. That must frustrate the San Francisco 49ers, who by all accounts could have landed Brady a year ago when he left the Patriots as a free agent.
There was a frenzy once it became apparent Brady would be on the market. Although multiple teams were interested, the 49ers reportedly had an inside track if they wanted it because Brady was born in San Mateo, California, and was intrigued by the idea of playing out the remainder of his career close to home.
However, the 49ers didn't push to make it happen because he already had a New England QB. Nine months after arriving as the GM in January 2017, John Lynch had traded for Patriots backup Jimmy Garoppolo. Although he did guide the 49ers to Super Bowl 54, Garoppolo has made only 30 of a possible 64 starts as a 49er.
Jimmy Garappolo injured an ankle in Week 2 this past season and wasn't the same the rest of the way before the 49ers shut him down at midseason. Few now view Garoppolo, 29, as their long-term quarterback; fans search for 49ers news updates with the hope that an offseason of QB roulette might bring them a better option.
John Lynch passed up his shot at Patrick Mahomes
John Lynch can be forgiven somewhat for the inability to bring Tom Brady to town because the San Francisco 49ers were coming off a Super Bowl 54 appearance on the shoulders of Jimmy Garoppolo.
However, missing out on Patrick Mahomes in the 2017 NFL draft decision is squarely on Lynch. The 49ers had gone 2-14 with Colin Kaepernick at quarterback the previous season, and Lynch assumed the GM role with a lot on his plate. Lynch knew he needed help at QB on draft day, but the 49ers went with defensive end Solomon Thomas and linebacker Reuben Foster in the first round, then cornerback Ahkello Witherspoon in the second.
Thomas, taken third overall, hasn't developed as hoped and is as good as gone in the coming weeks. Foster was a complete bust who was released midway through his second season.
Lynch drafted Iowa quarterback C.J. Beathard in the third round, which was a wishy-washy way of addressing a need since he was unlikely to arrive as a Day 1 starter. Instead, journeyman Brian Hoyer opened at quarterback. By mid-October, Lynch had traded for Jimmy Garoppolo.
The problem, of course, is that Mahomes (No. 10 to the Kansas City Chiefs) and Deshaun Watson (No. 12 to the Houston Texans) were both still available. And, had Lynch been committed to drafting a QB, the Bears simplified his decision by selecting Mitch Trubisky at No. 2 after Chicago and San Francisco traded picks.
John Lynch laments not drafting Patrick Mahomes
San Francisco 49ers general manager John Lynch confirms that he thought long and hard about drafting Patrick Mahomes in 2017.  Instead, he went with Solomon Thomas even after attending pro-day workouts by Mahomes and Deshaun Watson.
The rationale was that he and Kyle Shanahan would overhaul the roster in their first year together and look for a long-term solution at quarterback ahead of the 2018 season. Kirk Cousins was reportedly one option under consideration.
"That'll probably haunt me for a while," Lynch said, according to NBC Sports. "I remember going to (Mahomes') pro day and, you know, we were in a different place as an organization, and we had a different plan at quarterback. I remember going to his pro day, doing my job, but really it's kind of a smokescreen because we were going elsewhere.
"And then calling our head coach, Kyle, and saying, 'We might want to re-think this,' because he put on a show."
They did not re-think it, but the 49ers certainly regretted it.
Like Sportscasting on Facebook. Follow us on Twitter @sportscasting19.