Patrick Mahomes and the Kansas City Chiefs' Explosive Offense Reportedly in Grave Danger of Losing Their Indispensable Mastermind
Led by Patrick Mahomes, the Kansas City Chiefs' high-powered offense has been the most feared group in the NFL since 2018. The Chiefs have an elite quarterback and a bevy of weapons on the outside who can score from anywhere on the field, and they've been the subject of many coaches' nightmares over the last few seasons.
Even though Mahomes gets most of the praise for Kansas City's lethal offense, none of it would be possible without the mastermind behind it all: offensive coordinator Eric Bieniemy. But after just one week of the 2021 NFL season, the Chiefs are reportedly in grave danger of losing Bieniemy to the newly available head coaching job at USC.
Eric Bieniemy is the mastermind behind the Chiefs' explosive offense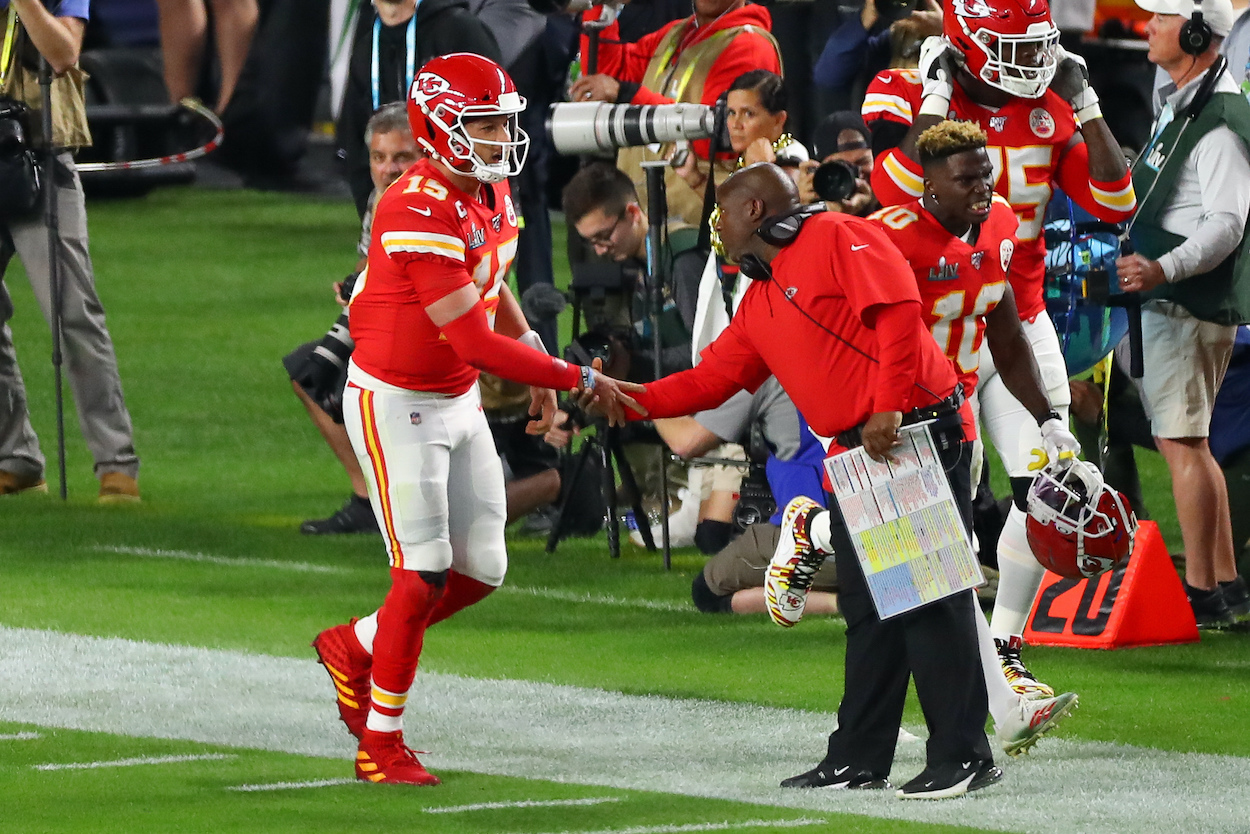 Back in 2017 when Bieniemy was still Kansas City's running backs coach and Mahomes hadn't yet won the starting job, the Chiefs finished seventh in the NFL in scoring at a modest 25.6 points per game. Andy Reid's crew made the playoffs for the fourth time in five seasons, but it again failed to make it to the AFC Championship Game.
A year later, everything changed.
Bieniemy took over as the offensive coordinator in 2018 just as Mahomes was named the starter, and the two immediately clicked. Kansas City finished the season with the highest-scoring offense in the NFL at 34.8 points per game, and the team reached the conference championship for the first time since 1993.
Since being promoted to OC, Bieniemy has led the Chiefs to a top-six offense in both points scored and yards gained in all three seasons at the helm. Oh, and Kansas City's explosive offense also powered the franchise to a Super Bowl. Mahomes deserves a ton of credit for all that, sure, but he wouldn't have had the same level of success without a clever OC who can scheme players open and make things easy for his young quarterback.
But don't take it from me. Just ask Mahomes himself.
Last offseason, Mahomes basically begged NFL teams with head coaching vacancies to hire Bieniemy.
"I think [he will be hired]," Mahomes told 610 Kansas City's "The Drive". "His track record speaks for itself. The type of man he is, the way he can control and be a leader of the locker room, and the way that he coaches and schemes he brings to us. If he doesn't, people are crazy."
Well, he wasn't. And yes, they were "crazy."
Patrick Mahomes and the Chiefs are reportedly in grave danger of losing Bieniemy
Another NFL offseason just flew by, and it was another offseason in which Bieniemy wasn't hired as a head coach. His players and fellow coaches have been raving about his ability to take over his own team for years, so it remains a mystery why the esteemed OC is still on the sidelines in Kansas City.
But that might not be the case for long, according to a recent report that should terrify Chiefs fans. Adam Schefter of ESPN reported in a tweet Tuesday that Bieniemy has emerged as a candidate for the newly vacant USC head coaching job. The school surprisingly fired Clay Helton after an embarrassing loss to Stanford.
Schefter also noted that Bieniemy hails from Southern California, and he has stated in the past that USC would be a college job that might interest him.
Should Bieniemy bail on the Chiefs for USC?
Bieniemy could have a tough decision ahead of him. He just began his fourth season as the offensive coordinator for the Chiefs, and he must be feeling restless about his lack of head coach offers. As he's an offensive guru who's been coaching for two decades and has never been given his own team, it's past time to show his critics what he can do.
Not to mention Bieniemy can make more money as the head coach of a premier college program like USC. Plus, a strong performance at the helm of the Trojans would prove to NFL front offices that he's legit, and head coach offers would start flying in at that point.
Bieniemy might have the best OC job in the NFL, but he deserves to be a head coach somewhere soon.
All stats courtesy of Pro Football Reference.
Like Sportscasting on Facebook. Follow us on Twitter @sportscasting19.