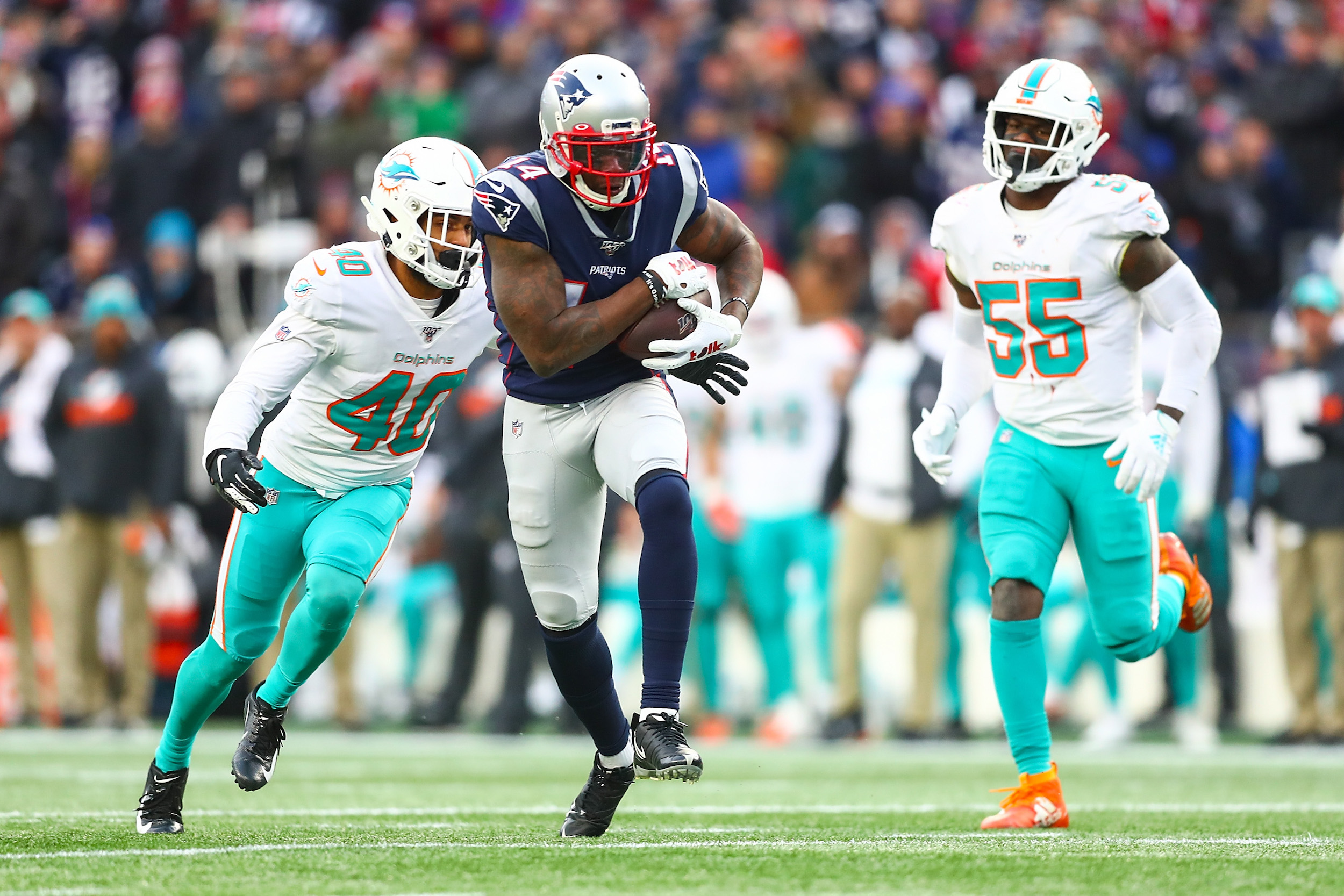 Patriots Receiver Mohamed Sanu is Going to Extreme Lengths to Prove Bill Belichick Right
During his first season with the New England Patriots, Mohamed Sanu fell flat. Now, he's going to extreme lengths to prove himself to Bill Belichick.
When you think of Bill Belichick, you probably imagine a mad football genius, capable of finding the perfect practice squad player to make a difference on game day. No one, however, is perfect; that includes the New England Patriots head coach. Just look at last season's acquisition of Mohamed Sanu.
On paper, the move made perfect sense, Sanu barely made an impact during the 2019 campaign. During the offseason, though, the veteran wideout is going to extreme lengths to prove his coach right.
Bill Belichick went out and traded for a wide receiver
Last season, the New England Patriots offense had a major problem. Without Rob Gronkowski, opposing defenses could double-team Julian Edelman and force Tom Brady to throw to a no-name wide receiver. In October, Bill Belichick tried to solve that problem.
After some speculation, Belichick struck a deal with the Atlanta Falcons, trading for receiver Mohamed Sanu. While some questioned if the veteran was worth giving up a second-round pick, his appeal was clear.
While Sanu has never put up eye-popping numbers, he was supposed to fill a specific role in New England. Standing at six-foot-two-inches tall with a soft pair of hands, the former Atlanta Falcon is one of the NFL's best possession receivers. He might not burn defenders over the top or find the end zone 20 times a year, but Sanu is a reliable possession receiver; for a team lacking offensive talent beyond their quarterback, he seemed like a perfect complementary piece
Mohamed Sanu fell flat in Foxborough
On paper, Mohamed Sanu's role within the New England Patriots' offense was obvious. In reality, however, he struggled to fill that role.
During his first season in Foxborough, Sanu only pulled in 26 receptions for a grand total of 207 yards and one touchdown. While he wasn't entirely to blame—the entire Patriots offense faltered down the stretch—it's safe to assume that his performance wasn't what Bill Belichick imagined.
In Sanu's defense, he did face some additional challenges. Beyond struggling to adjust to Josh McDaniels' offensive scheme after several seasons in Atlanta, the receiver battled through some ankle issues. While neither of those experiences are unique to Sanu, they still can explain at least some of his lackluster performance.
Mohamed Sanu has hired a full-time coach, hoping to prove Bill Belichick right
Regardless of the surrounding circumstances, Mohamed Sanu didn't make much of an impact during his first campaign with the New England Patriots. During the offseason, however, the receiver is going to extreme lengths to prove his head coach right.
"Sanu has hired a full-time coach to live with him, which he hopes creates a situation where his relentless offseason work produces tangible on-field results in 2020," ESPN's Mike Reiss explained. "The coach, Drew Lieberman, is a Wesleyan alum who spent nine years on the sidelines at Rutgers, Albany, Wesleyan and Don Bosco High School (Ramsey, New Jersey) before going out on his own to start his business, The Sideline Hustle. Sanu made the connection to Lieberman through Rutgers, his alma mater."
While plenty of professional athletes have their own personal trainers and coaches, Sanu is taking things to the next level by paying Lieberman to live with him. If the efforts pay off, though, the benefits will be clear. The Patriots' quarterback situation might be a bit different now, but Sanu's skill set is still quite valuable. Whether Jarett Stidham, Brian Hoyer, or Cam Newton is under center, a big receiver with reliable hands will make anyone's life easier.
When he went out and traded for the veteran receiver, Bill Belichick presumably imagined that the receiver would become a legitimate weapon in the New England Patriots arsenal. While that didn't exactly happen in 2019, Mohamed Sanu seems to be working hard to prove his coach right in 2020.
Stats courtesy of Pro-Football-Reference