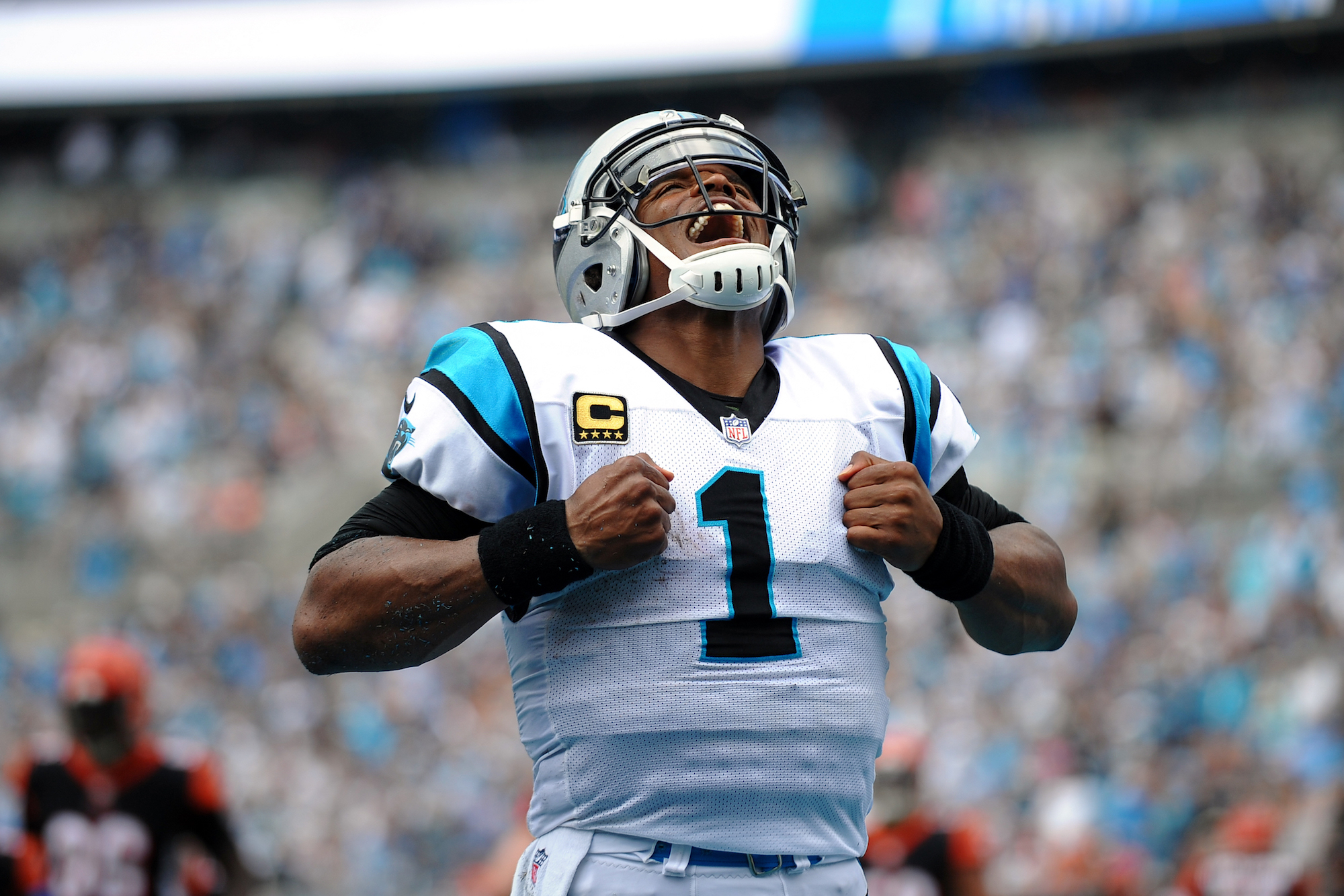 Cam Newton Just Warned the Rest of the NFL That He'll Be a New Man This Season
In his recent Instagram rant, Cam Newton warned the rest of the NFL that a new man would be under center when the 2020 NFL season begins.
By NFL standards, Cam Newton is a divisive figure. Based on his early success in Carolina, some fans believe the quarterback is a talented player who fell victim to a bad situation; others, citing his injury history, feel that he's past his prime and living off his MVP-winning campaign. Cam Newton himself, however, has no such doubts.
In a recent Instagram post, Cam Netwon put the rest of the NFL on notice. In two videos, he warned the league that a new quarterback would be taking the field in Foxborough this fall.
Cam Newton's road to the New England Patriots
Under ordinary circumstances, a former first-overall pick isn't supposed to get cut and sign a one-year contract with comparative peanuts. Cam Newton's career, however, has been anything but conventional.
During college, Newton spent time at the University of Florida and Blinn College before landing at Auburn University for his senior year. He didn't waste any time with the Tigers; Cam threw for 2,854 yards and 30 touchdowns, rushed for 1,473 and 20 additional scores, cruising to the 2010 Heisman Trophy.
On the back of that success, the Carolina Panthers selected Newton with the first-overall pick of the 2011 NFL draft. He immediately lived up to the hype, finishing the year with 4,757 yards of total offense and 35 touchdowns en route to Offensive Rookie of the Year honors. Stardom, however, wouldn't come easily.
For all his talent, Cam's career didn't follow a consistent upward trajectory. The quarterback struggled through injuries in 2014, but led the Panthers to a 15-1 season and a Super Bowl appearance the following year; he also claimed the NFL MVP award in the process. He then tore his rotator cuff in 2016, missed more time in 2018, and sat out virtually all of 2019 with a Lisfranc injury. That set the stage for his eventual release, uneventful free agency, and contract with the New England Patriots.
Sending a message to the rest of the league
In theory, social media allows players to speak directly to their fans. In a recent Instagram post, though, Cam Newton sent a message to the rest of the NFL.
"You know what makes this s–t different," Newton explained, seemingly in the midst of a workout, "is they ain't never seen this Cam. They ain't never seen him. You want to know how I know? S–t, I ain't never seen him, the forgotten Cam. The s—-ed on Cam. The tired of being sick and tired Cam. I felt like I was just left to die. It's over with for him. He ain't the same player."
While the message is clear, it's not exactly obvious who Newton is taking issue with. Does he believe the Carolina Panthers wronged him by releasing him relatively late in free agency? Did the lack of long-term offers convince the quarterback that the rest of the NFL had forgotten what he was capable of doing? At this point, only Cam knows.
Cam Newton will have the chance to prove his doubters wrong in New England
Based on his Instagram posts, it's clear that Cam Newton is heading into the 2020 NFL season with a chip on his shoulder. If he wants to prove his doubters wrong, New England will be the perfect place to do so.
Despite his small, incentive-based contract, Newton is actually landing in a decent situation. Purely based on talent, he should have a relatively easy path past Jarrett Stidham and Brian Hoyer for the top spot in the depth chart. Assuming Cam can win the job, he'll have 16 games to prove he's still the quarterback who won the 2015 NFL MVP and not the one who looked like a shell of his former self in 2019.
While every professional athlete is talented, some players need a bit of extra motivation to take their game to the next level. Cam Newton is clearly fired up and ready to show the league that he's still a star; if he plays with the same intensity as he's posting on Instagram, the AFC East will be in for a long season.
Stats courtesy of Sports-Reference and Pro-Football-Reference