Paul Pierce Gets Blunt About What the Boston Celtics Should Do With Jayson Tatum and Jaylen Brown: 'My Theory Proves Right'
Paul Pierce knows a thing or two about the Boston Celtics. After spending 15 seasons with the team that selected him with the 10th overall pick in the 1998 NBA Draft, Pierce has a special place in his heart for Boston. Despite having a pair of All-Stars in Jayson Tatum and Jaylen Brown, the Celtics have gotten off to a slow start, sitting at 9-8. Rumors have swirled about the Celtics looking to trade Brown, but Pierce has his own ideas on what the team should do.
Paul Pierce believes there are several factors why the Boston Celtics are off to a slow start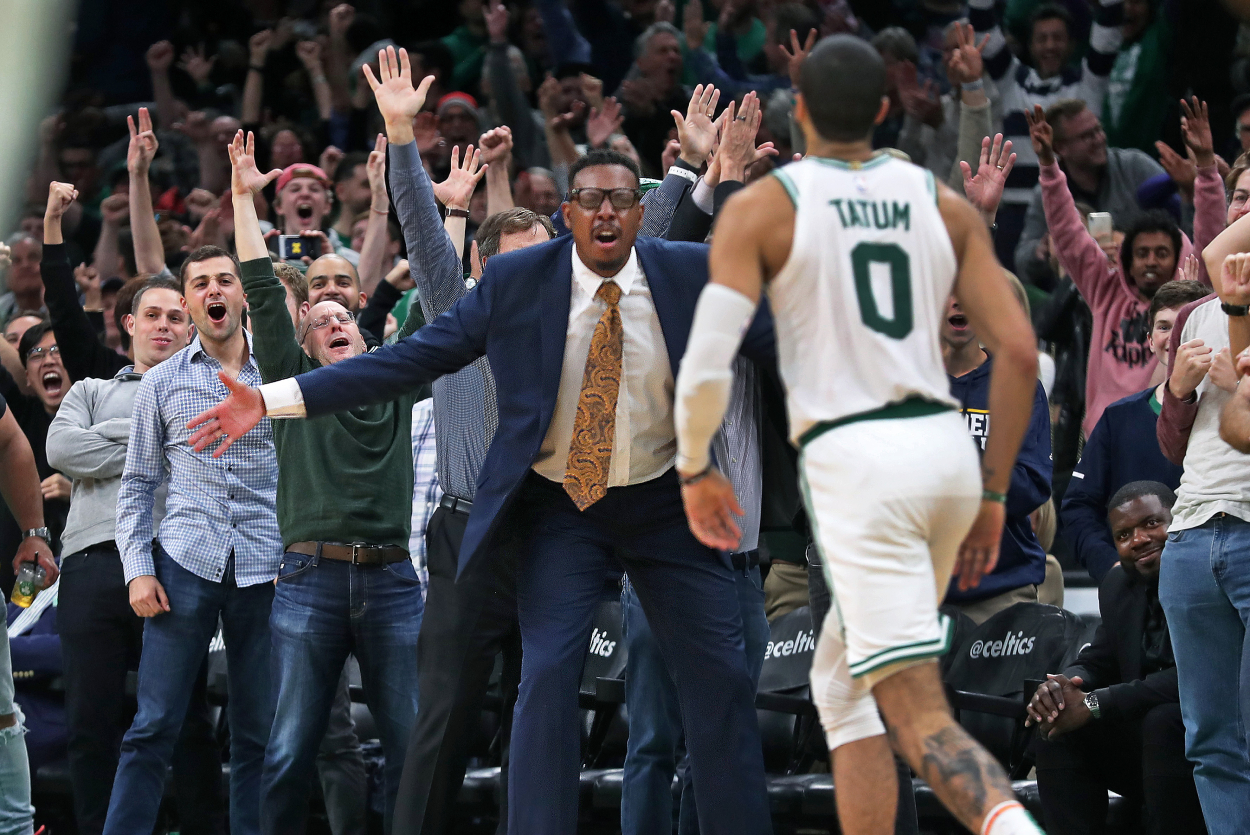 The Celtics have picked things up after an ugly start to the 2021-22 season that included an embarrassing stretch at home. Boston lost its first three games at home, including their home-opener to the Toronto Raptors in a lackluster performance. After that game, Tatum made a discouraging comment to the media, questioning the team's effort.
The poor home stretch also included Boston blowing a 19-point lead in the third quarter against the Chicago Bulls, prompting Marcus Smart to call out Tatum and Brown. Since Smart called out his teammates publicly, the team had gone 7-3.
Pierce had his own thoughts on the team's early struggles.
"They lost a veteran point guard in Kemba Walker, I think that was a huge loss," Pierce said on The Crossover NBA Show podcast this week.
The loss of Walker was just one of several factors, according to Pierce.
"You've got to understand they dealt with COVID issues," he added. "They dealt with injuries. And also they have a new coach, a young coach. He's never been a head coach in the league, implementing a new system, new players, new personalities, and trying to make it work."
Paul Pierce said the Celtics should build around Tatum and Brown
With the early struggles and the drama that's come with the Celtics' 9-8 record, Pierce said trading Brown or Tatum would be a serious mistake. He believes the best route for the team to take is to build around the young stars.
"I never believed that (it's right to separate to star players)," Pierce said. "I truly believe it's about putting the right pieces around your great players. They've proven they can be All-Stars in this league. In order to win in this league, you have to have star talent around the perimeter. That's what the Celtics have, and that's something you need to build around."
He went on to give examples of success around the league with perimeter star players.
"My theory proves right because when you look at all the top players and all the Finals MVPs year in and year out, who are you looking at?" he asked. "Top-tier perimeter guys like Kawhi Leonard, the Kobe Bryants, the Kevin Durants, the LeBron James's, these are the guys that lead their teams to championships. You need those type of players. The Celtics have to find a way to build around those guys so they can reach that next level."
Pierce thinks the Celtics have the talent to contend for an NBA title
As much as the Celtics have underachieved through the early part of the season, Pierce thinks they are set to make some noise. The big key, however, is if they can remain healthy.
The Celtics got some good news this weekend. Brown, sidelined the last eight games with a strained hamstring, was upgraded to probable for Monday night's game with the Houston Rockets. Center Robert Williams, out the last three contests because of a sore knee, was also listed as probable.
"They are feeling better," Udoka said of the two, per Mass Live. "They went some through workout, rehab. Like I said, it's a short-term thing. We're not ruling them out for next game and hopeful that they'll be ready."
Pierce believes Boston's success will be based on staying healthy and being consistent.
"It's not about the talent," he said. "I think they have the talent to compete in the Eastern Conference. But that's a combination of those things that I mentioned that has them struggling early.
"They don't have consistency in the lineup. Jaylen Brown's been out here and there – Al Horford in-and-out. So, it's hard to develop some consistency when you don't have your main core pieces there."