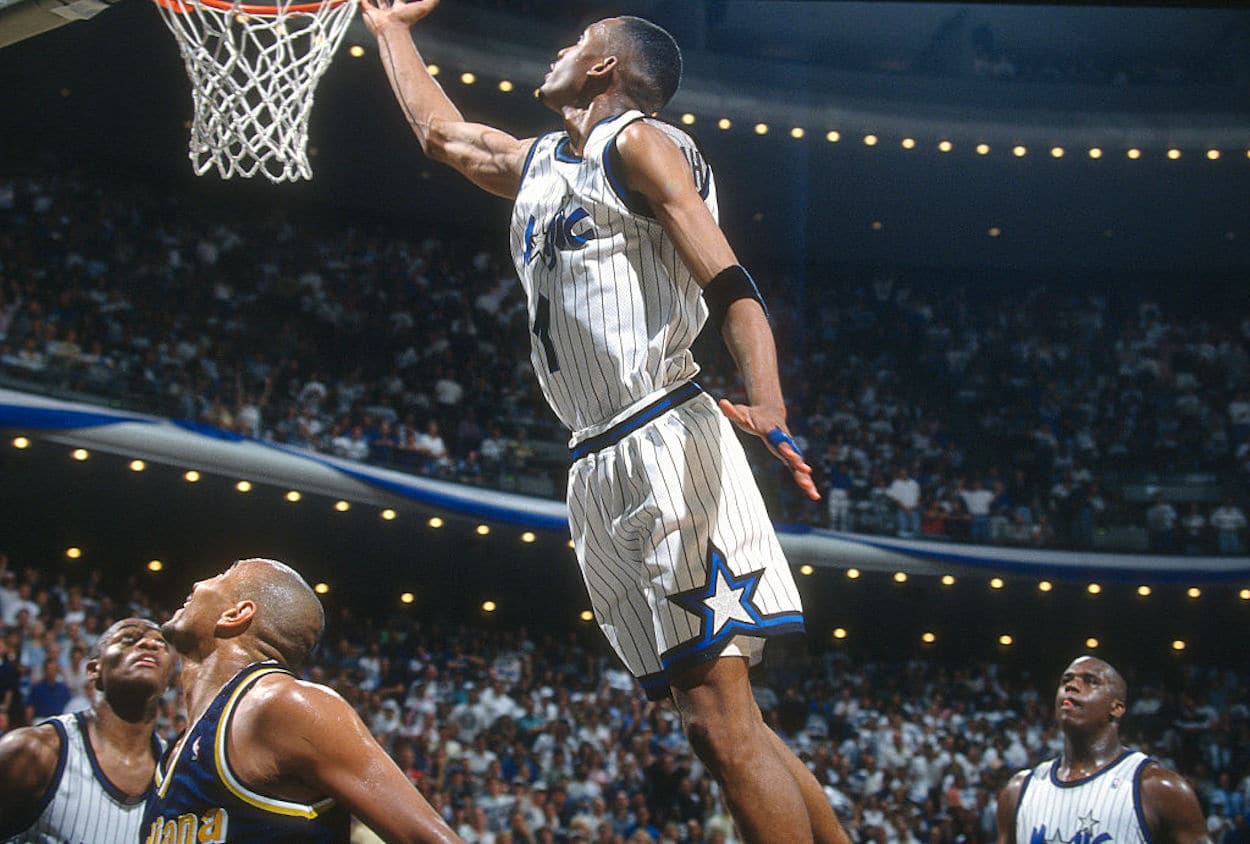 Penny Hardaway Owes Both His Iconic Nickname and His Basketball Career to His Grandmother
Over the years, we've seen plenty of NBA players with iconic nicknames. From Magic Johnson to Shaquille O'Neal and his countless monikers, everyone had their favorites. In the early 1990s, for example, few players were cooler than Penny Hardaway. And while the guard possessed plenty of natural talent, he still owes a massive thanks to …
Over the years, we've seen plenty of NBA players with iconic nicknames. From Magic Johnson to Shaquille O'Neal and his countless monikers, everyone had their favorites. In the early 1990s, for example, few players were cooler than Penny Hardaway.
And while the guard possessed plenty of natural talent, he still owes a massive thanks to his grandmother, Louise Hardaway. Without her, Penny might have gone by Anfernee and done something other than playing professional basketball.
How did Penny Hardaway get his nickname?
While sports nicknames can be fun, they're usually rather predictable. When you encounter someone called "Tiny," for example, it's safe to assume they're either incredibly tall or rather short. The origins of "Penny" are a bit less obvious.
As a boy, Hardaway still went by his given name, "Anfernee." According to a Daily Memphian write-up by Geoff Calkins, Louise started calling her new grandson "Pretty." Her pronunciation, however, sounded like "Penny," and the name stuck.
Although an Orlando Sentinel story recounts a slightly different version of events — a 1994 piece by Mike Thomas explains that "Pretty" was transformed into "Penny" by the boy's friends — the underlying truth remains. Without his grandmother, the world would never have known Penny Hardaway.
Louise Hardaway was also responsible for Penny focusing on basketball
As anyone who saw him on the hardwood can confirm, Penny Hardaway was a gifted athlete. That talent, combined with his size, could have shone on the gridiron. His grandmother, however, had other ideas.
In the Orlando Sentinel story, Thomas recounted how Penny's football career came to an end. One afternoon, while watching a game on TV, Hardaway's grandmother saw a gang tackle and knew that her Pretty wasn't going to be involved in that.
"You see all those folks piled up?" she told the boy, who had been playing quarterback and wide receiver in neighborhood pickup games. "As thin as you is, they'd break every bone in your body. Basketball is dangerous but not like football. I'll let you play basketball, but you can forget football."
From there, the rest is history.
In the end, everything worked out for Penny Hardaway
Without knowing what a young Penny thought, it was probably disappointing to be forbidden from playing football with his friends. Ultimately, though, everything worked out for the best.
Hardaway stuck with basketball and became a high school star. He then stepped up to the University of Memphis (then Memphis State University) and, after sitting out his freshman year, picked up where he left off. The guard averaged 20.0 points, 7.7 rebounds, and 5.9 assists per outing in college before entering the 1993 NBA draft. He'd be selected as the third-overall pick before a trade sent the Memphis native to Orlando.
In the pros, Penny shone brightly. Playing alongside Shaquille O'Neal on an exciting Magic squad, he helped the franchise push into the postseason. The club dipped its metaphorical toe into the first round that year but reached the NBA Finals in 1995, falling to the Houston Rockets. The following campaign saw a trip to the Eastern Conference Finals — and a loss to the Chicago Bulls — before Shaq headed West. That left Hardaway behind to assume the mantle of franchise player.
Unfortunately, the guard's best days proved to be behind him. He suffered some devastating knee injuries and ended up being traded to the Phoenix Suns. Penny would continue to fight against his own body and, after brief spells with the Knicks and Heat, was waived in 2007. That proved to be the end of his playing career, but not his time in basketball.
Hardaway has taken over as Memphis' head coach and gotten the program back on the right track. He's helped the Tigers land some big-time recruits and captured an NIT title. There have also been rumors of an NBA gig, but that offer hasn't materialized just yet.
And to think everything — from the high school and college success through his NBA stardom and even today's coaching work — might have been different if Louise Hardaway had let her beloved grandson play football.