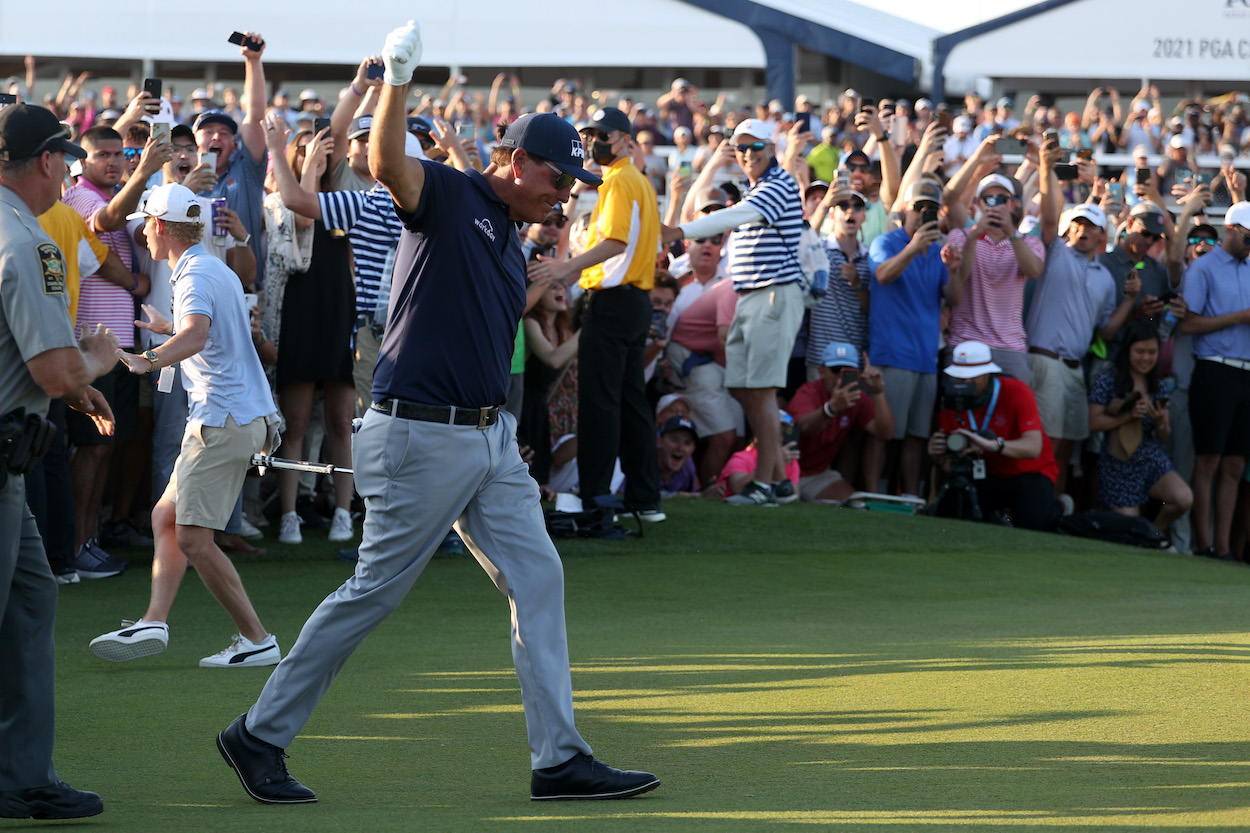 Phil Mickelson's Mom Offered Some Hilarious Advice Ahead of His PGA Championship Triumph: 'Don't Hit Bombs or Activate Calves. Just Par'
While Phil Mickelson was plodding his way to a historic victory at the PGA Championship, his mom was even more nervous than he was.
As Phil Mickelson battled the wind at Kiawah Island down the stretch of the PGA Championship in search of his first major championship in eight years, he looked completely unfazed by the pressure. The 50-year-old golfer minimized his mistakes all day Sunday as the rest of the field faded around him, but his mother, Mary, was a nervous wreck watching from home.
Mickelson's mom anxiously texted his sister, Tina, during his final round with some hilarious advice for the Hall of Famer, but he didn't exactly listen.
Phil Mickelson triumphs in historic PGA Championship win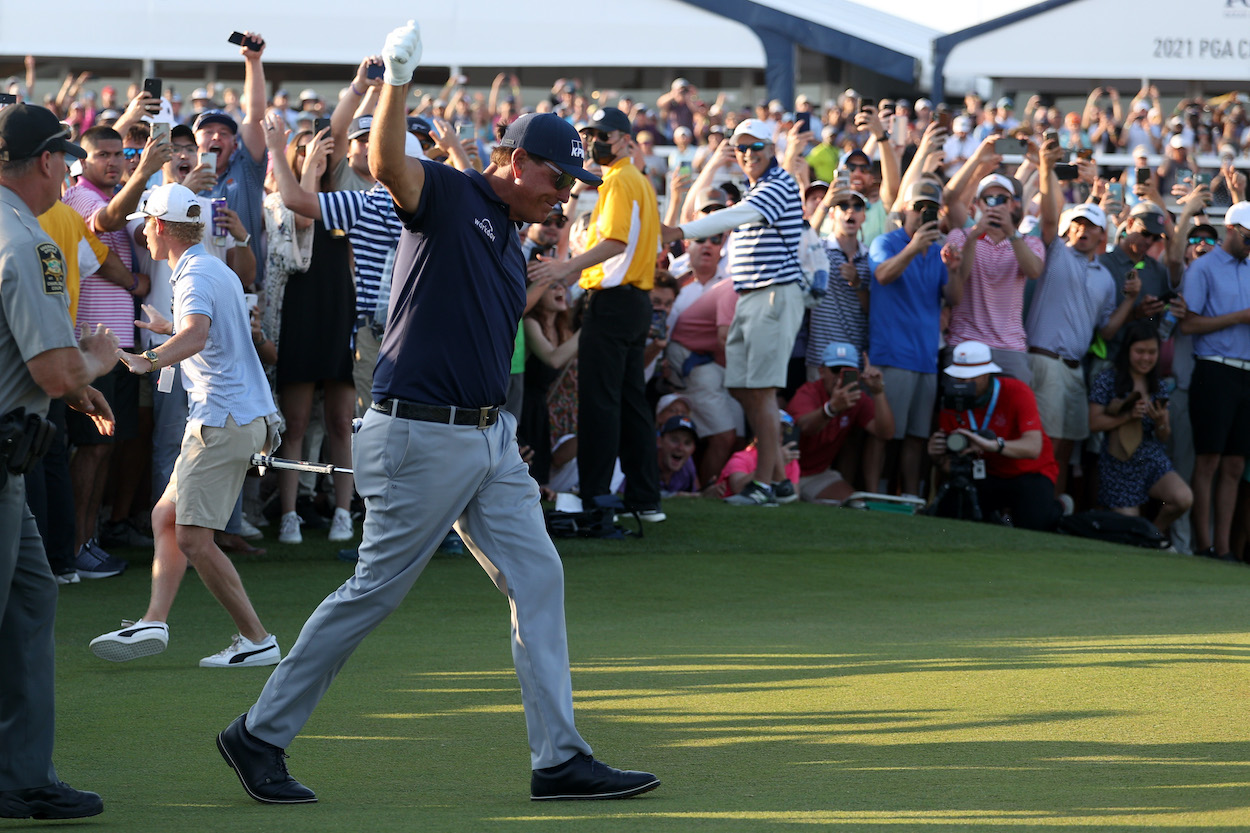 If someone told you last week that Mickelson would win the 2021 PGA Championship at 50 years old, you would've laughed them out of the room. Lefty hadn't won a PGA Tour event since 2019. He hadn't recorded a top-20 finish in a major since 2016. Mickelson's major championship window seemed to be slammed shut, sealed with permanent glue, and boarded up for the rest of eternity.
But windows are never closed in the game of golf.
Despite the doubters, Mickelson shot a 6-under 282 at Kiawah Island's Ocean Course to win the PGA Championship by two strokes, becoming the oldest major champion in PGA Tour history in the process.
Mickelson's mom offered some hilarious advice during his final round
As Mickelson plodded through the back 9 at windy Kiawah Island on Sunday, he showed little to no nerves. But that wasn't the case for his mother watching from home. Mary Mickelson watched anxiously as her son held on tight to a slim lead down the stretch, and she even tried to get a message to Phil during his final round.
"Tina, [text] Philip and tell him just to par in. Don't hit bombs or activate calves. Just par. They will have to catch him. He won't listen to his mother [so] you [text] him. Hurry," she wrote in a text to Mickelson's sister, Tina.
OK, there's a lot to unpack here.
First of all, Mickelson's mother still calling him Philip is just *chef's kiss*.
Secondly, "don't hit bombs or activate calves" is simply a perfect line. There's no way around it. She sure does know her son. Lastly, it's extremely doubtful that Mickelson (or his brother and caddie, Tim) was checking his phone at all during one of the most important rounds of golf in his entire life.
But we appreciate the sentiment, Mom.
Mickelson didn't exactly listen to his mom's advice
Mickelson will never let anyone change who he is or the way he approaches the game of golf. In his older age, he's committed to bulking up and "hitting bombs" to keep up with the big hitters on the PGA Tour today.
That's exactly what he did Sunday en route to victory.
On the par-5 16th hole, Mickelson unleashed a 366-yard drive down the center of the fairway (and five yards past 31-year-old Brooks Koepka). It was the longest drive of any player in the field on the 16th hole all week. Mickelson went on to make birdie on the hole, which gave him enough of a cushion to cruise to a two-shot win.
Never stop hitting bombs, Phil. Not even if your mother begs you to.