Tiger Woods Is Already Being Summoned Back to the Golf Course in the Name of His Country
Tiger Woods got into a devastating car accident just three months ago that resulted in numerous fractures in his right leg. Woods was fortunate just to survive the high-speed crash, but it left him with a surgically repaired leg filled with rods and screws from his ankle to his knee.
The 15-time major championship winner won't be back on the PGA Tour for quite some time (if ever), but he's already being summoned by his country to serve as a Ryder Cup captain at Whistling Straits this September.
The 2021 Ryder Cup is just four months away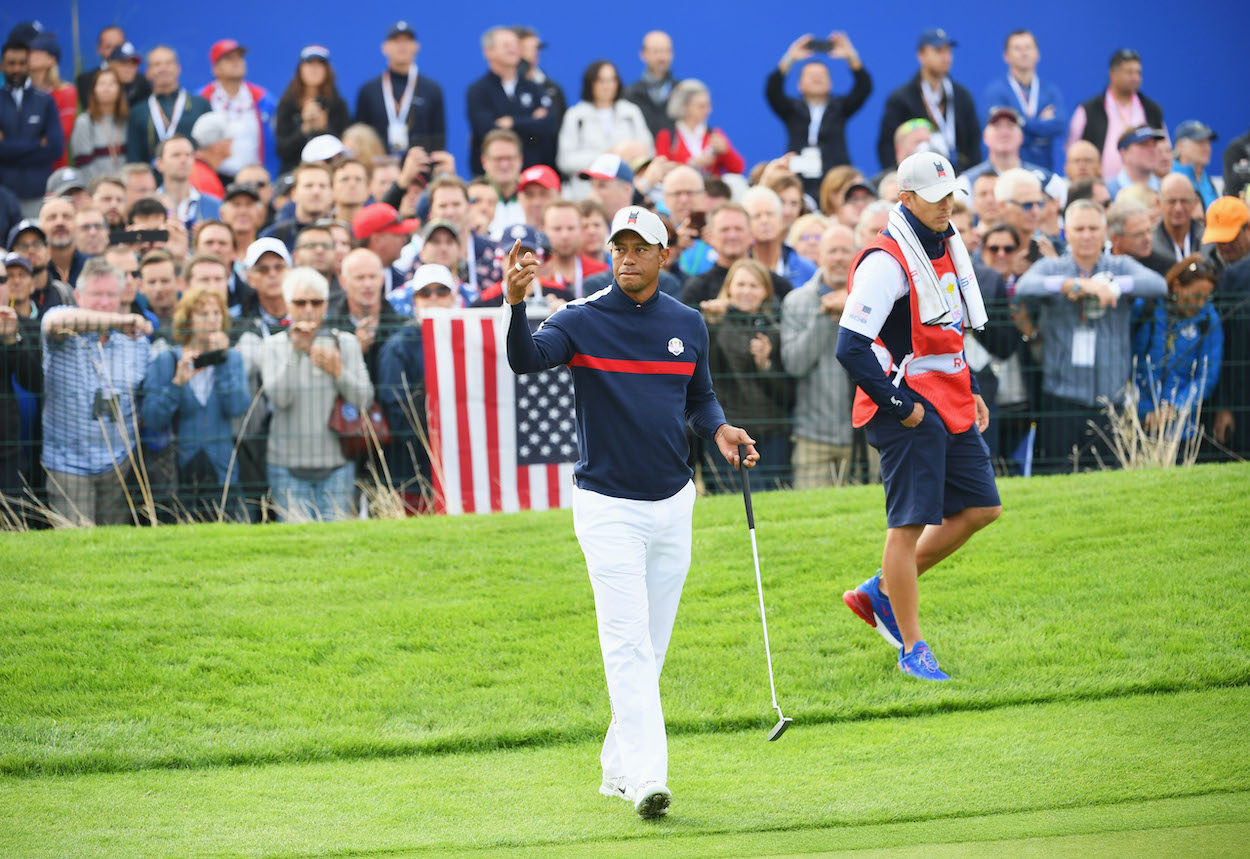 The Ryder Cup is one of the most anticipated events on the golf calendar every two years. This year's running will be even more so, as we missed the American-European duel in 2020 because of the COVID-19 pandemic. The 43th Ryder Cup will now be held at Whistling Straits in Kohler, Wis. from Sept. 21-26.
Woods wouldn't have been a member of the U.S. team this year unless captain Steve Stricker pegged him as one of his six captain's picks. And, quite honestly, that would've been a massive mistake based on how Tiger was playing before he sustained his leg injuries.
But even though Woods can barely walk right now, Stricker still wants him in Wisconsin this September to support his country. Just — not as a player.
Steve Stricker is already summoning Woods for the Ryder Cup
Woods might not even be able to swing a golf club by the time the Ryder Cup rolls around this fall, but Stricker still wants him there for moral support as an assistant captain. Stricker even said the two have already been speaking about plans for the event.
"I've talked to him. I don't know if we are there yet to commit to him being there," Stricker said from the PGA Championship at Kiawah Island this week. "He's still got a lot going on, and his spirits are great, though, as of late. We were on a Zoom call with him just last week, and he seems like he's in a better place. He's still got some ways to go.
"But I'd love to have him there. Who wouldn't, right? The guys really respect him, and he did a great job as [Presidents Cup] captain, and he was an assistant of mine in 2017, and he was unbelievable. He would do anything for you, and he's totally, totally vested in the situation and the process, almost to the point of, he's on it so early and so much, it's like, 'Dude, we've still got months to go yet.' He's really good at being an assistant, and I'd love to have him be there if it's at all possible."
Woods will support the U.S. team even if he can't attend the Ryder Cup
We all know about Tiger's relentless competitive fire. Well, that fire comes out the most during Ryder Cups when the PGA Tour legend is repping red, white, and blue. Woods has competed in eight Ryder Cups throughout his storied golf career, and even if he can't compete or be there in person this year, he'll be supporting the U.S. team from wherever he may be.
"I don't know if he can be there or not," Stricker said. "But he said, 'You know I'm here for you all the way up to the Ryder Cup. That shows his level of commitment to me and to the team, and his desire to be there if he can be."