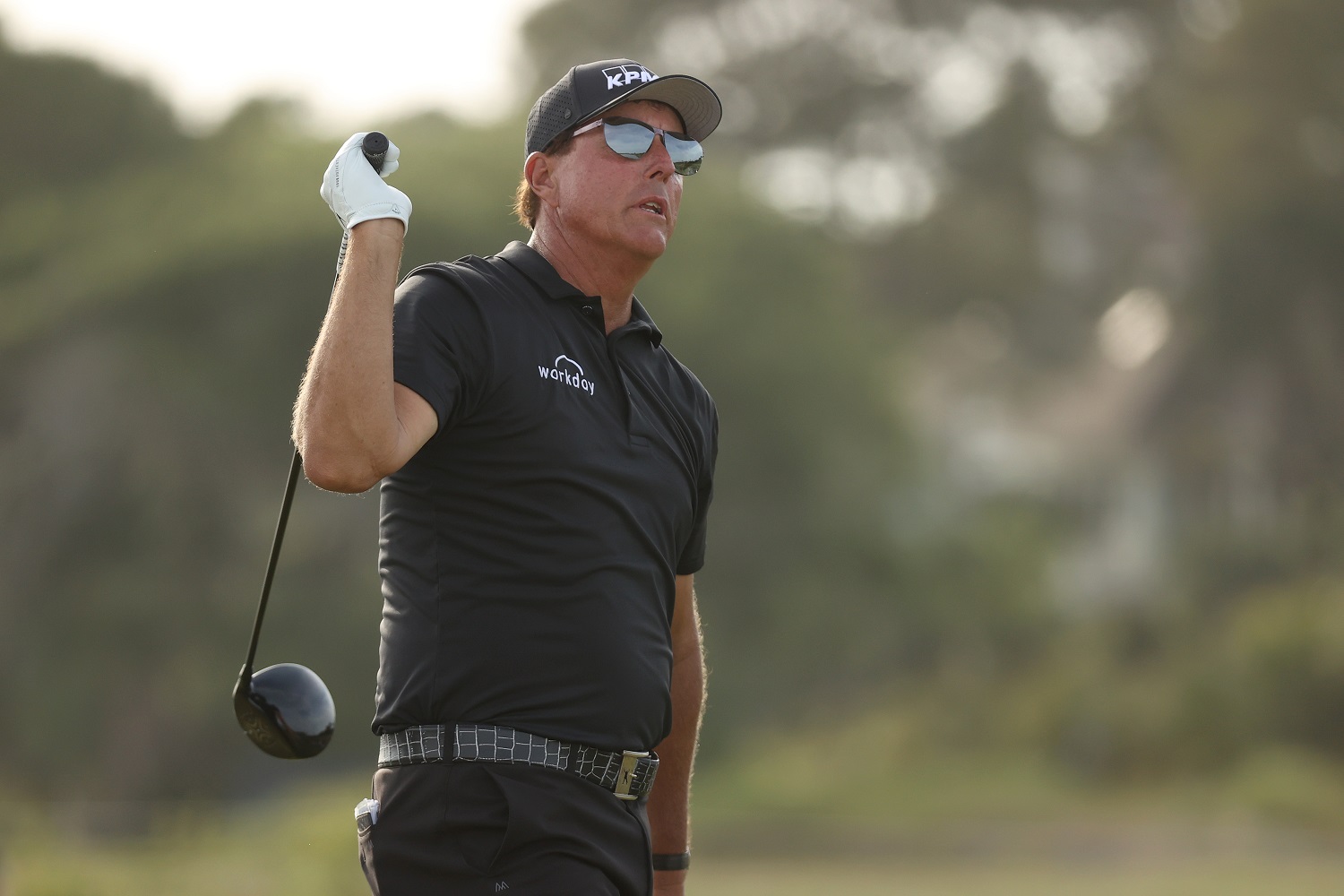 PGA Championship Winner Phil Mickelson Quickly Cleared the Air About a Brewing National Sports Scandal
Phil Mickelson was proactive in explaining his association with the mastermind behind the college admissions scandal that came to light in 2019.
Getting out in front of the field early has helped Phil Mickelson win his share of PGA Tour tournaments over the years. Getting out front on a story two years ago spared one of the biggest names in golf from months of headlines related to one of the nation's biggest sports and academic scandals in decades.
Mickelson smartly volunteered information that might otherwise have never come to light. In doing so, he made it apparent that he had nothing to hide, sparing him from endless questioning had reporters dug out the information on their own.
Phil Mickelson has built a great golf resume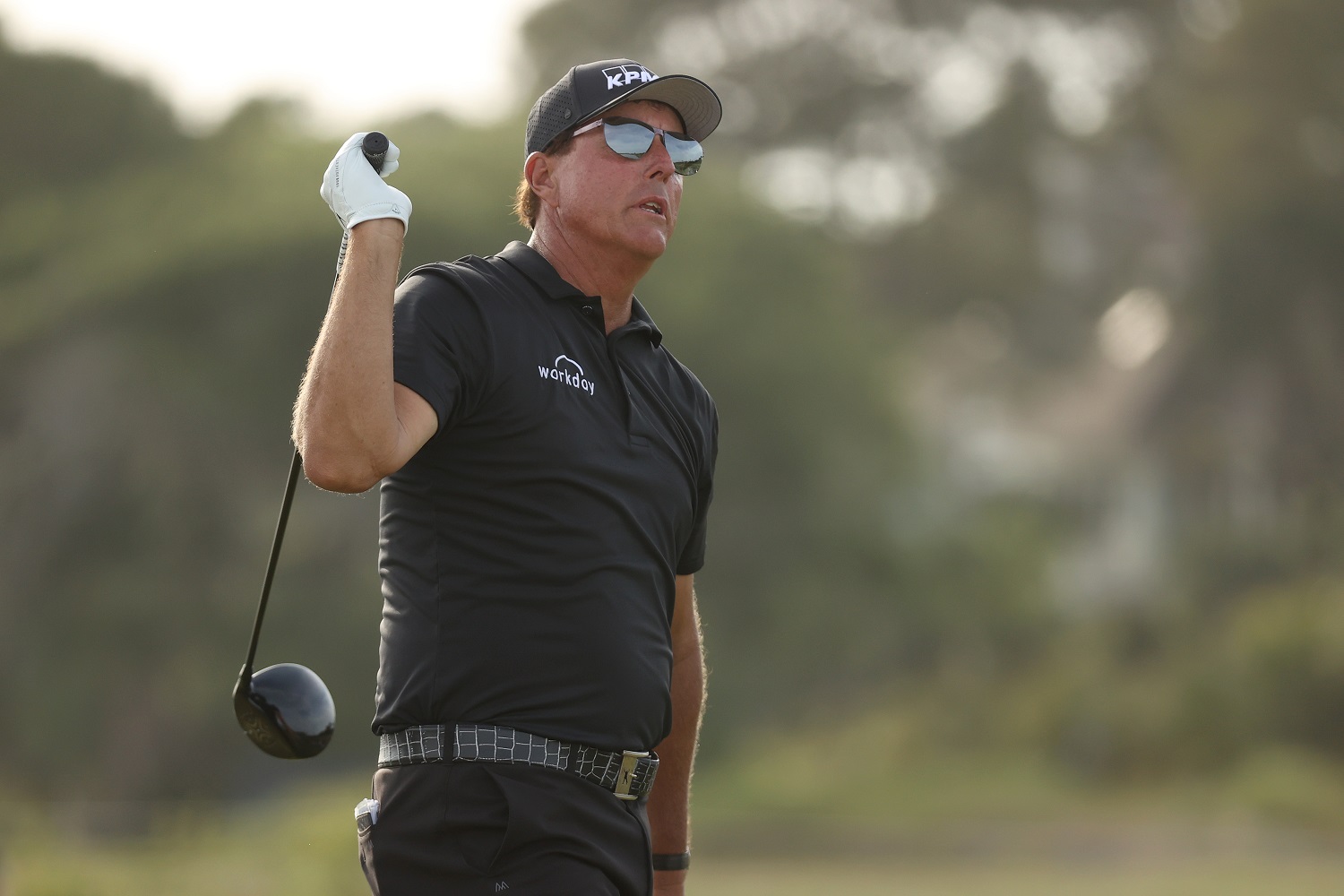 Already one of the most accomplished golfers ever, Mickelson carried a one-stroke lead over Brooks Koepka into the final round on Sunday in the PGA Championship on Kiawah Island, South Carolina, and then closed the deal with a two-stroke victory.
Mickelson has won 45 times on the PGA Tour, good for ninth all-time. The highlights of his resume are the six victories in majors — The Masters Tournament in 2004, '06, and '10, the PGA Championship in 2005 and '21, and the British Open in 2013.
Interestingly, he has spent 27 years of his professional career ranked in the top 100 in the world, but Mickelson has never held the No. 1 ranking.
Mickelson, 50, has won more than $93 million in official money, placing him behind only Tiger Woods. Combined with endorsements and investments, he has built a fortune of $400 million, according to Celebrity Net Worth.
Mickelson reacted swiftly to Operation Varsity Blues
On March 12, 2019, the Department of Justice pulled back the curtain on Operation Varsity Blues, an investigation into a nationwide college admissions scandal. Prosecutors alleged that William Singer was at the top of a $25 million scheme in which parents were able to secure spots for their children in universities with highly selective admissions standards. Authorities implicated 50 people, including celebrities Lori Loughlin of Full House and Felicity Huffman of Desperate Housewives.
Two days after the indictments, Mickelson fired a 2-over 74 at The Players and then posted on Twitter:
"Our family, along with thousands of others, used Rick Singer's company to guide us through the college admission process. We are shocked by the revelations of these events. Obviously, we were not part of this fraud, our kids would disown us if we ever tried to interfere."
It was a curious disclosure because Mickelson and wife Amy hadn't been indicted or even mentioned in supporting documentation. Connecting themselves to Singer seemed to be asking for trouble. It turns out, though, that the Mickelsons' instincts were correct.
According to SportsbyBrooks.com, the front page of a website maintained by Singer but subsequently shut down after the indictments contained a note in which the Mickelsons raved about Singer's assistance. The message made reference to their daughter Amanda earning acceptance to Brown University, a school that did not figure in the probe.
The scope of the scandal was considerable
Although the Mickelson family did nothing wrong, the revelation of their association with Singer was nevertheless embarrassing. However, it was the colleges and universities that took the worst hit, with several duped by their own coaches.
Half the scandal involved Singer arranging for "pinch-hitters" to take entrance exams on behalf of the students. The other piece of the scheme was the creation of phony athletic resumes, with parents even photoshopping their children onto images to make it appear they were participating in sports. Loughlin allegedly set up a photoshoot of her daughter appearing as crew coxswain on a rowing team, according to NBC News.
Singer worked out deals with college coaches to "recruit" the students as scholarship athletes or preferred walk-ons, which allowed them to bypass certain admissions requirements. After enrolling and arriving on campus, the "athletes" would feign injuries or cite personal issues for leaving their teams before it became apparent that they were not qualified.
Programs caught up in the investigation included Georgetown tennis, UCLA men's soccer, USC and Yale women's soccer, and Wake Forest volleyball.
On the same day that the Department of Justice revealed the investigation and indictments, Singer pleaded guilty to charges including money laundering conspiracy, conspiracy to defraud the U.S. government, and obstruction of justice. He is continuing to cooperate with the government and is awaiting sentencing.
Like Sportscasting on Facebook. Follow us on Twitter @sportscasting19.