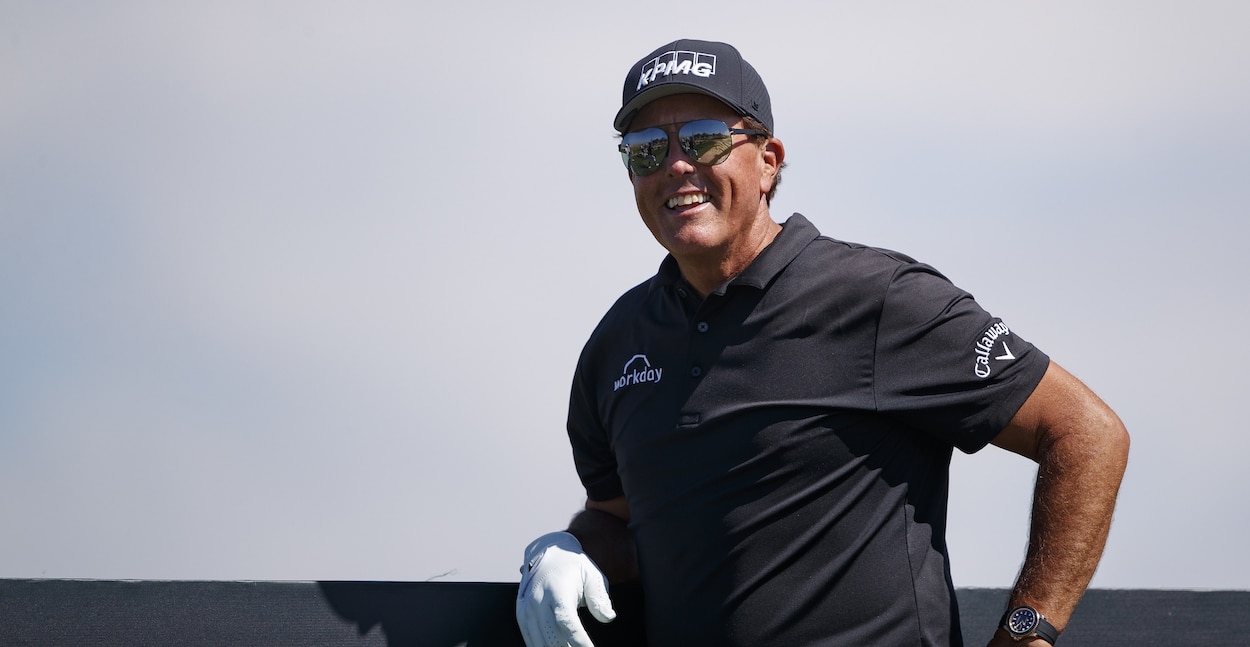 Phil Mickelson Throws Down the Gauntlet to PGA in Groveling LIV Golf Announcement
In a stunning announcement, Phil Mickelson not only declared he'll play on the LIV Golf tour, he dared the PGA to do something about it.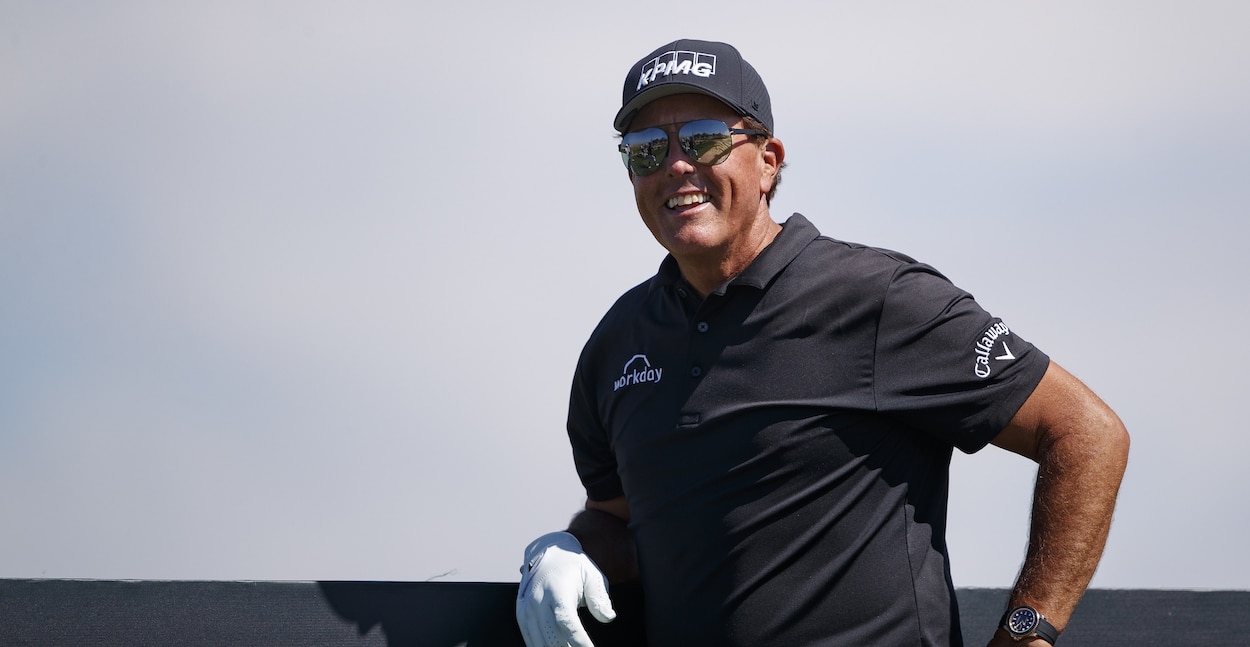 Golfer Phil Mickelson finally broke his silence after all the controversy surrounding his support of the Saudi-backed LIV Golf tour. The six-time Major winner shared a lengthy post on social media where he apologized yet again for his controversial comments about the tour, announced he's joining LIV Golf's inaugural event, and basically dared the PGA to bar him from future events.
Phil Mickelson will play on the LIV Golf tour
In February 2022, controversy erupted around Phil Mickelson. The golfer made comments about the Saudi Arabian government, which is behind the controversial LIV Golf tour.
The Saudi-backed league is vying to take golfers away from the PGA Tour. It's doing so by offering shorter tournaments, fewer events, and a lot of money.
Mickelson told his unauthorized biographer, Alan Shipnuck, that he understands that the Saudis behind the league are "scary mother******." He admitted he knows they killed Washington Post reporter Jamal Khashoggi, "have a horrible record on human rights," and, "execute people over there for being gay."
Despite all that, Mickelson told Shipnuk that joining LIV Golf was worth it to, "reshape how the PGA Tour operates."
These comments did not go over well.
Mickelson lost sponsors, and he's spent the past three-plus months in self-imposed exile (or possibly serving a shadow suspension, for conspiracy theorists).
On Monday, June 6, 2022, though, he officially announced he'll join LIV Golf for its first event. The LIV Golf Invitational in England will take place from June 9 to June 11 at Centurion Club. The golf course is located just west of St. Albans, a northern suburb of London. 
Mickelson will join famous PGA golfers Dustin Johnson, Ian Poulter, Lee Westwood, Louis Oosthuizen, Kevin Na, and Sergio Garcia on this tour. Several of these players have resigned from the PGA to participate in this tour.
Not Mickelson, though.
The embattled golfer directly challenged the PGA to make good on its threats
The New York Post first reported Phil Mickelson will officially join the LIV Golf tour at 2:42 P.M. EST on Monday, June 6, 2022. Just 29-minutes later, Mickelson posted a lengthy message on his Twitter account making it official.
In the message, Mickelson wrote he wants to "again apologize to the many people I offended and hurt a few months ago with my comments." He then said his time away has allowed him to engage in "self-reflecting," "continued therapy," and spend "time with [his wife] Amy and loved ones."
Mickelson then announced he's joining LIV Golf because its "progressive format" is "exciting for fans," and because it will "provide balance and a "healthier approach to life" for him and his family.
He didn't mention money or the moral quandaries about getting involved with "scary mother******" who are paying for the tour. Mickelson did, however, throw his involvement directly in the face of the PGA tournament, daring them to take punitive action against him.
Along with his accouchement that he'll be playing in LIV Golf events, he also wrote, "I also intend to play the majors."
This seven-word sentence calls out the PGA and forces it to make an organization-altering decision, possibly in the next week.
On June 1, the PGA confirmed a May 10 proclamation that players who participate in LIV Golf events could face suspension, fines, or bans by the PGA. CBS Sports reported the U.S.-based golf organization issued a statement saying, "PGA Tour members have not been authorized to participate in the Saudi Golf League's London event, under PGA Tour regulations. Members who violate the tournament regulations are subject to disciplinary action."
The next major — the 2022 U.S. Open at The Country Club in Brookline, Massachusetts — tees off on June 16, the Thursday following the LIV Golf Invitational.
How much money is Phil Mickelson making to play on the LIV Golf Tour?
Prior to Phil Mickelson joining the breakaway golf league, the biggest name involved was Dustin Johnson. Reports have DJ getting $120 million to join LIV Golf.
Following news of Johnson's hefty payday to spurn the PGA, reports surfaced, per Golf Digest, that Tiger Woods turned down a "mind-blowingly enormous" amount of money, said to be in the "high nine digits."
This compares to what Johnson got. It also tracks with the fact legendary golfer Jack Nicklaus admitted saying no to a $100 million offer from LIV.
There is no official report yet on how much Mickelson is getting just to join the tour. However, Golf Channel and NBC Sports insider Brentley Romine tweeted that he is "Hearing from a source that Mickelson signed a contract Saturday night worth ~$200 million."
That $200 million is in addition to the $255 million in prizes that the LIV Golf tour will award over the course of eight events in the 2022 season. AP Reporter Rob Harris tweets, "There's a $25m prize fund for each event. $4m for the winner, $120k for last place."
There are additional team-based prizes that will get the pot to $255 million.
Like Sportscasting on Facebook. Follow us on Twitter @sportscasting19 and subscribe to our YouTube channel.