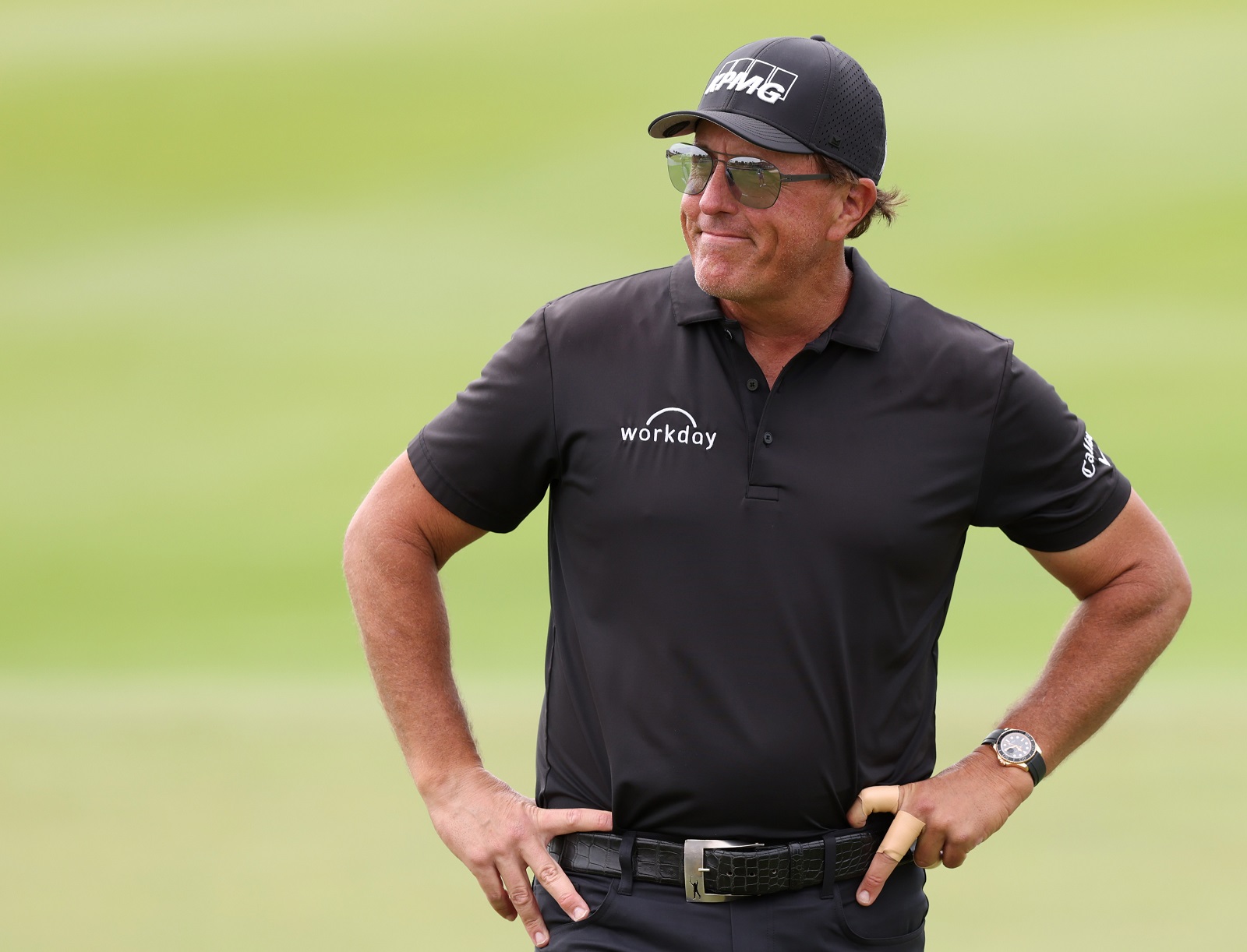 Phil Mickelson Dropped a 12-Letter Pejorative, and a Major Sponsor Dropped Him
Phil Mickelson is stepping away from competition for the time being and has issued an apology for recent remarks about the backers behind a new golf league.
On Sunday, Rory McIlroy called fellow PGA Tour star Phil Mickelson "egotistical and ignorant." On Tuesday, KPMG told Lefty, "Don't call us, we'll call you."
Mickelson, coming off an improbable victory in the PGA Championship last season for his sixth major title, recently talked his way into an unplayable lie that has already hit him hard in the wallet.
Phil Mickelson has apologized for recently revealed comments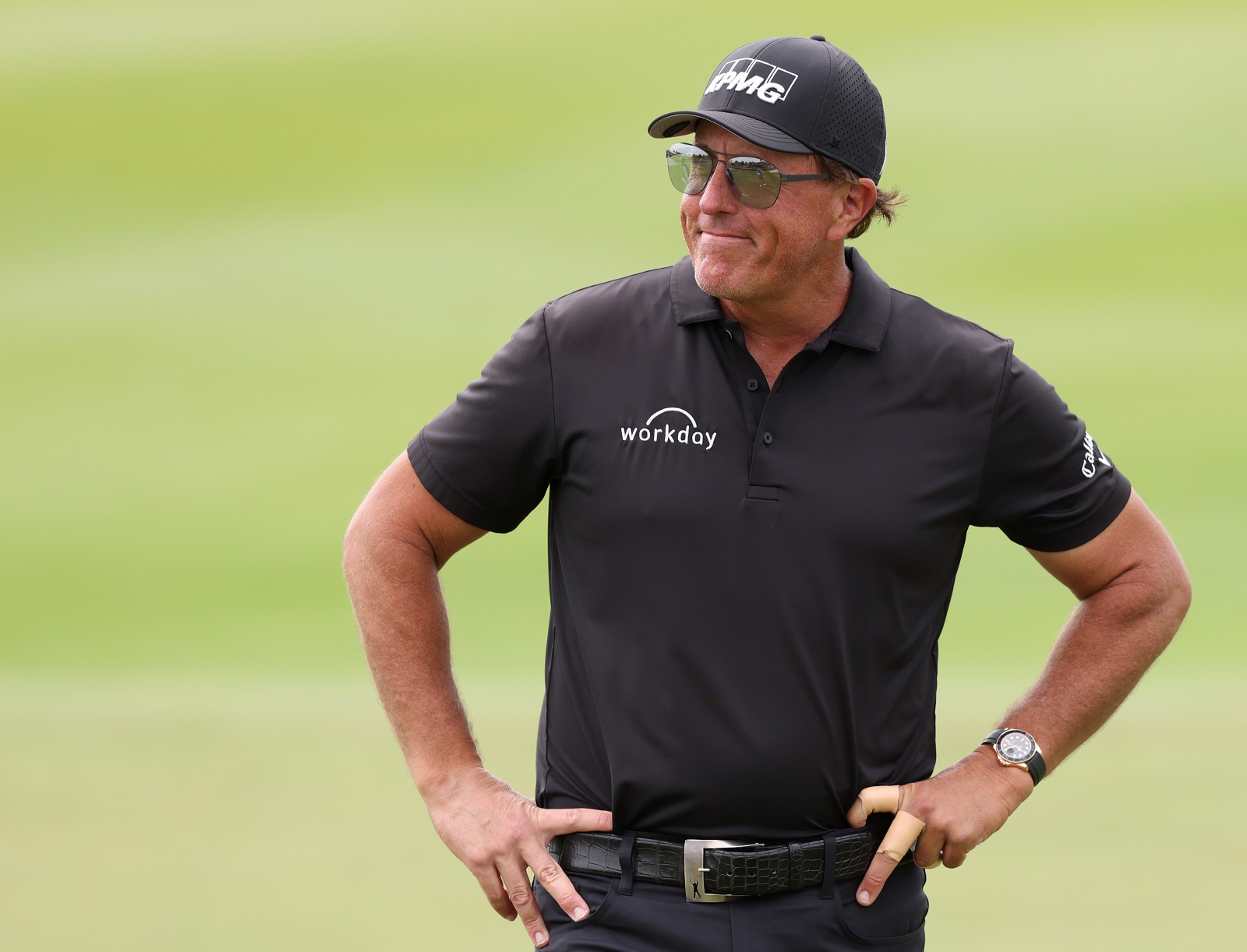 Phil Mickelson, one of the top golfers in the world since scoring his first PGA Tour victory in 1991 as an amateur, announced Tuesday that he is taking a break from the sport while reflecting upon the damage to his image.
Mickelson, 51, tweeted an apology for comments he made about the PGA Tour and backers of the Super Golf League, Greg Norman's Saudi-financed breakaway tour.
"Although it doesn't look this way now given my recent comments, my actions throughout this process have always been with the best interests of golf, my peers, sponsors and fans," Mickelson wrote on Twitter. "There is the problem of off-the-record comments being shared out of context and without my consent, but the bigger issue is that I used words that do not reflect my true feelings or intentions. It was reckless, I offended people, and I am deeply sorry for my choice of words."
The interview in question by author Alan Shipnuck was for an as-yet-unreleased unauthorized biography about Mickelson. On the golf podcast No Laying Up, Shipnuck said the golfer reached out to him in November and that Mickelson never said their discussion was off the record or for background purposes only, ESPN reported.
Phil Mickelson's vile characterization raised eyebrows
Phil Mickelson is a central figure in the intrigue surrounding the Super Golf League, a potential competitor to the PGA Tour. Greg Norman is the face of the upstart tour the Saudi Arabia's Public Investment Fund is financing. He has been trying to recruit the world's top golfers with the promise of more money for fewer tournament appearances.
Other top golfers, including Rory McIlroy, Dustin Johnson, and Bryson DeChambeau, have shunned the overtures, but Mickelson hasn't ruled out signing.
"My experience with LIV Golf Investments has been very positive," Mickelson wrote Tuesday. "I apologize for anything I said that was taken out context. The specific people I have worked with are visionaries and have only been supportive."
That's at least a Callaway driver and 3-iron away from the quotes attributed to Mickelson by Alan Shipnuck.
"They're scary motherf****** to get involved with," Mickelson said, according to the author. "We know they killed (reporter Jamal) Khashoggi and have a horrible record on human rights. They execute people over there for being gay.
"Knowing all of this, why would I even consider it? Because this is a once-in-a-lifetime opportunity to reshape how the PGA Tour operates. They've been able to get by with manipulative, coercive, strong-arm tactics because we, the players, had no recourse."
KPMG has dropped Lefty in a 'mutual decision'
As the winner of 45 PGA Tour events and a top-five finisher in 28 of the sport's majors, Phil Mickelson has rolled up nearly $95 million in official winnings and likely hundreds of millions in endorsements.
However, he has cashed his last check from KPMG for the foreseeable future.
Mickelson's statement said he gave his endorsement partners the opportunity to step away from their relationships with him in light of the controversy. KPMG, a major accounting and financial services firm with clients around the world, became the first to announce an end to its affiliation.
"We wish him the best," KPMG said in an email.
There could be additional fallout in the coming days.
"I have made a lot of mistakes in my life and many have been shared with the public," Mickelson wrote. "My intent was never to hurt anyone and I'm sorry to the people I have negatively impacted."
Like Sportscasting on Facebook. Follow us on Twitter @sportscasting19.