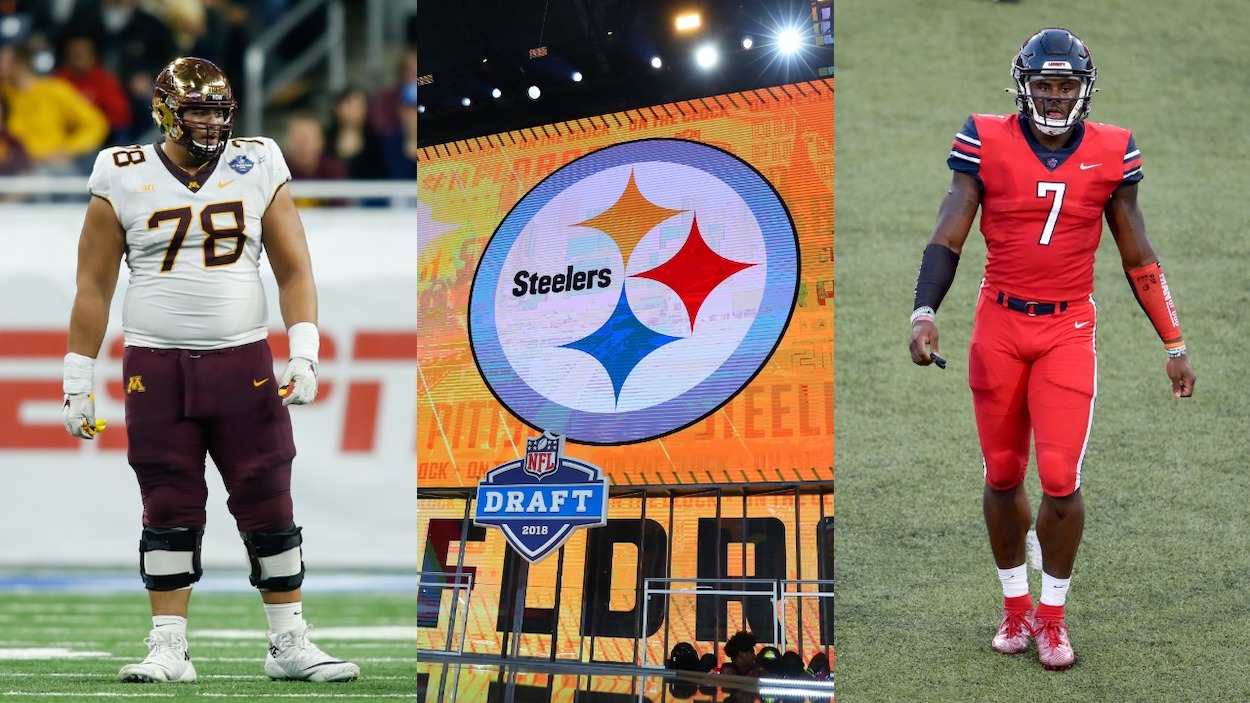 Pittsburgh Steelers 3-Round Mock Draft
In this three-round Pittsburgh Steelers mock draft, the team picks a Big Ben successor, and takes a giant and a heavy hitter in later rounds.
The Pittsburgh Steelers are at a crossroads. After nearly two decades with Ben Roethlisberger under center, the team needs to find a new quarterback. However, they are also a borderline playoff team that needs to fill holes to keep winning. The 2022 NFL Draft will be a tightrope act for the Steelers as they pick players for both the present and the future. To that end, here is the three-round Pittsburgh Steelers mock draft 2.0.
Pittsburgh Steelers Mock Draft 1.0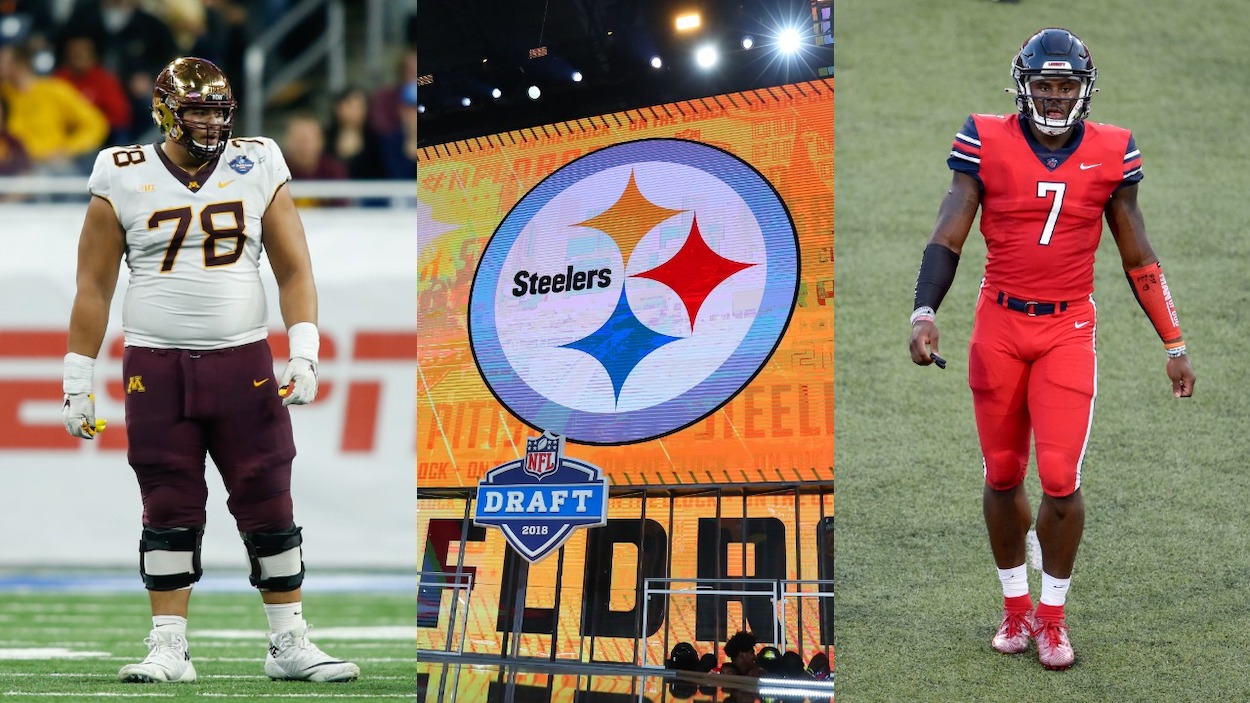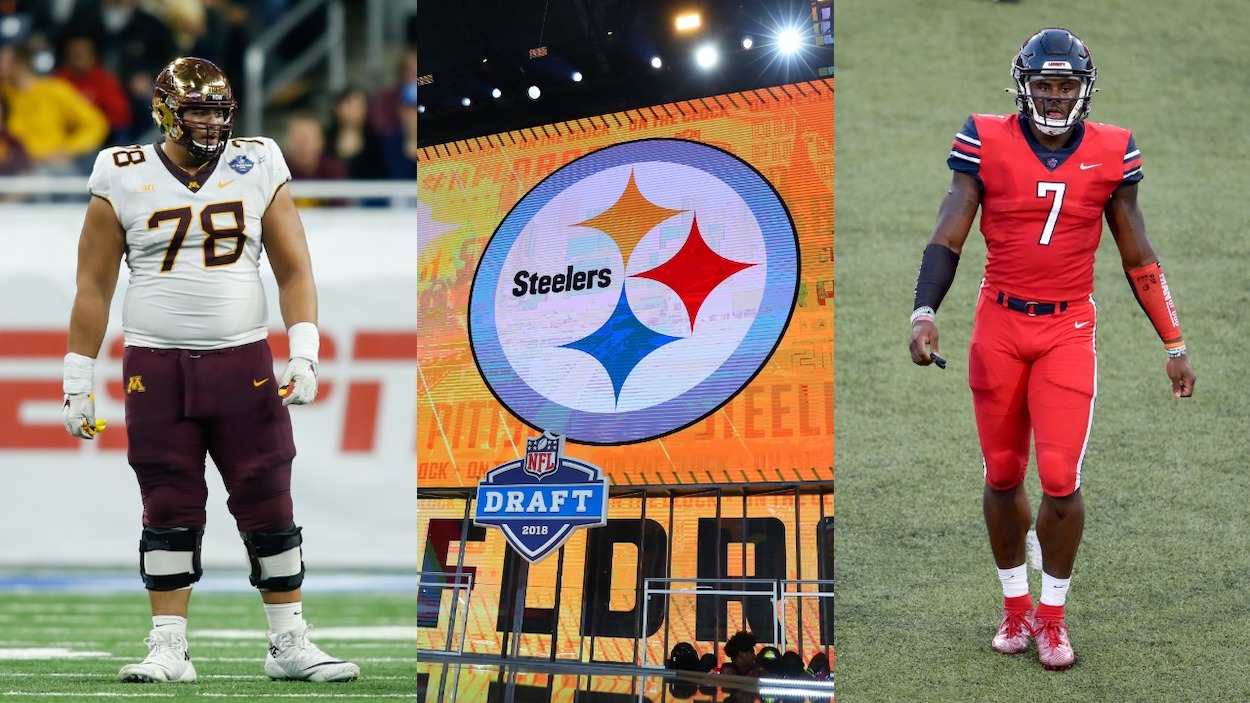 In Sportscasting.com's last Pittsburgh Steelers mock draft, the franchise drafted for the now. It took players who will help Mitchell Trubisky and company next season for the Steelers to make another playoff push. That mock draft looked like this:  
Round 1, No. 20 overall: Trevor Penning, OT, Northern Iowa
Round 2, No. 52 overall: Perrion Winfrey, DT, Oklahoma
Round 3, No. 84 overall: David Bell, WR, Purdue
Things have changed since that last Pittsburgh Steelers mock draft. The division-rival Cleveland Browns traded for one of the best QBs in the league in Deshaun Watson, and the Cincinnati Bengals continued to get better. Also, Steelers QB Dwayne Haskins, who was set to compete for the top two signal-caller joins with the franchise, was tragically killed. This all makes the Steelers have to think more about the future than 2022, meaning the first player they pick will be a potential franchise QB. 
Round 1, No. 20 overall: Malik Willis, QB, Liberty
While Pittsburgh's Kenny Pickett is the most NFL-ready QB in this draft, Liberty's Malik Willis has the highest ceiling. The 6-foot (and one-half-inch), 219-pound passer has the athleticism and arm talent NFL teams dream of. If he were three inches taller, he'd be a top 5 pick for sure. 
Willis' comp on his NFL.com scouting report is Jalen Hurts' build and style with Jay Cutler's arm. Or, you can think of him as a bigger Kyler Murray without the attitude. All reports say Willis is a great guy (did you see him giving away his t-shirts to a homeless man at the combine?) and an exceptional on-field leader. He has all the intangible traits the Steelers want in a pick. 
As far as on the field goes, offensive coordinator Matt Canada spent over 25 years coaching at the college level before joining the Steelers in 2020. He should be able to scheme up an offense that works for a smaller signal-caller like Willis. 
The 2022 QB draft class is one of the weakest in years, but for teams that take a passer in this draft, only one needs to hit big to make it a franchise-changing pick. That's why, in this Pittsburgh Steelers mock draft, the organization takes that chance. 
Round 2, No. 52 overall: Daniel Faalele, OT, Minnesota
If you're going to draft a quarterback, it's always wise to draft a big tackle along with him to protect your investment. As far as tackles (or human beings) go, they don't come much bigger than the giant Aussie from Minnesota, Daniel Faalele. 
Faalele measured out at 6-foot-8, 384-pounds at the combine. He also showed off his giant 11-inch hands and 35-plus-inch arms. He also moves shockingly well for a man the size of a small house.  
The big man from Melbourne could be a dominant force in the NFL if he ever puts it all together. Right now, his biggest problem is that he gets by on sheer, dominating size but hasn't shown the nasty competitiveness and desire to destroy defensive ends that great NFL linemen have. If anyone can coax that out of Faalele, it's Mike Tomlin.  
Round 3, No. 84 overall: Nick Cross, S, Maryland
The third pick in this Pittsburgh Steelers mock draft is a player who seems destined to wear the black and gold. NFL.com describes safety Nick Cross as "the bouncer of the Maryland defense, playing with the aggression and explosiveness to throw opponents out of the club." It's blasphemous to compare any draft prospect to Hall of Famer Troy Polamalu, but that description does kind of sound like him, right?
The Steelers need a young safety next to Minkah Fitzpatrick, and a young run-and-hit player like the 6-foot, 212-pound Cross could be a perfect compliment. He'll struggle covering the elite tight ends in the league, but as far as run-stuffing and blitzing, he's already at an NFL level.
The Steelers could go a couple of ways with this pick. There aren't a ton of solid wide receivers or 3-4 defensive ends at this point, but they could go corner or edge-rusher to add more depth there. Fans wouldn't be mad about any of those types of picks, but Cross just seems like a natural fit. You can almost see him bopping up and down to "Renegade" for the next decade-plus.
All stats courtesy of Sports Reference