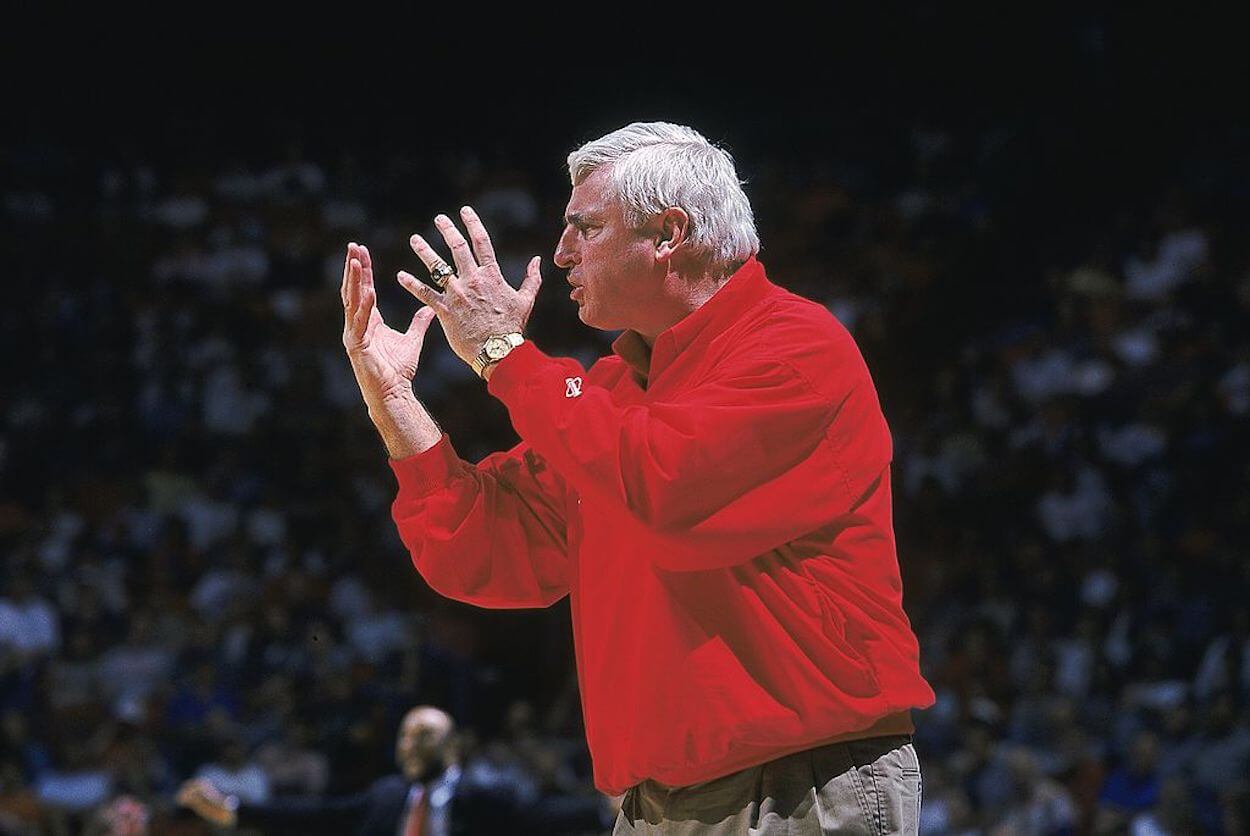 The Portland Trail Blazers Could Have Dodged the Sam Bowie Bullet By Listening to Bob Knight
While Bob Knight wasn't a member of the Portland Trail Blazers front office, he could have changed the course of NBA history.
In the world of sports, certain moments live in infamy. The 1984 NBA draft stands tall as one of the leading candidates. As you surely know, the Portland Trail Blazers passed up Michael Jordan — arguably the greatest player in Association history — to select Sam Bowie.
While that decision has been picked apart through virtually every imaginable lens over the years, did you know that Bob Knight apparently told the Blazers' general manager to make the right choice and just draft Jordan? Well, if we take Bill Simmons at his word, that's apparently what happened.
Don't believe it? Let's travel back to the 1980s and check it out.
Bob Knight said that Michael Jordan was worth drafting ahead of Sam Bowie, but the Blazers didn't listen
During his time in the basketball spotlight, Bob Knight established a reputation as a tough customer who wasn't going to pull any punches. Even when he was dealing with his friends, that reality didn't change.
Knight had worked with Michael Jordan on the United States National Team, and despite some inevitable clashes, he came away from the experience thinking rather highly of the UNC product. He even went as far as calling MJ the best athlete he ever saw play the game of basketball in what's become a famous interview.
Based on that context, it's not surprising that he told Stu Inman to draft Mike in 1984. Allow one of Bill Simmons' old ESPN posts to explain :
Bobby Knight, who'd coached MJ at the '84 Olympic trials, urged Blazers GM Stu Inman (an old pal) to take Jordan. Inman said, "But we need a center." Knight yelled back, "So play him at center!" Inman didn't listen, and the result is a jaw-dropping scene.

Bill Simmons
And, from there, the rest is history. The Blazers, of course, stuck to the idea that they needed a big man and selected Bowie. The big man couldn't stay healthy, eventually left Portland, and ultimately retired after the 1994-94 season. He played a grand total of 511 games across the years, averaging 10.9 points, 7.5 rebounds, and 1.8 blocks per outing.
As I've previously discussed, it's not a foregone conclusion that Jordan would have headed to the Pacific Northwest if Portland passed on Bowie. Like Inman said, there was the idea that teams needed big men, rather than guards, to reach the promised land. Passing on the Kentucky product, however, still would have been a positive development; it could have brought Sam Perkins of Charles Barkley to the Blazers, providing both size and, more crucially, availability.
Was Bobby Knight always perfect? Definitely not. In this case, though, listening to him was 100% the right move.