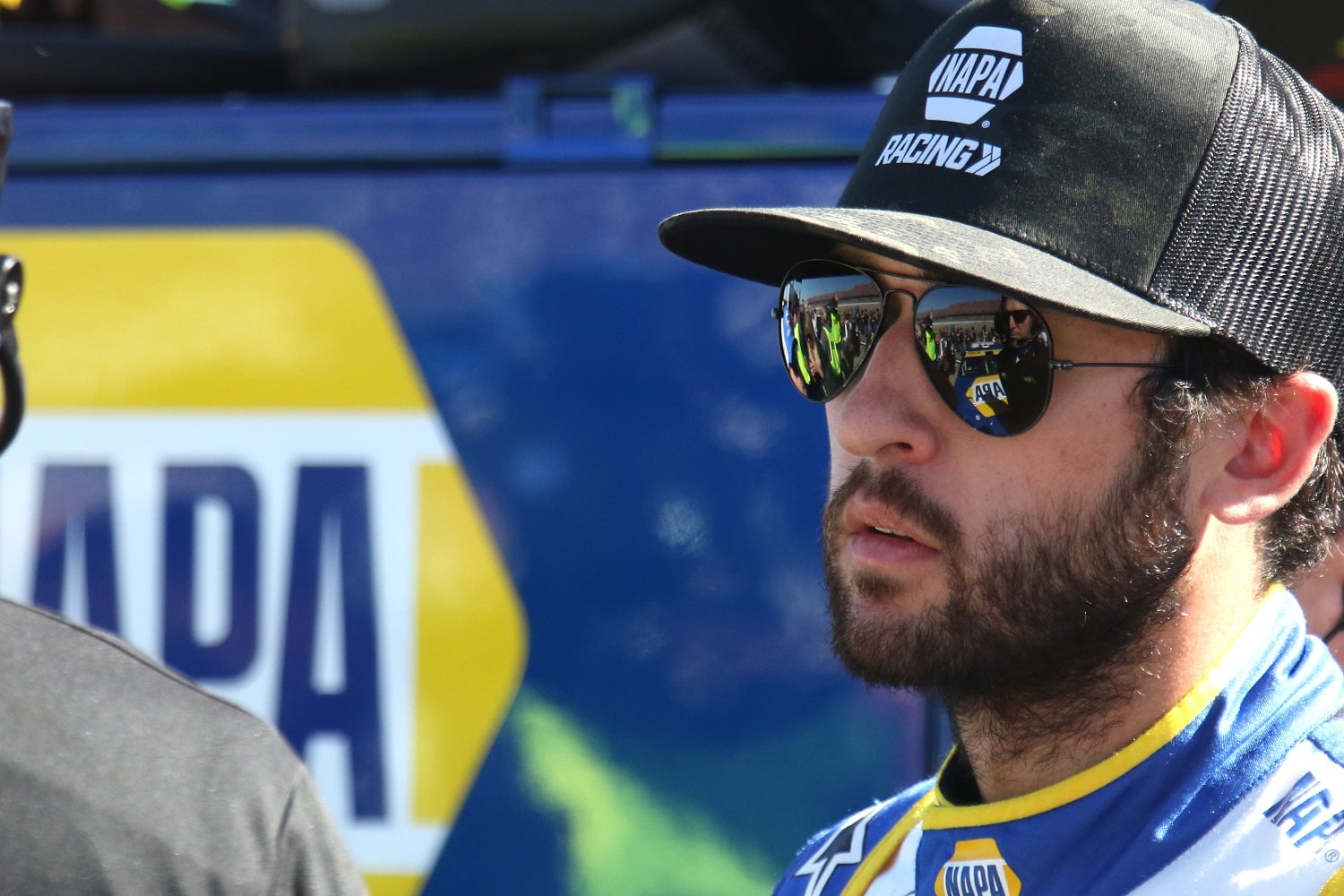 A Prophetic Chase Elliott Dreaded Talladega in the Next Gen Car: 'Odds Are We're Probably All Gonna Hit Something at Some Point'
2020 Cup series champion Chase Elliott spoke at length at Talladega about his frustration with the development of the Next Gen car.
Predictably, talk about driver safety and the failings of the Next Gen car in that department dominated Sunday's pre-race show from Talladega on NBC. And that should have been the case after Chase Elliott made his most pointed comments yet a day earlier while meeting with reporters.
"You come off a week like we had in Texas, and somebody getting injured," the 2020 NASCAR Cup Series champion said, "and you come into here where odds are we're probably all gonna hit something at some point (Sunday) and probably not lightly at that."
The race didn't even make it to the midpoint of the first stage before the day's "Big One" hit. Thankfully, and uncharacteristically for Talladega, the was the extent of the day's damage.
Chase Elliott wonders why all that development wasn't enough
Chase Elliott ended the week by winning a close finish at Talladega on Sunday to advance into the playoff semifinals. He began the week by pushing back on Twitter remarks by Trackhouse Racing co-owner Justin Marks, who called the Next Gen car "the most radical change" in NASCAR's history.
"Perfecting its performance and safety is going to be a process," Marks continued. "We cannot assume perfection right out of the gates. This comes from an owner whose parts expense is an order of magnitude more than budgeted."
Elliott wasn't buying the purported need to concede there couldn't be perfection from the start.
"With the experience and knowledge gained since 1948 and the technology we have in 2022 … we should never take steps backwards in any area with a new design," Elliott tweeted back.
On Saturday, the driver expanded on those remarks by pointing to the amount of time NASCAR has already spent on developing the Next Gen car.
"We had plenty enough time to test this car and crash it and do all the things that we need to do to ensure that some of these things aren't happening that are happening now," Elliott said. "We had a ton of time to do that, and this car was delayed an entire calendar year (by the pandemic). … I just think that there's no excuse for going backward.
"We have too many smart people, too much technology, too many years of crashing and racing at all these same racetracks. … When you come out with a new product, you should take steps forward, not stay the same or go backwards, especially in the safety category."
Talladega got off to a scary start
The opening stage of Sunday's YellaWood 500 at Talladega hadn't even reached the midpoint when Harrison Burton pulled out of the middle line to jump to the front of the third lane of traffic hugging the outside wall. But Rickey Stenhouse Jr. was on him immediately, and the Cup Series rookie went spinning within seconds.
Austin Cindric, Joey Logano, Ty Gibbs, Justin Haley, Noah Gragson, and Justin Allgaier got caught in the wreck, with Burton and Gibbs knocked out of the race.
Perhaps most significantly, replays showed Burton's No. 21 Ford backed hard into the outer wall during the incident. That was much the same kind of hit that Kurt Busch's Toyota absorbed in qualifying at Pocono, and Alex Bowman's Chevy took last week at Texas Motor Speedway. Busch hasn't driven since, and Bowman was a mid-week scratch for Talladega because of his concussion.
Fortunately, Burton walked out of the infield care center unscathed. Meanwhile, Cindric, Logano, Stenhouse, and Gragson all worked their way back to collect points at the end of the stage.
Chase Elliott is resigned to it being too late to fix the car in 2022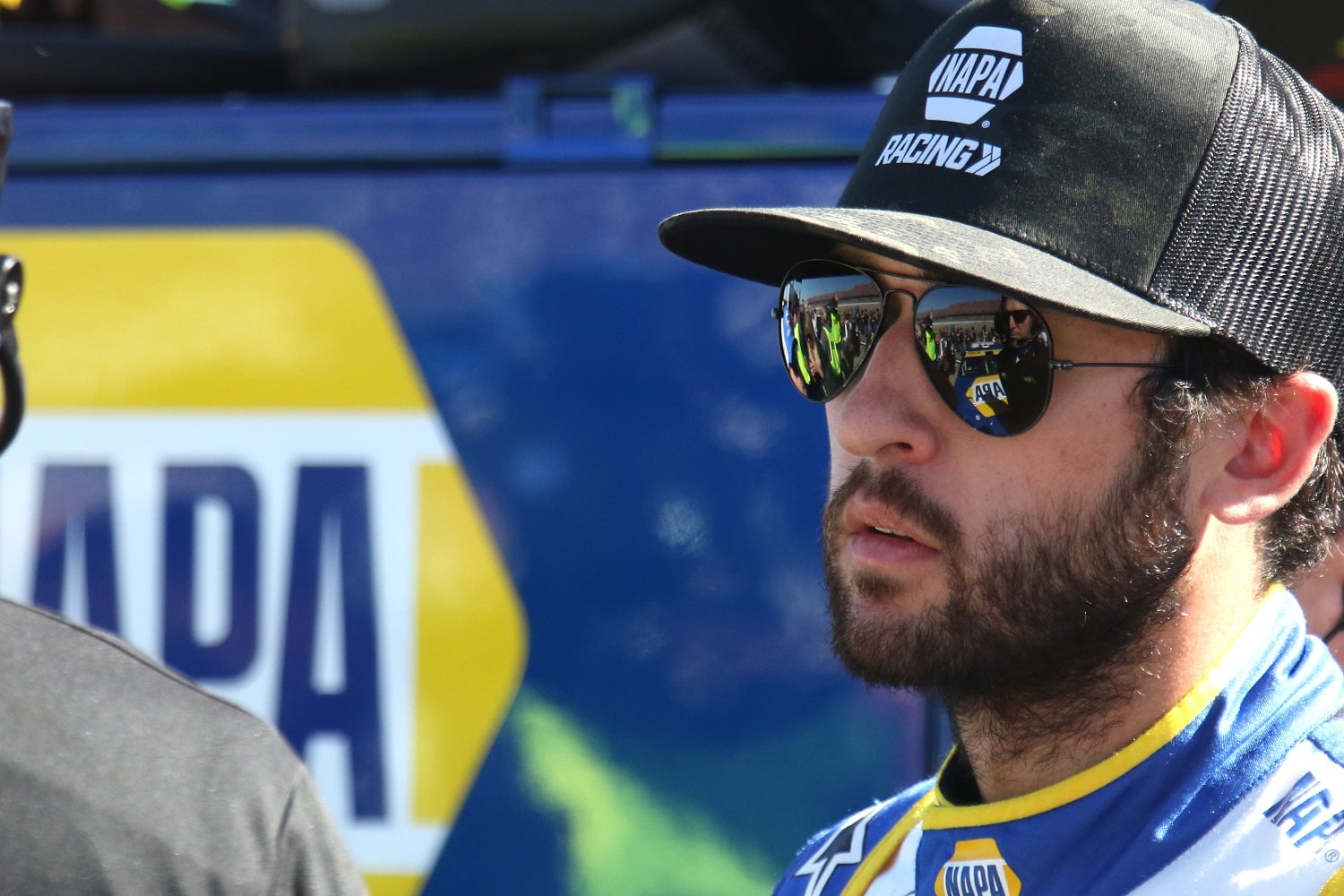 There's little doubt that the talk about driver safety is going to remain a major topic over the remaining five races of the Cup Series season. Chase Elliott spoke of how much time NASCAR needed to develop the Next Gen car, so he knows there won't be quick changes even though the recurring tire problems and other issues made a farce out of last weekend's race at Texas Motor Speedway.
"I don't really know what you do today," he admitted. "I mean, from Texas last week to Talladega Sunday), I'm not sure what is realistically feasible to have that quick of a fix, right? I'm just disappointed that we have put ourselves in this box to begin with. You know, it's not, it's not realistic to change something in six days. I just hate that we put ourselves in the position that we're in."
Like Sportscasting on Facebook. Follow us on Twitter @sportscasting19 and subscribe to our YouTube channel.
Got a question or observation about racing? Sportscasting's John Moriello does a mailbag column each Friday. Write to him at [email protected].