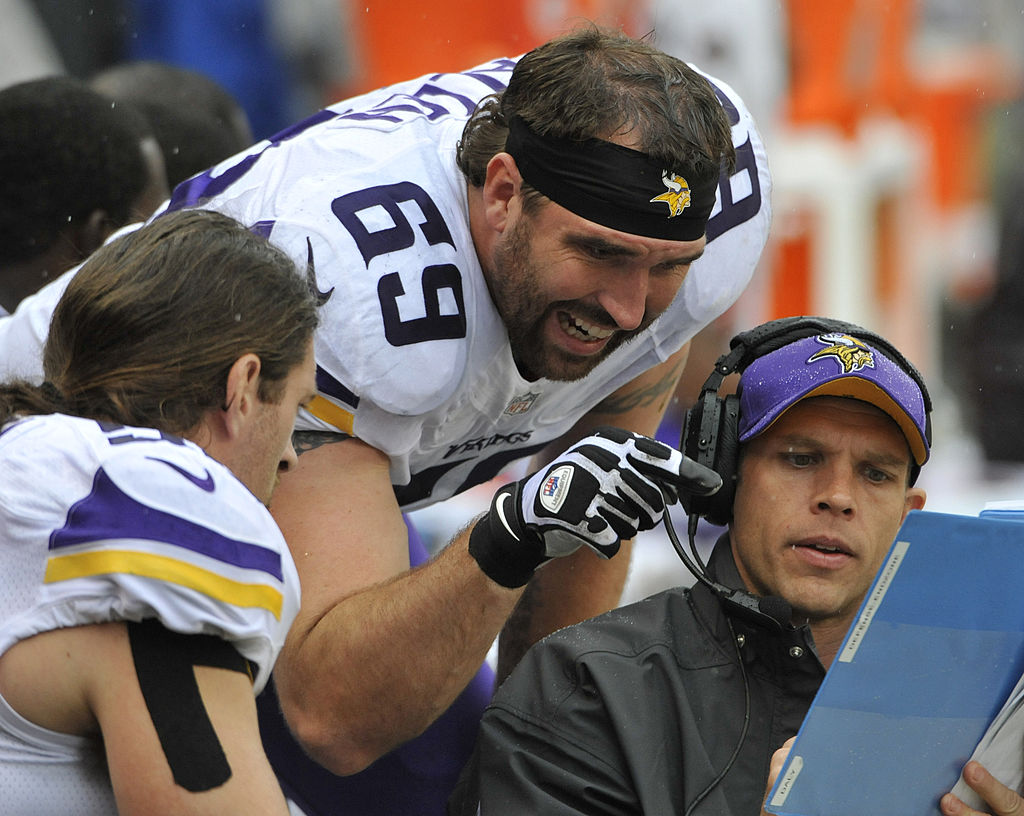 QB Nemesis Jared Allen Blew His Scholarship by Selling Yearbooks
Selling stolen yearbooks as a high school junior cost Jared Allen his major-college scholarship, but he made the most of an opportunity in Division I-AA on his way to a stellar NFL career.
Jared Allen messed up more than once on his way to becoming one of the most prolific sack artists in NFL history. Learning from his mistakes proved to be the key to his 12-year pro career, which culminated in an appearance in Super Bowl 50.
Jared Allen had quite the NFL career
Jared Allen's pro football career went well for a guy who was looked at as potentially just a long snapper and part-time lineman coming out of college. Allen posted nine sacks from his defensive end position as a Kansas City Chiefs rookie in 2004 and took off from there.
He totaled 18.5 sacks over the next two seasons and then began a run of seven consecutive years of double-digit totals. He would be selected to five Pro Bowls and made first-team All-Pro four times.
Allen's best work came in 2011, when he rang up 22 sacks for the Minnesota Vikings. That's tied for second-best in league history, just half a sack behind Michael Strahan of the 2001 New York Giants.
Allen finished with 136 sacks, ranking 12th on the all-time NFL list.
A mistake in high school and a near-mistake in college
Retired NFL defensive end Jared Allen was already attracting Division I college interest as a high school junior at Live Oak High in Morgan Hill, California, and had given a verbal commitment to the University of Washington. However, he was one of several students accused of selling stolen yearbooks, refused to turn in the other culprits to school authorities, and was expelled.
"We thought it was funny," Allen told The Athletic. "It obviously turned out not to be funny."
Allen played his senior season at Los Gatos High, where he racked up numerous honors after finishing with 12 sacks and five forced fumbles. Still, that didn't translate into a major-college career. The schools that offered previously were turned off by the yearbook episode.
Idaho State saw an opportunity and made the most of it – after coming down on the right side of a tough decision. Allen didn't particularly like the school, and he said California kids were looked down upon by the locals. He told the website that he was ready to leave for USC.
His father agreed with the move, with the stipulation that Allen had to have an honest conversation with his coaches about why he wanted to return to California. His coaches and teammates listened and talked Allen out of leaving.
By the time his four-year career was over, Allen had started 33 straight games, forced 13 fumbles, and recorded 38.5 sacks.  He was all-conference his final three seasons and first-team All-American in Division I-AA as a senior.
Two DUI arrests change Jared Allen's future
Jared Allen points to a pair of arrests for DUI in 2006 as having changed his life and career. That season was the final year of his rookie contract, and the Chiefs became reluctant to put a big offer on the table as they weighed his performance on the field against his potential liability off it.
Allen gambled by signing a one-year contract for 2007 that would give him the chance to prove to the Chiefs that he could be counted on. He would rack up 65 tackles and accumulate a league-best 15.5 sacks, putting him in a position of strength at the bargaining table.
The Chiefs wouldn't meet Allen's demands, but the Vikings would. Kansas City traded him to Minnesota, where he was first-team All-Pro three times in six seasons.
He played a little more than a season for the Chicago Bears before being traded to the Carolina Panthers in September 2015. The season ended with a loss to the Denver Broncos in Super Bowl 50, and Allen retired.