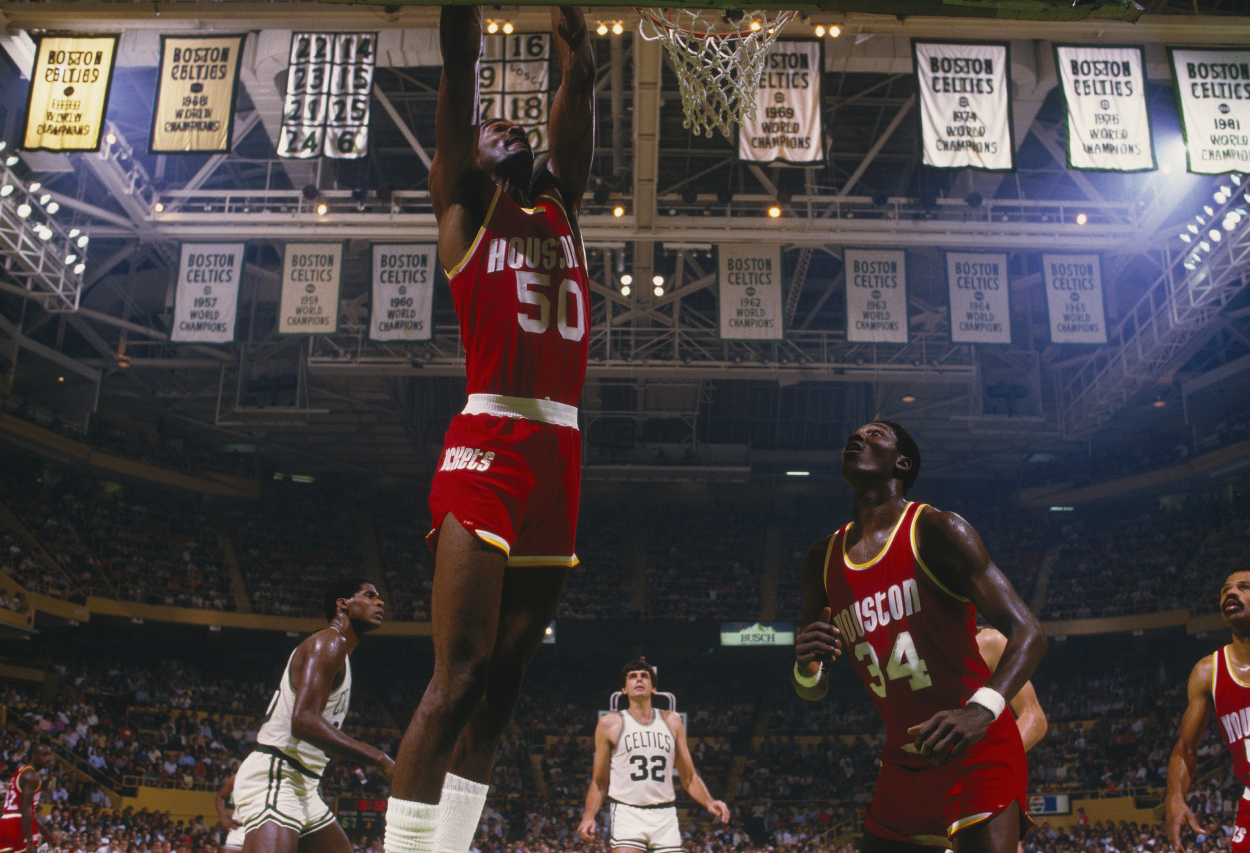 Ralph Sampson Reflects On Little-Known 'Noose' Hanging From Boston Garden During 1986 NBA Finals
More than 34 years later, Ralph Sampson talked about the disturbing mannequin hanging from the Boston Garden in 1986.
Ralph Sampson was the talk of the 1986 NBA Finals. He also wasn't well-received by Boston Celtics fans. During Game 5 in Houston, he and Celtics guard Jerry Sichting got into an infamous brawl that sent the Houston Rockets 7-foot-4 center to the locker room after an ejection.
The fight ignited a jolt into the Rockets and their fans as they came away with a convincing victory to cut their series deficit to 3-2. When the series returned to Boston for Game 6, security flanked Sampson. A distasteful object hanging from the rafters greeted him as he entered the Boston Garden.
He and former Celtics player Cedric Maxwell discussed the little-known incident nearly 34 years later.
Ralph Sampson and Jerry Sichting were part of a brawl during the 1986 NBA Finals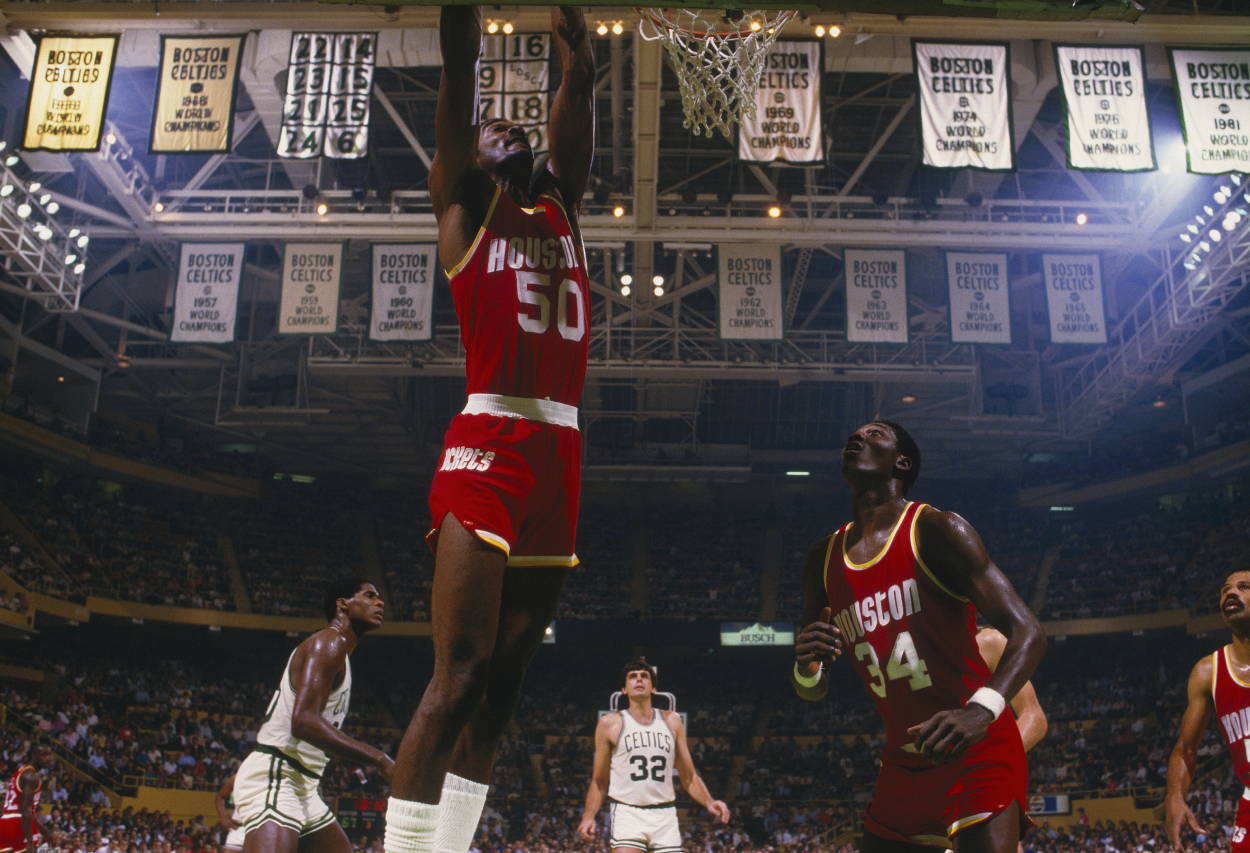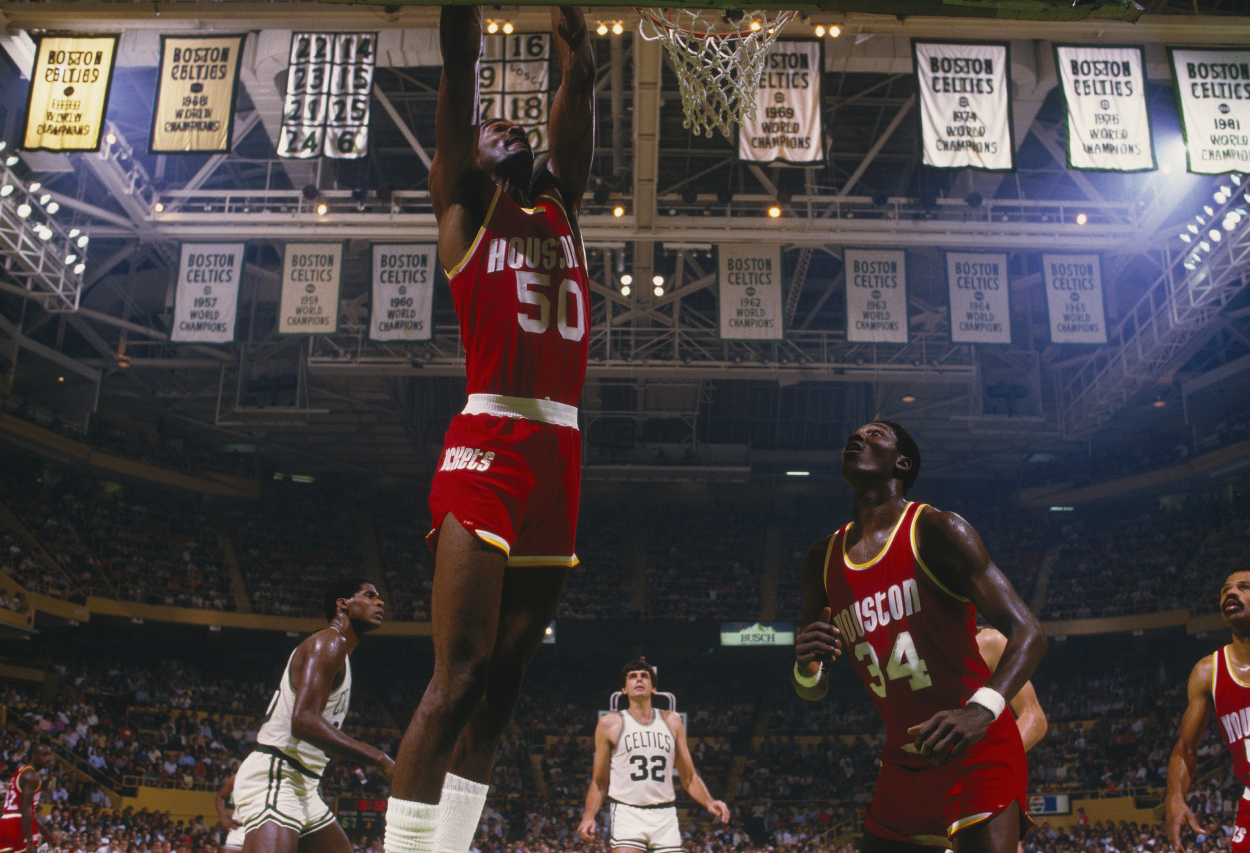 Sichting was brought in prior to the 1985-86 season to help shore up the Boston bench. He was a good-shooting, scrappy guard who spelled Dennis Johnson and Danny Ainge. During the fifth game of the 1986 NBA Finals, the 6-foot-1 guard found himself in an all-out fight with Sampson, who is 15 inches taller.
It happened in the second quarter of Game 5 when Sichting found himself in a mismatch in the post with Sampson. In a June 2020 Boston Herald article, Sichting recalled his role in the fight.
"It was my 15 minutes of fame," he joked. "I still hear about it every once in a while. Unfortunately, I didn't hit a Finals game-winning 3 like (John) Paxson and (Steve) Kerr did for the Bulls, so I guess I'm remembered for that more.
"I've watched the replay, and what the replay shows is that your memory is not so good. It wasn't really that much of a fast break that I thought it was. But I tried to block him out, and, you know, big guys don't like little guys trying to block them out sometimes.
"So he hit me with a forearm in the back, and the ref called a foul, so I kind of turned around and walked back towards him, like, what are you doing? I had my hands palms up in the air, and he swung from a long distance away. Thank God I wasn't that close to him. He hit me with a glancing blow, and that's what started everything."
Ralph Sampson was ejected and then had to deal with an unwelcoming sight in Boston in Game 6
In a rare interview, Sampson caught up with Maxwell on a December 2020 episode of The Cedric Maxwell Podcast. He and Maxwell spoke about what it was like for Sampson to return to Boston for Game 6 after the brawl. First, Maxwell, who played for the Celtics through the 1984-85 season, felt the need to apologize to Sampson.
"I'm going to apologize to you for something which most fans don't even know about," Maxwell said. "Just a blip on the radar in Boston. Houston came back to Boston, and in the rafters there was a, I guess it was like a mannequin with your jersey on, your number, your name, hanging from the rafters. I have to apologize and I wasn't even there. It's just a bad spot in Boston history that people don't even talk about."
Sampson spoke about the return to Boston.
"I leave that game (Game 5) and all of a sudden there's all this hate, letters, and calls," Sampson said. "The team said we've gotta have security around you. I called my two weight coaches at Virginia.
"I didn't pay much attention to it because I was trying to play and come back and win. But I knew there was something special about me playing in Boston at that point because I had that security around me. We get to the game, and you how the Garden was, hyped up, and you're ready to play.
"We tried to get there early before Larry (Bird) because he's always trying to be the first one on the court. But, you're right, there was a mannequin or stuffed human figure with socks, jersey, and it had an afro wig on it. It had number 50 and Sampson on the back, and it had a noose hanging over the rail of the Boston Garden, like they were going to hang me when I got there."
Sampson said the incident only motivated him to play better, but added that stuff would never fly today
Before Sampson spoke about the mannequin incident, he offered his take on the Game 5 fight with Sichting.
"First quarter, I had like 15 points, eight rebounds," he said. "I set a pick down, and Danny Ainge comes out, running around the pick. He hit me in the nuts. I set a pick down, come back around, Jerry Sichting did the same thing.
"That kept happening and I was so hyped up. One time it happened, I was frustrated, and we went to blows."
Sampson said the pregame incident in Boston only motivated him.
"It only motivated me to play harder," Sampson told Maxwell. "Coach Bill Fitch (who previously coached the Celtics) knows that crowd. Got us off the court, which was the smartest thing to do now that I look back. He said, 'I got you off the court because something was going to happen.' He put the starters in the locker room. Got us off the court, with security, and our substitutes played the last three or four minutes.
"It's kinda crazy you go and play in an arena and they allow that to happen. I don't think they would do that today. If somebody did it today, security would probably take them out. In Boston, you understand their passion for their team, but then you do something against their team and some people might do that.
"As you look back, and you apologized — which you don't have to do — it motivated me to play and play harder. As I look back today, it's like what's the significance of that, and how can we change these people's attitudes, especially in the world we live today?"