Rams Newcomer Matthew Stafford Predicts 17-Game NFL Season Will Bring About a Big Change
A surprising offseason trade has put Matthew Stafford in unfamiliar territory, and we don't just mean Southern California. After a dozen NFL seasons with the Detroit Lions and three fruitless trips to the playoffs, Stafford is finally in position to win in the postseason. One of the keys for the Los Angeles Rams to return to the playoffs will be how much production they get from Stafford.
Given what he accomplished with generally inferior talent surrounding him, Stafford might be the first guy to reach a milestone considered unattainable before the latest major NFL rules change.
Matthew Stafford is already in the NFL 5K club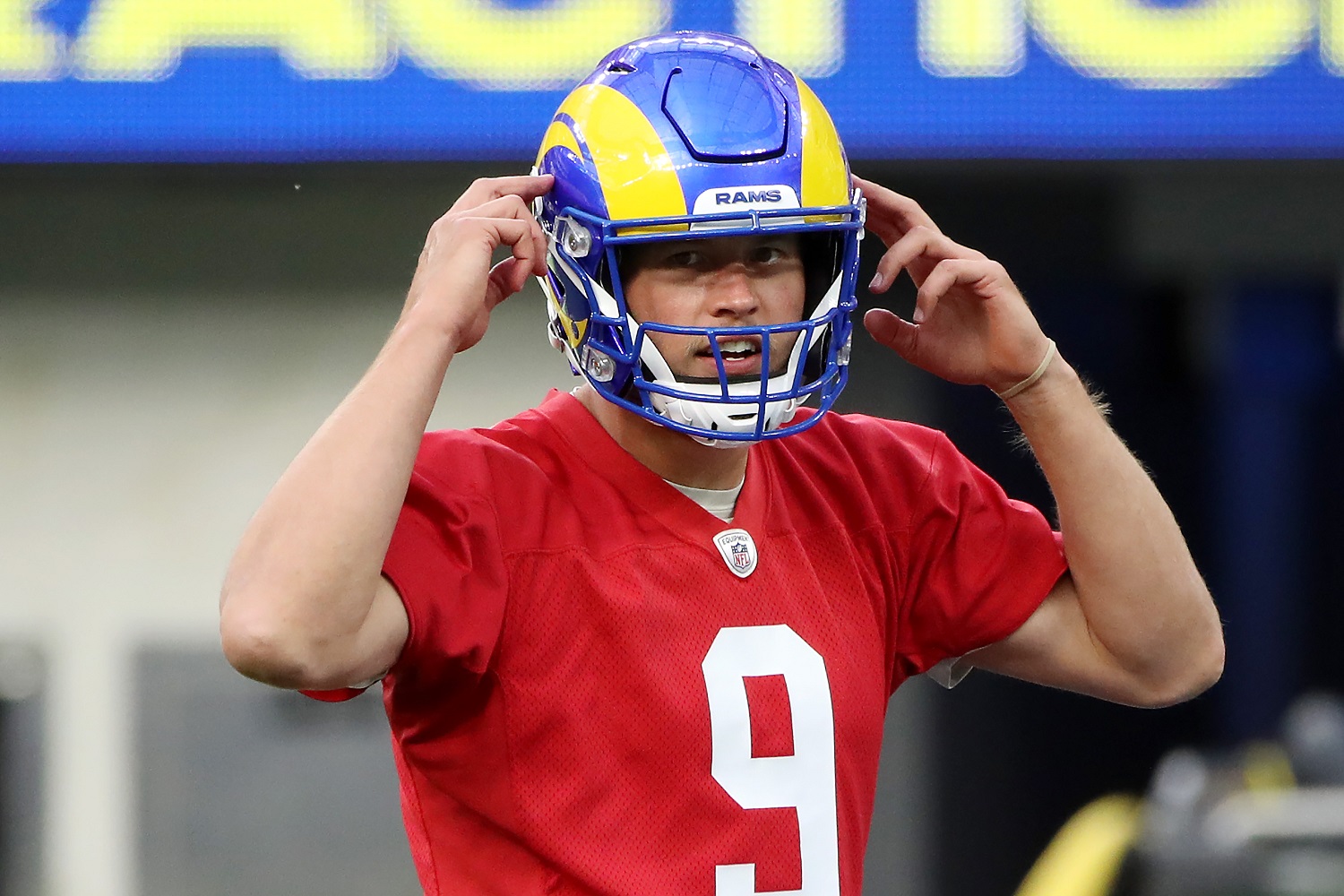 The NFL played a dozen seasons with its expanded 14-game schedule before O.J. Simpson took down a major milestone by rushing for more than 2,000 yards in 1973. Even with the league having tacked on two more contests in 1978 to make it a 16-game schedule, only seven other running backs have reached 2,000.
Quarterbacks remain similarly challenged when it comes to big, round numbers. Dan Marino became the first 5,000-yard passer in 1984, and no one followed suit until Drew Brees in 2008. There have been 10 more 5,000-yard seasons since, and Peyton Manning pushed the record all the way up to 5,477, one yard better than Brees, in 2013.
Stafford is among the eight QBs to have crossed the 5K barrier, throwing for 5,038 in 2011.  Now that the NFL has approved another schedule expansion, the race is on for 6,000 yards.
Matthew Stafford predicts 17-game NFL season will bring about big change
It's hard to believe that it has been more than four decades since the NFL has increased the number of regular-season games, but the league is finally going to 17 contests spread over 18 weeks this fall. Though it may not materialize this season, Stafford believes a quarterback will put a 6,000-yard season into the books sooner rather than later.
"I don't even want to think about that number," Stafford told USA Today. "That's crazy. I'm sure somebody will. I don't know who led the league in passing last year, but I bet it'll happen."
Deshaun Watson led the NFL in 2020 with a relatively modest 4,823 yards. Manning's record total of 5,477 yards works out to an average of 342.3 yards per game. It would take an average of 353 over 17 games to crack 6,000 yards.
As good as he was, Manning's record season was somewhat of an anomaly since his next best total was 4,727 yards. On the other hand, it's not unreasonable to project someone like Patrick Mahomes going a little bit bonkers under the right conditions.
The Los Angeles Rams possess the necessary weapons
Stafford isn't so brash as to predict that he'll ever reach 6,000 passing yards in a season. However, he will be working with a nice array of options, even if none of the LA receivers quite measure up to Calvin Johnson or Kenny Golladay. Robert Woods and Cooper Kupp make for an impressive tandem, and rookie Tutu Atwell stretched college defenses in three seasons at Louisville.
Throw in the fact the loss of running back Cam Akers to an injury likely makes LA more pass-dependent, and Stafford could be on his way to the ridiculous 727 passing attempts he put up in 2012. If he completes 65% of those, then anything could happen.
All stats courtesy of Pro Football Reference.