Ranking Kobe Bryant's 4 Greatest Staples Center Moments
It's official: We are saying goodbye to Staples Center. OK, not the entire arena itself, but starting on Christmas Day 2021, it will officially go by Crypto.com Arena.
Some people are upset about the name change, as there have been a plethora of iconic moments in Staples. And one player who was there for many of those moments was Los Angeles Lakers legend Kobe Bryant.
Bryant helped lead the Lakers to five NBA championships throughout the years they called Staples Center home, and he gave fans a ton of memories they will never forget. So, since we are in the final days of the legendary venue being called Staples, we looked at Kobe's top four moments in the building. It was, obviously, hard to narrow it down to just four, as you could probably write an entire novel about all the great games he had there. But our rankings are based on what each moment meant to his legacy.
All in all, we felt that no one could discuss Kobe's career without looking at these four performances.
4. June 19, 2000: Kobe Bryant and Shaquille O'Neal clinched their first NBA title inside Staples Center
Kobe Bryant and Shaquille O'Neal's partnership on the Lakers was one of the most dominant of all time. They won three straight titles together and could have won more had O'Neal and LA not parted ways in 2004. 
Shaq and Kobe had many great games inside Staples Center, but their win in the 2000 NBA Finals kicked off their epic three-peat run, and they just so happened to clinch the championship inside their building.
The Lakers led the Indiana Pacers 3-2 in the series, and Indiana hoped to tie things up and force a Game 7. But 41 points and 12 rebounds from O'Neal in Game 6, combined with 26 points, 10 rebounds, and four assists from Bryant, led to LA winning 116-111.
Again, Shaq and Kobe put on a ton of epic shows inside Staples Center, but they finally became champions during Game 6 of the 2000 NBA Finals and followed that up by going on one of the greatest runs in NBA history.
3. April 13, 2016: Kobe dropped 60 points in his final NBA game
Bryant had already cemented his legacy as one of the greatest players ever by the time 2016 rolled around. So, despite Kobe's final NBA game not having any real impact on his standing among the all-time greats, it proved to be one of the most important performances of his career.
No one discusses the five-time NBA champ without looking at that game in April 2016. It just added to his lore and was the perfect way for him to drop the mic and ride off into the sunset.
With Staples Center filled with fans and celebrities craving to get a glimpse of his final NBA moments, vintage Mamba showed up. He scored 60 points, with 38 coming in the second half, and he led the Lakers to a 101-96 win over the Utah Jazz.
It was a night no one will ever forget, as we all said goodbye to a legendary career.
2. June 17, 2010: Kobe Bryant led the Lakers to a Game 7 NBA Finals win over the Celtics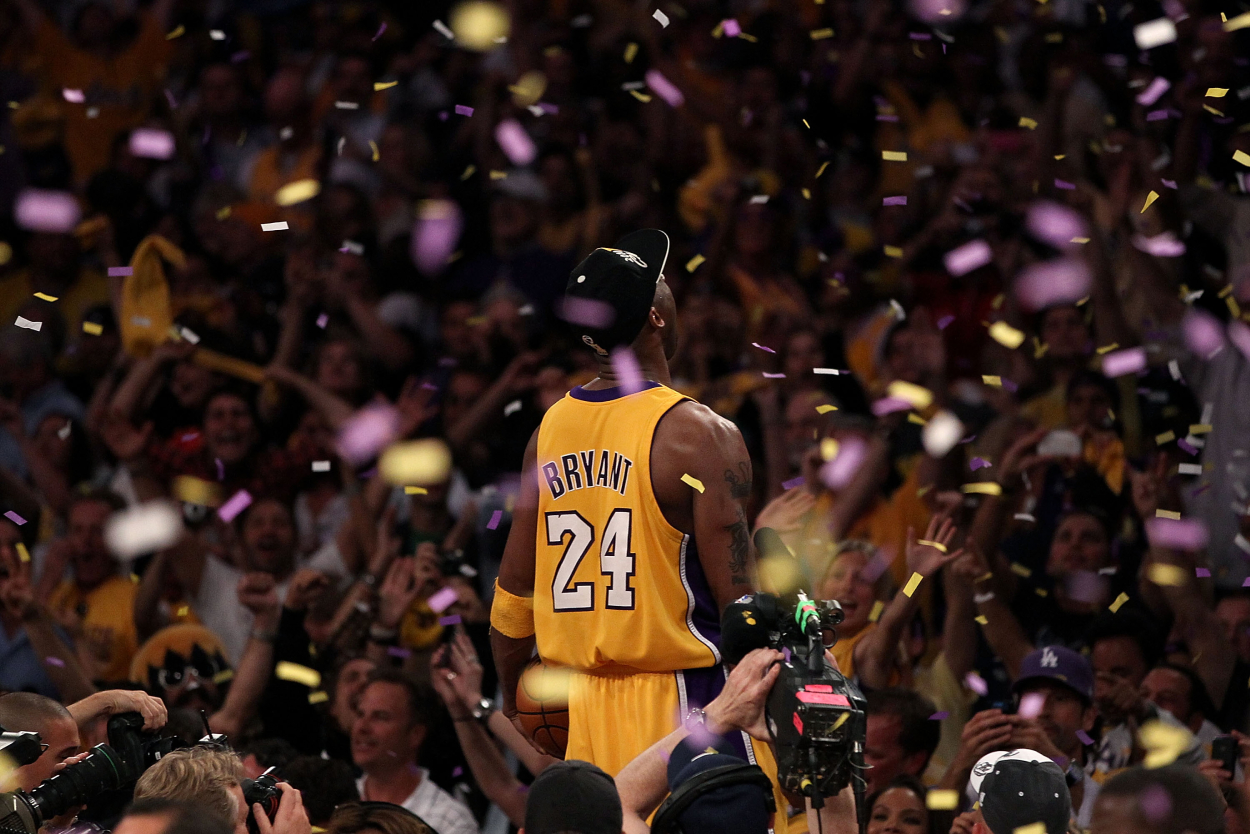 Bryant and the Lakers lost to the Boston Celtics in the 2008 NBA Finals, but they beat the Orlando Magic in 2009 to win Kobe his fourth title and first without Shaq.
However, in 2010, LA and Boston faced off in the Finals again, and Bryant got his revenge.
The series was fascinating and filled with multiple Hall of Famers, but after trailing 3-2 in the series, the Lakers won 89-67 in Game 6 to force a seventh game, which they played inside Staples Center. 
That contest didn't disappoint, either.
The Lakers and Celtics stayed close the entire night, but a Metta World Peace 3-pointer off an assist from Bryant with just over a minute left led to an 83-79 LA win. Kobe's 23 points and 15 rebounds in front of his home fans that game clinched him his fifth NBA title — which is one more than Shaq — and gave Staples Center one of its greatest moments in its history.
It was also an important night for Bryant's career, as his legacy would look pretty different had he only won four titles instead of five.
1. Jan. 22, 2006: Kobe Bryant rocked Staples Center with an 81-point performance
There weren't any championship hopes on the line when the 21-19 Lakers took on the 14-26 Toronto Raptors in January 2006, but Bryant put on the most iconic performance of his career that evening.
In a game fans still bring up to this day, Kobe dropped 81 points and led the Lakers to a 122-104 win inside Staples Center. His dominance that night, which included 55 second-half points, helped the Lakers rally from a 63-49 halftime deficit.
Bryant shot 28-of-46 from the field in the contest, made 18-of-20 free throws, and sunk seven 3-pointers. It's still the second-most points scored in a game in NBA history.
Kobe Bryant had a plethora of great moments inside Staples Center, but his 81-point game was probably the most iconic and one that fans will always look back on when discussing his legendary career.
Stats courtesy of Basketball Reference