Kobe Bryant Welcomed a New Teammate to the Lakers by Immediately Asking Him if He Was Ready to 'Black Out': 'You See Spots'
We have all heard legendary Kobe Bryant stories regarding how much work he put in to perfect his craft with the Los Angeles Lakers. However, unless you played with or coached him, you likely don't understand just how much he pushed the limits.
Caron Butler, Bryant's former Lakers teammate, recently discussed their relationship, and he gave some insight into just how hard Bryant worked.
Spoiler alert: It was so hard they would "black out."
Caron Butler went to the Lakers in the Shaquille O'Neal trade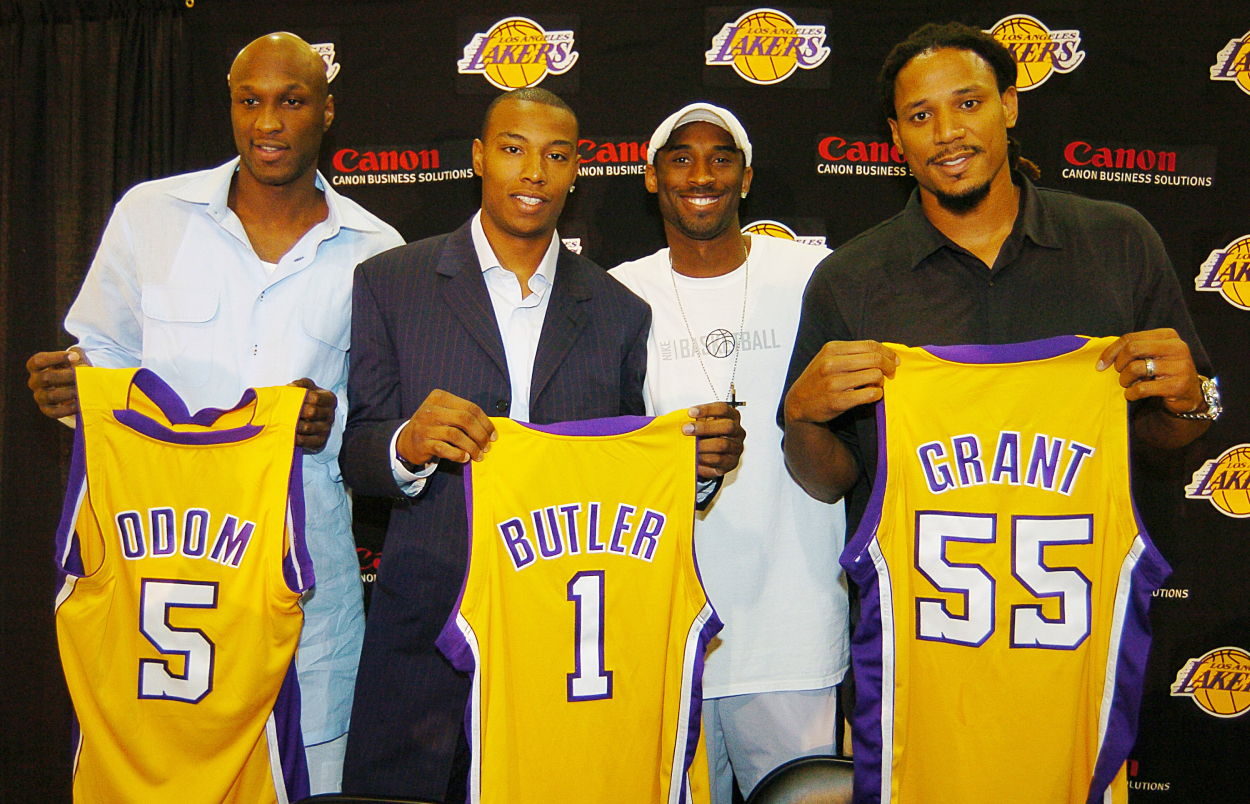 Kobe Bryant had a ton of success on the Lakers with Shaquille O'Neal, as the two led LA to four NBA Finals appearances and a three-peat between the 1999-2000 and 2001-02 seasons.
However, in 2004, the Lakers traded O'Neal to the Miami Heat. In return, LA received Caron Butler, Lamar Odom, and Brian Grant. Miami also sent future first- and second-round draft picks to Los Angeles.
Up until that point, Butler had just played in two seasons with the Heat after they selected him with the No. 10 overall pick in the 2002 NBA Draft. The UConn product averaged 15.4 points and 5.1 rebounds in his rookie season, but with Dwyane Wade and Odom in Miami during his second year, he only posted 9.2 points and 4.8 rebounds per game during the 2003-04 campaign.
His career immediately changed, though, when he went to the Lakers in 2004, as he quickly learned just how much work it took to be one of the greatest players in the game.
Kobe Bryant asked his Lakers teammate if he was ready to 'black out'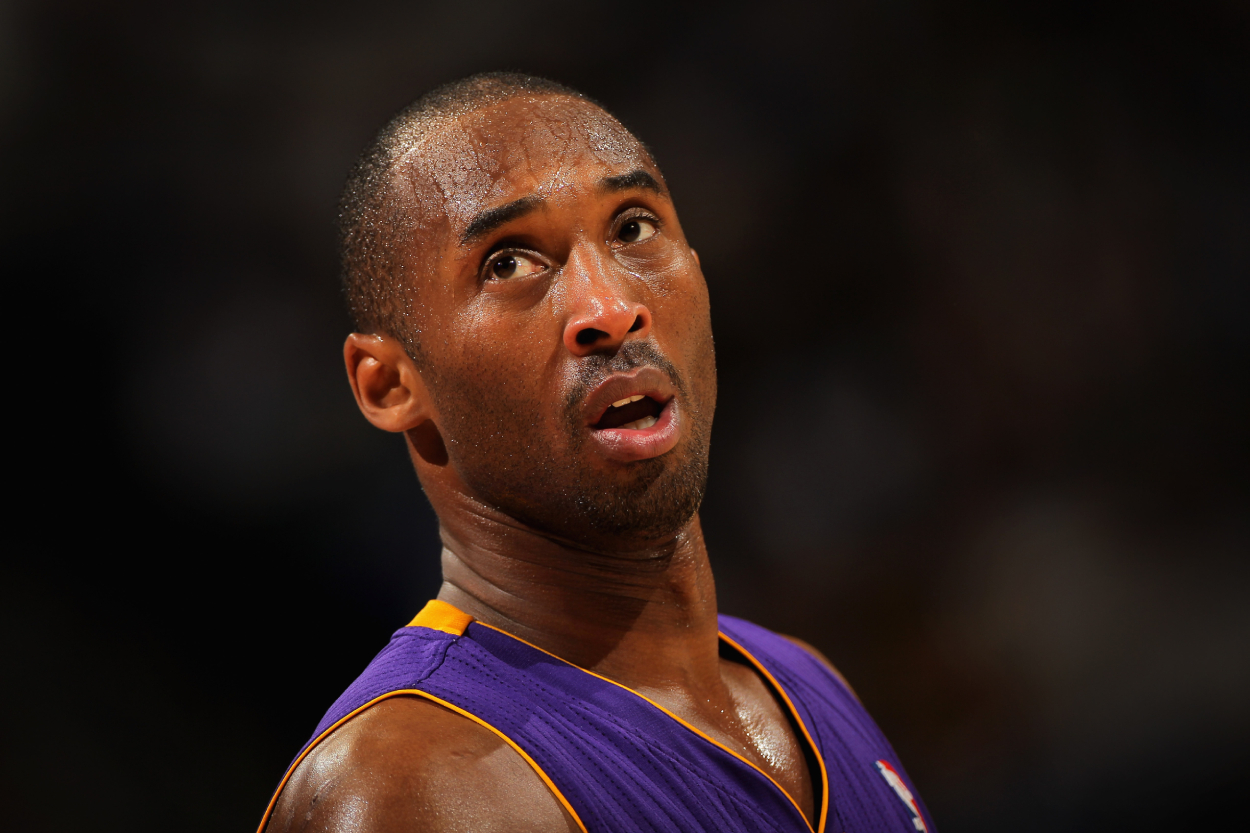 Butler recently appeared on Duncan Robinson's The Long Shot podcast, and he revealed how his interaction with Bryant went once he got traded to the Lakers.
"I'm with Kobe first day, press conference; he signs like a $136 million [contract], never seen no s— like that before, so I'm like, 'Wow, this is crazy,'" Butler said on the Aug. 19 episode. "The second he signed it, he's like, 'You ready to f—— black out?' And I was like, 'What is a black out?' He's like, 'We about to f—— black out. Be here at 7 a.m. tomorrow.'"
Well, that sounds terrifying.
Butler then revealed what a blackout consisted of.
"The next day, we started working out, and I realized what a blackout workout was," Butler said. "It was like, you're getting your reps in, you're getting 50 shots from each spot, 100 makes off the move. You're getting all this s—, then you get so tired you see spots. You blacking out. And that was a blackout. … (After the workout) you go get you something to eat, take about three, four hours to yourself. And you come back, and you black out again."
Butler said they did that from the start of free agency until training camp, which made him realize, "This dude is different."
Despite all the hard work, though, the time they put in together helped Bryant and Butler form a bond that went beyond basketball.
Kobe Bryant stayed connected to Caron Butler after Butler left the Lakers
The Lakers missed the playoffs during that 2004-05 season, which was the first time since 1993-94 and only the second time since 1976-77. LA then traded Butler to the Washington Wizards in 2005, and his career took off as he averaged 19.4 points and 6.6 rebounds while earning two All-Star selections with the Wizards from 2005-06 through 2008-09.
Bryant, of course, went on to win two more championships several seasons later and became an NBA legend, but he never played with Butler on the Lakers again.
They, however, still stayed close.
"I miss the phone calls and just the subtle calculated messaging that he would just call me with," Butler said on The Long Shot. "Five-minute conversations that felt like we was on the phone for hours, where he just had like pivotal points he wanted to make and specific call to actions that he wanted me to focus on. … It's like he really just mapped out the next 20, 30, 40 years of my life in that six-minute conversation. And I miss that most, but I'm so glad that I got it."
It appears Butler earned Bryant's respect during those blackout workouts, which helped them form a bond outside of basketball and become more than just former teammates. They became brothers.
Stats courtesy of Basketball Reference