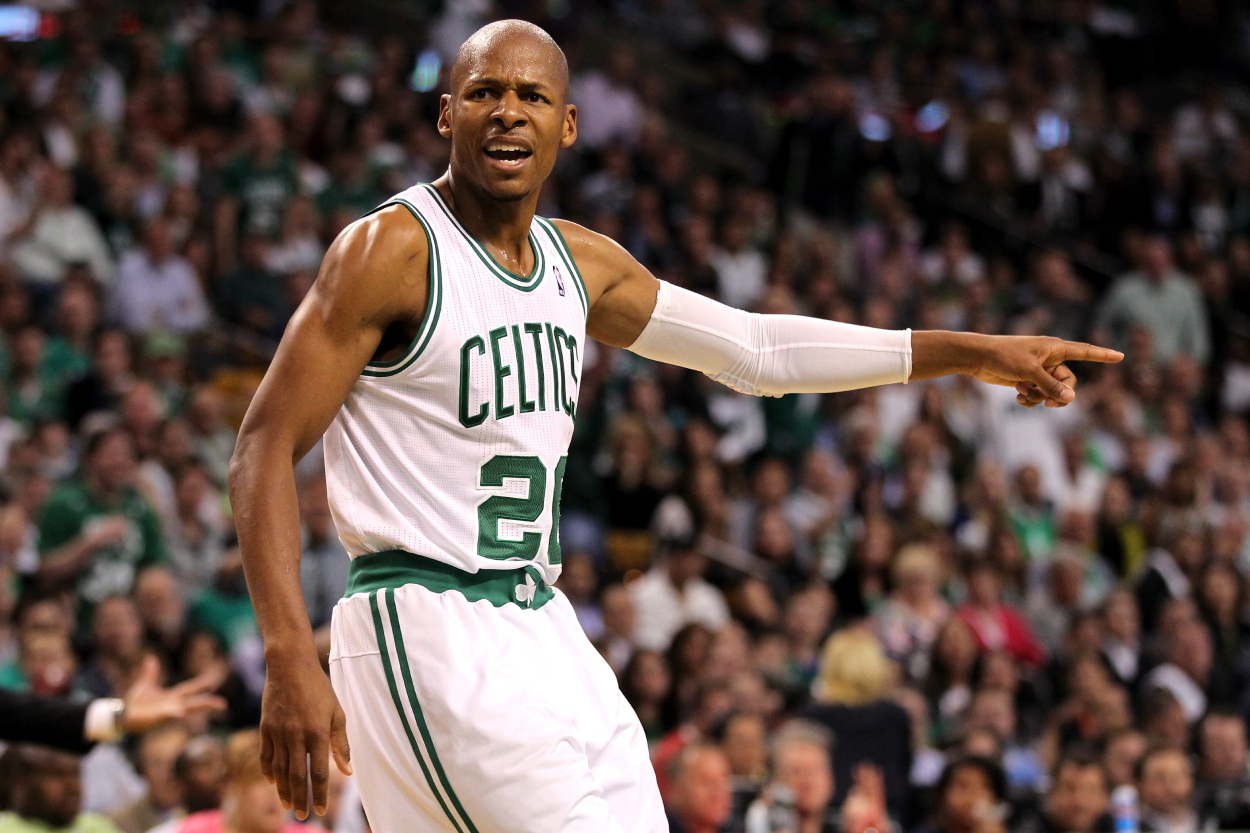 Ray Allen's 'One Special Moment' With the Boston Celtics Came After a Heartbreaking Loss
Ray Allen enjoyed his five years playing for the Boston Celtics. One of his best moments came after a tough loss.
Ray Allen spent five good years with the Boston Celtics. He won a championship during his first season with the team and returned to the NBA Finals two years later.
Despite living the Celtics for the Miami Heat via free agency — a decision that rubbed some of his teammates and Celtics fans the wrong way — Allen had several big moments in Boston. This week he revealed "one special moment" that actually happened after a tough loss to the Heat in the 2012 Eastern Conference Finals.
Ray Allen received a warm welcome by Boston Celtics fans on Kevin Garnett's big day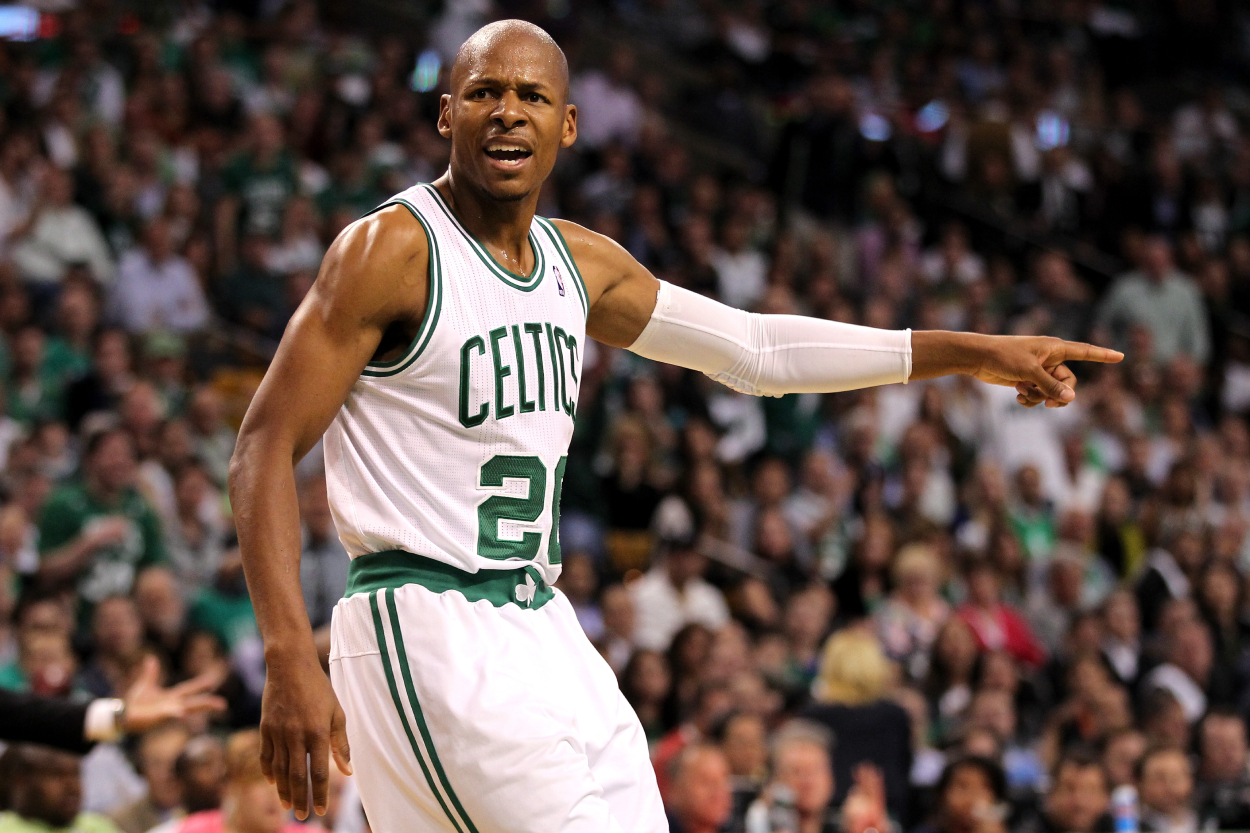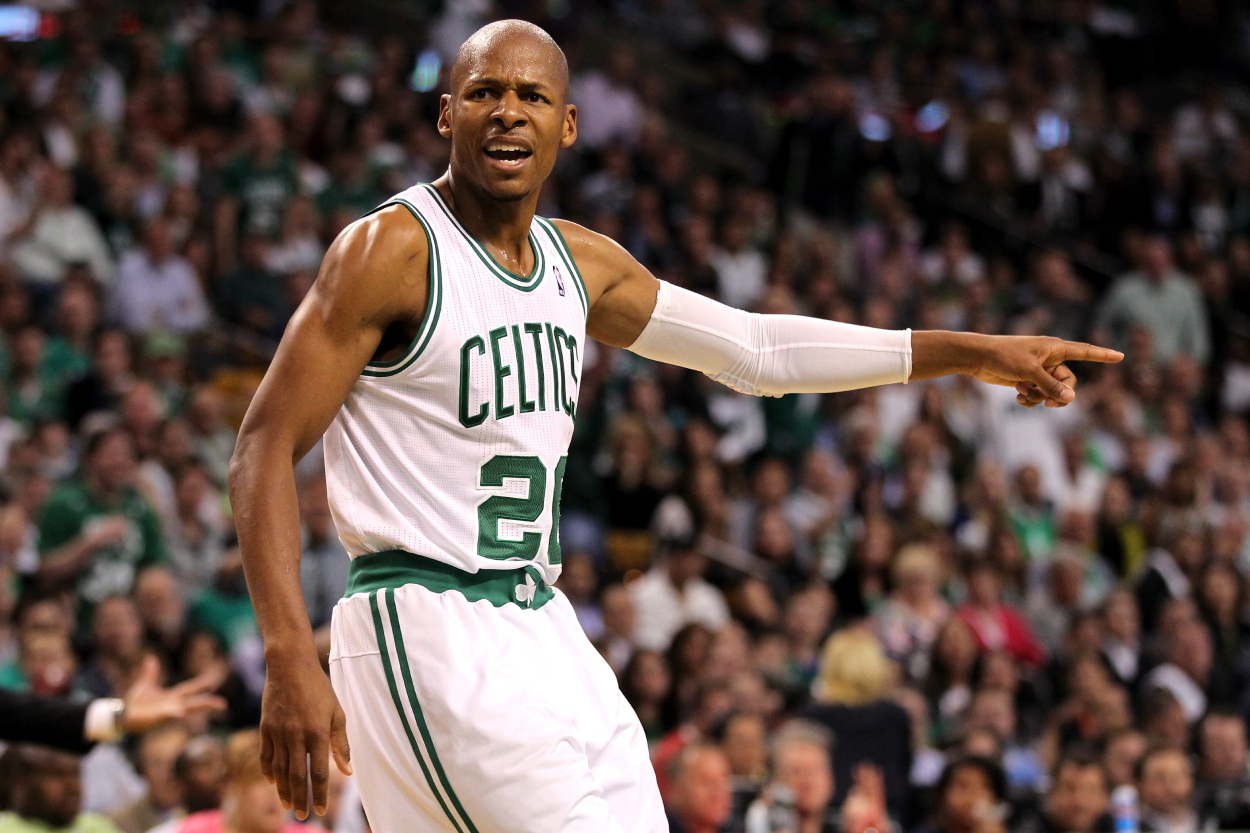 Allen didn't know what to expect from the Celtics crowd when he showed up at Kevin Garnett's jersey retirement ceremony on Sunday, March 13. Allen left the Celtics after the 2011-12 season when the Miami Heat eliminated Boston from the playoffs. He declined a Celtics offer and joined that Heat team. He won a title in his first year there, too.
Teammates Paul Pierce, Garnett, and Rajon Rondo were irked at Allen for leaving and joining the rival. Garnett and Rondo held a grudge for years. Allen was man enough to head back to Boston and watch Garnett's jersey get sent to the rafters at TD Garden.
He didn't know what to expect when he got there.
"I dreaded it when I first came back (as a player with Miami)," he said this week on The Cedric Maxwell Podcast. "Obviously, I got booed."
There was no booing this time. He got a standing ovation.
"Not knowing how I was going to be received coming back into the building like that, it was a great moment," Allen said. "Not only for me and people that have been fans of mine for my career but for Celtics fans."
Ray Allen said one of his best moments as a Boston Celtics player came after a loss
Despite leaving the Celtics on his own terms, Allen enjoyed his time in Boston. He appreciated how passionate the fans were and how much they loved their team. Allen said playing in Boston isn't for everyone.
"Before I even played for the Celtics, you just think about all the great players who played in Boston," Allen said. "For a lot of people, it can be scary. You're thinking how could you ever live up to the standards of the players who came before you. I've always laughed because when I see guys come to Boston, and I have a special pride — you know even for the Patriots, the Red Sox, and the Bruins — you just know who's built for that market and who isn't.
"You come here and all people ask you to do is come here and play hard every single night and do not make excuses. If you make a mistake, just own up to it. We'll ride with you."
Allen said he had "one special moment" in Boston that involved the fans. It came after a loss at home in Game 6 in the Eastern Conference Finals to LeBron James and the Miami Heat in 2012. Boston had won three straight to overcome a 2-0 deficit. The Celtics could have clinched a berth in the NBA Finals but lost. Then they lost Game 7 in Miami.
"The one special moment that I have is when we lose Game 6 in that building in 2012, nobody left," Allen recalled. "Everybody stood up, and they cheered us on. They still chanted 'let's go Boston' because they knew that we still had a shot to win in Game 7."
Allen said getting his Celtics jersey retired would be a huge honor
Allen ever brought up the subject. Maxwell did.
Maxwell asked Allen multiple times if he would accept the Celtics' offer of retiring his jersey if they ever came calling. Allen seemed a bit uncomfortable answering the question, but he eventually did.
"When you come into that building, those jerseys are part of Celtic lore, Celtic tradition, Celtic nation," Allen said. "To be able to say that my name, the number that I wore, would be up there at some point in my life is one of the greatest honors in this game that I could ever receive."
Although Allen only spent five years in Boston, Maxwell believes an Allen jersey retirement day will happen.
"I can't wait until I'm here with you when they're pulling your jersey up to the rafters, my friend," Maxwell said.
"I appreciate it Max," Allen responded. "You've always been a big brother to me. You've always been an advocate for me, and I've always appreciated that. I appreciate you being on the journey with me and making sure my name, my career, everything that I did here, was not forgotten."