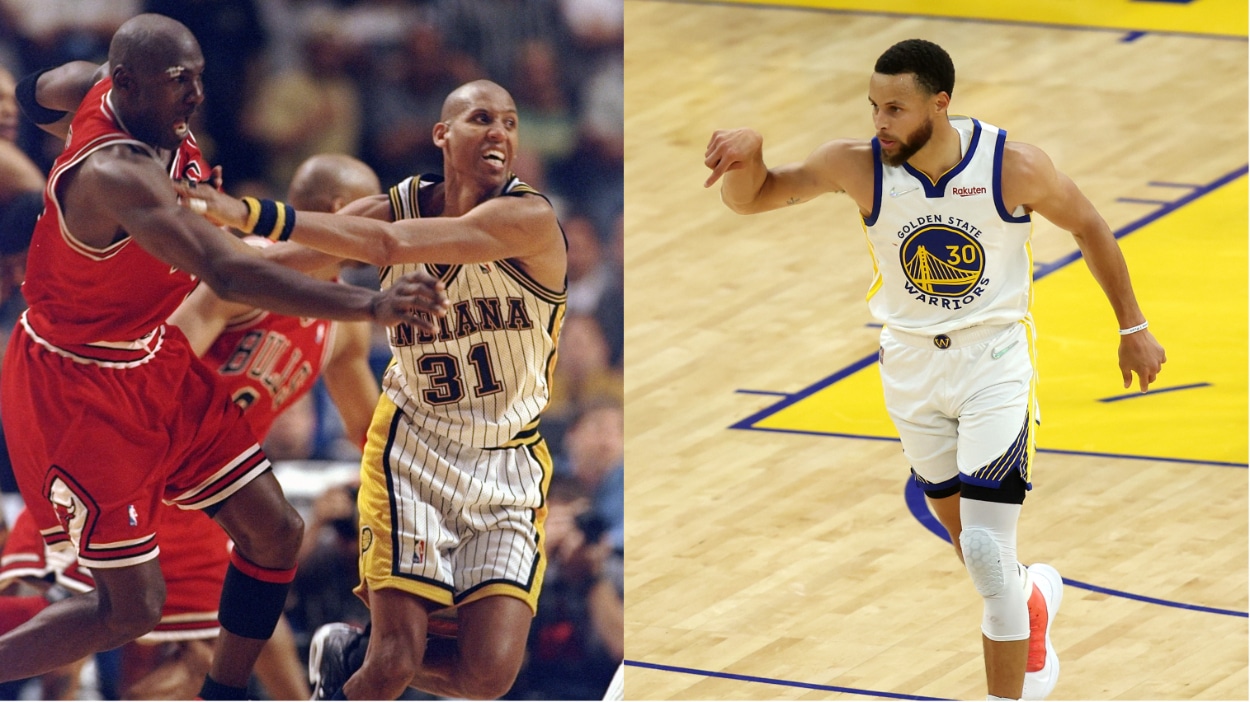 Reggie Miller Reveals the 1 Former NBA Star Who Could Shut Stephen Curry Down: 'As Much as I Love Michael Jordan, I Was Giving Buckets to Michael Jordan'
Reggie Miller thinks that one 90s NBA star could have shut Steph Curry down but it's surprisingly not his Chicago Bulls rival Michael Jordan.
Reggie Miller is one of the great 3-point shooters in NBA history. He may have even been the best ever until Stephen Curry got to the Golden State Warriors. Now, as Curry celebrates his fourth NBA title, Miller revealed the defender from the 1990s who he thinks could shut Curry down.
While it might seem like Miller's answer would be nine-time NBA All-Defensive Team member Michael Jordan, it's not. The former Indiana Pacers star said he could get buckets against Jordan, but his Chicago Bulls teammate Scottie Pippen is a different story.
Stephen Curry is the greatest 3-point shooter in NBA history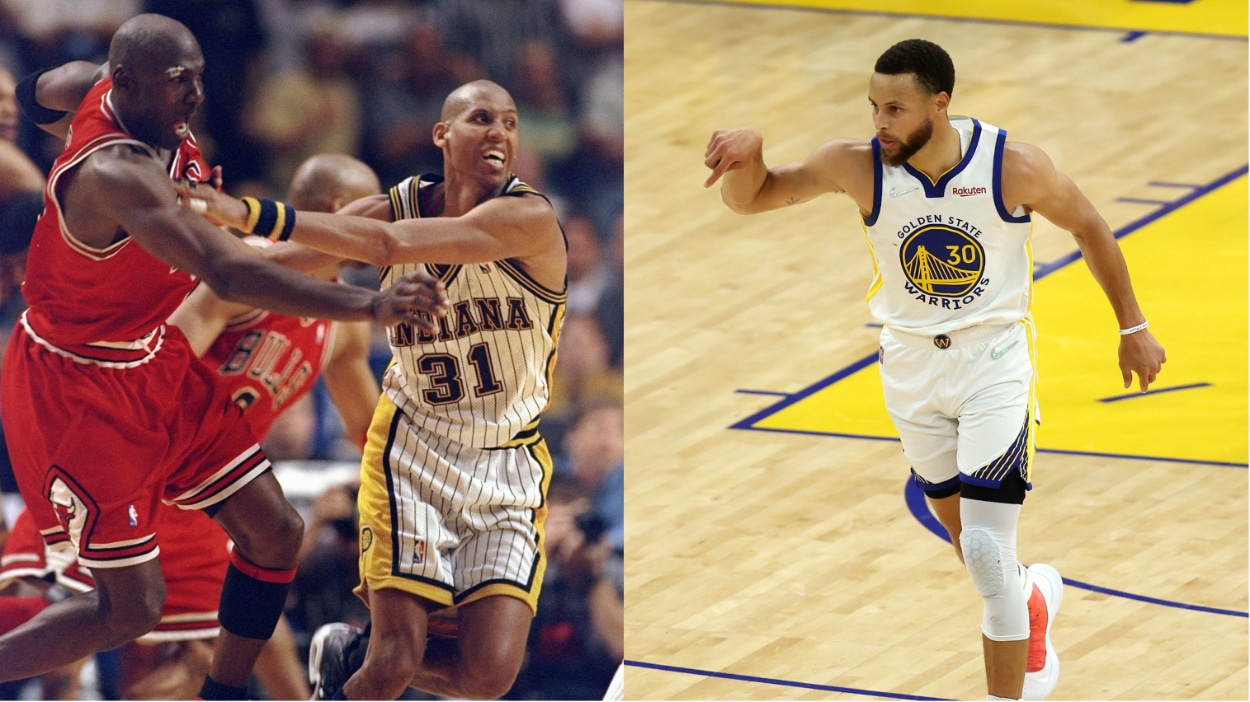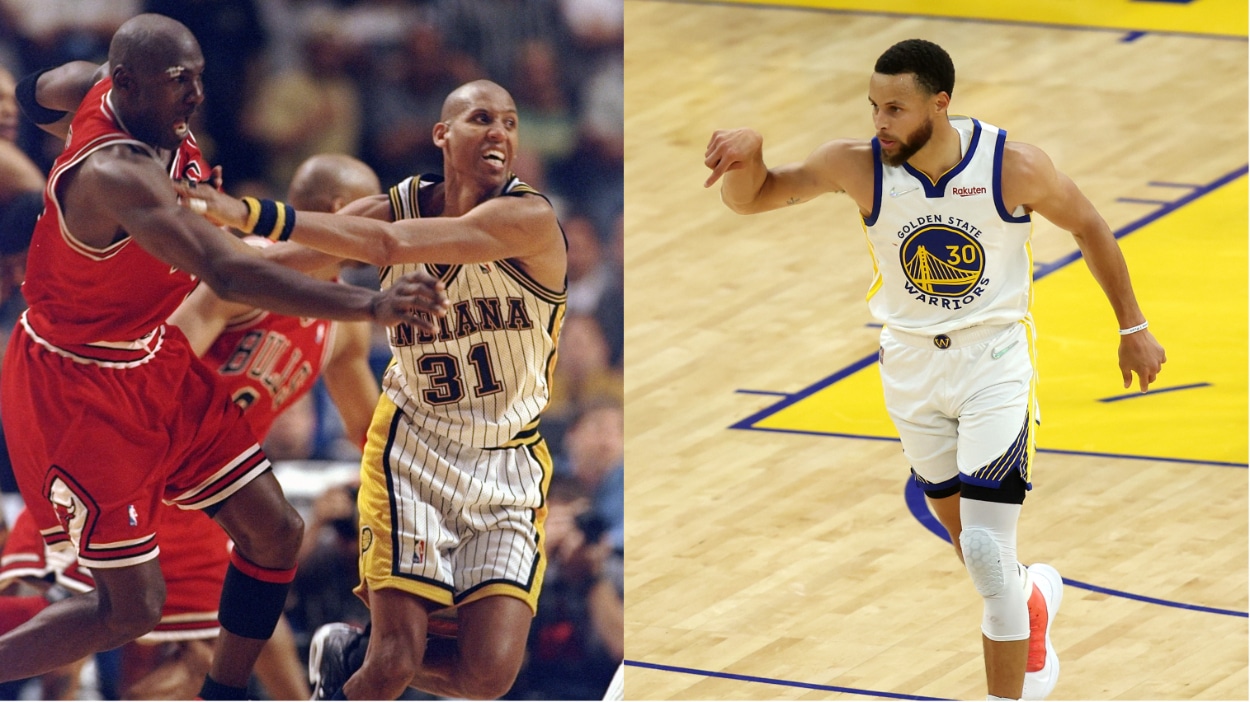 The son of an NBA sharpshooting specialist, opinions were divided on Davidson's Steph Curry when he came into the league in 2010. Sure. he dominated at the tiny North Carolina college. But would he be able to keep that up with his skinny frame in the pros?
The Golden State Warriors took a chance that he would with their No. 7 pick that year after the Minnesota Timberwolves passed on Curry twice (for two point guards, Ricky Rubio and Johnny Flynn).
Curry rewarded the Warriors by becoming the greatest 3-point shooter of all time and leading the Bay Area franchise to four NBA titles (and counting?).
The greatest 3-point shooter conversation starts with the fact that the 3-point line didn't come to the NBA until 1979. So, players like "Pistol" Pete Maravich & Jerry West are out.
Retired players Steve Kerr (45.4%), Hubert Davis (44.09%), and Steph's brother Seth Curry (43.95%) lead the NBA in career 3-point percentage. These role players took 1.8, 2.4, and 4.4 3-pointers per game, respectively, though.
Steph, in 11th place all-time at 42.76%, averages a whopping 8.8 long-range shots each night.
In fact, the Warriors star has the second-most 3-pointers attempted in NBA history (7,290), just behind the retired Ray Allen (7,429). And despite being about 250 shots behind Allen's record, this season, Steph bested Allen in 3-pointers made, 3,117 to 2,973.
Before the Curry brothers and everyone else in the NBA shot 3's, and even before Ray Allen, there was Reggie Miller.
Reggie Miller says Scottie Pippen, not Michael Jordan, could stop Steph Curry
In the 90s, no one was better from behind the arc than the Pacers star. He played in a very different era of pro basketball but is still No. 4 all-time in 3-pointers made (2,560) behind Stephen Curry, Allen, and James Harden.
This makes him a perfect person to weigh in on Steph Curry's greatness and how to stop it. And Miller did just that on a recent episode of The Dan Patrick Show.
The host asked Miller what NBA wing defender "would give [Curry] the most trouble?" Miller didn't hesitate before saying:
Probably Scottie Pippen. I would go with Scottie. Because if you go back in those series where he won [NBA championships] — twice against Utah — it was his defense on John Stockton. They were going to take the point guard out. The series versus us in the Conference Finals, Phil Jackson said, "take Mark Jackson out." It's like he goes to the head of the snake. If you can take him out, that's going to disrupt the rest of their offense. I think they would put Scottie on Curry and have that length really disrupt him.

Reggie Miller on Scottie Pippen defending Stephen Curry
Patrick followed up by asking if Miller's rival "[Michael] Jordan would be upset that you picked Scottie to guard Steph Curry and not him?"
The always brash Miller replied, "as much as I love Michael Jordan, I was giving buckets to Michael Jordan!" However, he quickly explained that while Jordan was "an unbelievable defender," his job was to score.
Miller also noted that, like himself, Curry runs "all day" during a basketball game, and Jordan chasing them around wouldn't make sense. However, Pippen could run with him and often did.
Miller, Pippen, and Jordan had a memorable battle in the 1998 Eastern Conference Finals
In his 18-year Hall of Fame NBA career, Reggie Miller played the Chicago Bulls 74 times, according to Statmuse. The Indiana Pacers star played well in these games, averaging 17.6 points with 1.7 made 3-pointers and a 34.4% 3-point field goal percentage.
However, with Scottie Pippen or Michael Jordan or whoever else Phil Jackson put on him, these numbers were below his career averages of 18.2/1.8/39.5%.
While Miller's playoff battles against the New York Knicks are legendary, he only met Jordan and Pippen once in the playoffs. That was in the 1998 Eastern Conference Finals.
Miller's Pacers took the eventual champion Bulls to seven games.
Indiana came at the Bulls with a balanced attack. Four players — Miller (17.4), Rik Smits (16.3), Dale Davis (10.4), and Mark Jackson (10.0) — averaged double-digit scoring. However, they just couldn't get it done against the three-headed scoring monster of Jordan (31.7), Pippen (16.6), and Toni Kukoc (14.6).
Even Miller's heroic 22-point effort in Game 7 couldn't quite match Jordan's 28.  
And that's why the Bulls went on to win their sixth title that season, and Miller and the Pacers never got one.
Stats courtesy of Basketball Reference
Like Sportscasting on Facebook. Follow us on Twitter @sportscasting19 and subscribe to our YouTube channel.