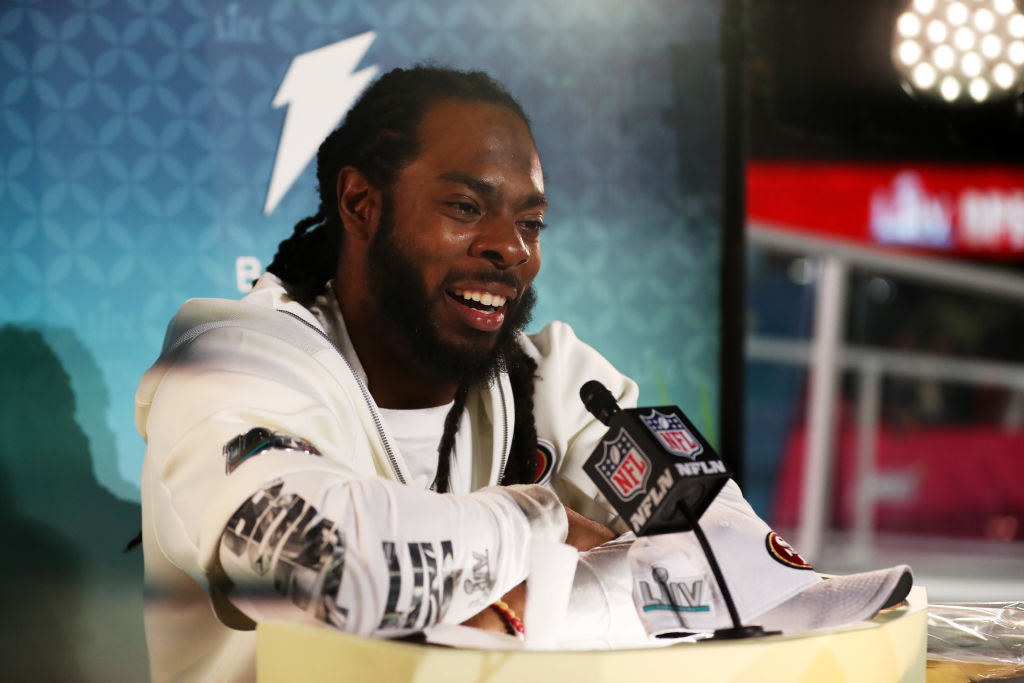 Richard Sherman and Darrelle Revis Are Just Playing With You Now
Two defensive backs likely headed for the Pro Football Hall of Fame went online to spar with each other once again.
When last we left Darrelle Revis and Richard Sherman, they were beating on each in a way that would have made Marvelous Marvin Hagler and Tomas "Hitman" Hearns proud. The two warmed up for Sherman's appearance in Super Bowl LIV by sniping at each other on social media.
They went at it again this week for no apparent reason, but this time it ended in a showing of mutual respect.
What originally set off Darrelle Revis and Richard Sherman?
Retired cornerback Darrelle Revis started in on Richard Sherman after the San Francisco 49ers defeated the Green Bay Packers, 37-20, on Jan. 19 in the NFC Championship Game. Sherman's interception, three tackles, and a pass defended didn't impress Revis, who tweeted that the 49ers cornerback has a "fear of getting beat in man to man coverage."
He went on to chirp about Sherman needing to prove himself as the best in the NFL by shutting down opponents' top receivers. Sherman shut Revis down by saying he wasn't going to engage in a fight because "I have a Super Bowl to prepare for. Enjoy the view from the couch."
The Super Bowl didn't go well for Sherman's 49ers. Game MVP Patrick Mahomes threw for 286 yards and two touchdowns for the Kansas City Chiefs in a 31-20 win over San Francisco. Sherman finished with five tackles and a forced fumble.
A pair of top-notch defensive backs
The irony of the sniping between Darrelle Revis and Richard Sherman leading up the Super Bowl is that it's often the wide receivers that they are assigned to cover who are accused of letting their egos show. But cornerbacks have their pride, too, and Revis and Sherman both have reason to be boastful.
Revis played 11 NFL seasons and intercepted 29 passes. After he pulled down 14 picks in his first three seasons out of the University of Pittsburgh, quarterbacks learned their lesson and started looking elsewhere on the field for receivers. He was selected to play in the Pro Bowl seven times and was first-team All-Pro four times.
Sherman has been in the NFL since 2011, and his career has followed a similar path. Twenty of his 35 interceptions came in his first three seasons out of Stanford. He has been selected to the Pro Bowl five times and named first-team All-Pro three of his nine years in the league.
Revis and Sherman end on good terms
The sequel to the social media sparring between Darrelle Revis and Richard Sherman this week started out eerily similar to what took place in January as Revis bragged that he was a better cornerback, "according to everyone."
Sherman counterpunched by tweeting a clip of T.Y. Hilton beating Revis badly on a pattern and shoving the defender to the ground with a stiff arm en route to big yardage after the catch.
That's where anything resembling animosity ended. Just when football fans were ready to grab the popcorn and pull up a chair to watch a nasty fight, the star defenders let everyone in on the joke.
"Good one," Revis replied to Sherman on Twitter. "I'm glad we're having fun."
Sherman came back with this in response to a follower's tweet: "Lol we have one of the hardest jobs on the field. Just know never seen a corner who hasn't given up a grab. The greats just make it few and far in between."