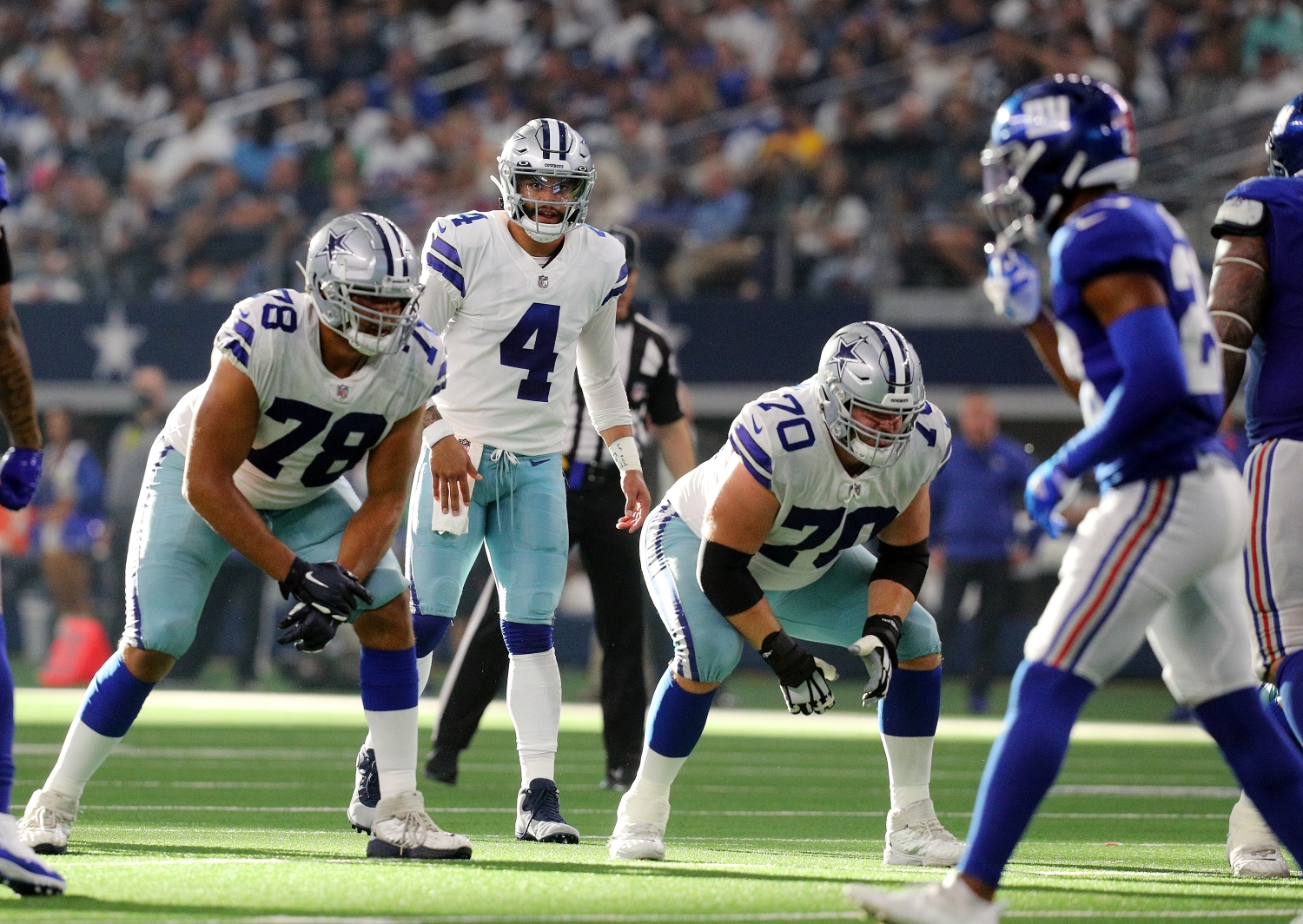 A Risky Situation Threatens to Ruin Dak Prescott's Return to the Red-Hot Dallas Cowboys
Will Dak Prescott get back on track in his return to the lineup? A risky situation poses a potential threat to his chances of leading the Cowboys to victory.
The Dallas Cowboys survived in Week 8 without their superstar quarterback. But with Dak Prescott's health trending in the right direction, Mike McCarthy should feel much more confident about the status of the most important position in sports.
However, even though Prescott looks poised to suit up against the Denver Broncos, a risky situation threatens to ruin his return to the starting lineup.
Dak Prescott looks to strengthen his MVP case following a Week 6 calf injury
Dak Prescott put himself firmly in the mix for MVP honors by getting off to a ridiculously hot start to his sixth NFL season. Unfortunately for the Cowboys, he suffered a setback in a Week 6 victory against the New England Patriots. With their best player sidelined by a strained calf, untested backup Cooper Rush stepped up and led the team to a 20-16 victory over the middling Minnesota Vikings.
Luckily for Dallas, though, the offense won't have to rely on a 27-year-old quarterback who entered Week 8 with three career passing attempts.
With Prescott describing himself as "pretty close" to 100% health, Cowboys fans can look forward to seeing No. 4 under center Sunday at AT&T Stadium. With 1,813 passing yards and 16 touchdowns in six scintillating starts, the two-time Pro Bowler has an opportunity to pad his stats further against a Broncos defense that no longer features future Pro Football Hall of Famer Von Miller.
Still, that doesn't necessarily mean Prescott will remain upright and out of harm's way.
A risky situation threatens to ruin Prescott's return to the lineup
In a cruel twist of fate, the Cowboys will get one key member of their offense back while another will try to work his way back to full strength. Longtime left tackle Tyron Smith won't suit up against Denver due to an ankle injury that kept him out of practice all week. With the perennial Pro Bowler unavailable, Dallas will turn to Terence Steele to man the blindside protector spot.
The only problem?
He's spent the first two years of his NFL career playing right tackle. In fact, even though Smith missed nearly the entire 2020 season, the Cowboys didn't attempt to use Steele in his place. Instead, they utilized him as a replacement for La'el Collins, who didn't play a single down a year ago because of a hip injury.
Coming off a season in which he earned a 50.3 grade from Pro Football Focus, Steele has shown marked improvement, highlighting by his impressive 73.9 grade. However, given his lack of in-game experience lining up on the left side of the line, will he be able to keep Prescott protected?
Switching from right to left tackle is no easy task, as it involves a different stance, blocking angles, hand placement, and responsibilities. Steele may look like a budding star at the moment, but he could struggle in a different role. Don't forget he typically lines up next to six-time Pro Bowler Zack Martin, which has to make his life easier. Left guard Connor Williams doesn't measure up to his decorated teammate, so Steele faces tremendous pressure to rise to the occasion and fill the void left behind by a future Hall of Famer's absence.
But if the position switch proves problematic, Prescott could pay the price and have a rough day at the office. And considering he's coming back from yet another lower-body injury, it's clear he's returning to a less-than-ideal situation.
What does the future of the offensive tackle position look like in Dallas?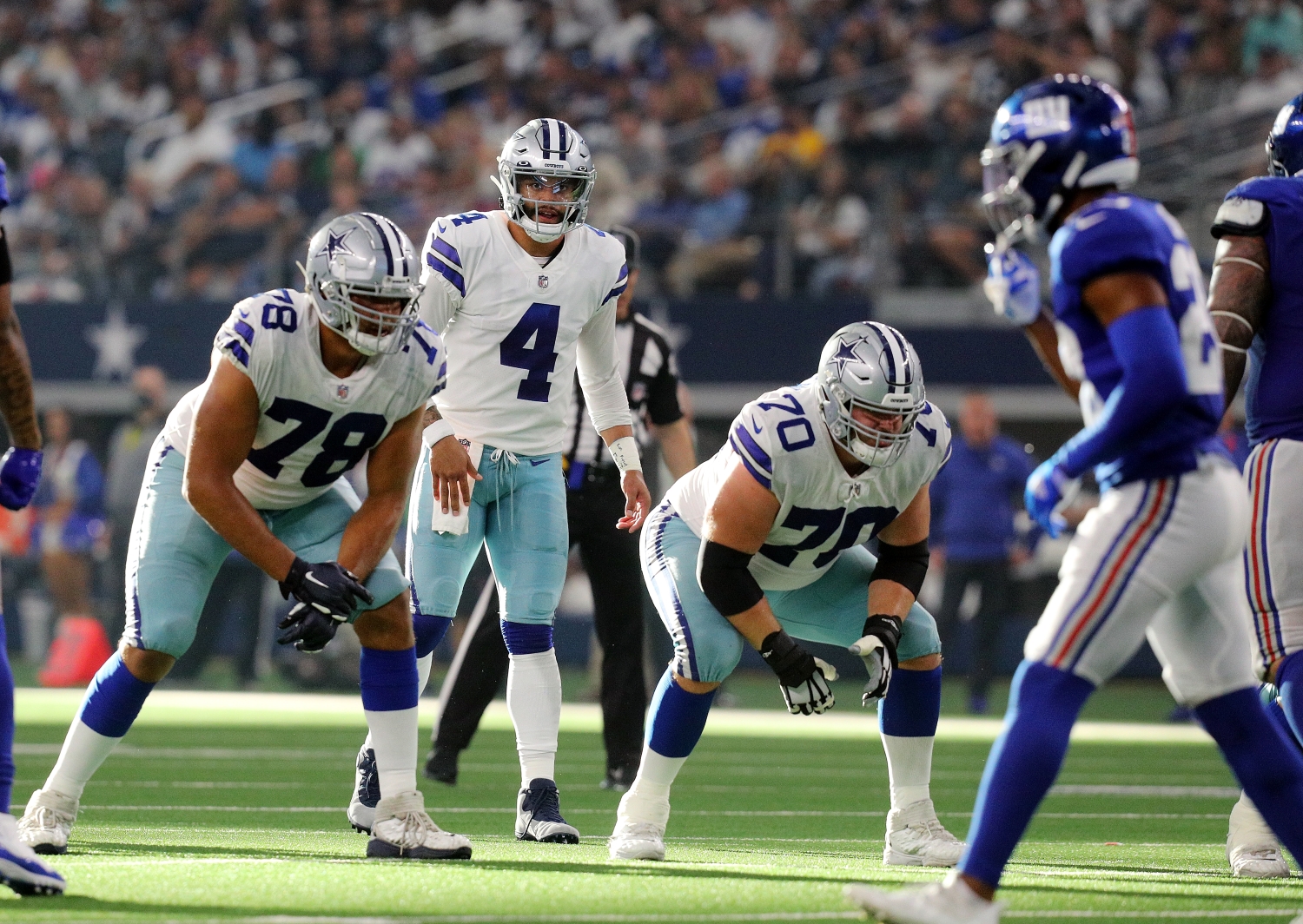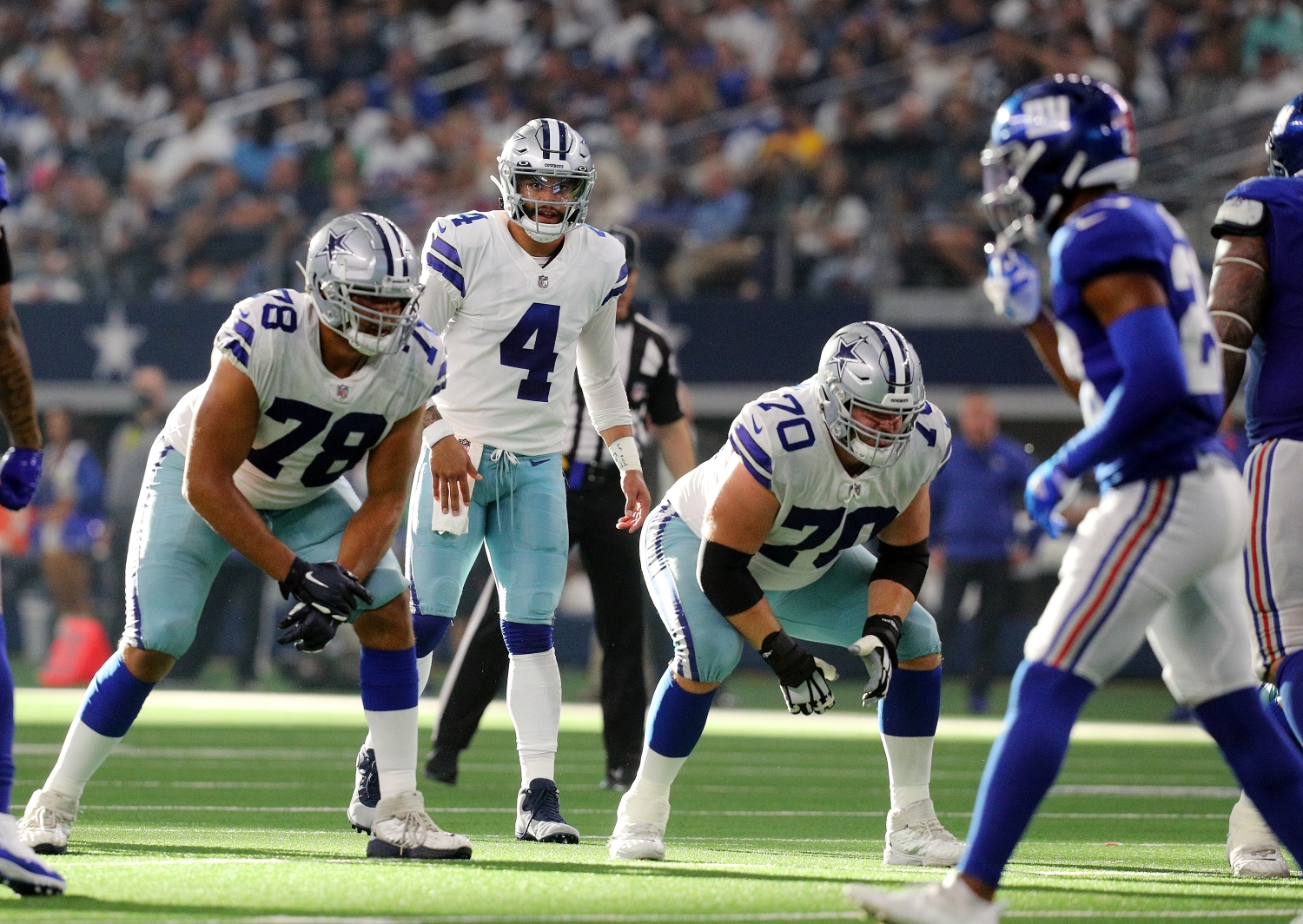 With Steele shifting over to the other side of the offensive line, it brings up a fair question: What does the future hold for Smith and Collins?
The former turns 31 in December and hasn't played a full regular season since 2015. Although Smith still showcases the ability to shut down pass rushers with relative ease, it's obvious he comes with significant durability concerns. Still under contract for several years, it'll be interesting to see how he responds to his latest injury. The Cowboys need Smith operating at peak capacity in the playoffs, and he doesn't have much time left to win a championship.
Meanwhile, Collins must prove he deserves to stick around in Dallas for years to come. Between injuries and a suspension for violating the NFL's substance abuse policy, he simply hasn't lived up to the five-year, $50 million contract extension he signed in 2019. Set to start at right tackle Sunday, the 6-foot-4, 320-pound veteran can't afford any setbacks moving forward.
After all, the Cowboys can move on from Collins after the season if they're willing to eat a $13.95 million dead-cap hit. That would leave Terence Steele in a position to become the permanent starter at right tackle.
More importantly, though, it would set the 24-year-old undrafted free agent up for a life-changing raise and the opportunity to block for Dak Prescott a little while longer.
All statistics courtesy of Pro Football Reference. All contract data courtesy of Spotrac.