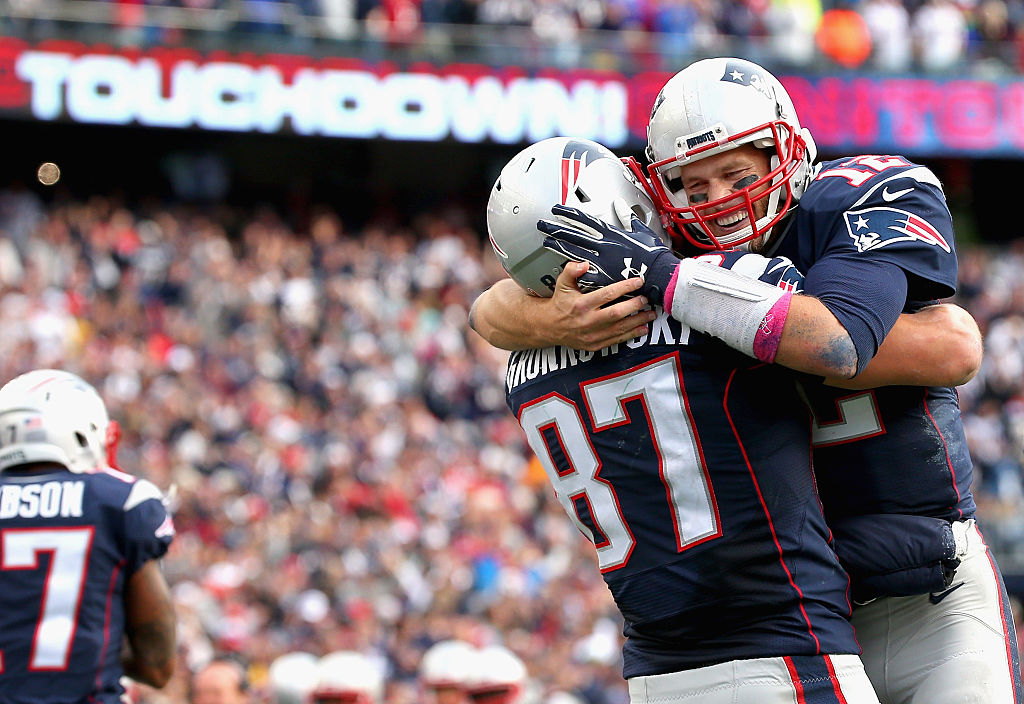 Rob Gronkowski Trade to Buccaneers Has Social Media in a Frenzy
Rob Gronkowski trade to the Tampa Bay Buccaneers reunites him with Tom Brady and has social meda in a frenzy.
The comeback is real. Rob Gronkowski is ending his retirement to reunite with former New England Patriots quarterback Tom Brady in Tampa. After much speculation, the man they call Gronk will be catching passes once again from Brady in a Buccaneers uniform. The Patriots have agreed to send Gronkowski and a seventh-round pick to the Bucs for a fourth-round pick.
Too much firepower in Tampa?
With the addition of Rob Gronkowski, the Tampa Bay Buccaneers now have three better-than-solid tight ends in Gronk, OJ Howard, and Cameron Brate. Package that with one of the best wide receiver combinations in Mike Evans and Chris Godwin, and mix in a quarterback who has won six Super Bowls and the Buccaneers have a top-notch offense.
The Buccaneers were able to put up points last year under quarterback Jameis Winston, but Winston was prone to turning the ball over. Under head coach Bruce Arians, the Buccaneers love to air it out and Winston did just that, throwing for a league-leading 5,109 yards and 33 touchdowns. He also threw 30 interceptions.
Brady will most certainly take care of the ball much better and will have quite the variety of weapons to throw to. Last season, Evans and Godwin each had better than 1,000 yards receiving and combined for 17 touchdowns. Godwin finished with 1,333 yards and Evans 1,157.
Gronkowski speculation turns to reality
Throughout the offseason, there had been speculation that Rob Gronkowski might make a comeback to the NFL. Although Gronk repeatedly said it wasn't likely to happen, the never completely shut the door. That door was opened wide Tuesday and the tight end walked right through it and back into the NFL.
Gronkowski spent nine seasons catching passes from Tom Brady in New England. Although he has been bitten by the injury bug throughout his career, he has established himself as one of the all-time great tight ends in the game.
Gronk is a five-time Pro Bowler and a three-time Super Bowl champion. His familiarity with Brady will be a huge asset when he hits the field in Tampa, especially after missing al of last season. For his career, Gronkowski had 79 touchdowns and has racked up 7,861 receiving yards.
Social media goes crazy after the announcement
When it was announced, Rob Gronkowski was making a comeback and he had been traded to the Tampa Bay Buccaneers on Tuesday, the news sent shockwaves through the world of social media. Many posts were making fun of the New England Patriots and their fans, while some were directed at Patriots wide receiver Julien Edelman.
Bill Barnwell, a writer for ESPN.com, tweeted, " If the Bucs somehow trade for Julian Edelman that should automatically trigger a Last Dance documentary on the 2020 Bucs." Other posts suggested that Belichick and the Patriots still had something up their sleeve.
No matter the outcome of the trade, Gronk is back in football, Tom Brady has his old tight end back, and social media is having a field day with this announcement.