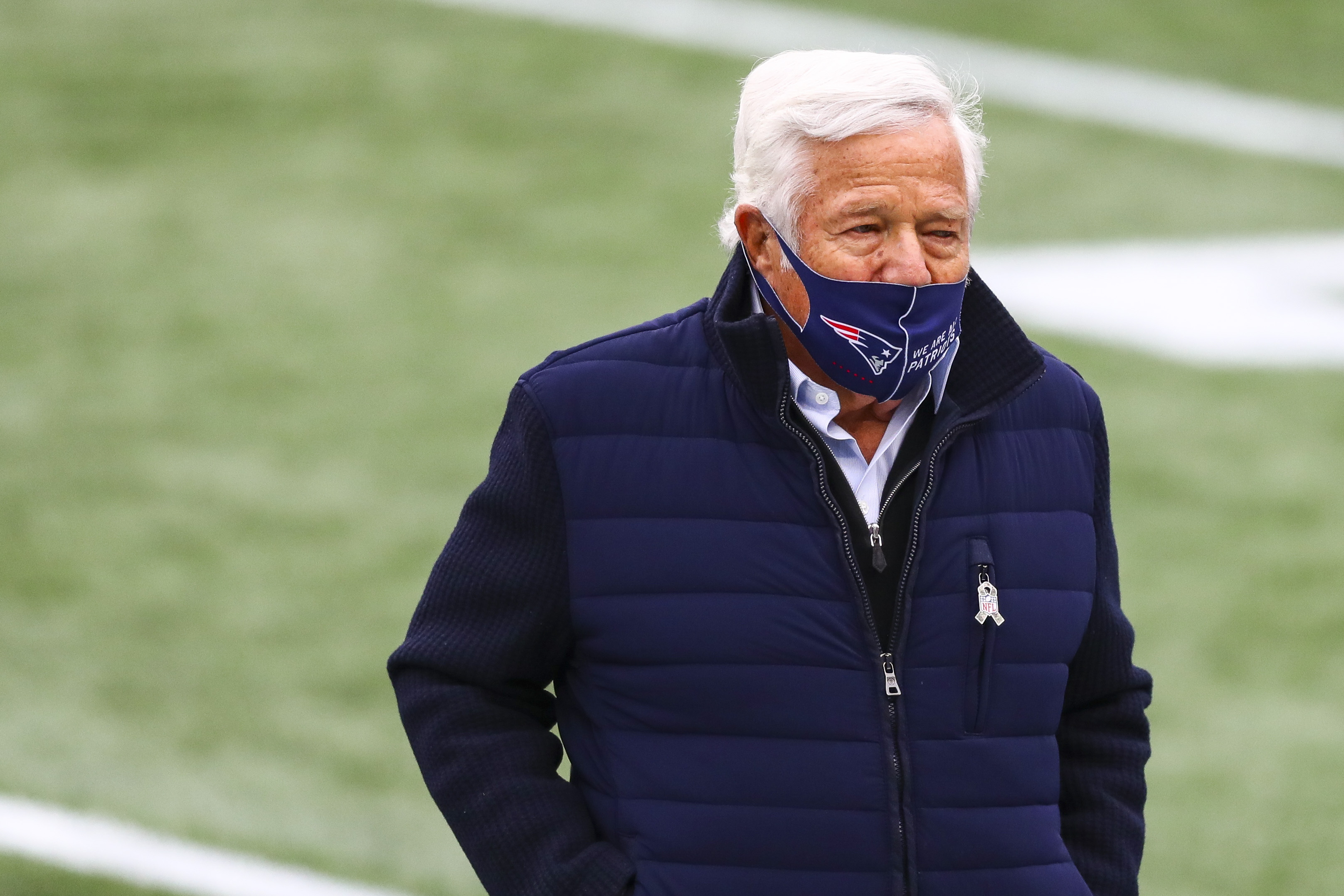 Robert Kraft's Recent Comments are Sure to Rile Up Some Patriots Fans
Robert Kraft's latest comments are sure to rile up some diehard New England Patriots fans ahead of Super Bowl 55.
The New England Patriots aren't used to this. Usually, they're gearing up for February football, but this season they didn't even make the playoffs. Patriots were left frustrated after watching Tom Brady bolt town and watching the team have very little, if any, stability at quarterback. While some Patriots fans are showing their loyalty to Brady in Super Bowl 55, others aren't. Robert Kraft's recent comments are sure to get under the skin of some Pats fans.
The Patriots never had a losing season with Tom Brady
With Tom Brady as their starting quarterback, the New England Patriots never had a losing season. Brady spent 20 years in New England after being selected in the sixth round of the 2000 NFL draft. Prior to this year, New England's last losing season was 2000 when Brady was a rookie and threw just three passes all season. The Patriots finished the year 5-11.
With Brady at the helm, the Patriots became a dynasty. Brady got his chance when starting quarterback Drew Bledsoe went down with an injury early in the 2001 season. Brady filled in and went 11-3 in his 14 regular-season starts. He guided the Pats to a shocking victory over the heavily favored St. Louis Rams in Super Bowl 36.
In 2002, the Patriots went 9-7. After that season, New England never had fewer than 10 victories in any season. Brady played just one game in 2008 when he went down with a torn ACL against the Kansas City Chiefs in the season opener. New England still managed to go 11-5 but failed to make the playoffs.
Brady continues to win in Tampa
The New England Patriots failed to reach the postseason for the first time in 20 years this season. When Tom Brady left for the Tampa Bay Buccaneers via free agency, it became obvious very quickly how much they would miss their six-time Super Bowl champ. New England signed former league MVP Cam Newton right before the season, but New England struggled to a 7-9 season.
Newton and the Patriots got off to a 2-1 start, but Newton struggled mightily behind center. In 15 games, Newton threw eight touchdown passes and had 10 interceptions. He did rush for 12 touchdowns.
Meanwhile, in Tampa, Brady threw 40 touchdown passes. He also racked up 4,633 passing yards, the most he's had since 2015. Brady and the Buccaneers finished as the fifth seed in the NFC with a record of 11-5. Tampa Bay went on to win three straight road games to earn a berth in Super Bowl 55. This will be Brady's 10th Super Bowl start.
Robert Kraft pulling hard for Tom Brady
Robert Kraft, the man that allowed Tom Brady to walk away from the New England Patriots has made it perfectly clear who he's rooting for in Super Bowl 55. While Patriots fans appear to be split on whether to root for Brady, Kraft is "so excited" to root for the man who left town.
"I'm rooting for Tom Brady," Kraft said, according to CBS Boston. "I'm so excited. We've had some great communications and he is such a special human being. We were privileged to have him here for two decades, and he's one of the finest human beings I've ever met. He knows how to lead, and I wish him well. I really hope he wins Sunday."
While many Patriots fans will side with Kraft, showing loyalty to the quarterback who gave 20 years to New England, there are many Pats fans with a different outlook. Some feel Brady abandoned the team. "It's well-rubbed in our face," says Nathan Spencer, a 39-year-old Patriots fan who's rooting for the Chiefs, according to The Wall Street Journal. "It's painful." 
Some have likened Brady's move to Tampa to a bad breakup. Natalia Juarez, a breakup coach, said Brady is winning the breakup battle and it's painful for some Patriots fans. "There's this whole concept of winning the breakup," she told The Wall Street Journal. "In this case, (Brady) literally is winning the breakup."