Roger Goodell Slams Peyton Manning for Sitting Late in the Season: 'We Wanna See Guys Play, We Wanna See Teams Compete'
As great a quarterback as Peyton Manning was in his career, his playoff record (14-13) wasn't as stellar as it could have or should have been. One reason for this is that, as the QB of the Indianapolis Colts, he often sat in the final game after a dominant regular season. Many believe this cost him in the postseason, and NFL Commissioner Roger Goodell savagely brought this up during his appearance on the Week 17 Manning Cast.
Peyton Manning didn't play several last regular-season games
During Peyton Manning's illustrious career, his Indianapolis Colts often went into the season's final week with their playoff seeding locked up. Head coach Tony Dungy took this as an opportunity to rest players, even when the team had a bye the following week.
The Colts organization obviously thought this helped refresh their players. However, it often seemed to kill any momentum that the team had built up throughout the year. Manning and his team lost many winnable games after sitting in Week 17.
Here are the playoff results from the Dungy Era in Indianapolis and what Manning did in Week 17:
| | | | | |
| --- | --- | --- | --- | --- |
| Season | Regular-season record | Passes thrown in Week 17 | Playoff wins | Result |
| 2004 | 12-4 | 2 | 1 | 20-3 loss at New England Patriots in AFC Divisional Round |
| 2005 | 14-2 | 2 | 0 | 21-18 loss to Pittsburgh Steelers in AFC Divisional Round |
| 2006 | 12-4 | 37 | 4 | 29-17 win over Chicago Bears in Super Bowl |
| 2007 | 13-3 | 16 | 0 | 28-24 loss to San Diego Chargers in AFC Divisional Round |
| 2008 | 12-4 | 7 | 0 | 23-17 loss to San Diego Chargers in AFC Wild Card Round |
As you can see, when Manning took an early seat on the bench, the playoff results weren't good. The one year he put in a full shift during Week 17, the Colts rode that momentum all the way to a Super Bowl victory.
This trend wasn't lost on NFL fans.
Manning sitting in Week 17 became a running joke for football fans and a point of yearly frustration for Colts fans.
The Hall of Fame QB would finally win his second Super Bowl with the Denver Broncos in 2017, but you have to believe all those missed opportunities are still a sore subject. That's why it was so surprising (and hilarious) when, of all people, NFL Commissioner Roger Goodell brought it up in 2022 on last week's Manning Cast.
Roger Goodell slammed Manning for sitting the last Week of the season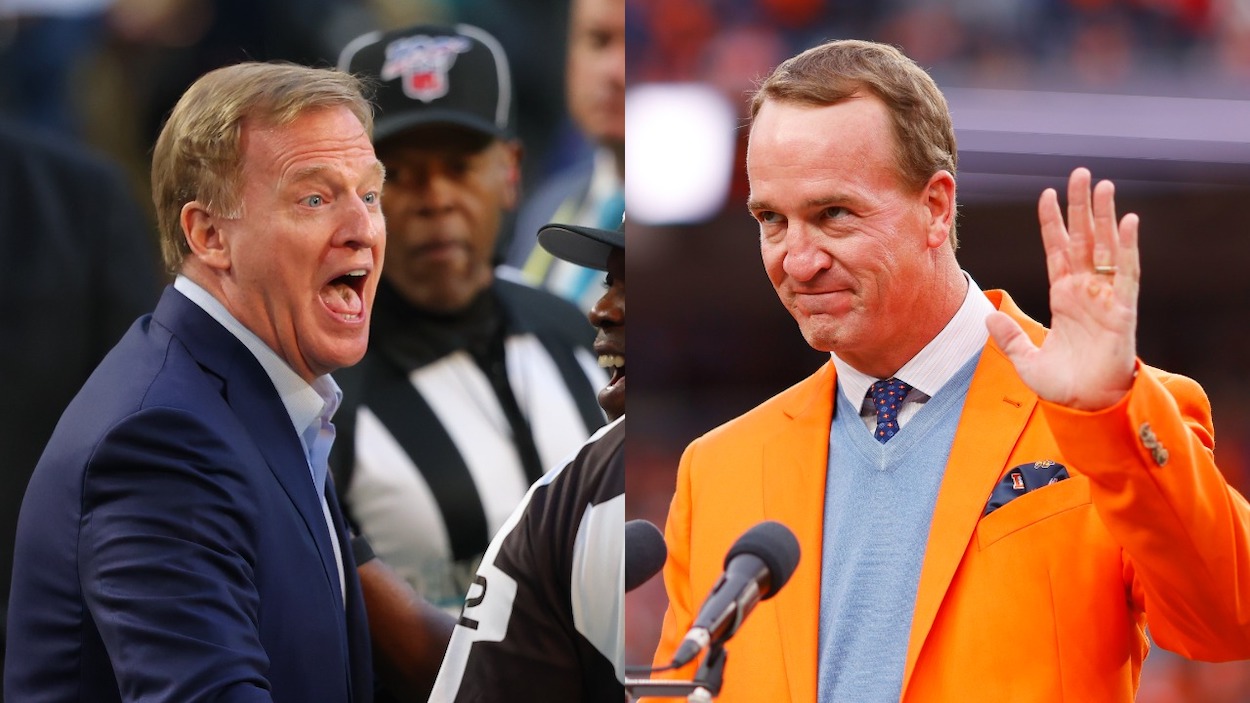 The guest list was star-studded for the final regular-season Monday night Manning Cast of the year. In addition to NFL Commissioner Rodger Goodell, Eli and Peyton Manning also welcomed Bill Cowher, Snoop Dogg, and Aaron Rodgers to the program.  
The commissioner and the Manning's were talking about trying to make the final week more competitive. Goodell said that the NFL started scheduling all divisional games to add some drama to (now) Week 18.
Goodell also noted that in 2007, when Eli's New York Giants upset the 18-0 New England Patriots in the Super Bowl, the team played those same Patriots hard in Week 17, which gave the G Men momentum heading into the postseason. Then he took aim at Peyton:
On the other side, Peyton, you guys — the Colts — you were famous because you were out so far in front, you would sit for the last couple weeks. And you would rest a lot of players. We wanna see guys play. We wanna see teams compete. And I actually think momentum has a lot to do with it.

Roger Goodell on Peyton Manning sitting in Week 17
After Goodell's critique, Peyton did admit it's easier for players to keep their momentum going when they keep playing. Later in the broadcast, he went even further, explaining what sounded like regret over all those Week 17 sit-downs.
Aaron Rodgers intends to play Week 18, despite Peyton's claim that it doesn't matter
Later in the Manning Cast, Green Bay Packers QB Aaron Rodgers joined the Manning brothers. Rodger's team heads into Week 18 with a 13-3 record, and the NFC North and NFC titles wrapped up.
Rodgers will tell anyone who will listen that he fully intends to play in the finals week of the regular season, despite having nothing to play for. Toward the end of the Manning Cast, Peyton mentioned there was "no way" Rodgers would play in Week 18 vs. the Detroit Lions.
"Yeah, right. We'll see about that," Rodgers responded.
The Green Bay QB then asked the former Colts and Broncos QB if he liked sitting the last week of the season.
"Look, to me, if you're playing well, it doesn't matter if you have a bye or not," Peyton responded. "If you're playing well, you're playing well."
He also noted that on veteran teams, the vets "will know what to do."
It seems as though Peyton may have forgotten how poor his record was after he sat in Week 17. Hopefully, for Rodgers and the Packers' sake, they look at history and put in a real effort vs. the Lions on Sunday.
All stats courtesy of Pro Football Reference